Recently I was designing slides on the topic of Big Data Concepts (it's my other area of interest, after visualizations).

Here's how I visualized interconnection of related areas to Big Data:
3V or 4V definition of Big Data: Volume, Velocity, Variety, Veracity. Since all V's are an important part of the definition, I chose a puzzle illustration. Puzzle visually underlines the strong relationship between elements.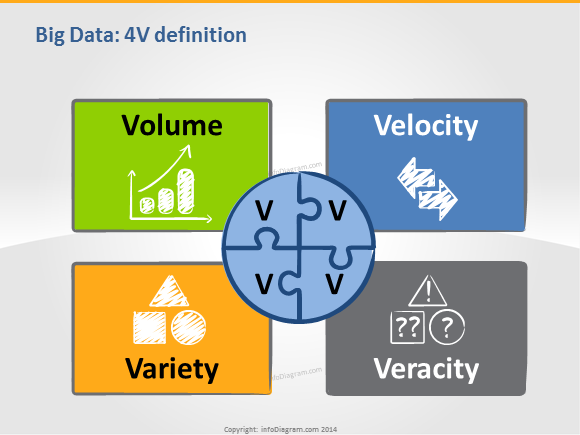 Related technologies to Big Data – Cloud and SaaS. This is a more loose relationship, so I have chosen three separate circles. Arrows show two-way relations (Big Data are often coming from Cloud applications, and databases distributed in the Cloud technologies is used as a storage of gathered Big Data).
Here is a full set of slides on Big Data definitions and technologies presentation template I used for these slides.
Further articles on presentation graphics
For more inspiration on using visuals in your presentations, check out these articles as well:
Want to be notified when we make an announcement? Never miss out on creative presentation graphics and stay informed about our latest updates and news. We'll also send you a Creative slide design guide with FREE hand drawn shapes for you to begin using right away!