If you are looking for a creative way to show a repeating processes then you've come to the right place. Below we're presenting a few modern ways to use cycle diagrams on a PowerPoint slide.
Circular processes and various loops are flow charts expressing some recurring set of events. With a few design tricks you can create a simple infographics that will make tour presentation look professional.
Diagrams with cycle arrows that you will see contain various number of steps or levels, they can be illustrated with icons or have a minimalistic outline flow chart look.
All example slides can be found in Cycle Diagrams & Wheel Charts PPT collection.
Cycle Diagrams Design Ideas
We've put together a bunch of cycle diagrams examples to show a continuing sequence of tasks, stages or events in a circular flow.
#1: Outline Loop Process Chart
Here we put six stages-loop as an example. Each stage is illustrated with various color and icon so it's easier to distinguish them one from another. This is a minimalistic kind of cycle, it will suit you if you don't need to put many descriptions around.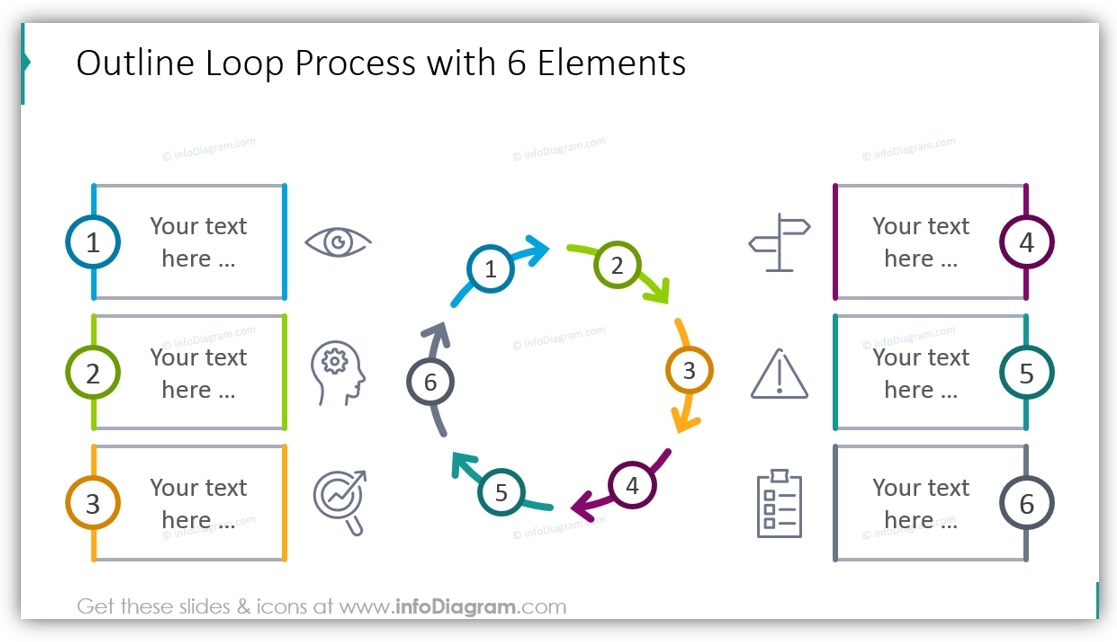 Design tip: To keep slide content readable, we suggest to put up to 6 or 7 stages on one chart. In case you need to include more, use the second chart or create other level on the same slide.
#2: Arrow Circle Cycle Template
Even though there are seven stages, a slide still looks decluttered. We put symbols instead of numbers in the wheel and saved a place for a description of each step.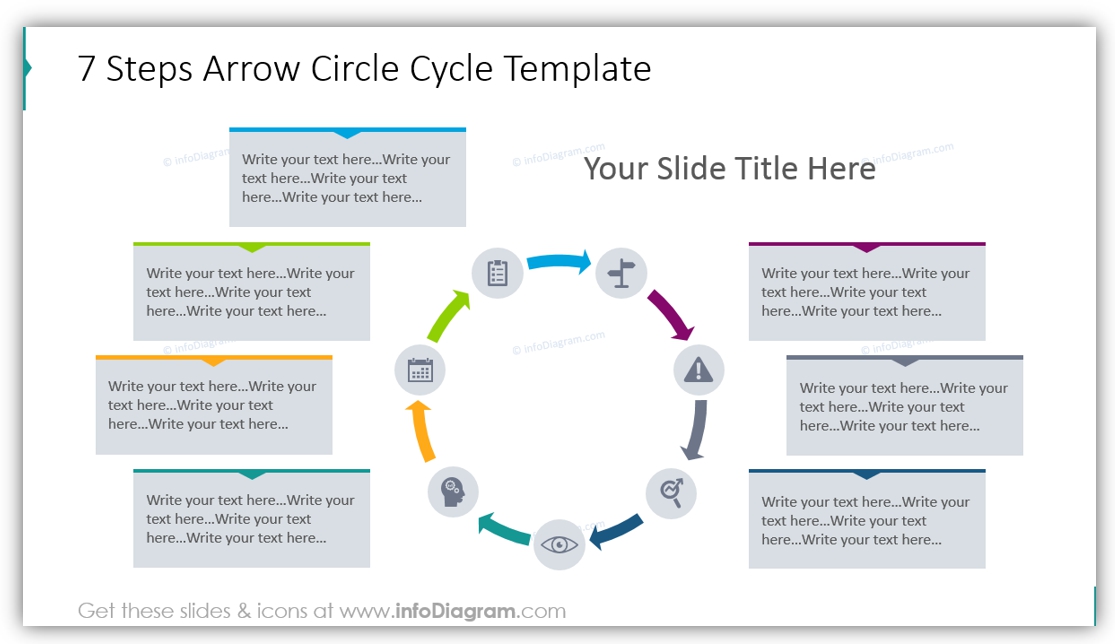 #3: Chevron Ring Loop
In the next example, we used chevron arrows and a big icon of a diamond in the loop center that can symbolize the added value, for example.
The simple line call-outs give a modern look to the overall slide.
You can find at the end of the Cycles slide-deck the similar loops with a different number of stages.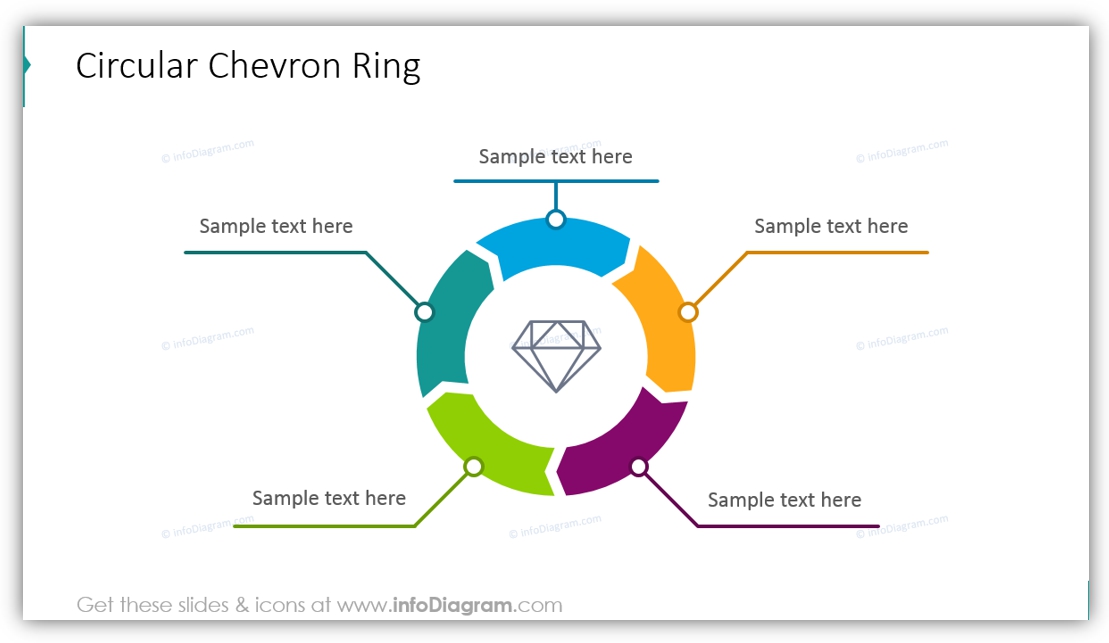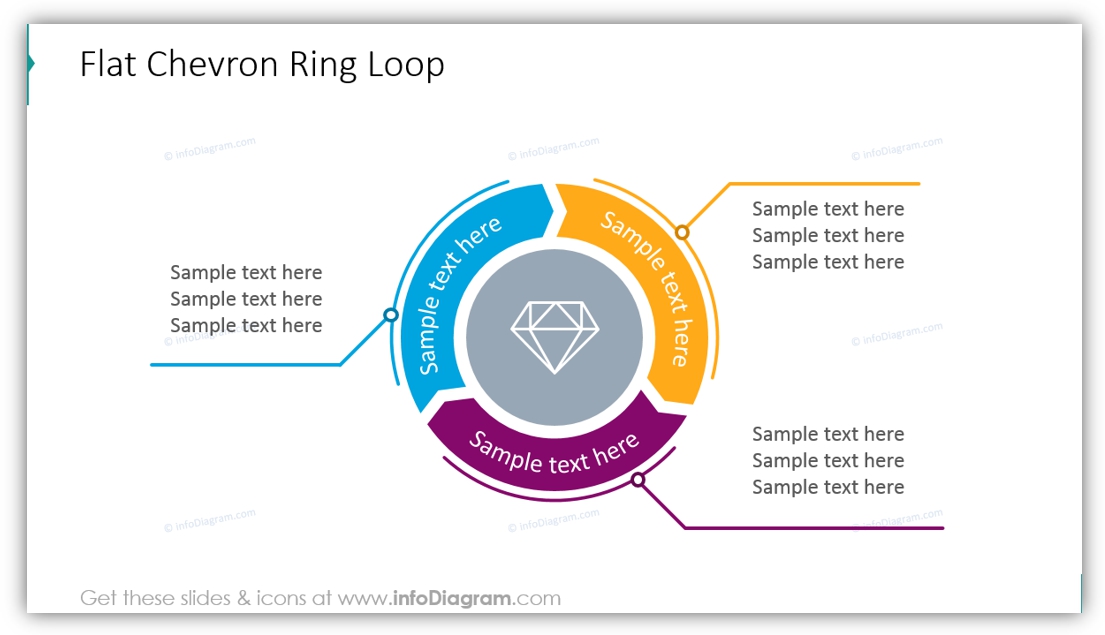 If you are a fan of more outstanding and creative style, look at the following example: we put three colors as a background and illustrated them with scribble icons: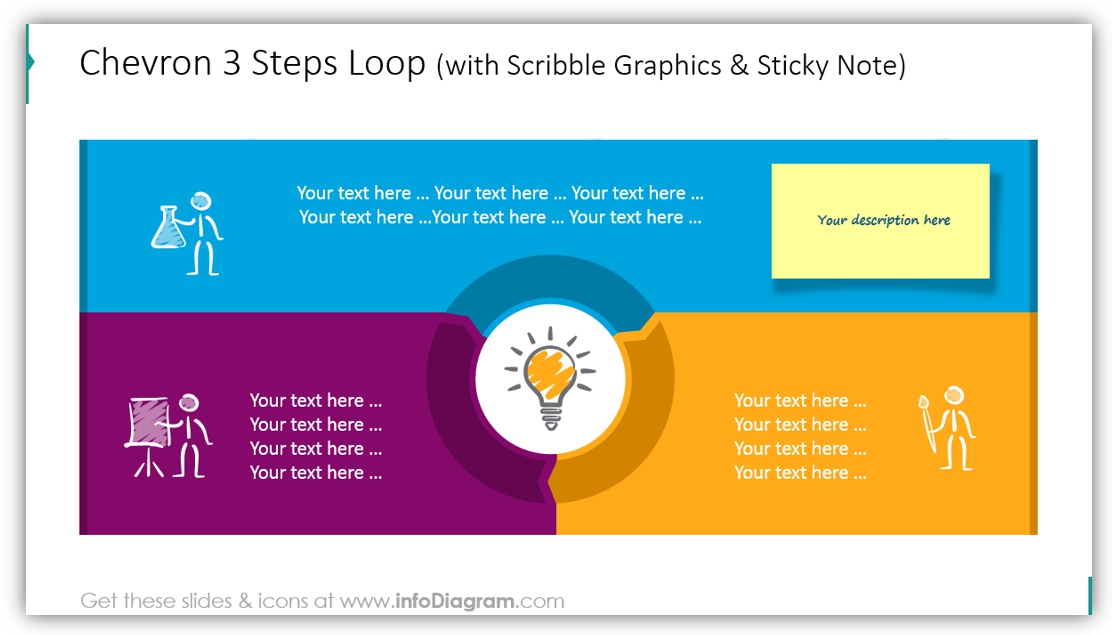 #4: Flat Arrow Cycle Simple List
If the cycle you want to present can be associated with a list, the following template is just for you. Clean wheel chart with a numbered list legend aside.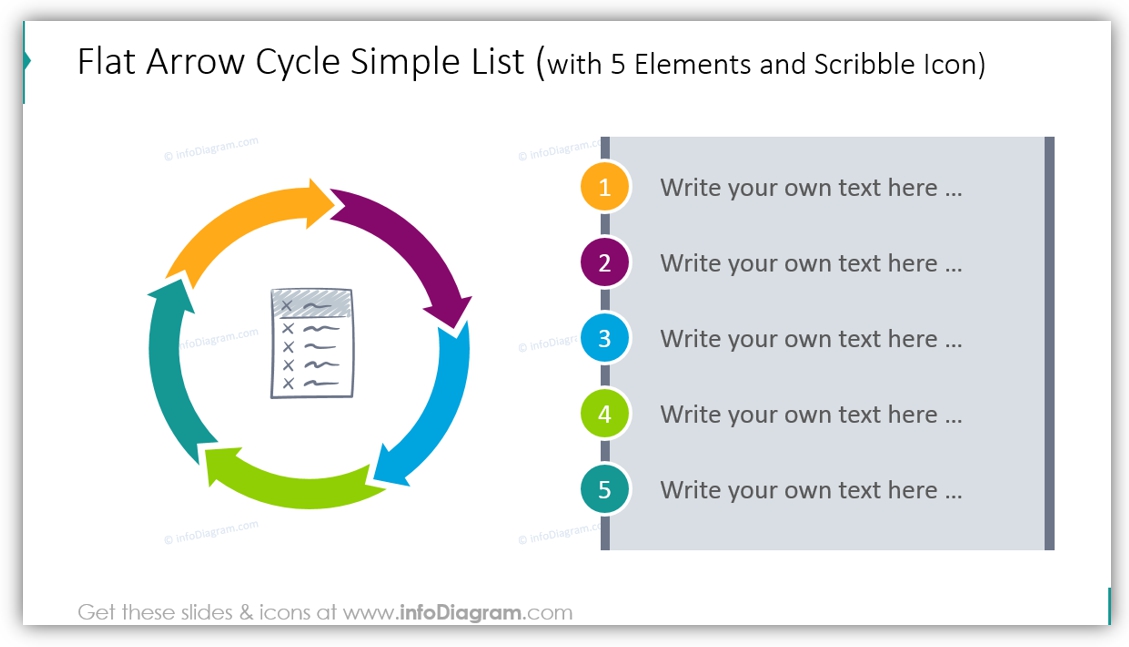 #5: Circular Flow Wheel Chart with Two Directions
Such two-level cycles are good to use when you want to explain a more complex topic with embedded cyclic processes. For example a flow of economic activity as in the example. We suggest to illustrate key categories by simple texts and outlined pictograms, paint arrows in different colors expressing various types and explain it in a legend aside.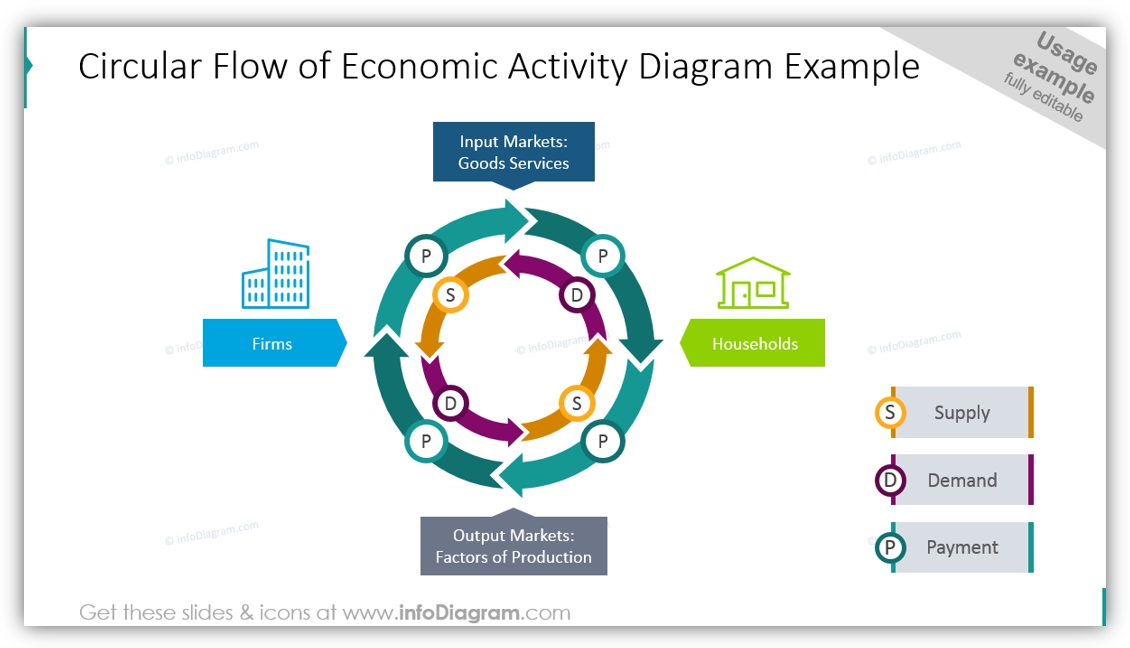 #6: Causal Loop Diagram
If you need to present two cycles, that are interconnected, see the following example. No need to create separate slides, you can show them by outline arrows and short description with icons.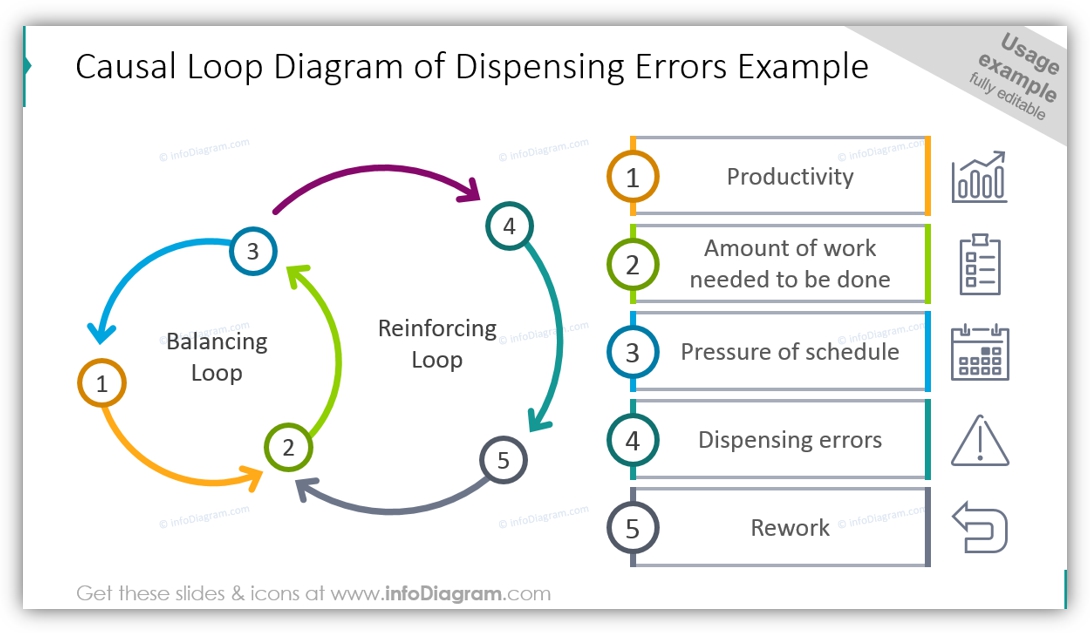 Design Ideas Summary
Those were 6 ideas of cycle diagram design:
 outline loop process chart
arrow circle cycle
chevron ring loop in two design versions: flat and creative
flat arrow cycle list
circular flow wheel chart with two directions
causal loop diagram
Before we finish, let us share a few design advice to keep your cycles charts look modern:
use simple design styles – flat filling, light or no outlines. Avoid old looking gradients or 3D effects.
don't overload slide with a text. Write keywords only, leave details for a speech or for notes
be consistent in styles, use one color palette, 1-2 fonts, one style of icons.
don't overdo it with decorations. A simple color line will do, as you could see on slides above
Remember to have big enough margins. Don't put your presentation elements (text, diagrams, icons) too close to the slide edge.
Resources: Cycle Diagrams & Wheel Charts
We hope our blog gave some inspiration to you 🙂 You can recreate such cycles from the examples above or get ready-to-use PPT slides.
If you like the slides above, you can download the package we designed (or subscribe and get slides every month for your needs).
Should you need a help with choosing or using the PowerPoint graphics, let us know here. We will gladly assist you.