If you want to illustrate management and department positions in your company in a professional way, then this blog gives you several examples of how you can do it.
We present a modern alternative to traditional box-and-line charts and default SmartArt diagrams.
Organizational charts are common visualization tool not only on HR-related meetings. Anytime you have a team cooperating on a project with other teams, or department to department communication, having a clear map of company structure makes it easier to plan the work. The org charts serve as a visual aid to see clearly who is responsible for a particular task or to whom you have to report.
However, in the case of larger institutions, the organization trees can get pretty complex and hard to understand. Therefore adding there pictogram symbols to represent main managerial functions and departments will help you create a presentation that is easier to grasp.
Here are a few examples of modern organizational charts, illustrated with neat company positions roles icons that people will enjoy to look at.
Get all icons and slides from Company Roles and Department Structure Outline PPT Icons collection (see details by clicking the pictures).
A few common company structures and processes charts, which you may need to include in your slides are:
#1: Company Management Structure Chart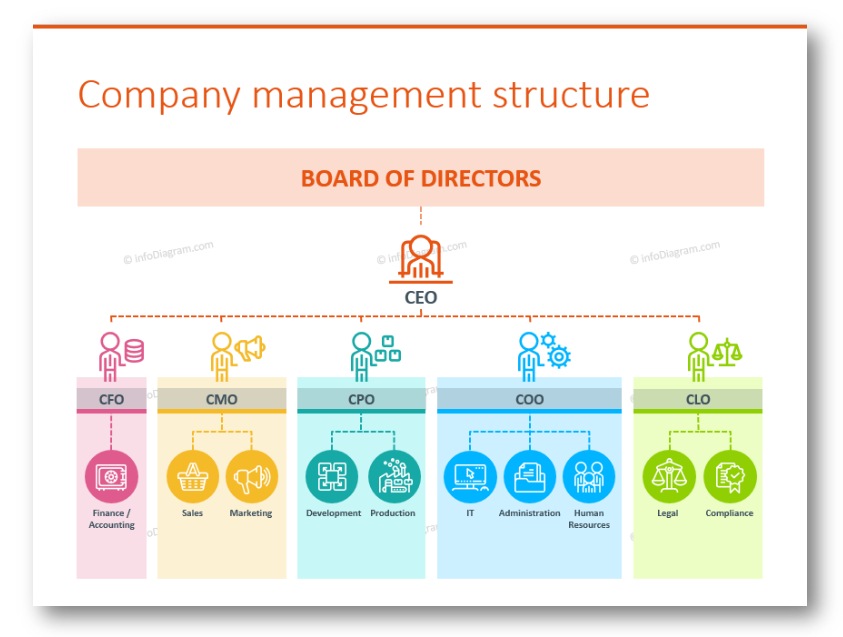 The classical structural diagram, where hierarchy is clearly visible: from the board of directors, CEO to managers of particular departments, such as Chief Financial Officer, Chief Marketing Officer, Operations or Legal Officers. If your department has subdivisions, you can illustrate them as well using the same color – as we used here in the case of Product department and its Product Development and Production divisions.
Another example is the Chief Operational Officer that supervises three areas – IT, Administration and Human Resources operations. Or Legal department covers here Legal and Compliance issues, all marked as green circles.
#2: Presenting details with Department or Division Diagram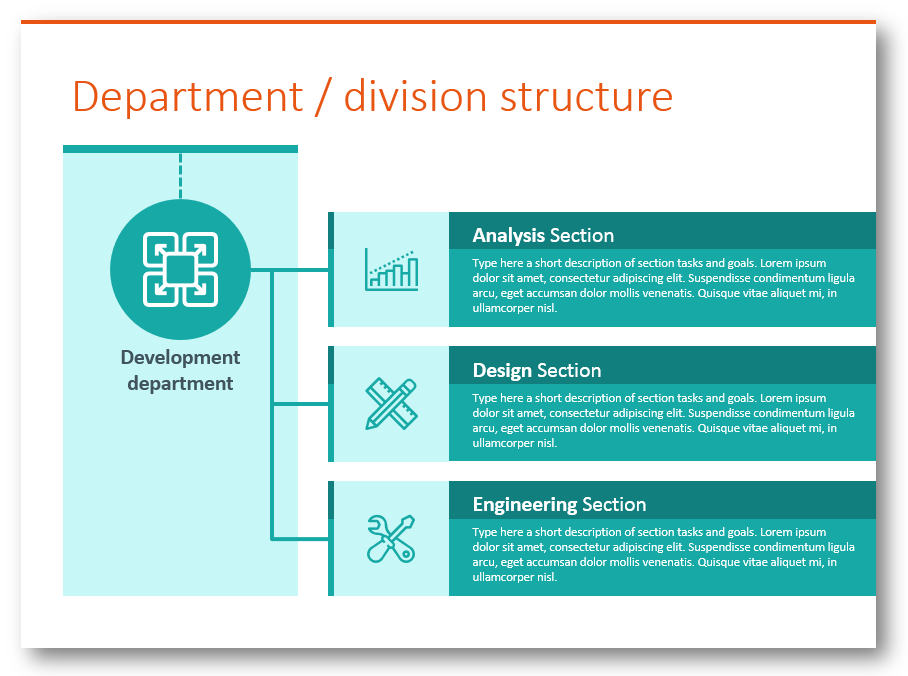 Here's the example of creative department structure design, which at the same time looks professional thanks to using consistent colors and aligned graphical elements. You can easily reuse such chart in your PowerPoint presentation, just replace text, icons and add or remove the sections.
#3: Senior Management Presentation Slide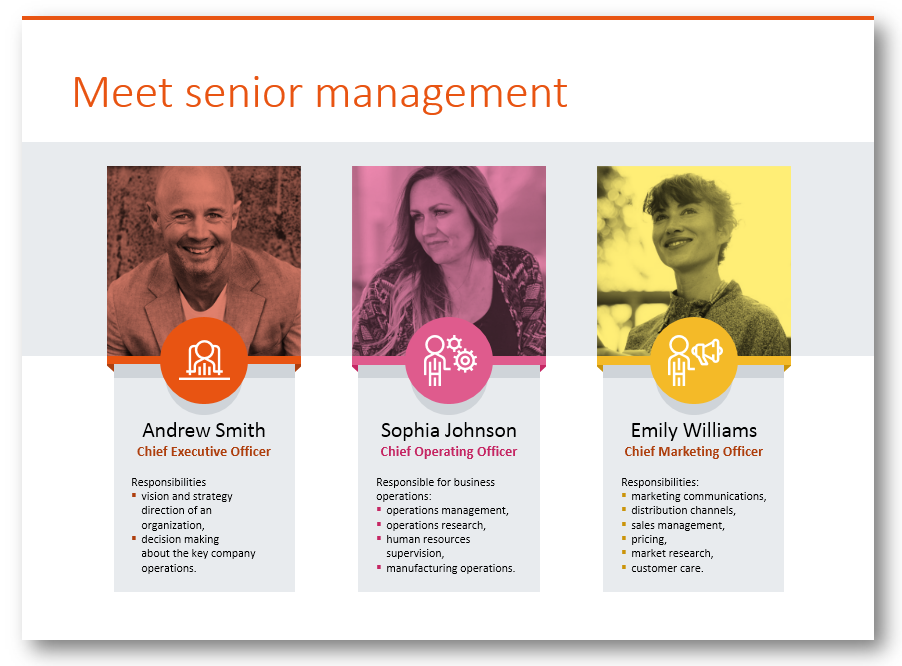 A lot of corporate but also startup pitch presentations include this type of presentation slide. We propose you a stylish way how you can present your key management team: use pictures with color overlay + add icon representing each person position (notice outline icons of CEO, COO, CMO above) + consistent color use, one for each column. The result is professionally looking presentation created quickly even without a graphic designer
#4: Product Development Schemes
Research and development take a huge part in every company's activity. That's why we designed several diagrams to make it easier for you to convey the ideas:
general product development schema. Notice harmonic set of color and that each element is associated with an outlined icon: the bulb symbolizes the concept, document with a magnifying glass – research, paper plane – prototype, network pictogram – the process of development, tools – engineering and rocket – launch stage. You can include some notes as well: e.g. where improvements should be made and who is responsible for that.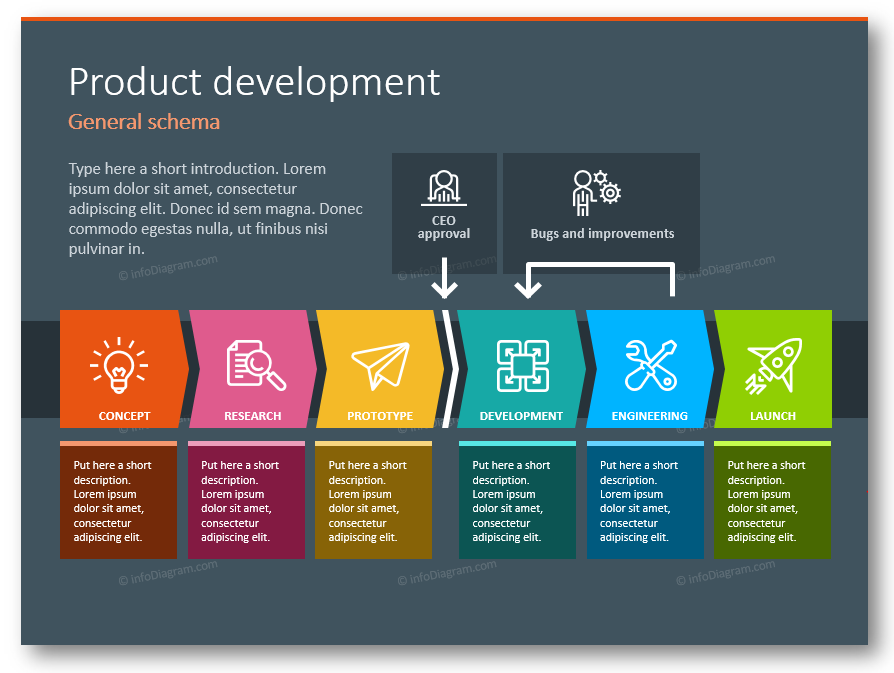 process details of product development, starting from the concept or ideas to the final launch step.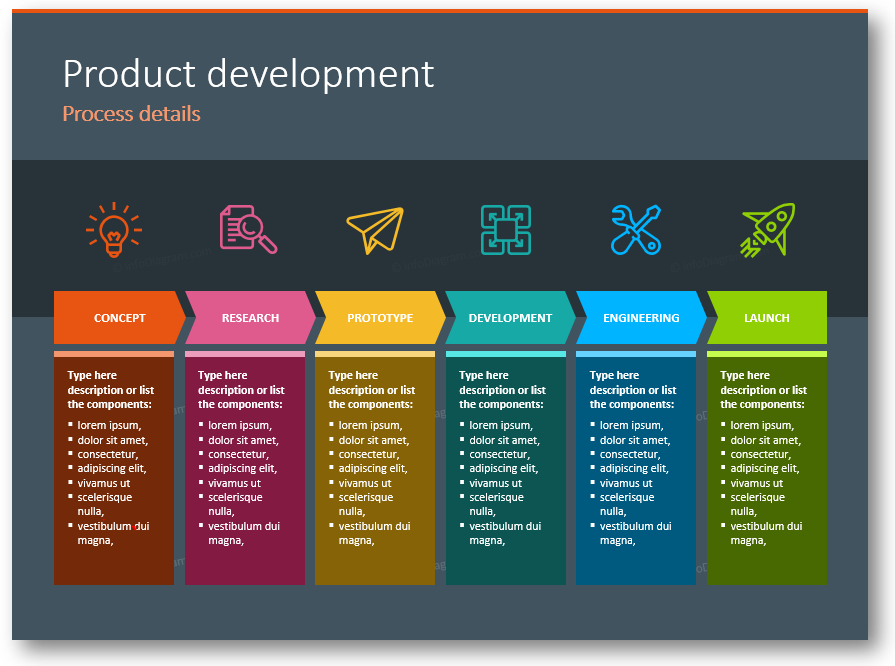 particular stage details with a place for longer text notes. On the picture, you can see an example of the concept step slide. Even though there's a big text box, the slide looks attractive from a design point of view.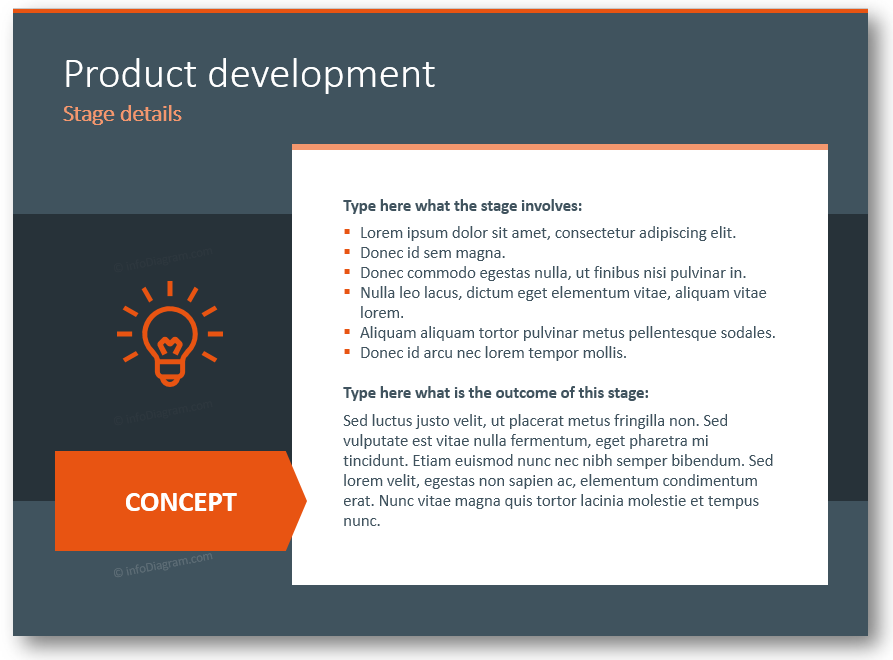 So these were several examples of designing organizational chart: presenting your company hierarchy from the board, CEO, directors to specific department heads and subordinates; showing department diagram; presenting senior management and explaining product development flow.
Resources: Company Roles and Department Structure Outline Icons
To make it faster and give a starting point for you, we designed a collection of organizational chart slides with outline icons. You can reuse the icons and diagrams within your presentation, they will help you to get rid of boring same SmartArt 🙂
The collection includes:
Organizational chart examples with senior management presentation, division structure diagram, product development process involving several business sections
Modern outline symbols representing top management positions
Senior Management roles icons
Outline Icons representing product-related departments, sales-related issues, back-office and various product development steps
32 outline editable symbols in total for modern flat design presentations
If you want to make nice professional-looking presentations without spending too much time, download the predesigned PowerPoint slides here:
If you like this outline style, you can extend your set with this All Industry PPT Icons Bundle.