Communicating Motivation
"Don't worry about failures, worry about the chances you miss when you don't even try."– Jack Canfield
In our competitive and fast-changing world motivation is a crucial factor. For you as a leader or a trainer, it's not enough only to understand it, but also to inspire your team. Hence having an engaging presentation helps to communicate clearly your motivation message. Additionally, if you will use an unconventional hand-drawn style instead of default shapes, your presentation will look more authentic and personal.
That was our motivation to design this motivation training toolbox. We wanted to create something easy to use and yet original looking. The result is this graphic set of editable handwritten scribble diagrams for PowerPoint. It contains some motivation theories and a template for sharing practical hints on team motivation.
---
The source of this motivation training presentation toolbox for explaining and teaching motivation:
Use it as an inspiration for how you can illustrate a soft-skills presentation in a creative way.
---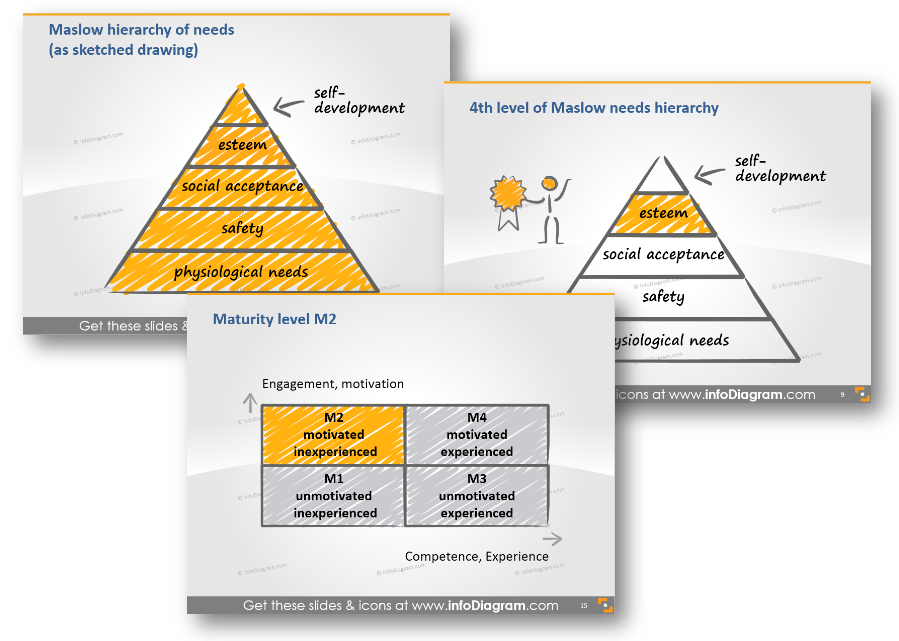 The motivation training visuals toolbox contains the following graphics:
Let's go through them together and see where and how to apply graphics.
Pyramide of Maslow Needs Hierarchy
The classics of motivation theory. In the collection you will find 3 variants of the pyramid: as a sketched drawing of the whole shape, divided by 5 levels pyramid and versions with every level highlighted. All elements are vector shapes so you can change the color using standard PowerPoint color tools.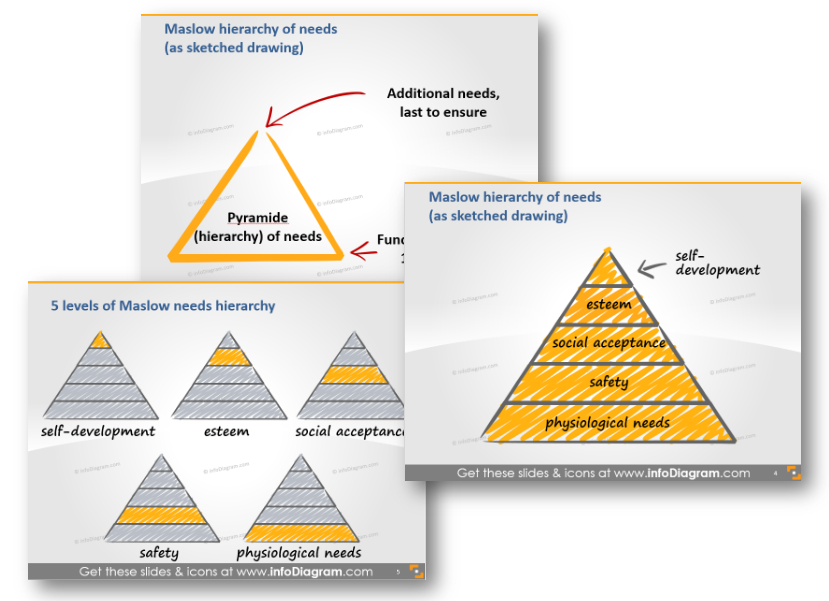 We also created 5 different slides with each Maslow level (physiological, safety, love and belongingness, esteem, and self-actualization needs). Each level is illustrated by a specific icon (also editable so you can change the orange filling e.g. by the blue one if that fits your presentation style better):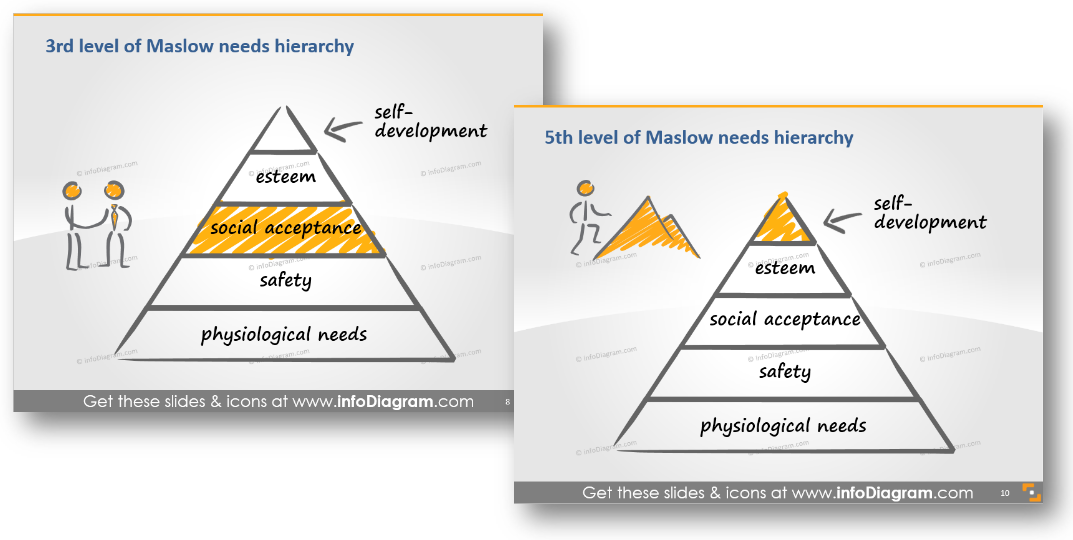 Maturity Levels Illustration
The right leadership style will depend on the person or group being led. The Hersey-Blanchard Situational Leadership Theory identified four levels of maturity:
M1 – They lack the specific skills required for the job at hand and are unable and unwilling to take responsibility for this job or task.
M2 – They are unable to take on responsibility for the task being done; however, they are willing to work on the task. They are novices but enthusiastic.
M3 – They are experienced and able to do the task but lack the confidence or the willingness to take on responsibility.
M4 – They are experienced at the task, and comfortable with their own ability to do it well. They are able and willing to not only do the task but to take responsibility for the task.
We illustrated them as a matrix, where you can highlight a level or several levels you need, like in the picture:
Motivation Tools and Motivating Team Hints
Building a culture of motivation is a great way to keep your employees happy at work. The list of employee motivation techniques and tools can be endless.
In this motivation training presentation, we added a simple layout for 2 groups: motivation and hygienic factors.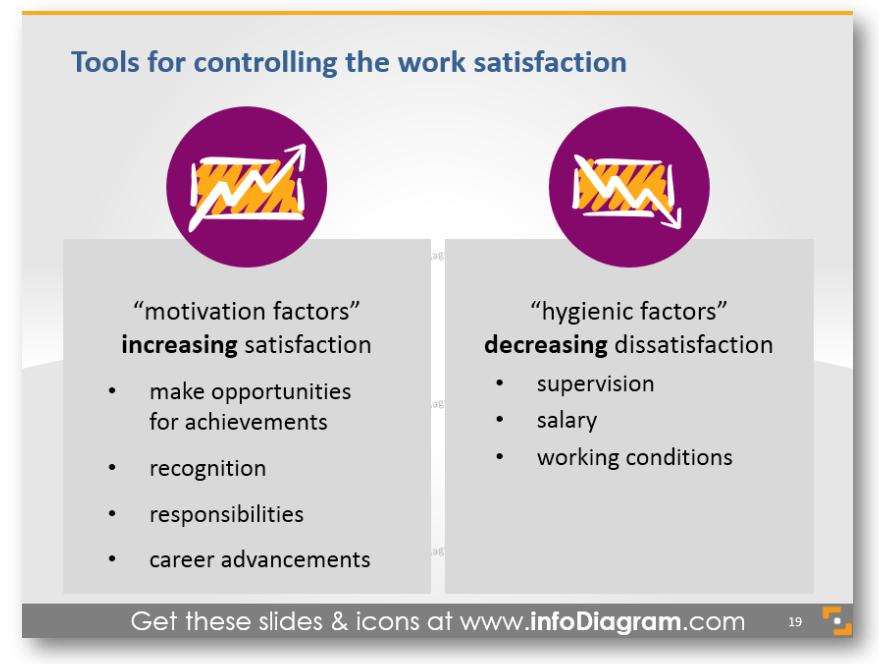 When you want to show motivational actions and practical advice, illustrating them with hand drawn icons will make the slides appealing: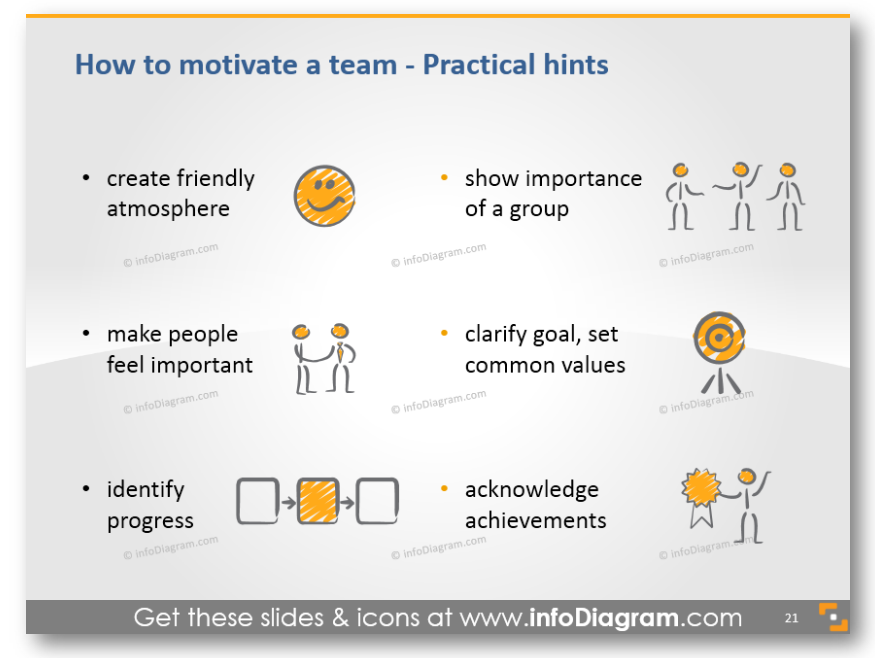 Transition slides
If you have a longer presentation, a good practice is to use dividers – section slides separating particular training topics.
Here are some transition slides from the collection you can reuse to indicate it's coffee break time and how far are you from the training end: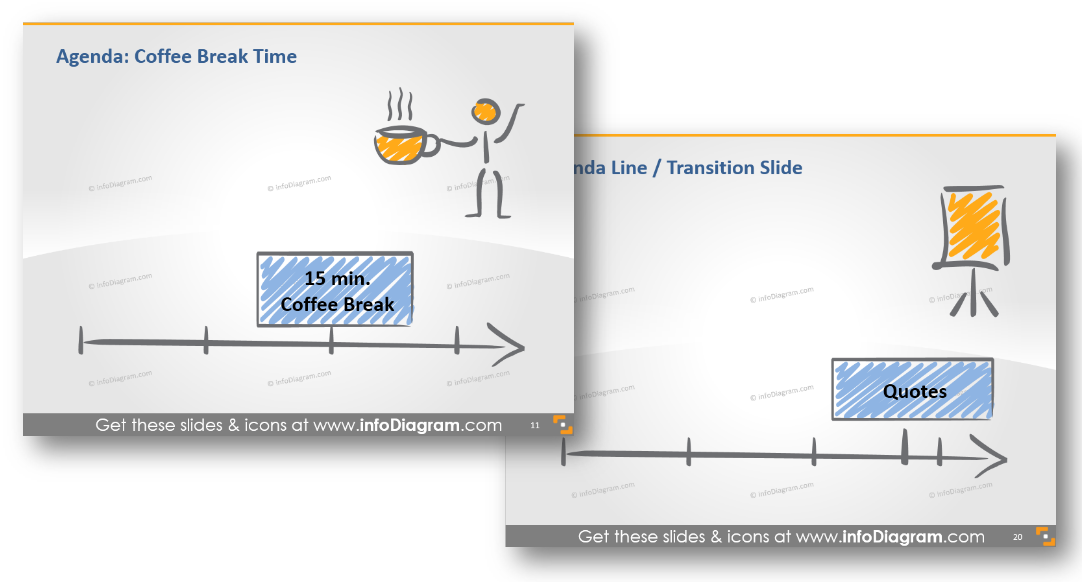 They will bring logical pauses to your speech.
Slide for Motivation Training Summary
In your motivation training presentation, don't forget to add a summary slide with the conclusion of the main points you presented.
You can do so using these slide graphics with an outline of the main meeting message:


Source of Motivation Training Template
If you like the graphics, all slides are available for download in the editable form on our infoDiagram webpage.
The graphics from the template can be easily edited and added to your PowerPoint presentation. You can use them also in other documents – eBooks, Excel sheets, also Keynote, Prezi, and other tools. For MS Office apps a simple copy & paste of the data chart or symbols will work. For other tools (Canva, Prezi..) saving icons as an image and adding them as pictures will do the work too.
What does the Motivation training graphics contain?
The collection contains various graphical elements for PowerPoint – icons, and editable handwritten scribble diagrams. Choose colors to correspond with your brand or the color scheme and layout of your presentation.
The graphics collection consists of:
Check the template content below.