Wondering how to plan 2019 year activities the new way? If you are one of those, who don't like planning especially because of lack of time and tools, you are in the right place to find resources, calendar graphics and a few tips.
Here are four examples how you can present Your next year projects, deadlines and notes with a simple tool you familiar with – PowerPoint (or any presentation software that can read PPTX file).
Note: All the pictures below are made with PowerPoint. You can get source slides in 2019 Calendars PPT graphics – US format (or EU format with Monday 1st).
Traditional way to present calendar timelines are the tables. However creating default table is:
timely, especially if you have to fill it it with all months or weekday names and
not looking very well, if you will use default table look with black grid and black font.
However, with some design tweaks and images you can create calendar table that will be more readable and attractive to look at.
Table Design Trick: For quick table face-lifting, try changing table grid from black to light grey. This way the cells content will stand out and your table will be more readable.
Depending on what time scope you want to plan and present, check those 2019 calendar examples:
1. Presenting Yearly Project Plan
Long-term planning is a must-do in a business life. You can see all the projects you have to accomplish, you can plan how to arrange resources and time for them.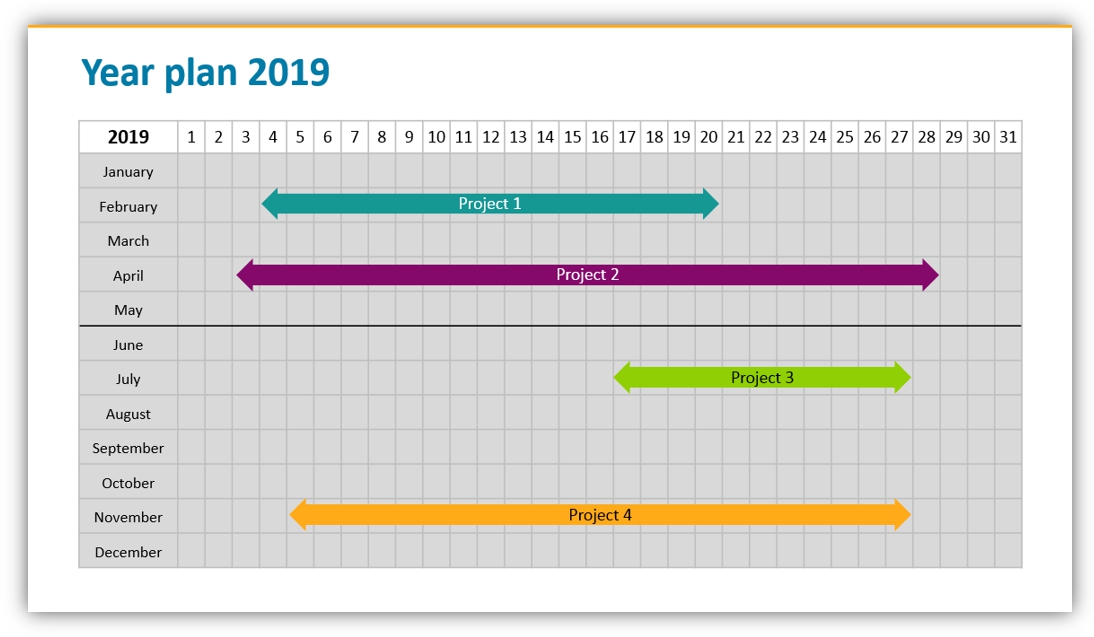 For three years we prepared such a slide, where you can put the future plans. Slides are easily editable, you can add or remove things as you like.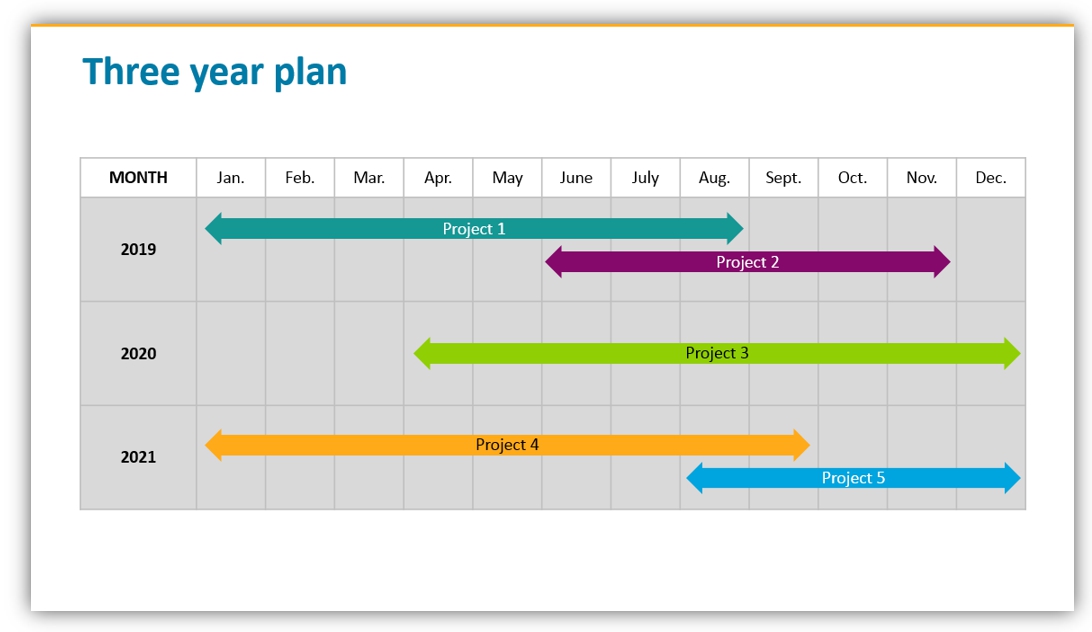 2. Multiple Projects Quarterly Timelines
Project management is a complex thing. Timelines and planning through time is one of its main pillars. There a many tools for project management, but you can start with creating a simple calendar with arrows or just lines.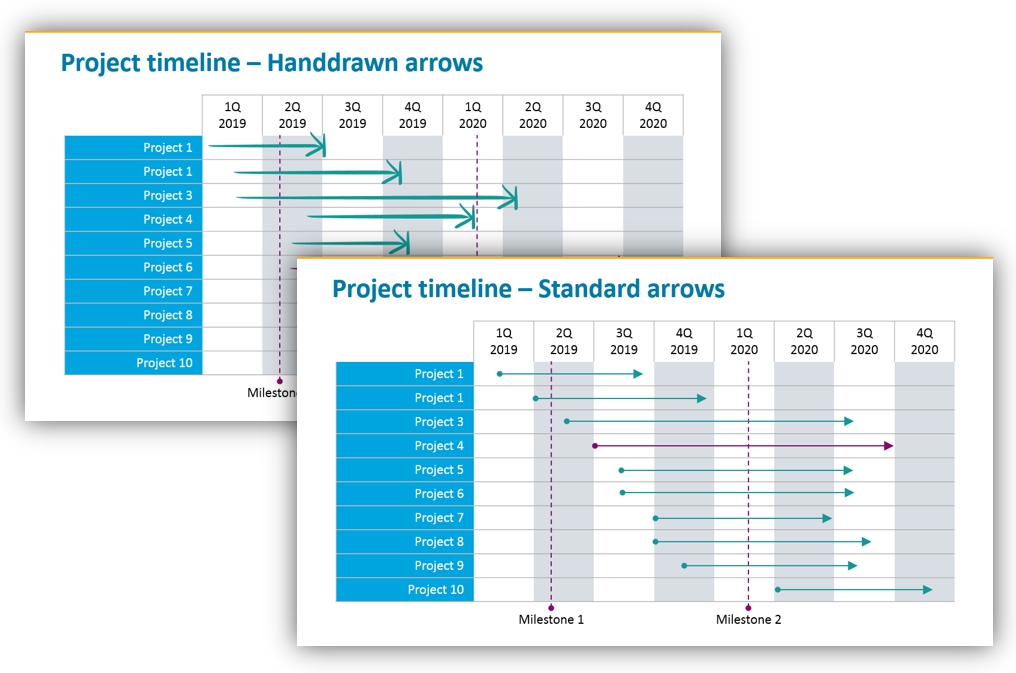 3. Listing Monthly Key Events
If you activities planned month by month, for example your marketing calendar, here's a calendar graphics template with a place for description in each month.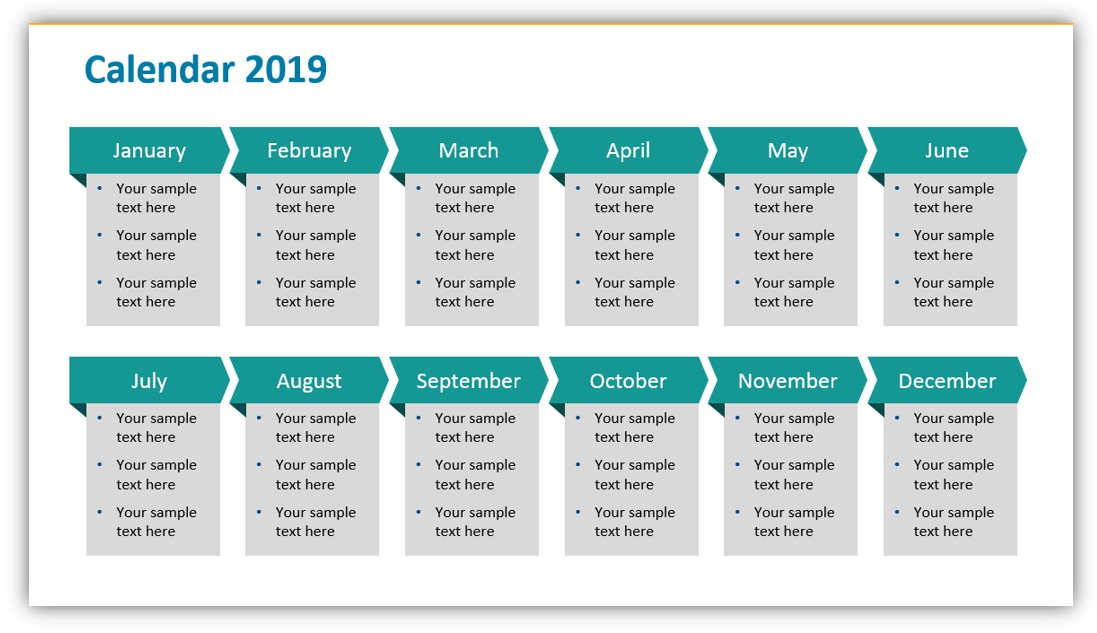 4: Detailed Daily Calendar of a Quarter
Quarterly calendars is a good way to see what to expect during the next three months. You can mark task duration by changing cell background color according to legend. Deadlines and key dates can be underlined by adding a hand-drawn marker.
We created a light and a more colorful version of such slides.
5. Specific Month Calendars
After yearly and quarterly calendar it's time to break it down even more – monthly calendars to the rescue 🙂 In the collection, you'll find a template for each month in two versions: with a place for notes or with larger cells to note something inside them. Notice how using hand drawn arrow nicely points attention to a given date and adds a special personal touch to your plan.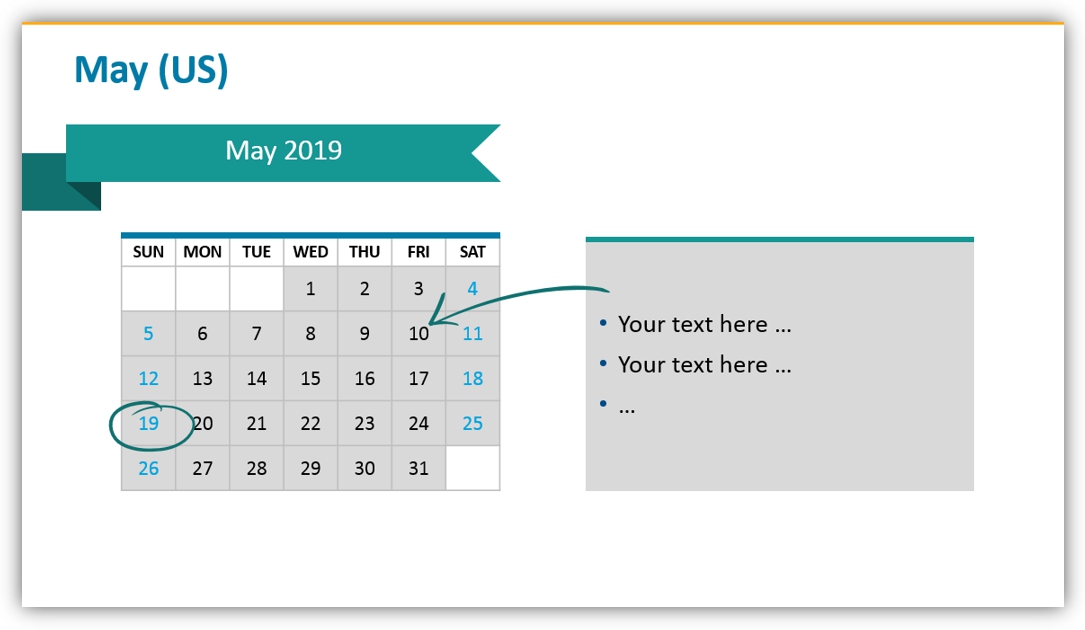 You can also use virtual post-it notes over a month table, to mark special events. Recolor the sticky notes. to create several classes of events.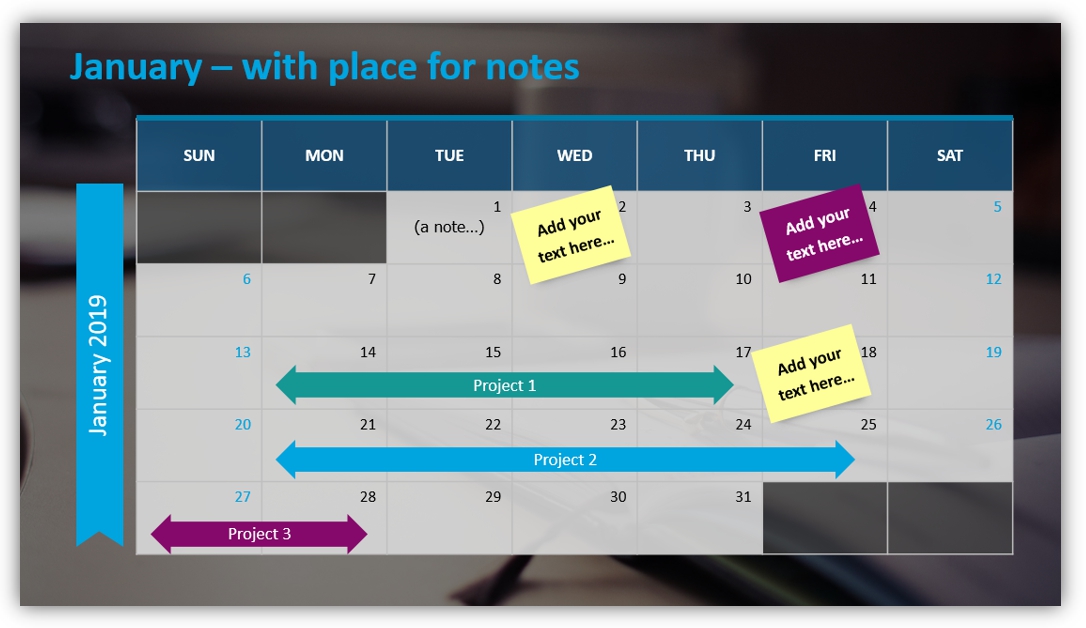 If you like the calendars and examples above, you can get the calendars graphics and timelines we used (or subscribe and download slides every month).
What's Inside Calendar Graphics and Timelines Collection?
The predesigned 2019 Calendars and Timelines graphics set includes:
The 2019 Calendars Template has two versions.
US weekdays calendar formats:
Calendars 2019 Timelines Graphics US format
European ISO style weekdays format:
Calendars 2019 Timelines Graphics EU format
See also our Timeline Graphics: for showing history, agenda, linear process flow charts, project timelines, planning phases and roadmaps.
The format is an editable set of vector shapes. You can change colors, texts, shapes using only built-in PowerPoint tools. You can also check out an article on planning and time management (based on the real experience).