If you're in the UK-EU or do business with entities which operate there, it can only benefit you to understand more about Brexit. The Brexit Impact Template is designed to help you present intelligently on a number of Brexit topics.
These include what Brexit is, what the options are, and offer a general idea of what the consequences of Brexit might be for your company or your clients. As always, this graphics set is fully customizable and can be modified so that once you've made your analysis you can present the information in an easy to understand way.
All example slides below are accessible in Brexit Impact PPT Presentation & UK-EU Economy Facts (see details by clicking the pictures).
Start with the Basics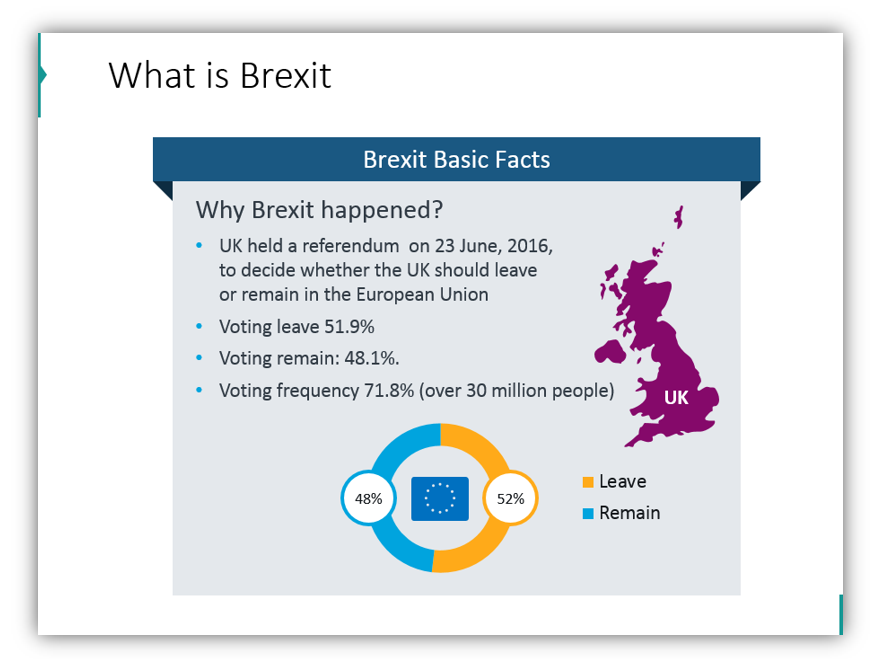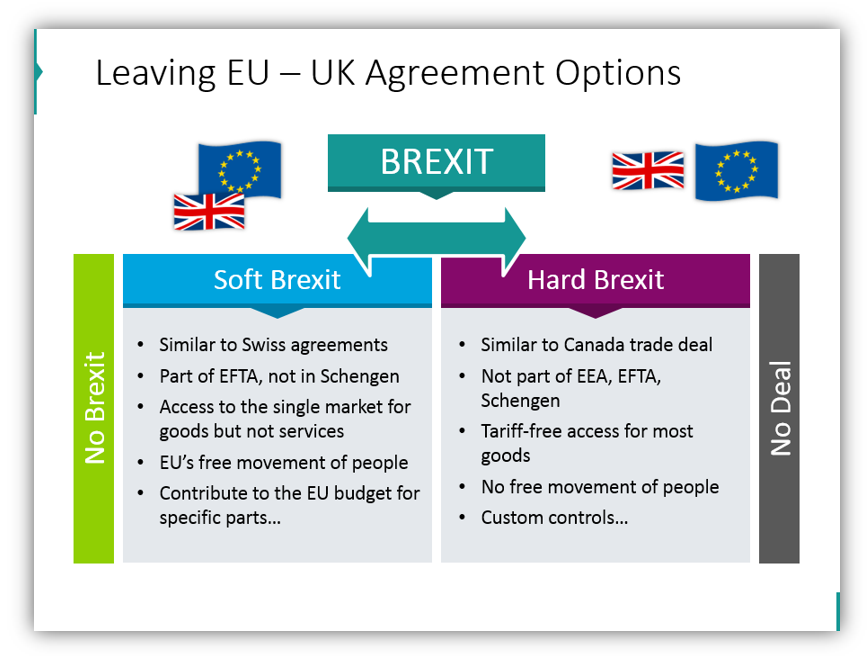 If you're explaining Brexit or related concepts, don't be afraid to start from the beginning. Basic information and background can help those with a foggier knowledge of Brexit catch up. By understanding the details about how Brexit started, you can ensure your audience is better prepared for the more complex information that will follow. Be cautious. You don't want to over explain information your audience is already familiar with, so keep your audience in mind when planning the background information part of your presentation. You don't need the history of the EU if you're working with individuals in the EU or UK. If you're working with individuals in the US or other parts of the world, keep their educational needs in mind.
Highlight Macroeconomic and Demographic Information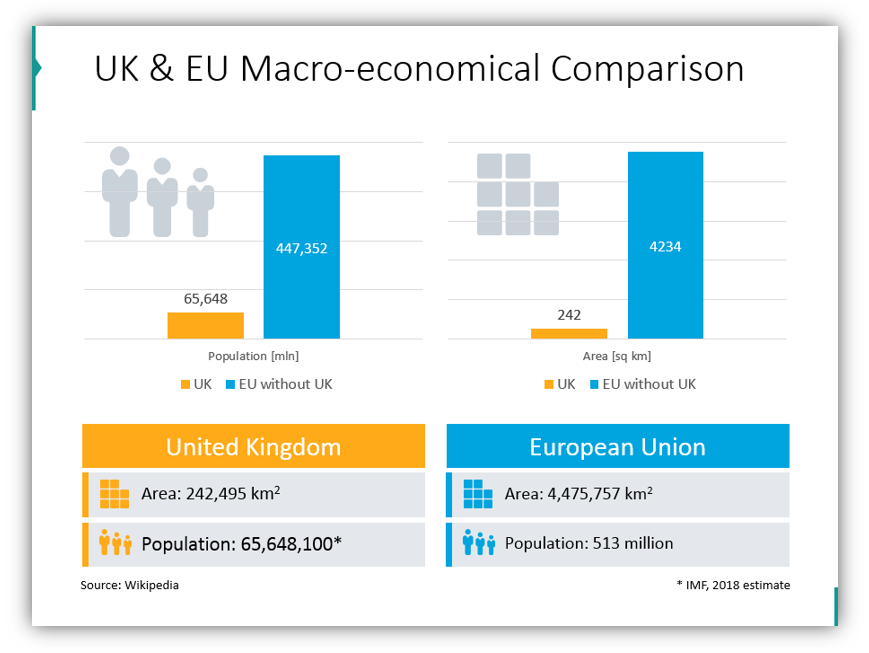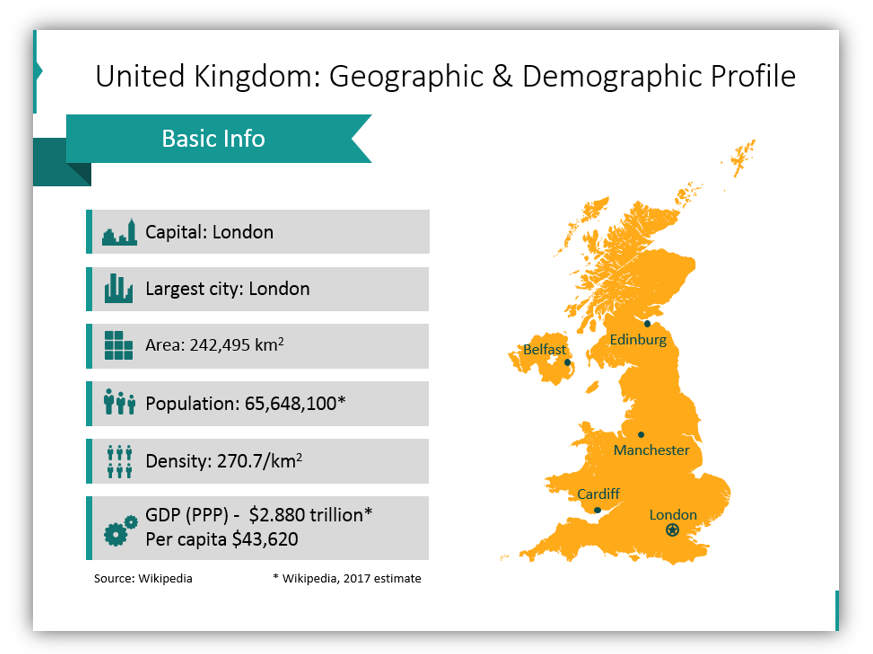 Before you can fully dive into the details of Brexit, it may be helpful for your audience to provide context. It's also beneficial for your understanding, so that you may see the bigger picture with greater clarity. You have the option to modify the data displayed in either the bar graph or in the tables, as well as modifying the colors to be consistent with your branding. If you'd like, you may even provide even more details. Numerous maps are included in this icon set so that you can even provide a visual representation of the region you're discussing.
Do a Comprehensive Comparison of the Pros and Cons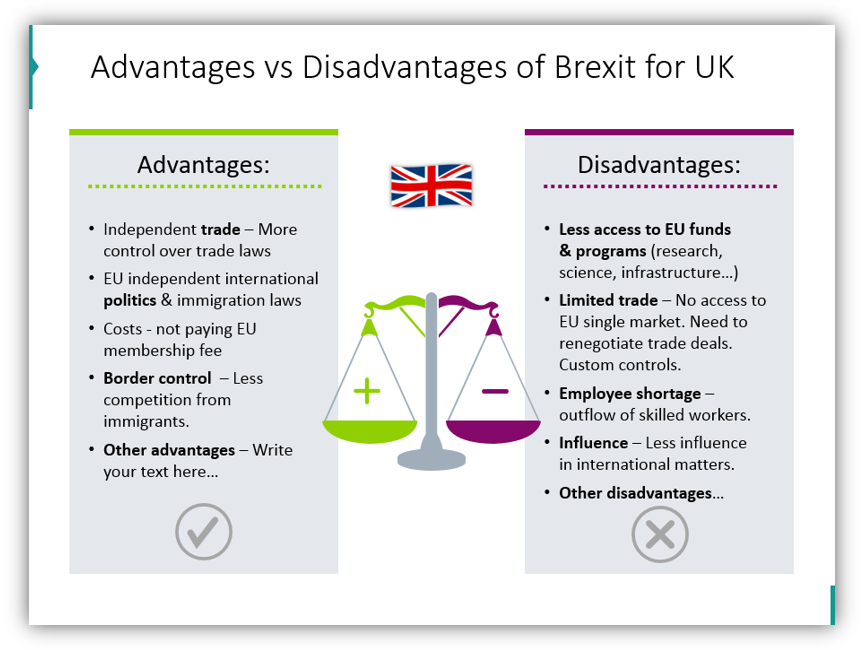 With a matter like Brexit, in many ways, it boils down to the advantages and disadvantages. Depending on where and how your business operates, the pros and cons may range in severity. The important thing is that the analysis you perform at this point is comprehensive. Think about your location(s), your employees, your suppliers, where your customers are – all these factors and more will weigh heavily on your advantages and disadvantages list.
Perform a PEST Based Analysis or PESTEL Template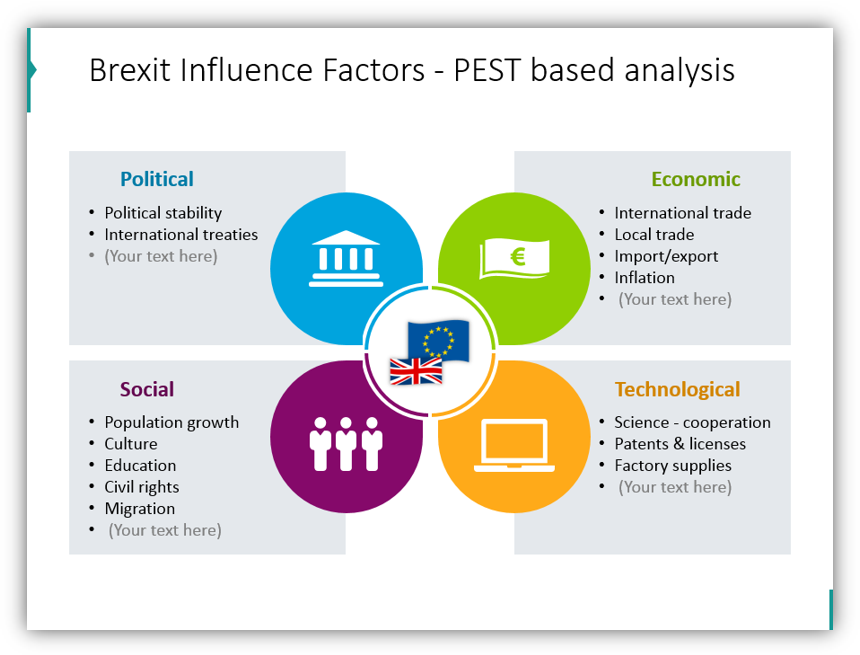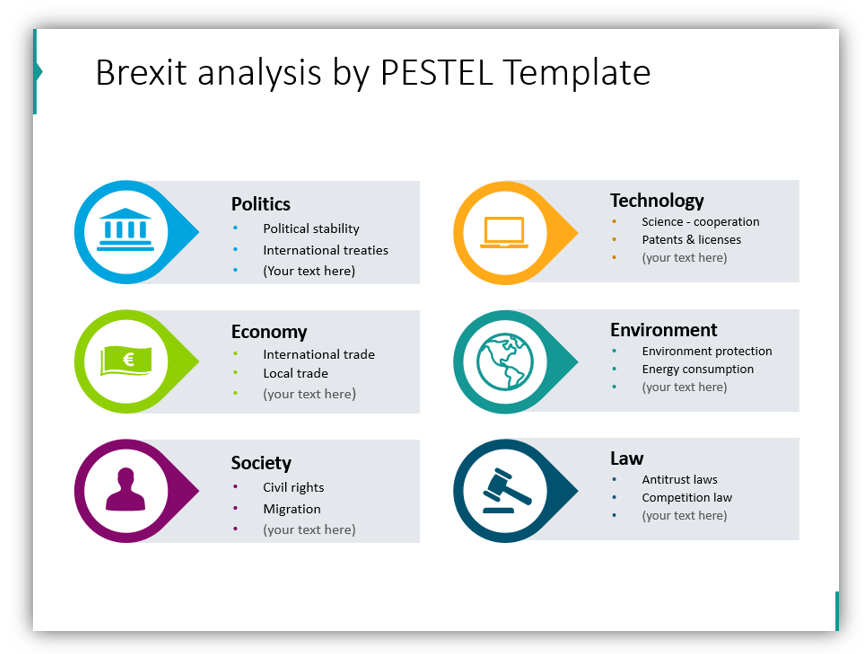 When looking at the numerous factors which could be influenced by Brexit, a PEST based analysis can be very useful. It will help keep your thoughts organized and easy to follow, which is essential when presenting on a topic of this gravity. You can easily divide the many influences into the most appropriate category (Political, Economic, Social, or Technological) and edit the description boxes to include any additional influence factors which may relate specifically to your business or industry. A PESTEL template will accomplish similar goals, but while looking at different categories of influence (Politics, Economy, Society, Technology, Environment, and Law). Choose an analysis which is most applicable to your business or industry – or do both!
Assess the Risks and Then Figure Out What You Can Do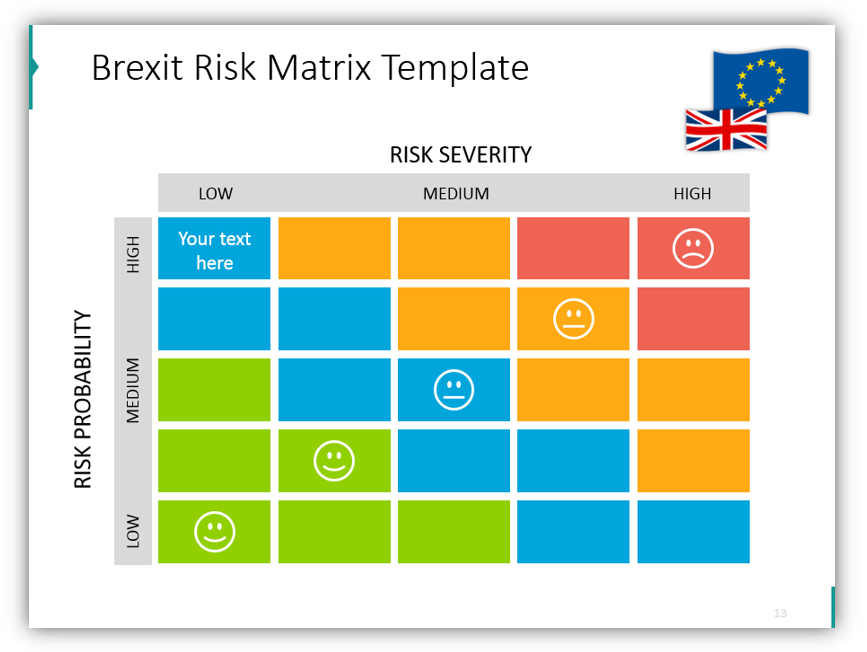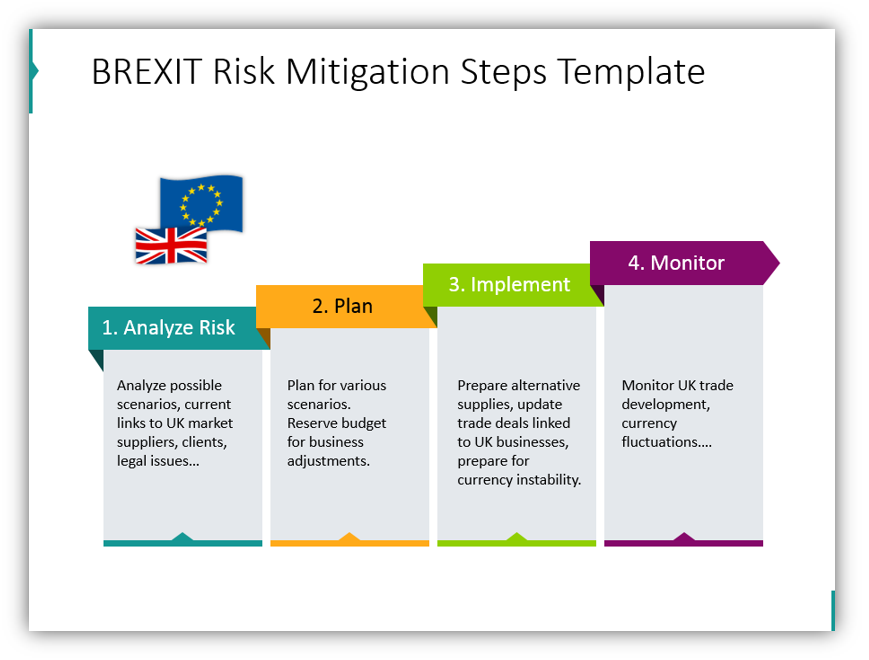 Completing a Brexit Risk Matrix will help you gauge the likelihood of the numerous threats you'll have undoubtedly uncovered during the process. Provide supplementary text and fill in appropriate icons to represent the risks, or with indicators of the intensity as in the example. You can create a Brexit risk mitigation steps template for all of the risks you address, or only the high probability risks which pose a real threat to your business, your clients, your suppliers, or your staff. Planning, and making sure that those who depend on the plan understand it, will be the secret to success.
Resource: Brexit Impact Presentation & UK-EU economy facts
You can successfully explain background information on Brexit, analyze the pros and cons, perform detailed analysis to get a fuller picture of what Brexit means for you, assess the risks, and then form a contingency plan for those risks – all with one icon set. You can also project a timeline for the risks, implementation of your plans and contingencies, and more.
If you find the above examples useful or helpful you can down the Brexit slide deck set here:
Brexit Impact Presentation & UK-EU Economy Facts
You can also check our maps collection if you need other or more templates.