Do you need to present on Smart Home Devices and Connectivity topics? Creating attractive PowerPoint presentations for technical topics is not easy for many Information and Communication Technology (ICT) professionals. Without graphic design experience, it can be a struggle to build beautiful, consistent graphics by yourself. Especially for highly technical topics! Without a designer or specialty software, making your own flat icons can be time-consuming.
There are many challenges for ICT presentations. Information Technology symbols are not always the easiest things to create. What's more, you'll also want your icons to be consistent throughout the presentation. This will give your slides a more professional, cohesive look and improve its effectiveness.
Make this and future IT presentations easier. With stencils, symbols and icons for smart devices, computer network symbols and additional computer graphics you'll be ready for any future presentation needs. Check out the full IT Icons: Mobile & Smart Devices, Computer & Telecom Networks set here.
Our IT diagram templates for PowerPoint are meant to be simple. This will help your audience understand the meanings of the network diagram symbols and icons in your presentation, and your overall message. When you incorporate too much text into a presentation or even into individual slides, it can make them confusing or even incomprehensible. Why waste your time and energy creating a presentation your audience can't understand? Why waste your audience's time with an unprofessional presentation they'll tune out?
The modern computer network symbols collection included in our IT diagrams template library is not just for smart home device and connectivity presentations. The sleek vector graphics are sharp-looking and easy to customize to suit your needs right in PowerPoint. You don't need any special software or tools to resize, re-organize, or change the colors of any flat icons in this or any of our other sets. For less savvy audiences you may need to explain more. When offering these explanations you can use visual elements so your slides aren't too wordy. The less you rely on tables and lists, the more easily understood your presentation will be and the more professional it will look.
Present about Web Services and Connectivity with Sharp Infographics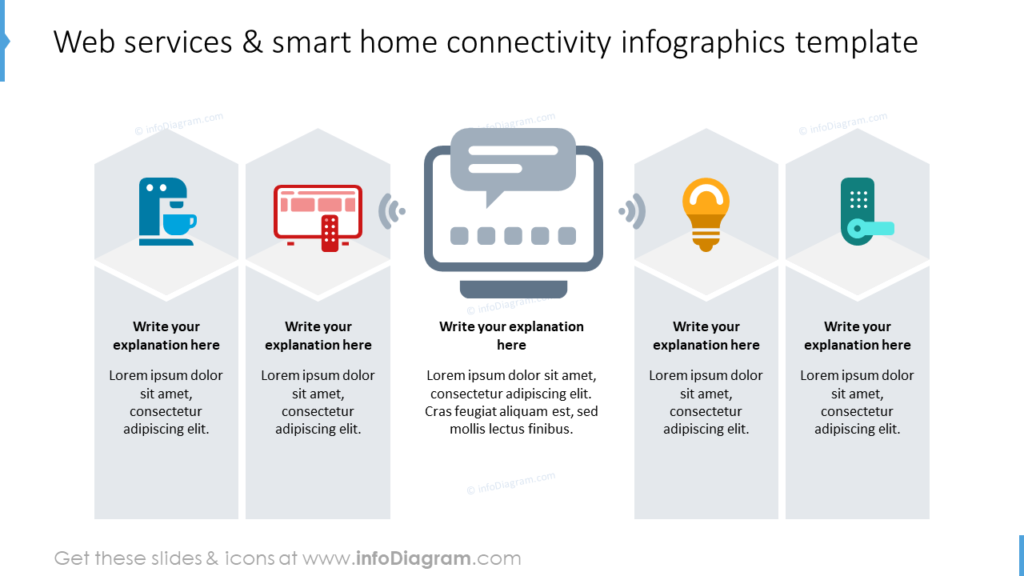 This modern infographic template is pre-made and ready for your customizations. Our graphic designers built the diagrams so that you can include the components which are relevant to you and your audience. Add or remove text as you need to – remember, you don't want to be too wordy!
Give an Overview of Smart Home Devices and Connectivity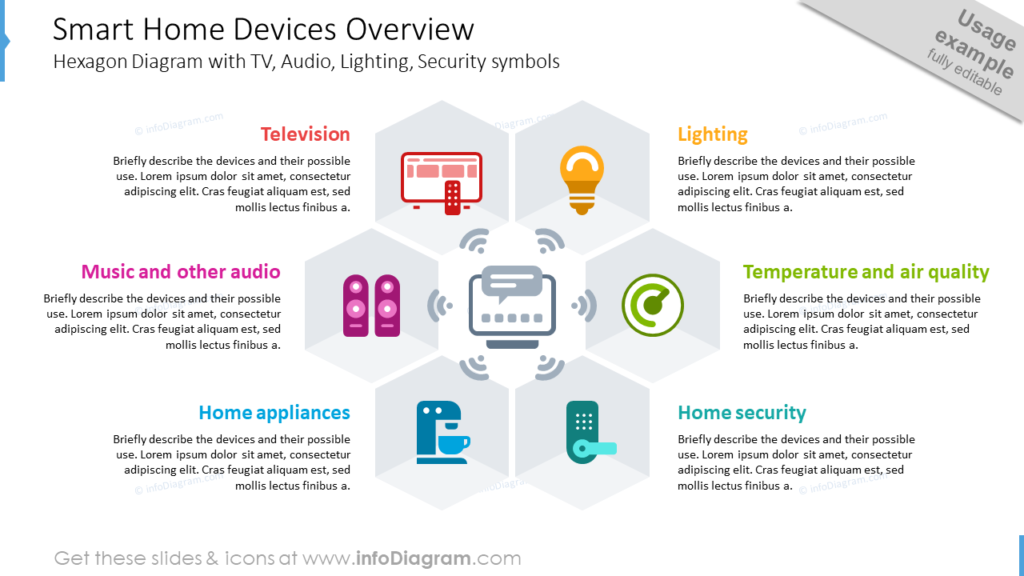 This hexagon diagram features many smart home devices and explains their connectivity. Do you need to explain smart devices like televisions, lighting, temperature and air quality devices, audio components like speakers and others, home appliances, or even home security devices? If you need to present about some or all of these, this template is ready for you to customize. Add or remove components which do not apply or which are not necessary for your message. Customize colors, descriptions, titles and more so that your visual elements will match your presentation needs. Change the colors and text to suit your needs and give your audience something interesting and informative to reference.
Present Smart Home Device Revenue using Elegant Bar Chart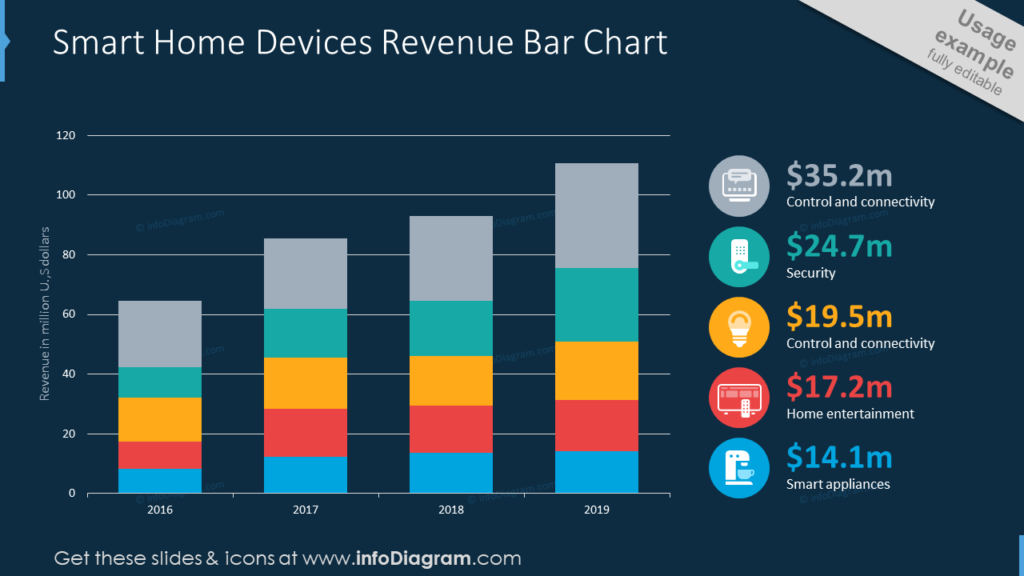 Do Smart Home Devices generate revenue for your business? Are you needing to justify expanding into the Smart Home Device market by sharing how such devices and their control and connectivity generate revenue? Whatever revenue concerns you need to address for your audience can be presented using this template – just customize what you need!
The IT graphics collection contains many various icons from network topology to Cisco symbols for Computer Network Presentations. See the full collection by clicking here:
With consistent, professional Information Technology symbols, you'll be able to create visually cohesive presentations about a variety of IT topics. Without a design background, you'll be able to utilize white space like a pro and ensure your audience is impressed by your easy to understand technical presentation.