Medical issues, whether they are diseases or other health conditions, can be complicated and overwhelming to explain. Presenting on these topics or creating a resource is not an easy project. If you have been tasked with creating medical infographics and presenting a healthcare topic like what a disease is, how to treat it, or what the medical community knows about a given topic, it is important that you be credible. It's also important that you don't overwhelm your audience by providing too much information, or by using slides that are difficult to read or understand.
Why Create Medical Infographics?
When you're creating a resource to help you teach new information, whether it's going to be a printed brochure or a presentation, you need to explain everything without overwhelming your audience. By having sleek, modern outline graphics in a consistent style you can get a head start on your next resource project or presentation. If you rely on visual metaphors more than dense paragraphs or lines of text, you'll do a lot to help your audience understand your message.
Don't have special software to create visuals and a background in graphic design? That's okay! You can utilize pre-made, modern PowerPoint healthcare diagrams.
If you want to create your own medical infographics or disease diagrams and have PowerPoint, please check out the full Health Care, Medical Biology & Pharma Research Outline Icons set. You can customize these already made, fully-editable PowerPoint graphics to suit your presentation or project purpose.
We designed this healthcare icon set and included numerous medical symbols including microbiology icons, anatomy icons, medical diagrams and more. Whether you're giving medical advice or presenting background information about certain diseases, compelling visuals will help you make your case.
Present a classification list of mental disorders or types of cancer in a visual way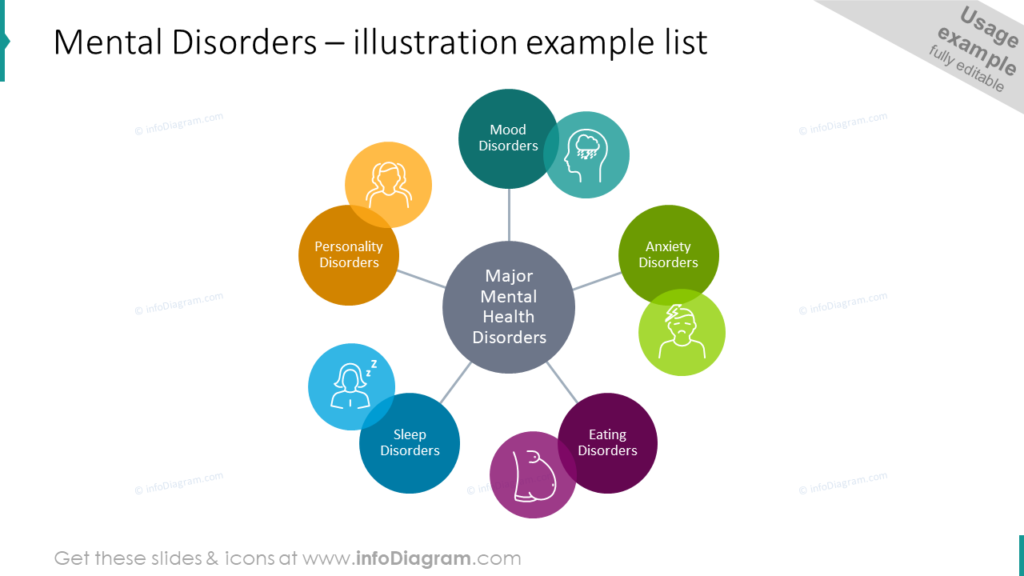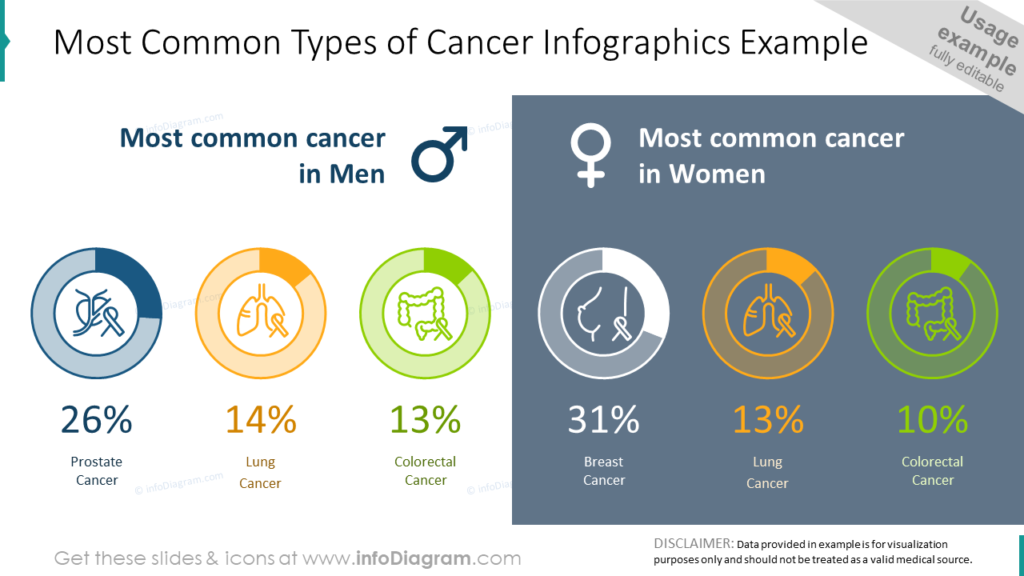 Do you need to show or discuss types of illness? Whether the conditions you need to list are mental illnesses, cancers, or something else your audience will benefit from a creative, visual representation. Text-filled tables or bulleted lists of diseases, symptoms, or other medical topics can be confusing. Avoid overwhelming your audience by using creative, visual slides instead of relying on text-heavy representations.
Show blood group compatibility in a table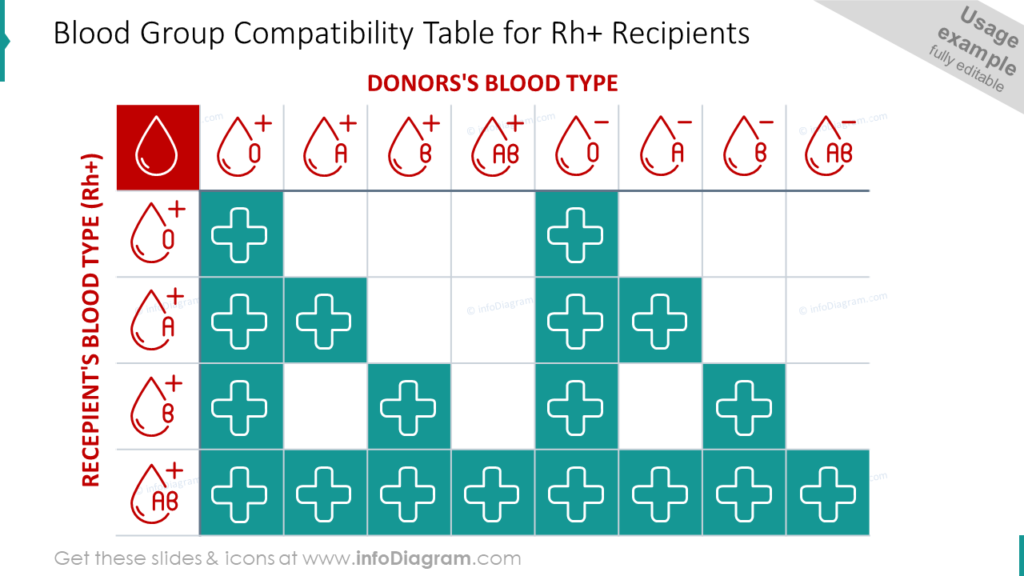 While it is true that tables can be confusing, there are ways to do tables correctly. Especially in presentations with strong visual components. In this example, the table is effective because it isn't filled with text. Each column represents the Donor's blood type with clever, easy to understand graphics. Each row represents the Recipient's blood type. The donors and recipients which are compatible are marked with a medical cross icon. The outlines are thin and consistent across all of the graphics, which helps to keep the infographic easy to understand even for audiences who are unfamiliar with blood donation compatibility concepts. This same level of "at a glance" understanding would be difficult to achieve with text-filled tables or lists.
Having easy to read, easy to understand, visually consistent graphics on each slide of your presentation will help your credibility as well as your audience's ability to retain the information you're sharing. Regardless of what the purpose of your presentation is, you surely want your audience to understand and remember what you're discussing. You wouldn't waste your time explaining things you didn't want them to understand!
If you're still uncertain as to whether the Health Care, Medical Biology & Pharma Research Outline Icons set is right for you and your next project, check out the full set:
Health Care, Medical Biology & Pharma Research Outline Icons
The variety of microbiology icons, anatomy icons, and other healthcare diagrams is sure to surprise you, and might inspire you for your next project or presentation.