A key part of HR management is the process of recruitment, selection, and onboarding of new employees. If you are about to give a presentation on any of those topics, see several ideas on how to illustrate complex recruitment process concepts and large amounts of data in a concise and eye-catchy way.
Below you will find several ideas for visual slides covering different recruitment process concepts:
hiring spiral
stages of a recruitment and selection process
candidate selection process
hiring process comparison
You can download all presented slide examples as an editable Recruitment, Selection, Hiring HR Processes PowerPoint deck. See details by clicking slide pictures.
Why use diagrams to illustrate HR Recruitment Process?
Well-designed recruitment, selection, and onboarding processes are crucial to building an effective team. Using modern creative graphics for showing the necessary steps to fill the job vacancy successfully will help you tell a story and make sure the audience got all your ideas.
The recruitment process takes care of identifying the vacancy needs, finding, selecting, and finally hiring the best candidate for the job. Finding the best candidates is only part of building an effective team. The process of onboarding new employees can be one of the most critical factors in ensuring that recently hired talent will be productive, contented workers.
If you are speaking in front of your team and explaining the process to them, it is a good idea to start a presentation by clarifying the definition of the process.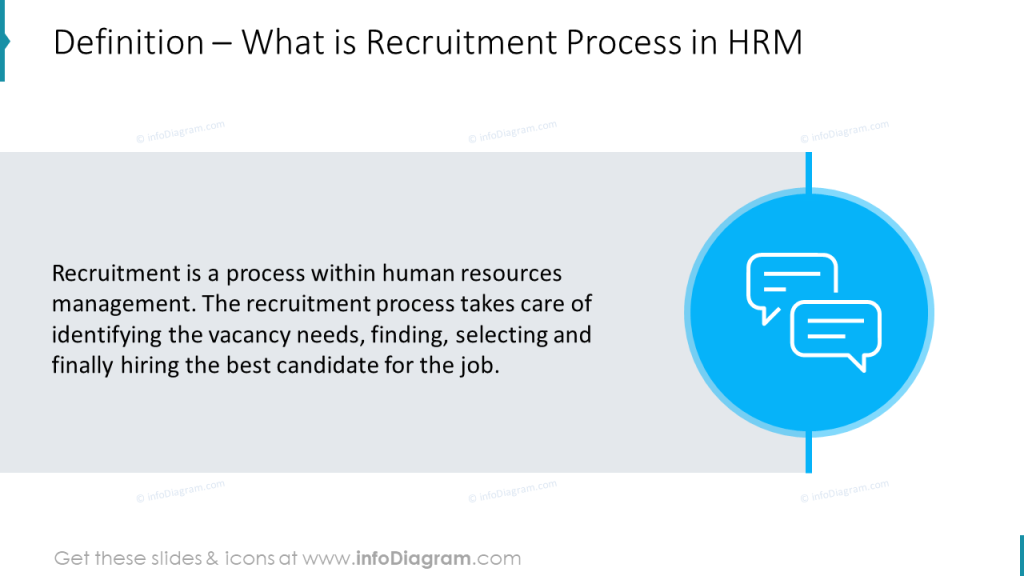 Below we put the diagram examples you can use to depict recruitment, selection, and onboarding processes.
Visualize the recruitment and selection process in a flowchart
To illustrate such multi-component processes as recruitment and selection, you can use a spiral diagram. You can include common steps such as:
Job Description
Job Posting or Referral
Candidate Application
Selection Steps
Screening
Offer
Intention Letter
Hiring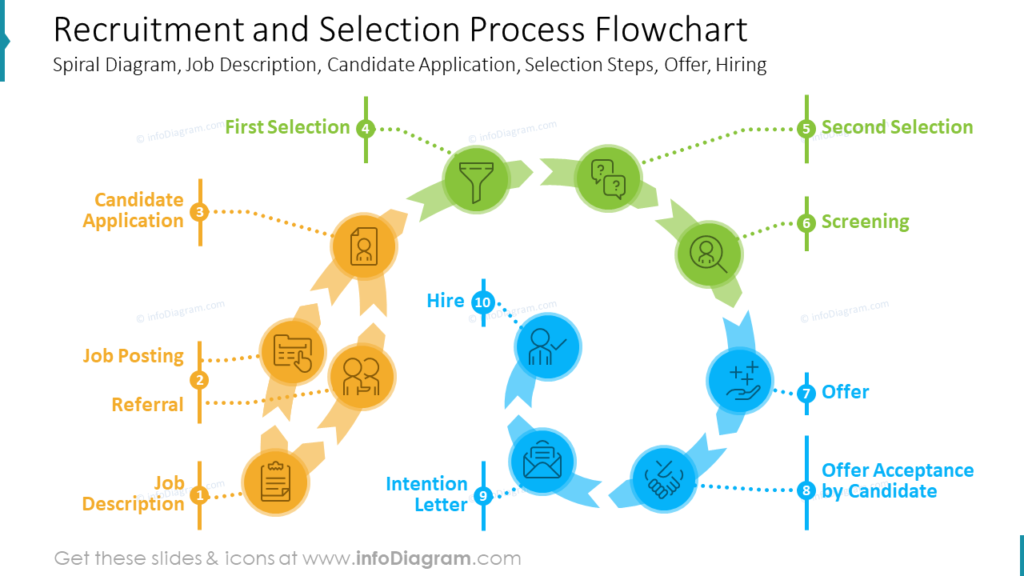 We also used color coding to make the three stages more distinguishable and symbols to make the slide more eye-pleasing.
Alternatively, you can use such a ribbon diagram to show the phases of the recruitment process: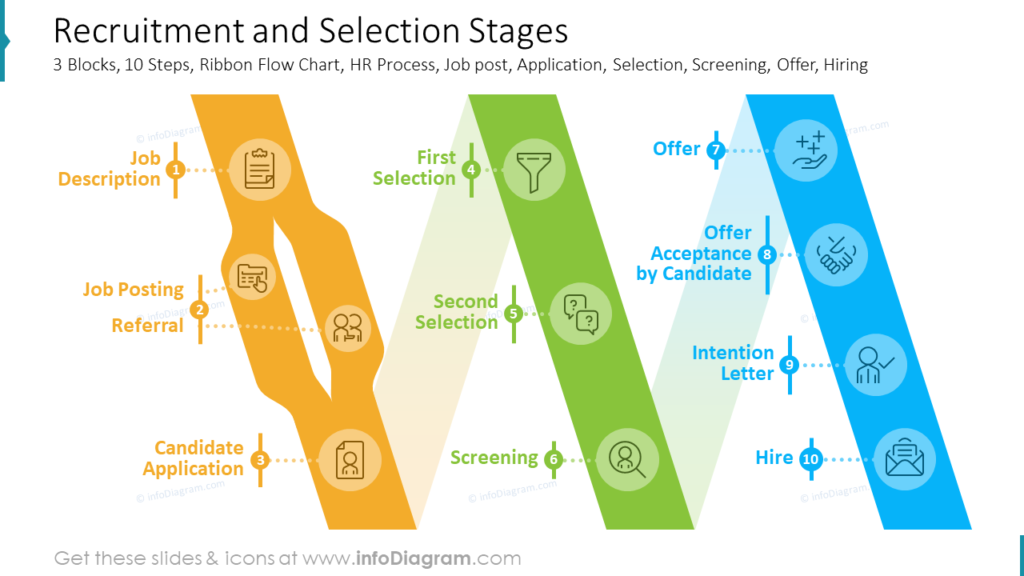 Show the candidate selection process
Illustrate the candidate selection process with a 2-step diagram, including candidate application and second selection. Outline more details by adding points for each stage: CV, motivational letter, video CV, pre-screening questions, interview, presentation of candidate, tests & questionnaires, case studies, assessment center, or input of direct manager.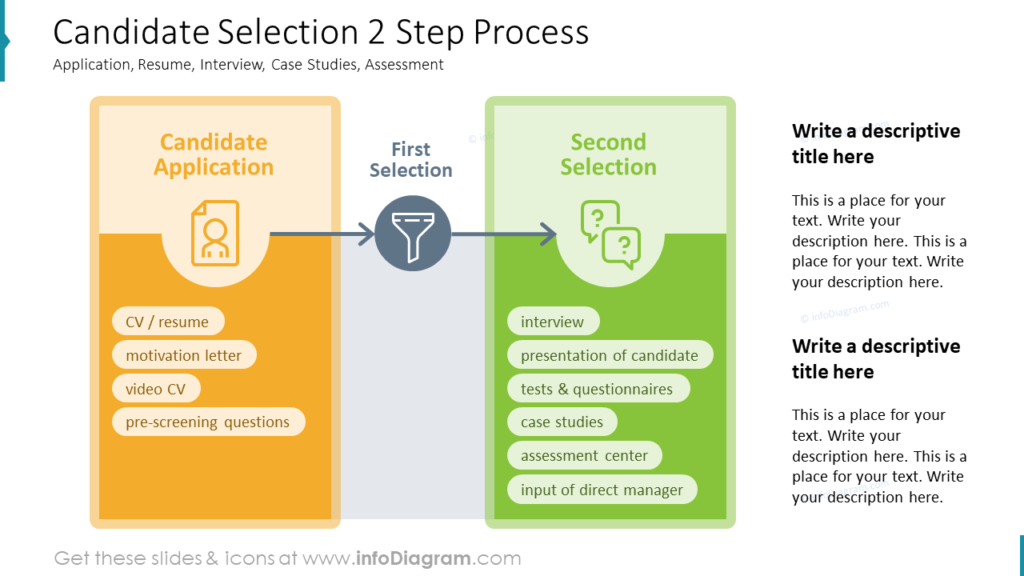 Present the hiring process – comparison with onboarding
You can start off by defining what the onboarding process is in case you want to company the hiring process with and without it. Below you can see an example of a definition slide illustrated with a symbol:
Here's how you can distinguish the 2 versions of the hiring process: with and without the pre-onboarding phase. Usually, the process includes the following milestones:
Signed contract – the beginning of pre-boarding
Getting info about the workplace, company policy, and products
First welcome day
Onboarding – getting to know the workplace and products
The employee is ready for work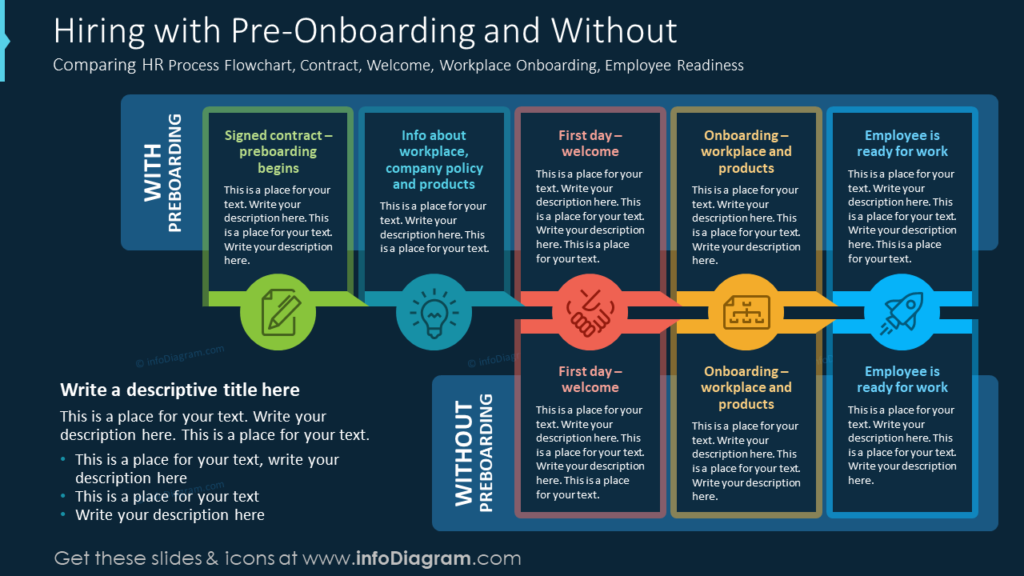 In the slide example above we used different colors for each stage, so it will be easier for the audience to see which stages are different and the same for both process versions.
Guide on how to transform a table with the hiring process into a clear infographic
Here's an example of redesigning a default table slide that presents the hiring process with and without the pre-onboarding and the final slide version: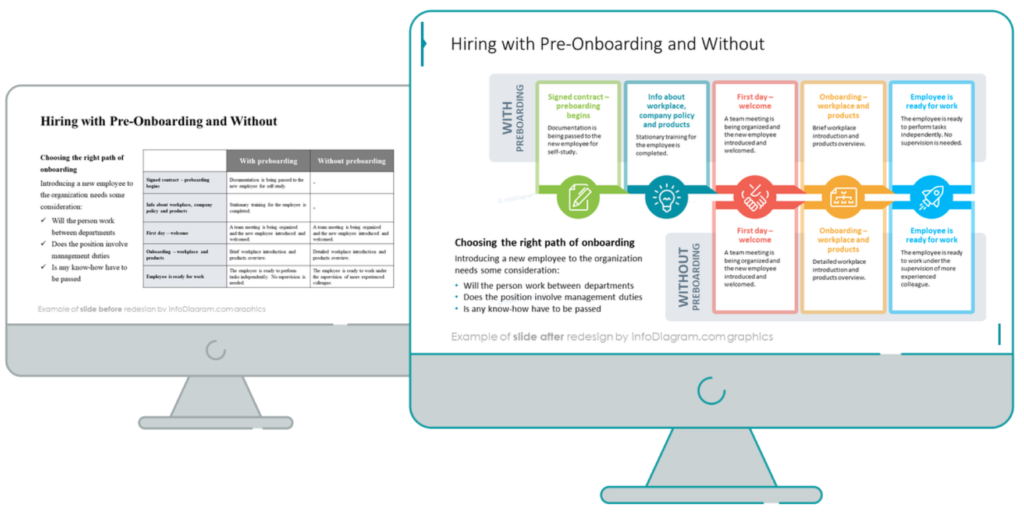 See how you can turn such a default table into attractive infographics in a few steps.
1. Reshape the table into a diagram.
See if you can reorganize the data in a more logical way. In our case, we restructured content to show the steps of recruiting process as a horizontal flow.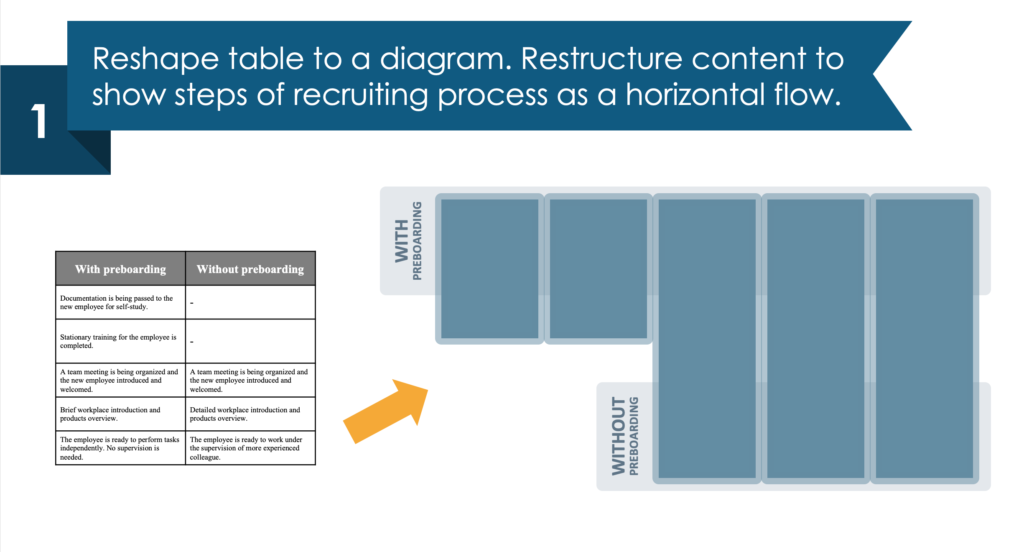 2. Use various colors to make your content better-exposed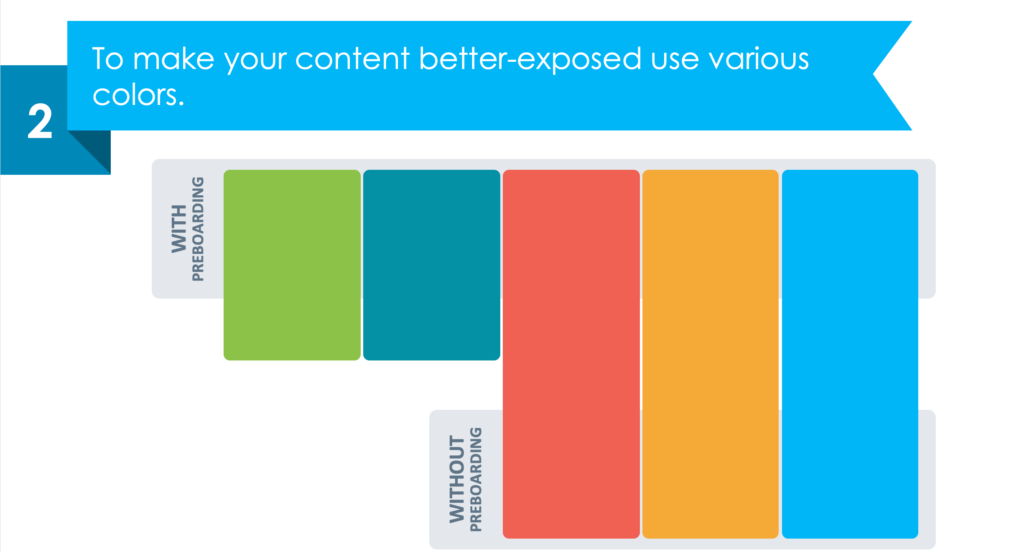 3. Fill the diagram shape with the content.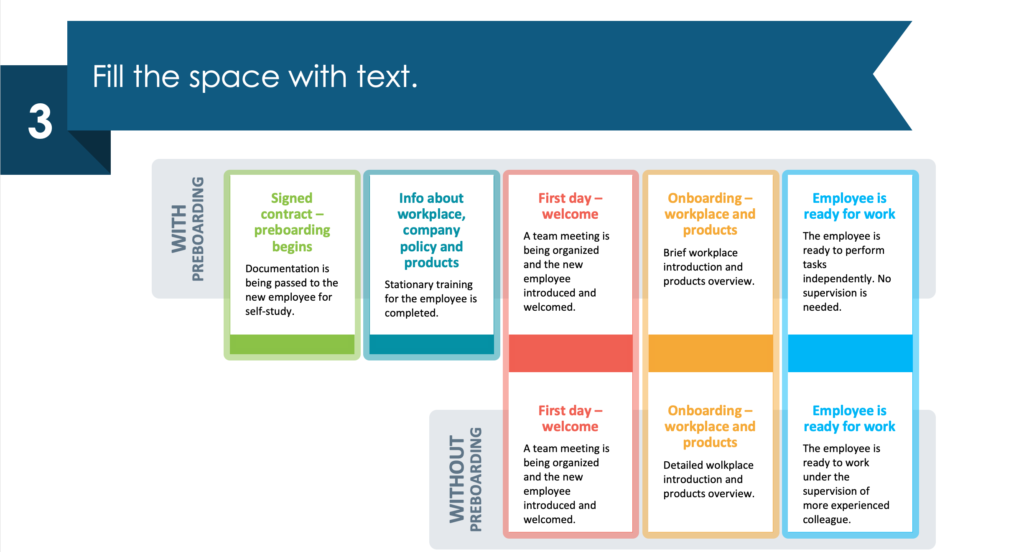 4. Use design elements to support your content
We used icons to illustrate each stage, and arrows to show the reading flow.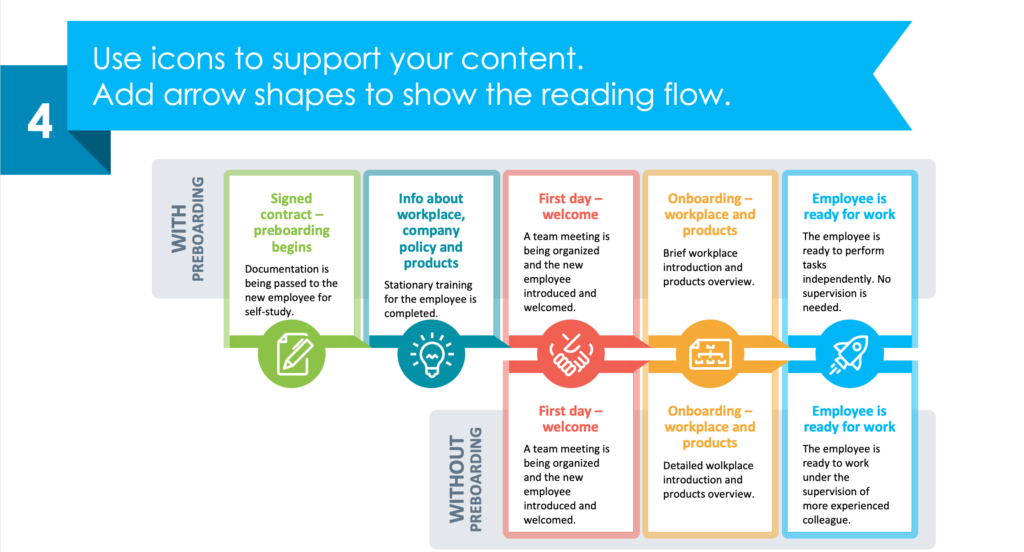 Check the guide and other examples on our YouTube channel: How to Show Recruiting, Selection, Hiring, and Onboarding Processes in Powerpoint.
If you'd like to present other areas of HR management, such as human resources-related KPIs and performance metrics, check this article about how to illustrate various HR metrics using dashboards.
Resource: Recruitment, Selection, Hiring HR Processes Graphics Collection
The infographics and diagrams above are a part of our recruitment process diagrams collection. It contains templates to illustrate the hiring spiral, recruitment process flowcharts, recruitment and selection stages, candidate selection steps, and more. Check the full deck here:
Recruitment, Selection, Hiring HR Processes PPT Graphics
If you need more general diagrams and charts, consider the ultimate collection of modern infographic templates.