Are you working in sales as a manager who needs to define buyer persona, report your company's product sales, or make a persuasive sales pitch presentation to your client? Having a set of attention-grabbing sales PowerPoint templates comes in handy because you can use them anytime to quickly create professional slides.
In this blog, you can find Powerpoint slides you can use as inspiration for your presentation and leave an impression on your clients or stakeholders.
Let us present to you our selection of sales presentation toolbox we recommend to senior or junior sales managers, sales executives, or account managers to check; to make their work faster and easier.
Get any of the graphics presented below – click on the slide pictures to see and download the source illustration. Check the full collection of Sales PowerPoint templates here.
6 Suggested PowerPoint Templates for Illustrating Sales Pitch Presentation
Here is a suggestion of several templates which will help you make your next sales pitch presentation more innovative and save time and effort. You can reuse the whole file or just copy specific slides and graphics:
Investor pitch deck
Business case study
Product report charts
E-commerce analysis and management
Marketing buyer persona
Sales funnel and pipeline process
Investor Sales Pitch Presentation Template
Whether you need to present your business idea or a new project to an investor to get funds for its development, the sales pitch deck templates come in handy. Visuals will help you keep your presentation simple and concise while communicating all necessary and important information.
The Elegant Outline Pitch Deck covers all essential parts of a pitch talk such as your business idea, marketing plan, the introduction of new products and services, business challenges and proposed solutions, market estimation, and financial investment requests.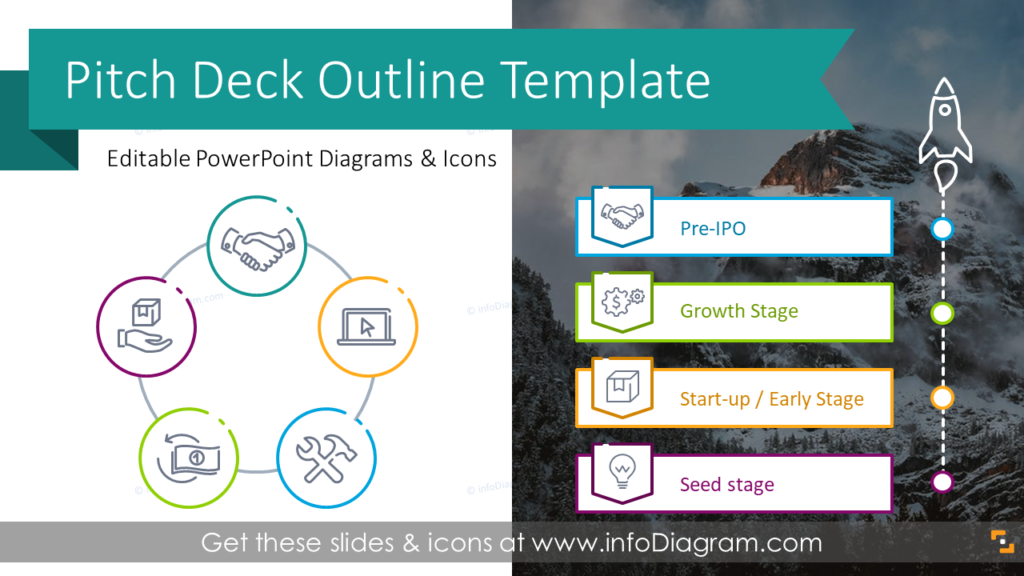 You use this template to:
Try to find investors to help you grow your business
Highlight your sales targets and quotas, future plans, and past growth
Tell the history of your startup company
Describe your company's competitive advantage and mission statement in a concise and attractive way
Introduce the team that will manage the business, using photos and short descriptions
Present clear and appealing solutions to the challenge that investors can easily follow
Visualize your SWOT Analysis of the potential new markets
If you want to give your pitch a more personal touch, check the Creative Investor Pitch Deck with Organic Blob Shapes. This deck is designed in a creative modern style, you can reuse these slides to tell a compelling story of your business and ideas.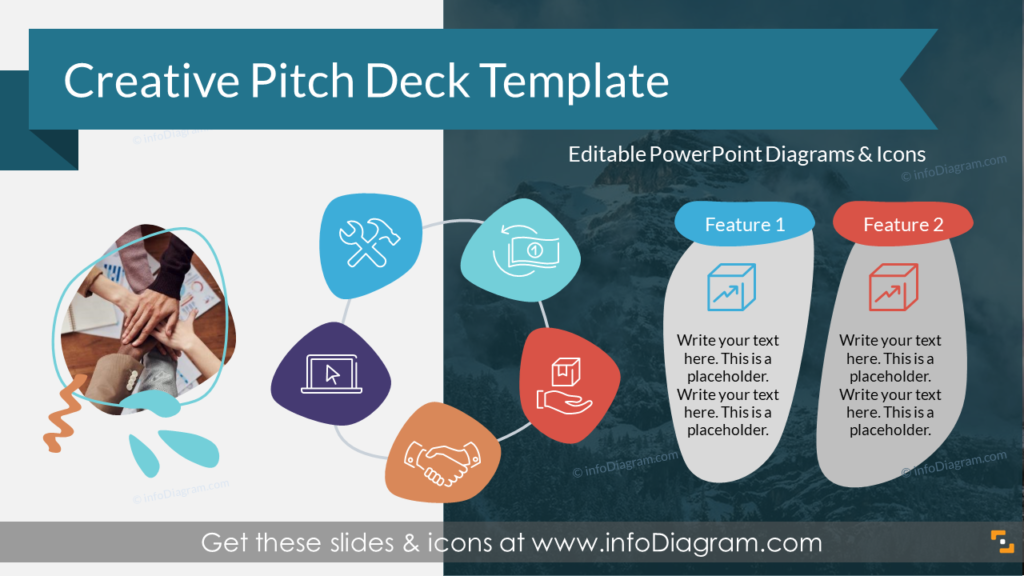 Sales Business Case Study Template
A sales case study is used to show how a business problem was solved based on real-life examples. It usually contains parts such as client profile, situation description, conducted analysis, problem identification, gap analysis to solutions proposal, and implementation.
A well-presented case study is a powerful sales tool. You can use this template to present a project case study to a client, describe business problems, show gap analyses, and describe possible solutions effectively and professionally with graphics: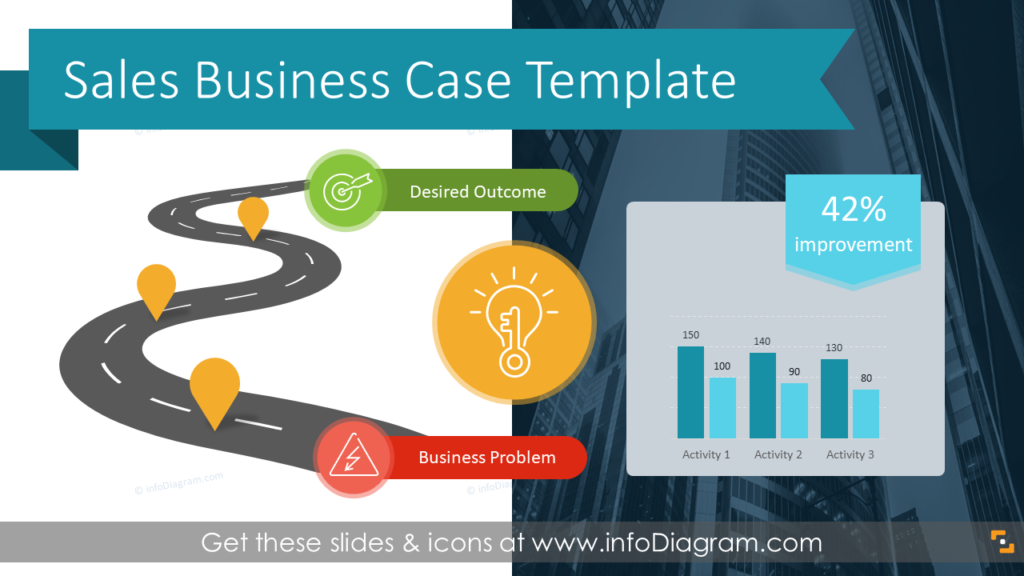 The Sales Business Case Study can be applied in various situations such as sales proposals, sales pitches, describing practical business implementations, problem analyses, and presenting consulting experience.
Product Sales Report PowerPoint Charts
If you want to present a product revenue analysis, market share development, or a monthly sales review in a clear and professional way, the sales report charts deck is the right one for you. This PowerPoint template with data-driven Excel charts allows you to add your sales figures and compare your product's income over the last years: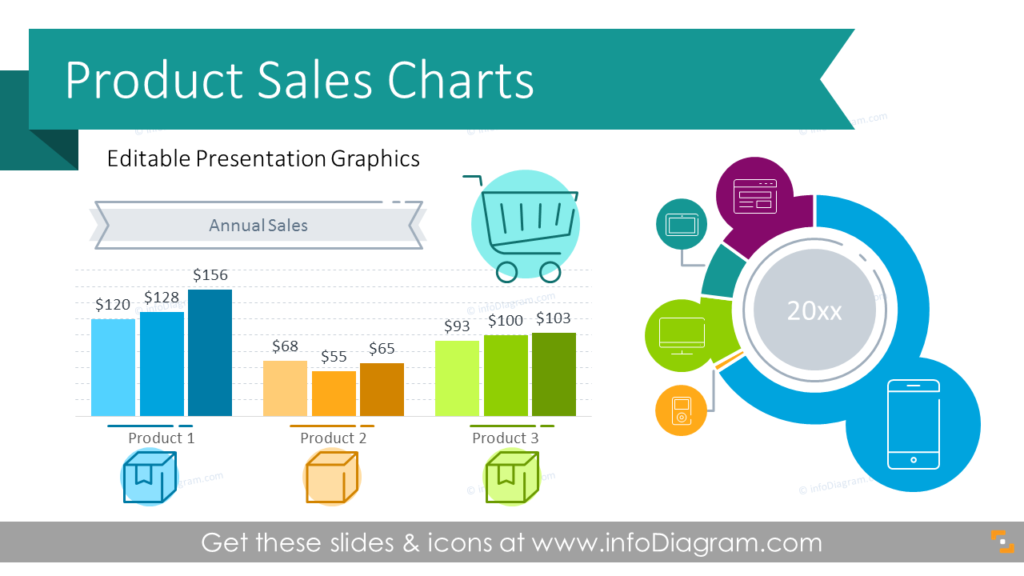 You can use the Product Sales Report Charts Template to:
Present a monthly or quarterly sales review
Compare your product performance with competition products using pie charts or donuts charts
Measure sales progress and determine the success of reaching your quotas
Report sales volume in a timeline chart
E-commerce Analysis Management Presentation
If you are talking about e-commerce market characteristics or presenting your online store performance, have a look at E-commerce Analysis Management Presentation. This template will help you increase your understanding of complex data through compelling visualizations.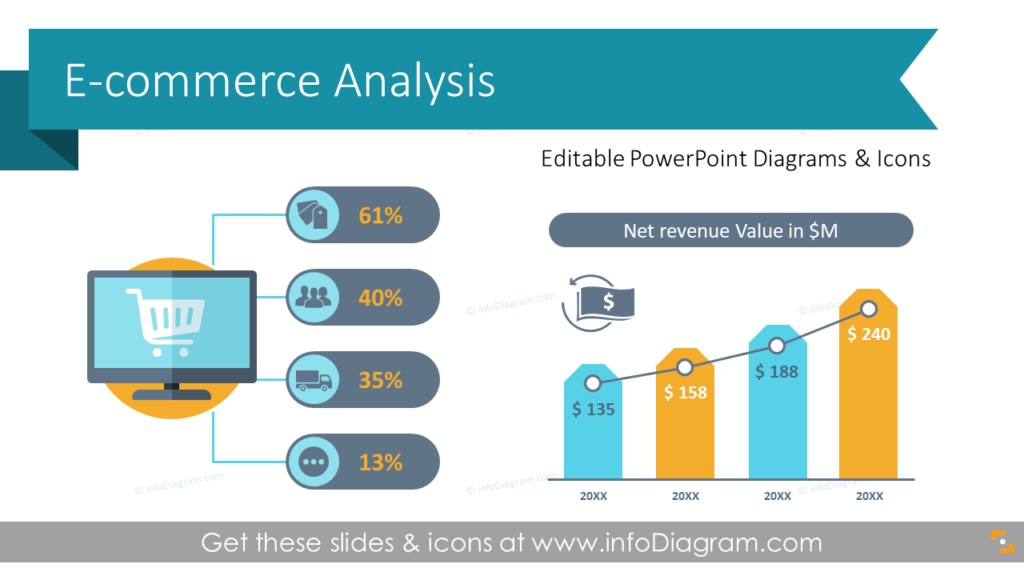 Where can you use the E-Commerce Analysis Management PowerPoint Template?
Illustrate E-Commerce market characteristics, demographics, and predominant online competitors
Describe clients' reasons for e-shopping using appealing icons
Show the sources of information stimulating online purchases
Design Customer Online Journey, including purchase and post-purchase steps
Illustrate a Customer Journey Analytics
Visualize preferred Payments and Delivery Methods
Create a complex picture of the Return process in E-com Business
Illustrate your online store analytics
Present e-commerce management challenges
Marketing Buyer Persona PowerPoint Template
Visualizing a sales avatar will help you and your team to understand your customers' needs and create the most valuable product for your clients. If you want to describe the characteristics of your target customers, explore the Marketing Buyer Persona graphics collection.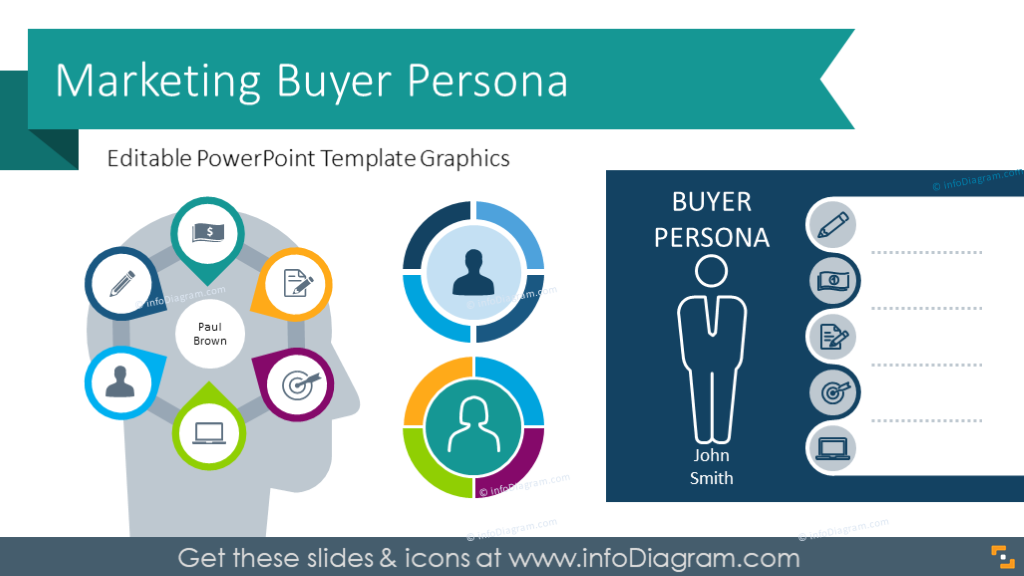 You can use these diagrams to:
Visualize your ideal customer's profile
Describe the characteristics of your ideal customer
Improve SEO strategies
Build content that is focused on your target customers
Sales Funnel and Pipeline Process PowerPoint Diagrams
Funnel visualization can be useful for your sales strategy or management presentation if you're talking about lead generation, customer behavior, or journeys. If you want to present these concepts effectively, the sales funnel diagrams and pipeline process charts deck is the fit for you.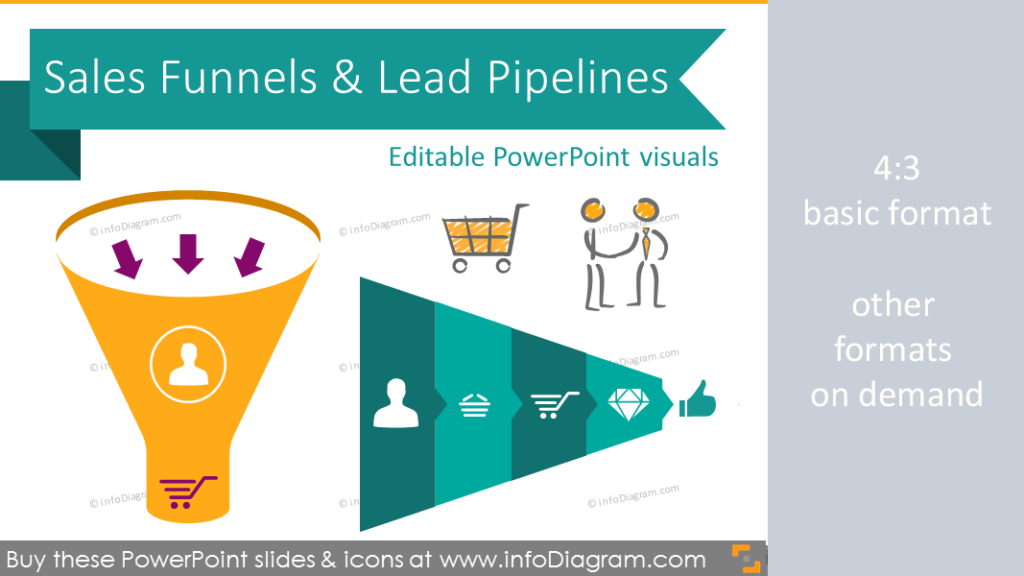 You can use the Sales Funnel Diagram Template to:
Present and analyze sales process pipelines
Review retail (B2C) marketing selling funnel performance
Illustrate a business-to-business (B2B) sales funnel stages
Demonstrate an e-commerce conversion optimization funnel
Summary of the essential visuals for a sales pitch presentation
Having a collection of PowerPoint templates with various graphics can be very helpful when working on a new sales presentation or revitalizing your existing slides.
Your presentation will look professional thanks to the use of a single source of consistent graphics. You can easily export slides to PDF files and share them with peers or clients. You can also save selected infographics as pictures and add them to your reports or marketing documents as additional illustrations, to create higher-impact sales materials.
Resource: Collection of Sales Pitch Presentation Decks
The above slides are PowerPoint templates for sales pitches that can help you express sales topics in a more effective and attractive way. If you find any of the above decks useful, you can download all the source illustrations for commercial use and free modifications. All mentioned presentation slides are available inside the infoDiagram collection of presentation graphics:
Sales Pitch Presentation PPT Templates
You can find more creative design ideas for sales pitches and presentations on our blog.
To try out how those PPT diagrams work, get a sample of free PowerPoint diagrams and icons that you can use to play with this kind of graphics.