"I appreciate good-looking presentations but I struggle with making such."
"I want to make a presentation that will Wow the audience, but I'm not creative enough to do it myself."
"Only 30 minutes left to finish all those slides and I am stuck with making it visual."
"I want to explain a difficult topic making it as simple as possible to the readers."
"I need inspiration on how to make this damn text-heavy presentation attractive, but I am out of ideas."
"I can't stand boring meetings with countless PPT slides unreadable, how can I make my slides outstanding?"
"Come on, I'm not a designer…"
Does it sound familiar?
Let us help you.
After 10 years of running design agency and marketing consulting, we learned exactly what it takes for presentation to look amazing and readable.
Use our experience and design skills that we crafted into our slide decks.
With the help of these graphics, you can experience the WOW feeling after delivering a presentation and your client tells you "That was the most amazing and clear presentation I've seen."
Imagine yourself…
having the most outstanding slides in town (well, okay, on the meeting)
you don't have to sit overnight searching for the suitable graphics and pictures
after your conference talk, people approach you and congratulate you to the best presentation of the event
you winning a project thanks to your concise visual presentation
you leave a mark whenever you send your slides
And you can totally do it!
Explore thousands of infographics templates on our site, for start try a free sample for start.
The team that will serve you
Our infoDiagram family is eager to help you make great slides: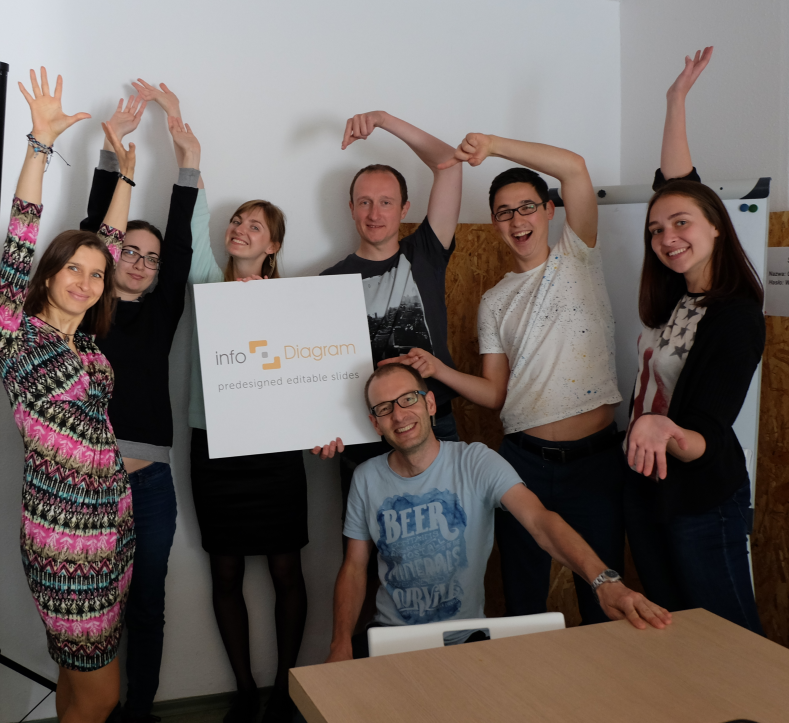 Peter, Iza, Marcin, Anastasia, Kasia, Eliza, Justyna