Need to speak about ecology and the environment? We are extending our collection of business sector icons by freshly designed presentation symbols for ecology-related topics such as green technology, environment, and not less important waste management.
The new eco-symbols package contains over seventy modern flat editable icons about ecology, waste treatment and green technologies that you can edit easily in PowerPoint or other presentation software.
Remark: You can get all presented slide templates from the Ecology icons bundle.
What's inside the ecology icons library?
You can find there various 74 editable pictogram symbols about Energy and Ecosystems, Waste, Sustainable Transport, and green architecture concepts.
For example:
Energy, Natural Resources and Ecosystem graphics
Sustainable Transport and Architecture presentation visuals
Waste types, treatment, and waste prevention
We added a few slides with examples of how those icons can be used to visualize statistical charts and to make simple infographics. Check those examples of Do it yourself ecology infographics: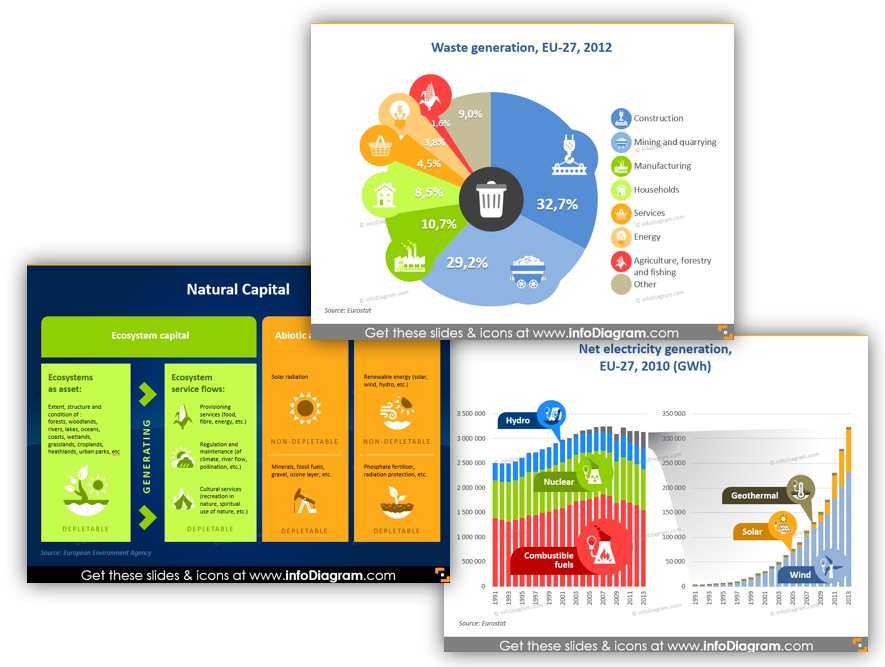 Adjusting ecology icons to your brand colors
All symbols are fully editable in PowerPoint. For example, change their color or add shadow. All symbols are vector shapes so you can resize them and they will stay crystal sharp.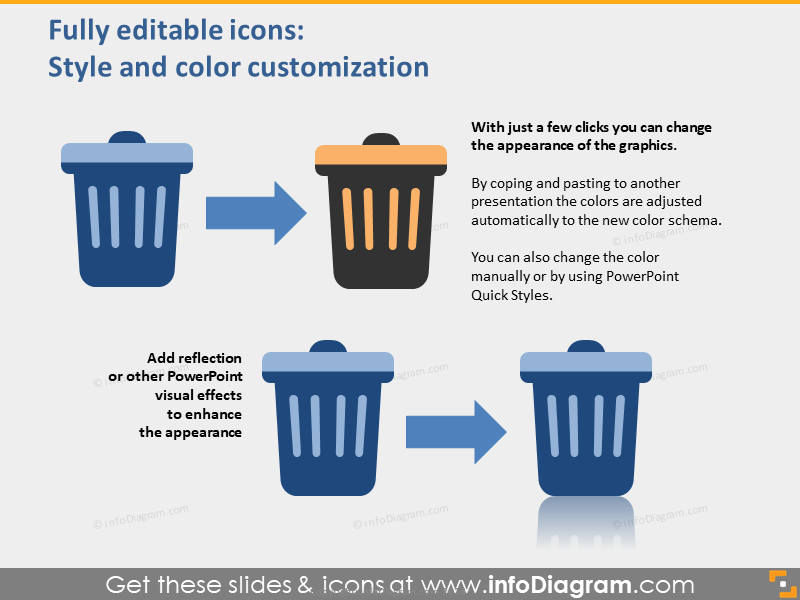 How to best get 1, 10, or all ecology icons?
You can get those Ecology icons for PowerPoint in several ways:
These new icons are in line with our other set – the flat style Industry icons. That icon set covers all major kinds of business sectors.
So if you make a presentation about an ecosystem or some green technology, check out those symbols. You can use them to illustrate various environmental processes or eco-technology. Enjoy them. And if you miss anything, let us know.
If you want to try a few icons first, then get our free Creative slide design guide with a few flat and hand-drawn icons.
All examples above you can download them directly here:
Further articles on presentation graphics
For more inspiration on using visuals in your presentations, check out also those articles: