Let's face it – data is everywhere. No matter where you turn in a business or in life, you'll have to look at numbers and chase statistics to get anywhere. You've heard all the marketing buzzwords and seen all the fuss. You know it's important, but how can you effectively talk about data science during presentations?

Data mining. Data science. Predictive analysis. The internet is full of these things. It's full of everything! Odds are that you've heard all of these terms. You might not necessarily know what each means, but you have a few batches of figures you're familiar and comfortable with. You don't have a need to ask about the others because you don't utilize them. It is likely that whoever your audience is has a similar relationship with data analysis and the terms which go along with it.
Remark: You can get all diagrams and icons from Data Science Analytics Icons.
What is the Easiest Way to Explain Data Science
As we have mentioned before, the easiest way to explain complex strategies is to simplify them by utilizing simple, memorable pictures.
We've created a icons set of data science presentation symbols to aid you in explaining these complex concepts and ideas. These infographics elements are great for explaining data and data-ridden concepts, whether you want to simply show a data science definition or create do-it-yourself infographics in PowerPoint or data processing flow charts.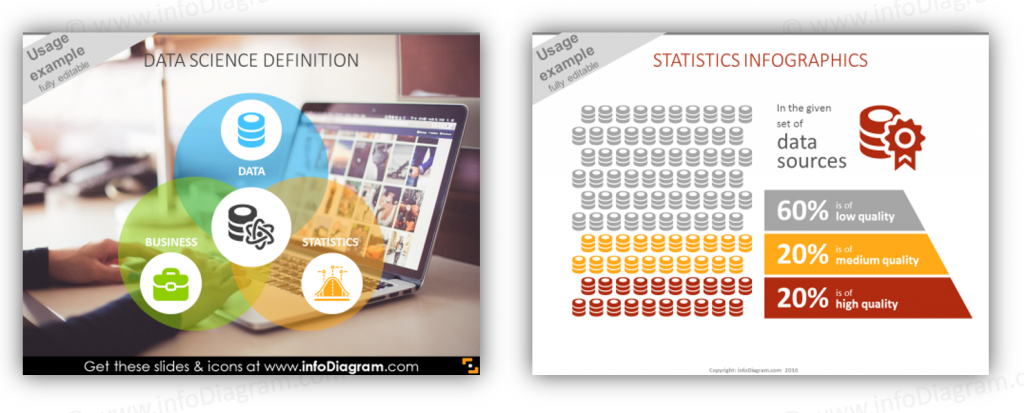 What's Inside the Data Science & Big Data Library? 
The data science and big data icon library contain over 30 modern, flat symbols which are all presented as editable vector artwork.


A Detailed Icon Set Breakdown
Determine What's Best – One, Ten, or ALL of the Data Science Presentation Icons
If you'd like to try out our icons we have several ways you can do that. Choose any single slide or purchase it on a 'pay as you go' or 'a la carte' manner:
How to Use Data Science Presentation Icons
The typical purpose for our Data Science themed icons is for Powerpoint or Keynote presentations. Some folks have even reported that they copy our diagrams directly into Word or Excel to create and distribute promotional material or additional content to follow or precede a presentation. Others still have mentioned they've utilized our diagrams in Slideshare presentations and Youtube videos.
Check out this YouTube movie which explains more about Data Science: 
By adding animations and a bit of music or sound effects you can quickly create a much more dynamic and interesting presentation.
Check out Data Science graphics library for creating a presentation on data, analytics and Big Data topics. Using only PowerPoint or Keynote, you can easily make illustrations about Predictive Analytics, Data Mining, show statistics infographics quickly on a slide:
Looking for more creative presentation graphics? Get on our newsletter and never miss an announcement. You'll stay informed about all of our new updates. Plus, if you sign in for our newsletter you'll get a Creative slide design guide with free hand drawn shapes, absolutely free!