Illustrating goods in a presentation, such as food, animals, plants and other farming implements can be challenging. Especially when you rely on images from the standard sets of clip art. Whether choosing from sets provided in Microsoft Office or as part of your Keynote presentations. There's a lack of consistent symbols set that would cover in detail various types of fruits, vegetables, meats or corn cultivation pictures. These image resources fall short in these areas, especially if you need to create a let's say healthy food presentation or slides on ecology topics.
If you're operating within farming, forestry, animal husbandry, fishing, or other agriculture industry – we have created a series of PowerPoint charts and diagrams which can easily be incorporated into your presentations.
Remark: You can get all the diagrams and icons from Food and Agriculture Icons Bundle.
They may also be included in eBooks, Excel sheets, and other resources for audiences within or who have an interest in your industry. A simple copy & paste if the data chart or symbols work for all MS Office products. For other publications, you can easily export the agriculture images as pictures (see a guide to import icons to Prezi).
Universal Use, Beyond Farming Business
We have also found there are a variety of uses outside of these industries which could easily utilize vector images originally intended for forestry or animal husbandry presentations.
Utilizing any of these agriculture icons when interacting with audiences within the forestry, fishery or any produce-related fields.
What's Inside the Food and Agriculture Icons Library?
The food and agriculture icon library contains over 100 modern, flat symbols which are all presented as editable vector artwork. The icons are completely customizable. You can choose colors to correspond with your brand, the color scheme, and layout of your presentation, or create natural-looking icons with numerous colors.

Within these categories there are three main areas of interest:
food (fruits and vegetables) and crop cultivation
farm animals and fishing
wood and forestry
Check the preview images (click to get to the specific icon set below):
1. Crops Cultivation PPT Icons Library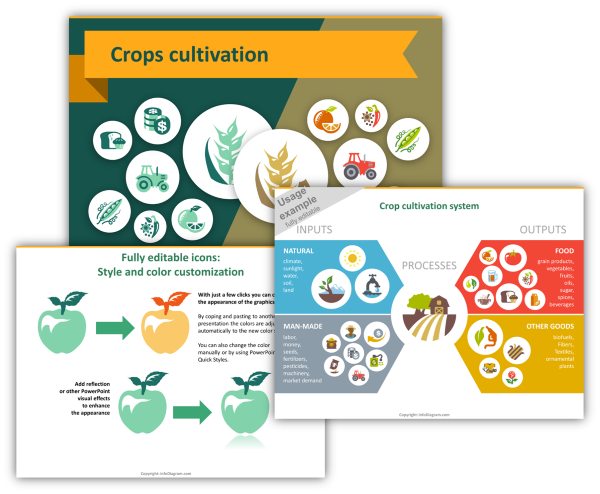 2. Farming Animals PPT Icons Library: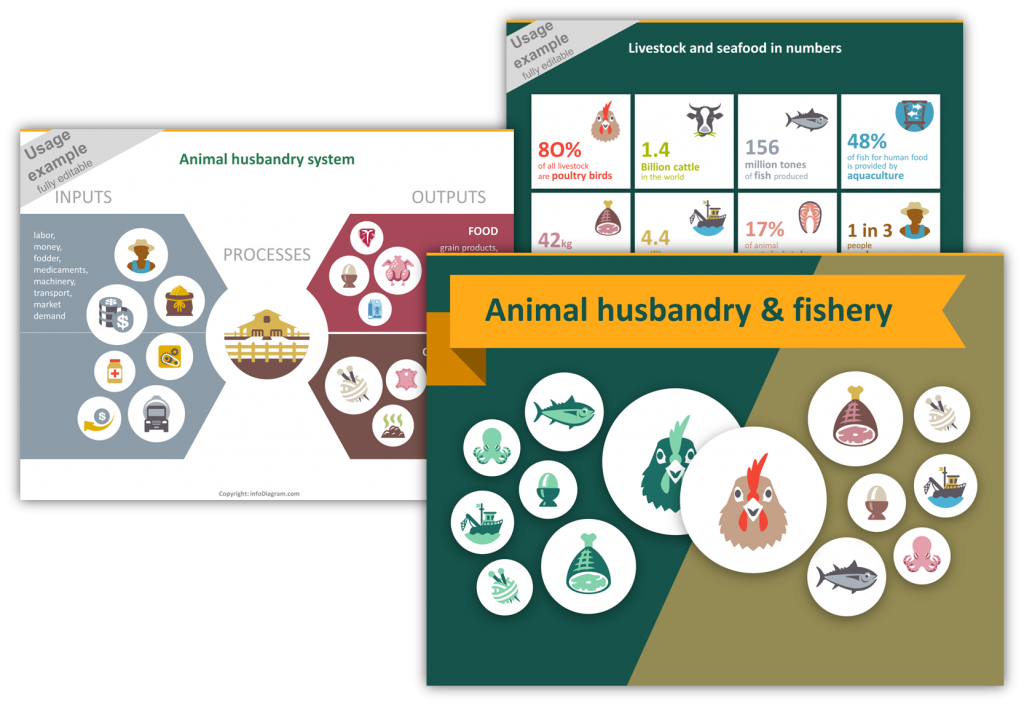 3. Wood & Forestry PPT Icons Collection: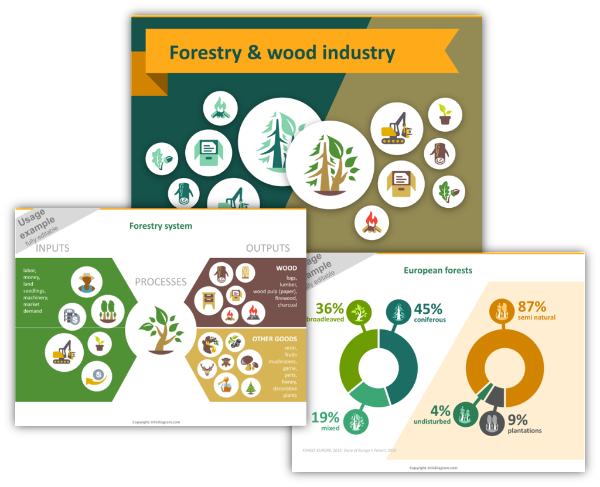 Determine What's Best: One, Ten, or ALL the Icons?
Want to try out those icons? You may do so by purchasing a packaged set, by ordering a subscription and choosing several or by purchasing an individual slide 'a la carte.' You may be wondering how these options work.
Purchase a specific agriculture set or bundle of all three agriculture icons sets. With this option, you receive all of the icons for lower cost.
When you order a one-time or recurring slides subscription you choose the number of slides. With this option, you can pick any number of slide graphics you would like to purchase from ANY of our collections and then download the ones you would like – even if they are from different sets!
How to Use Agriculture Icons
Typically our diagrams and illustrations are utilized in PowerPoint and Keynote presentations. However, these icons can be also copied directly into MS Word or Excel to create promotional material or additional content/handouts to accompany or follow a presentation.
If you like the slide examples above, you can check and download the slides directly here:
Folks have also indicated they use our graphics to improve instructional Youtube videos and Slideshare presentations like this one:

Further Articles on Presentation Graphics
For more inspiration on using visuals in your presentations, or on how to implement graphics in an engaging way, check out these helpful articles:
Want to be notified when we make an announcement? Never miss out on creative presentation graphics and stay informed about our latest updates and news. We'll also send you a Creative slide design guide with FREE hand drawn shapes for you to begin using right away!