For the past few months, our dear designers worked pretty hard. They did a massive update of our PowerPoint diagrams and icon sets. We hope you'll enjoy the new slide graphics.

Those are the slide graphics collections that we recently updated, and added a bunch of new diagrams and icons:
Update #1: All Hand-drawn Graphics Bundle
If you like to express a personal approach in your presentations, this bundle gives you numerous ways to express yourself in a creative way:
show the bullet points as creative lists
to draw unique flow charts
to illustrate your concepts by scribble icons
to surprise your audience by retro style blackboards slides or crumpled paper templates with pencil drawings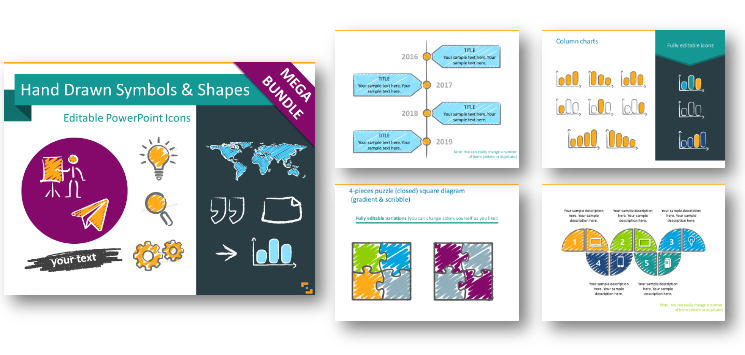 This is our biggest collection of handmade designs, now with over 760 editable graphical elements for PowerPoint:
over 710 hand-drawn icons – people figures, business symbols, chart symbols, basic shapes
over 50 diagrams – flow charts with arrows, banners, ovals, and diagram shapes
a collection of our 13 handwritten packages
3 handwritten graphical styles: ink lines with scribble and gradient filling, charcoal and chalk style line, pencil-drawn style
Update #2: Modern Flat Infographics Bundle
This PPT bundle is for those preferring a more decent style. Flat design infographic PowerPoint templates set for creating simple infographics in modern style: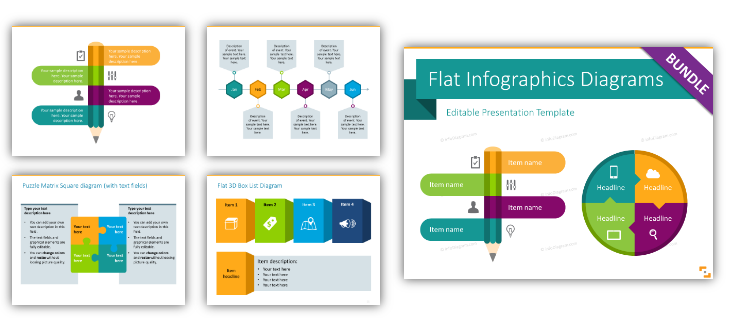 This slide set covers 12 diagrams types – for showing various flowcharts – linear timelines, curvy roadmaps, listings, or structures such as puzzles or matrixes:
211 editable diagrams: lists, table designs, KPI placeholders, comparison diagrams, timelines, and steps shapes.
83 flat icon symbols to be used in infographics (extendable)
Update #3: Simple Icons for Infographics
We also extended again our vector symbols collection of modern flat icons. These simple pictograms are great for creating your own infographics.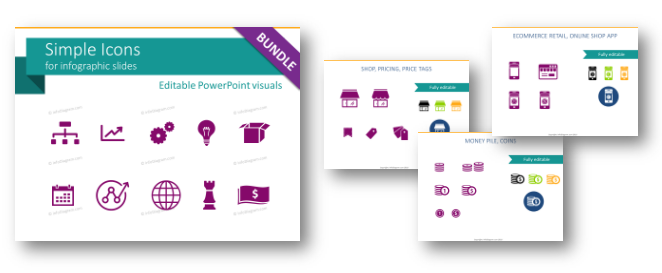 With the latest addons (inspired by your feedback – thanks a lot!) it counts now over 300 PPT vector symbols, covering various business topics (finance, IT, retail, strategy concepts…).
Bundle #4: World Maps Vector Shapes of Countries and Continents
Our PowerPoint maps collection has been extended by maps of North America countries with Administrative divisions (territories, provinces).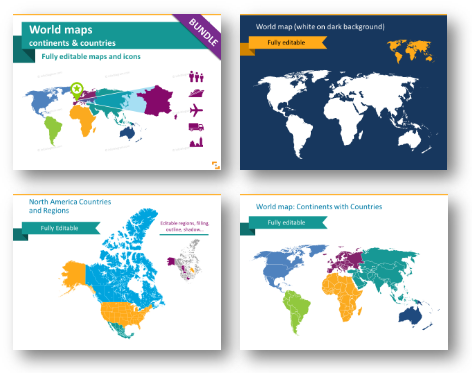 Updated Maps set includes:
over 200 editable PowerPoint world maps
localization and transport icons
templates to show geographical and economical statistics for specific regions
For more PPT designs – see our New & Updated Presentations web page.
For any questions or details – drop us a line.
Have a great June,
your infoDiagram team 🙂