Want to stick the attention of your presentation audience to the specific keyword, particular figure, or data chart area? Try to use handwritten markers – on the paper as well as in the PowerPoint using the digital form of a hand-drawn highlighter shape.
However, the usage of marker shapes is wider, than just text pure highlighting. In this post, we collected several ideas of where you can apply doodle markers to make your slides look interesting and professional.
Note: All slide examples are from Handwritten PPT Markers Collection. Click the pictures to see the details.
Here are the four ideas for using hand-drawn marker shapes:
use them as frame marks
highlight an underline text on slides
mark cells, rows, or columns in tables
emphasize particular place on chart or diagram
Below you can see practical examples of applying markers over various types of presentation slides.
#1: Frame Marks for Highlighting a Paragraph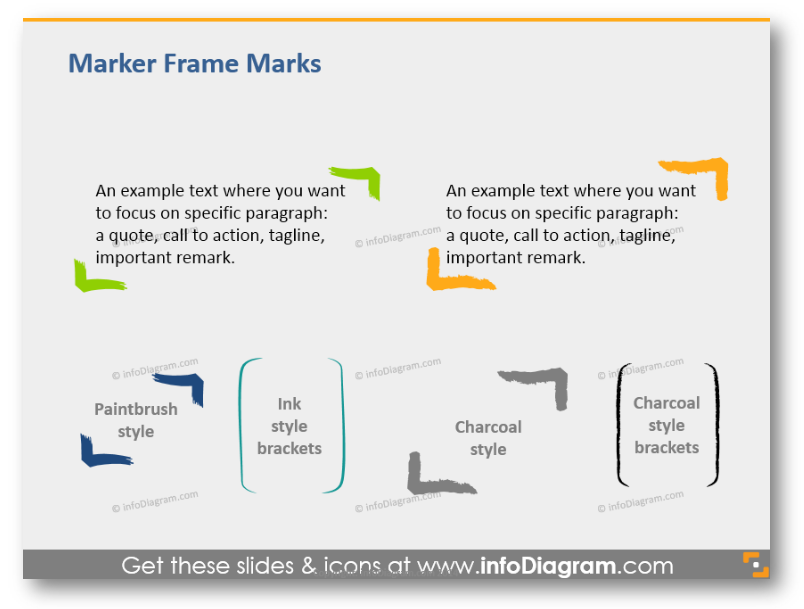 Focus listeners' attention on a specific text paragraph: it may be a remark, a note, a quote, an idea to remember. Marker brackets are a simple and effective tool for that.
#2: Underline a Keyword or Bullet-point Item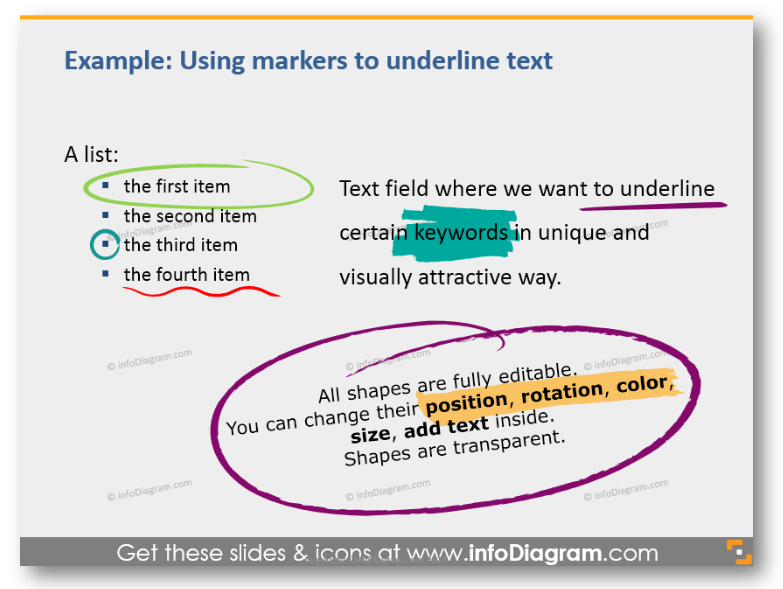 There are several ways to do it: with stripes, circles or lines (available in ink, charcoal, and paintbrush style). Choose one that suits your slide best.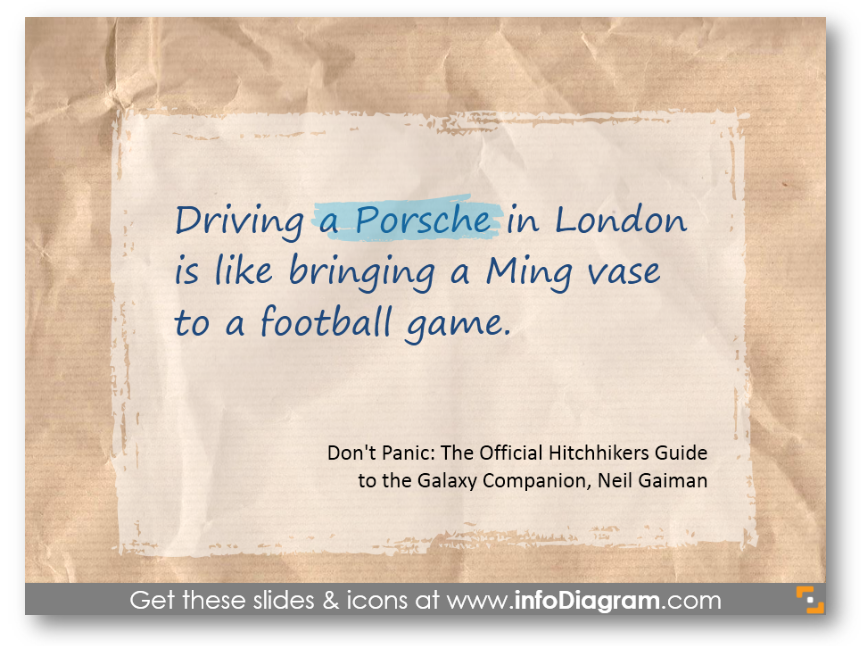 Above you can see an example of highlighting several words in the quote by Neil Gaiman. That's how you can make the word or phrase to be noticed straight away.
#3: Point to a Table Area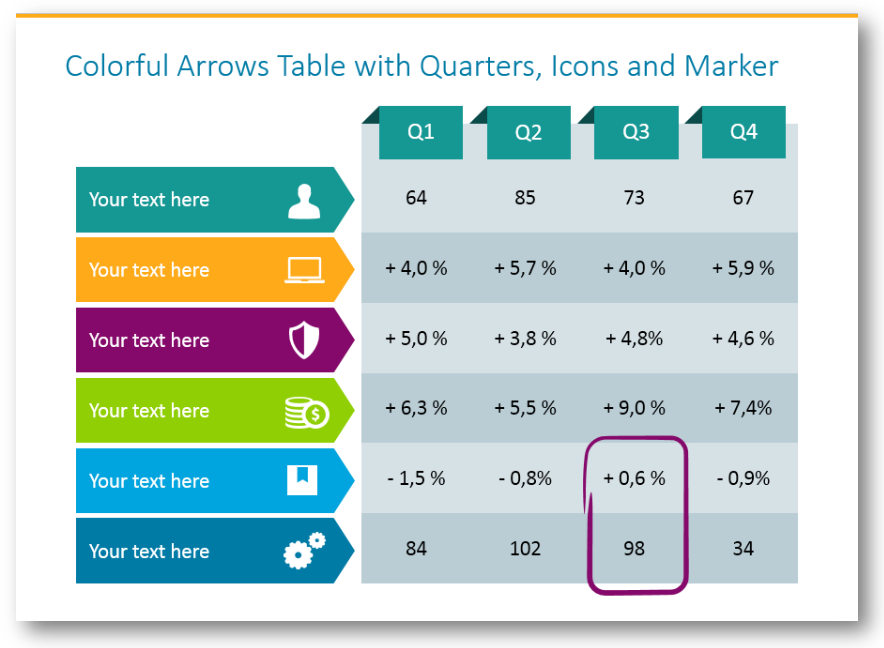 Doing a report or a review? Apply marker to the cells, that contain important numbers. Don't bore the audience with the same mono-color tables, that include tons of similar figures.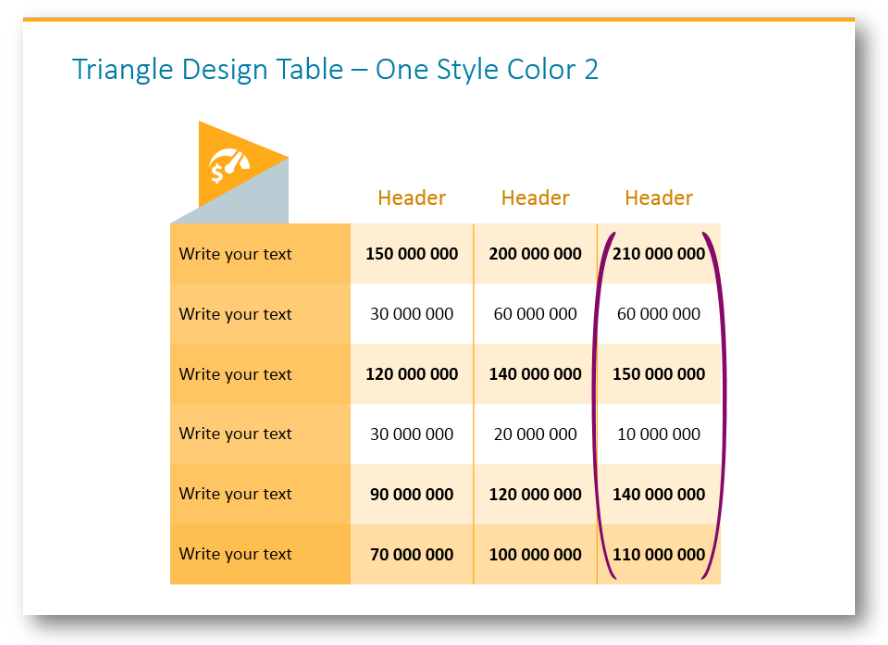 In the same style, you can outline a column (e.g. with the results or percent alteration).
#4: Focus Attention on a Chart Area by Sketch Ellipse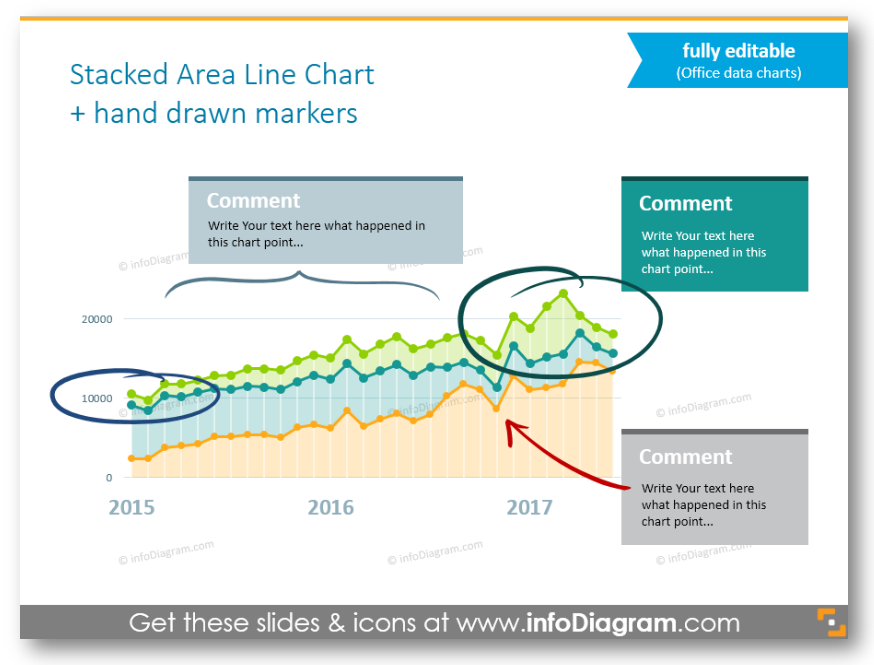 You can as well use marker shapes to show specific areas on the charts – e.g. line chart. Here from the first sight, your attention sticks to 2015 and 2017 years.
Be Natural and Creative with Marker Sketches
To sum up, the usage of handwritten markers is wider, than simple text highlighting: outline the main ideas with marker frames, mark important information or figures in the tables, apply them on charts.
Do you use marker shapes for other purposes? Share in comments 🙂
Resources for Handwritten Marker Shapes
To help with preparing outstanding pitch deck slides, we designed a separate set with handwritten marker shapes and frame marks.
If you decide to apply such layouts to create your slides, all these graphics are available as PowerPoint slides. They can be imported also to other presentation software such as Google Slides or Keynote.
Our set contains fully editable graphical elements for PowerPoint – hand-drawn marker shapes, which can be used for highlighting text, underlining words, enhancing paragraphs. You can choose colors to correspond with your brand, the color scheme, and layout of your presentation. All symbols and shapes are editable vector artwork so you can adjust them as needed, using standard PowerPoint tools. And they remain razor-sharp also if you resize them, unlike bitmap pictures.
Handwritten markers set consists of over 50 shapes in various sketch styles:
Marker stripes: paintbrush and chalk style
Marker circles: ink and charcoal style
Marker frame marks: paintbrush, ink and charcoal style
Marker lines: ink and charcoal style
Usage examples of various ways of marking text
Multicolor marker stripes
Marker shapes: arrow, circle, square
Paintbrush stripes
All examples above are from our infoDiagram PowerPoint Diagrams collection. It contains graphical elements for PowerPoint – handmade marker shapes, which can be easily edited and added to other presentations.
See Handwritten Markers Collection
Like the hand-drawn style on slides? See the bigger complete All Scribble Symbols Bundle, with over 760 editable handwritten graphical elements for PowerPoint.