Are you delivering a public speaking or presentation skills training? Find some inspiration for your slides here.
In this article I suggest how you can prepare engaging PowerPoint visuals covering presentation training topics, specifically:
How to illustrate presentation structure and content types on a slide
Visualizing speaker and listener types
Presenting various meeting room setups
How to show hints for preparing speech and presentation itself
Closing the presentation training with a recap and summary slide
Whether you are a professional communication trainer or a beginner, I believe you can find some handy examples.
Note: All slide examples are from the Presentation Skills Training PPT Toolbox. Click the pictures to see details.
We're talking a lot here about presentation content, right visualizations, showing concepts… Let's get back tot he roots and recall the very basics of high-quality presentation and how it should look like.
Words are the most powerful drug used by mankind.

Rudyard Kipling
Rudyard Kipling was right that words are a very powerful tool, however, if used and delivered effectively. Let's break down some theory into short sections.
#1: Illustrating Presentation Structure by Drawing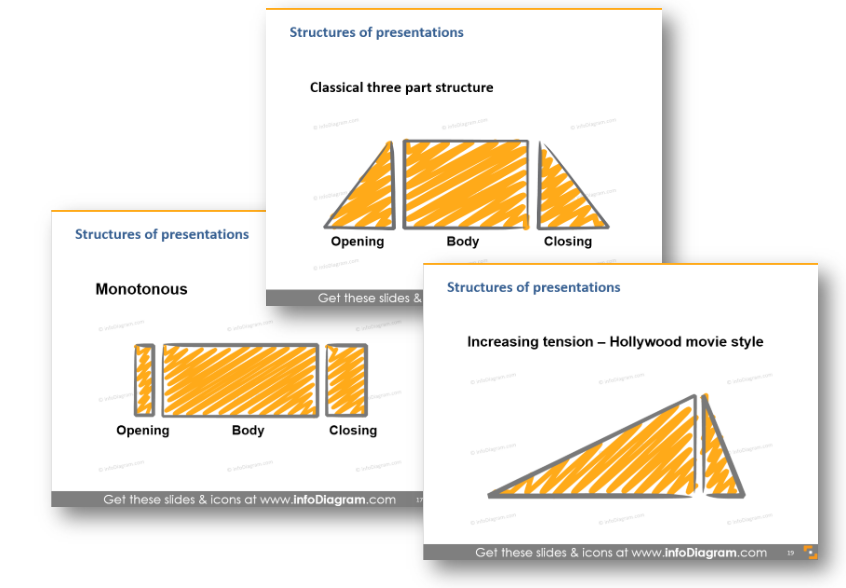 In my presentation experience, I see usually those 3 most popular kinds of structures: classical 3-part, monotonous and 'Hollywood-movie' style. When you explain such structures, I suggest you draw a simple diagram like the one above. Either on a flipchart or if you want to have materials prepared before, then make a slide with those speech flow diagrams.
You can either show them all together on one slide for comparison or put each on a separate slide. This way you will get attention focus on one presentation type t a time.
For discovering more tips for structuring presentation I recommend to check Nancy Duarte's blog series: Structure Your Presentation Like a Story and her book Resonate.
4MAT – My Favorite Presentation Structure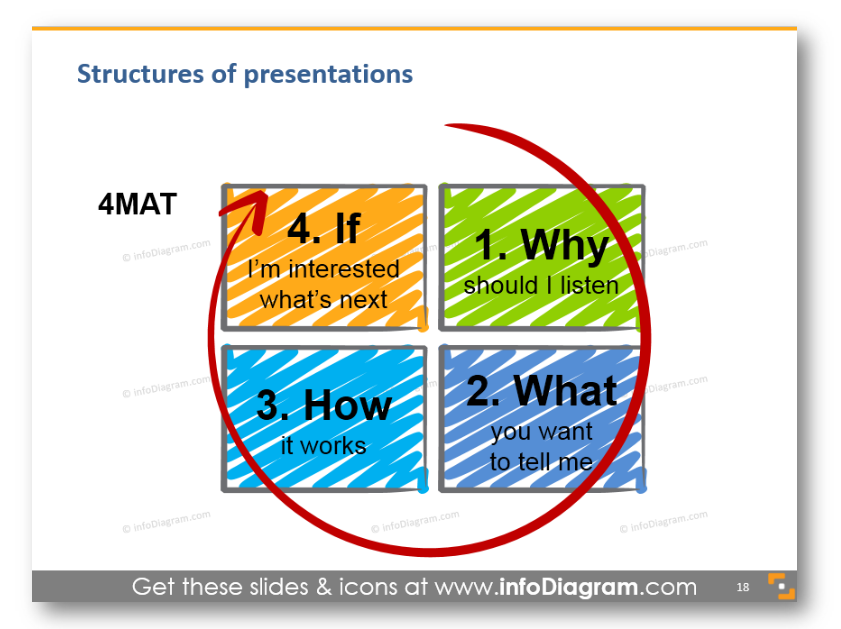 Out of various speech structures, I like the most the 4MAT concept. It is pretty simple and works for me.
I suggest that when you create a presentation, ask yourself those four questions. Those are questions listeners have in their head when they listen to you.
Using the 4MAT framework help me to see things from the viewpoint of my audience and be sure listeners will get your ideas right.
#2: Explore Presentations by Content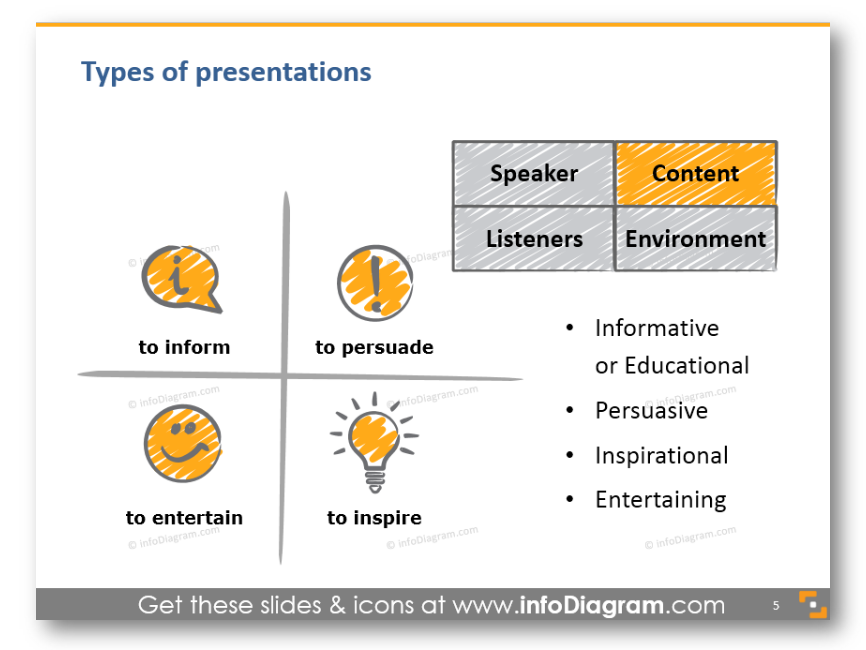 It's obvious the presentation content defines the presentation type. However, it's good to remind yourself what's the goal of the presentation – to inspire or to entertain only? Do you want to persuade your audience of your idea or only to inform, to give a report?
Some examples:
For inspiring presentations: Talks on TED.com are the best examples. Or check one of Elon Musk's speech on Mars Mission. Politicians use this presentation to type a lot
Informative presentations are usually used when you do a project summary report or yearly business review. Unfortunately, lots of school lectures fall into this category, even though the teachers should work on moving towards an inspiring segment with a bit of entertainment to keep kids attention.
For persuasive presentations just think of last sales or marketing presentation you experienced.
For entertainment – check any stand-up comedy talks, for example, this or this (being a father I really appreciate that later talk).
A mixture of entertainment and information is e.g. famous John Oliver show
You have to make sure that your speech is relevant to the audience you're speaking to.
#3: Analyze the Speaker Types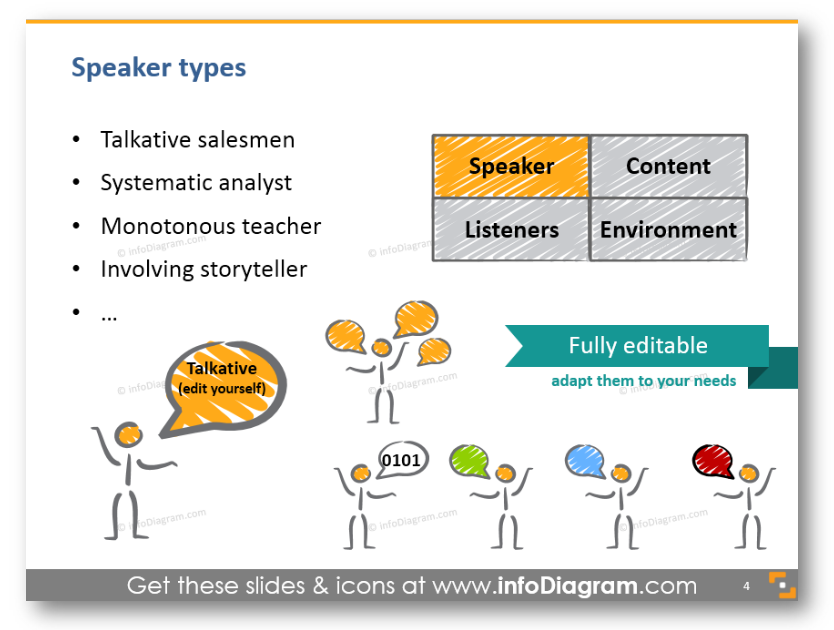 When teaching about properly preparing a talk, you need to consider also different speaker types classification. I put here four kinds of presenters: a typical talkative salesman style, an analyst type who likes to go into details (sometimes too much), a monotonous teacher style (that would need a point of wake up) and an involving storyteller. However, you can think of other examples based on your experience.
Depending on the particular speaker type, you can use its strong sides to build the presentation differently and also support it with proper visuals. For instance, for a talkative salesman, the agenda slides can provide a structure to follow. On the other hand, a too much detailed analyst on lengthy teacher talk can benefit from having a strong visual section slides that will wake up your audience.
#4: Analyze the Listener Groups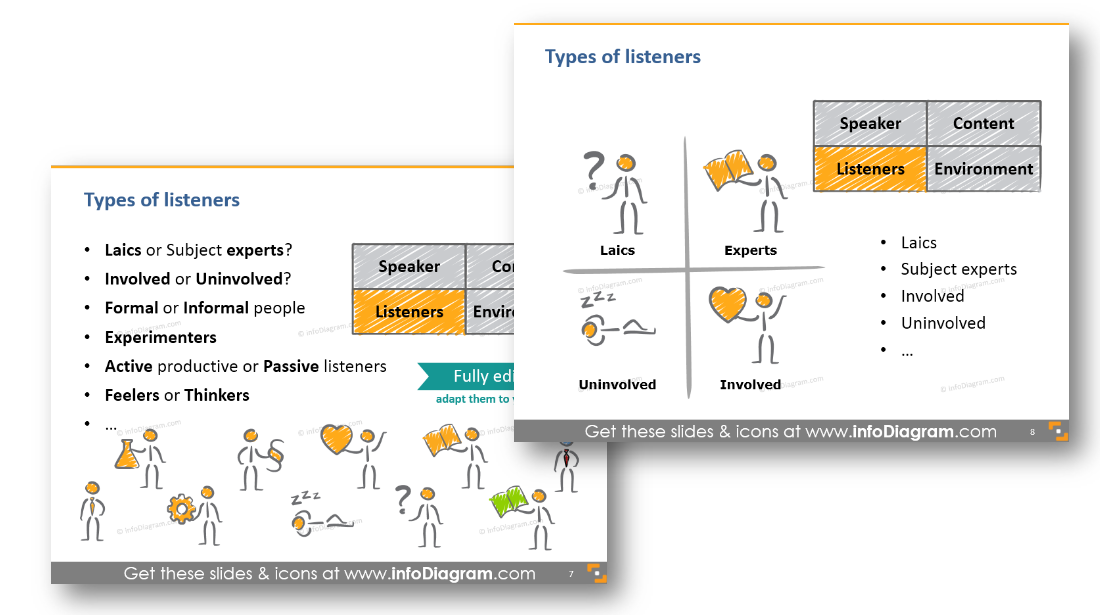 Knowing the speaker type is one thing. However, even more, important is to examine the audience carefully to reach them best.
Every presenter should ask first "Who are my listeners"? Do they prefer a formal or informal way of communication? Are they feelers or thinkers (see MBTI types of personality)? Will the audience be active or rather passive during the talk?
When doing a presentation training, you should address this key question. And what is the better way than to illustrate it e.g. by a set of icons?
In my slides, I added there also a hand drawn chart where you can position the major listeners' types. Then you can place and move around the central circle to show various audience cases on a knowledge and involvement scale.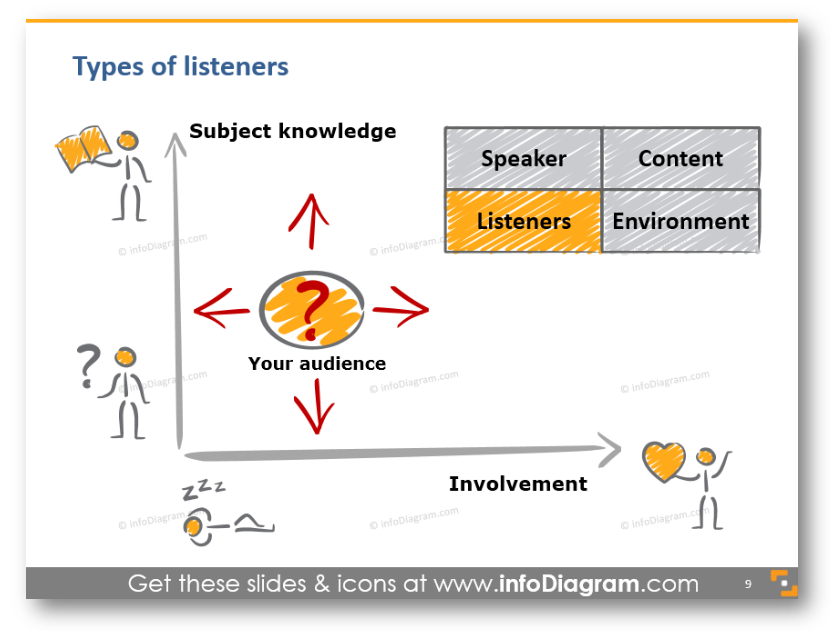 In a training, you can include a similar chart (or apply those presentation training diagram slides) for determining the audience type.
#5: Room set up – the importance of the presentation environment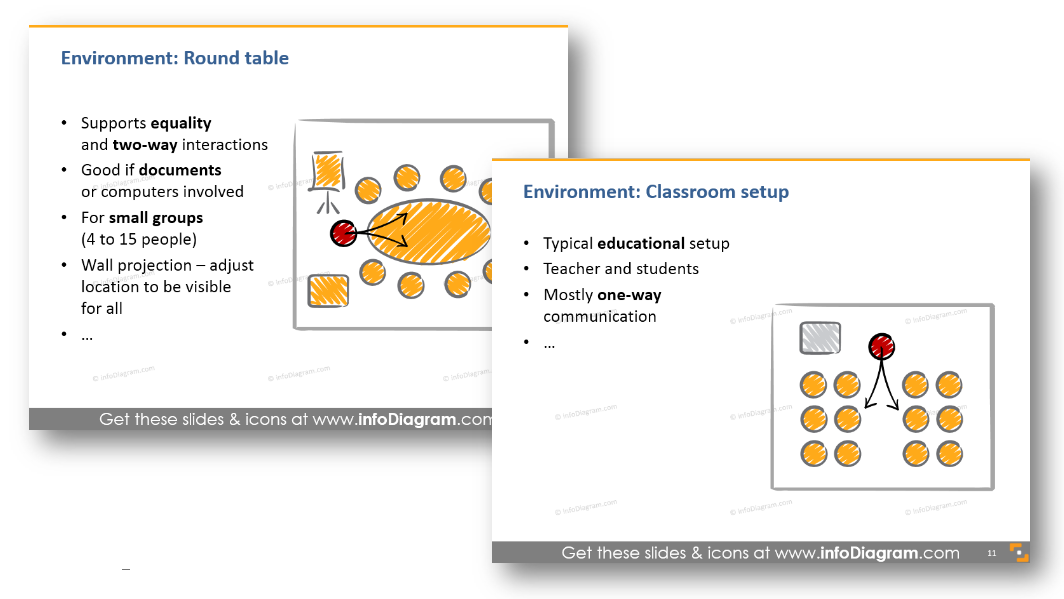 After talking about presentation audience and speaker types, the good presenter should think also about the place where a talk will take place. Choosing a suitable environment is an important factor for the effective delivery of the speech.
I distinguish here five common kinds of room setups: classroom, multiple groups environment, interactive roundtable, big theater and sitting in a circle. Each one suits a different purpose. Some of these you need to arrange before, of course, you will know if you speak at a big conference that there will likely be a theater-like room. However, sometimes even a small change of sitting arrangements can provide a totally different atmosphere for a speech.
Some examples:
Classroom setup assumes rather one-directional communication from teacher to students.
Roundtable or sitting in a circle encourages discussion and underlines equality of all participants.
Having clusters of multiple groups is great if you want to have several teams working on some group work.
#6: Presenting Hints for Speech Preparation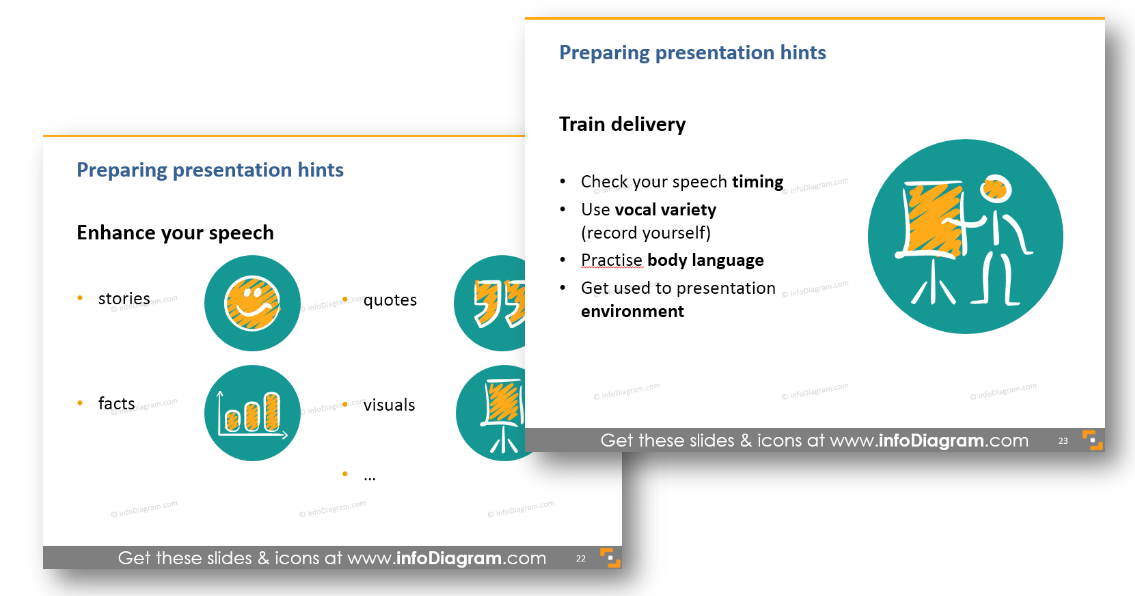 If you want to add a list of things to remember before making a presentation, I suggest you try to illustrate each point by some image, as I did above. This creates a better mnemonic association for each point and people will remember the hints longer. Even better, replace the bullet points by a vivid diagram along keeping the icons.
#7: Presenting Summary of the Training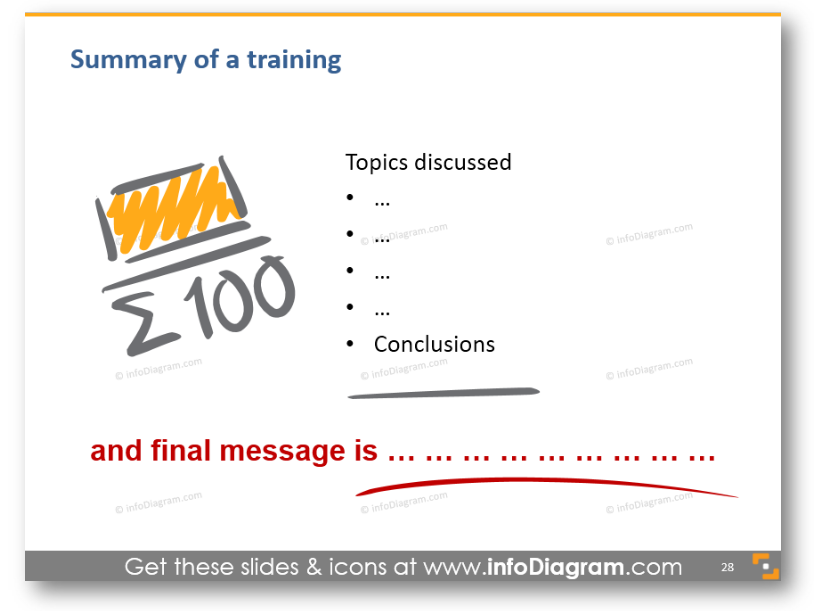 At the end of the training, remember to repeat the main message once again. Present the main conclusion, give your audience something to think about. You can write it down on a slide clearly, without too many distractions. Or write it by hand on a board or flipchart.
Resources for Presentation Training
Besides the links I shared above I recommend those further reading and resources
So if you're having training on how to create and deliver a presentation, you can reuse slide from our collection in your projects. Or just get inspiration from my slides and create them yourself.
If you decide to go for our handdrawn style diagrams, you will be able to easily edit all content, adapt the colors to your brand, add the whole slides or particular charts to your training presentation.
Graphics resource: Presentation skills training toolbox
You can also check the presentation template we've designed with illustrations of types of speakers or presentation structures:
Presentation Skills Training Toolbox
If you like such scribble style, see the complete All Scribble Symbols Bundle, with over 250 handwritten hand-drawn symbols and shapes.
About the author:
Peter Zvirinsky is a slide design trainer and the founder of infoDiagram. He is helping presenters, trainers and various business managers to communicate their ideas in clear visual way usually in form of PowerPoint slides. Peter loves changing text information into simple diagrams and he wants to inspire also others to use this visualization process in everyday life. Reach out to Peter on LinkedIn or via his slide design & training website.