The data privacy topic is widely discussed today with the new regulation initiated by the European Union. However, it affects businesses worldwide – any company with leads or clients from an EU country. We saw companies struggling with communicating their updated data protection policies to clients and employees.
To make this explanation of GDPR topics easier, we prepared a bunch of PowerPoint slide examples for your inspiration, that will help you illustrate the whole data privacy concept.
All presentation examples are from Data Privacy GDPR Training PPT Template (see details by clicking the pictures).
Use these examples to recreate more engaging materials, whether you are doing internal training or writing a newsletter. Adding even a simple picture illustration of those complex topics can make wonders.
How you can use the Data Privacy GDPR visualization?
For training your employees about new data protection laws.
Make quickly informational materials, one-pagers, or leaflets informing your clients about the impact of GDPR on them.
Create catchy promotional materials if you offer solutions for data privacy.
Design explanation infographics to put in documents where you ask clients and leads for various marketing data processing consent.
Educating your online audience about their rights under new EU GDPR rules.
In the post, you'll find ideas on how to present and illustrate all details of GDPR in the most understandable way.
Explaining What is GDPR
General Data Protection Regulation is a set of unified rules for all EU countries. It is valid since May 25, 2018.
To present this basic definition, add those points in your presentation, then show the goals of the new policy, to explain the background motivation for this regulation.
There are two main goals of this GDPR regulation:
Protect personal data & strengthen the privacy rights of EU individuals
Give users control over their data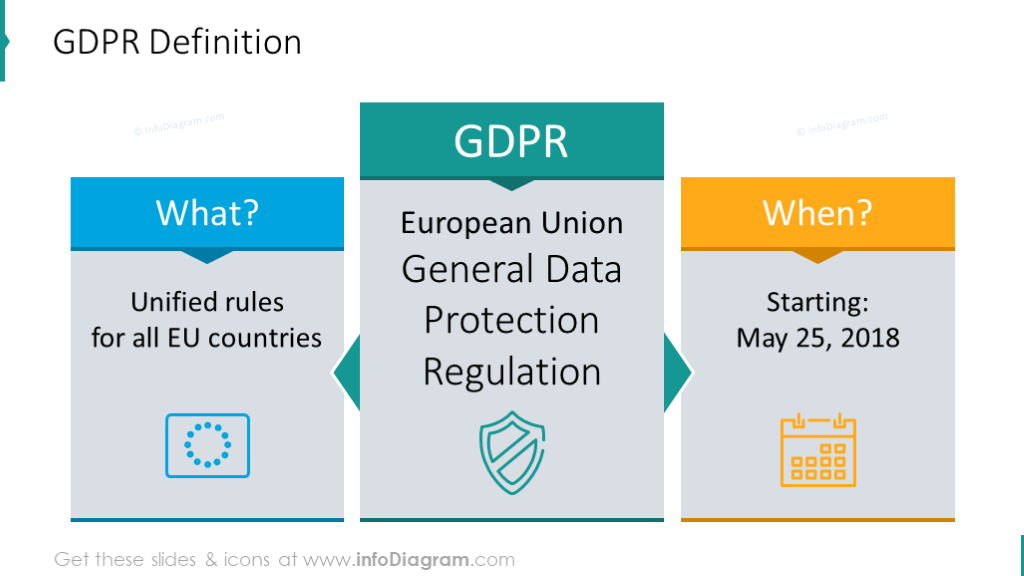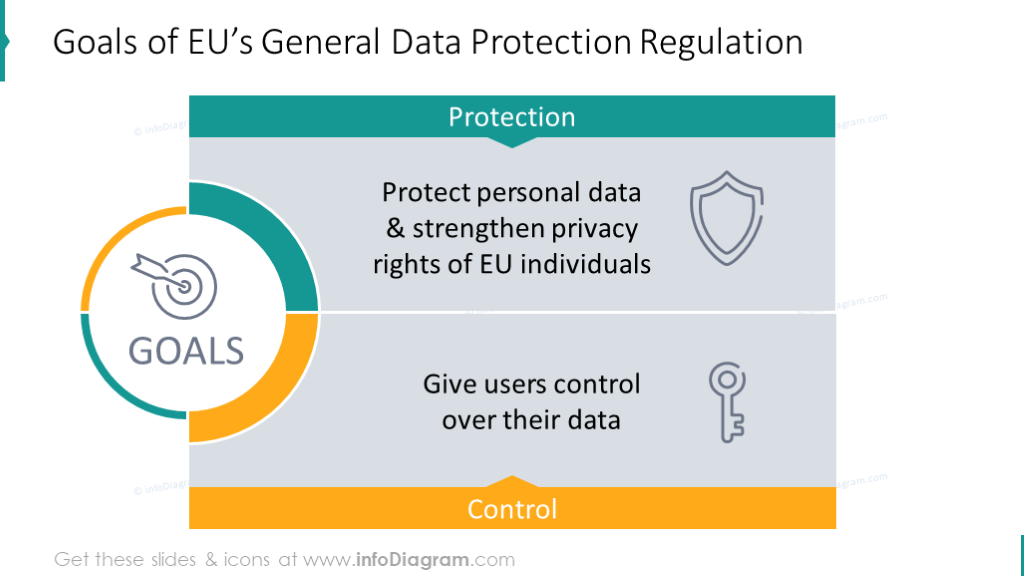 Show Who is Involved
The next important pillar – is who is affected by data protection law. In fact, GDPR affects all businesses collecting or holding personal data on EU citizens.
We advise using a simple map with a distinct note.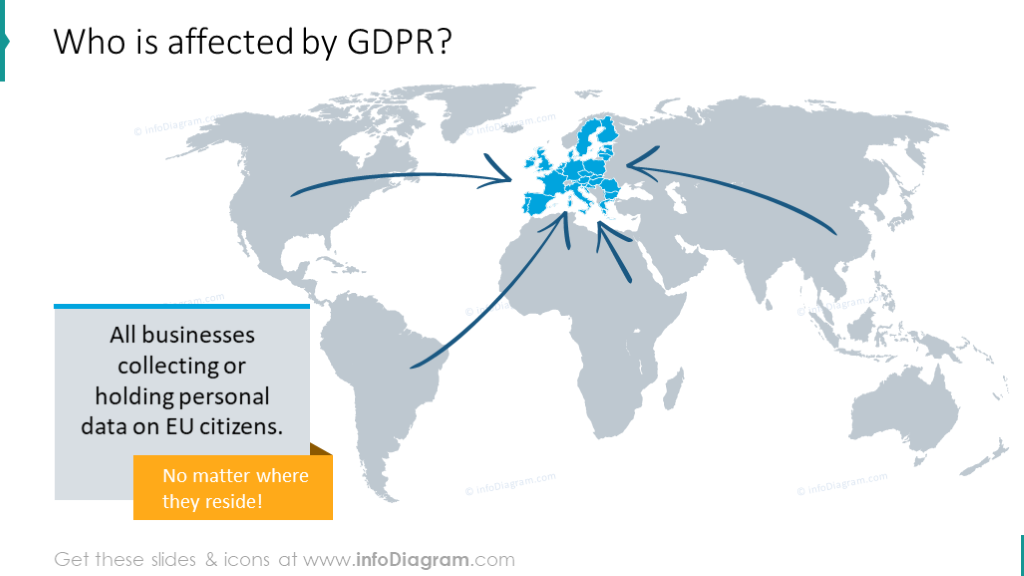 List the Data Types
You will perhaps need to explain what data are we actually talking about. To help you illustrate this, check the slide below.
On this slide, we listed several types of personal and sensitive data:
Name
Address
Phone
Bank / Credit cards
Email address
IP address
Cookies
Online identifiers
Biometric data
Genetic data
Health data
They are easily editable so you can add or remove items specific to the business.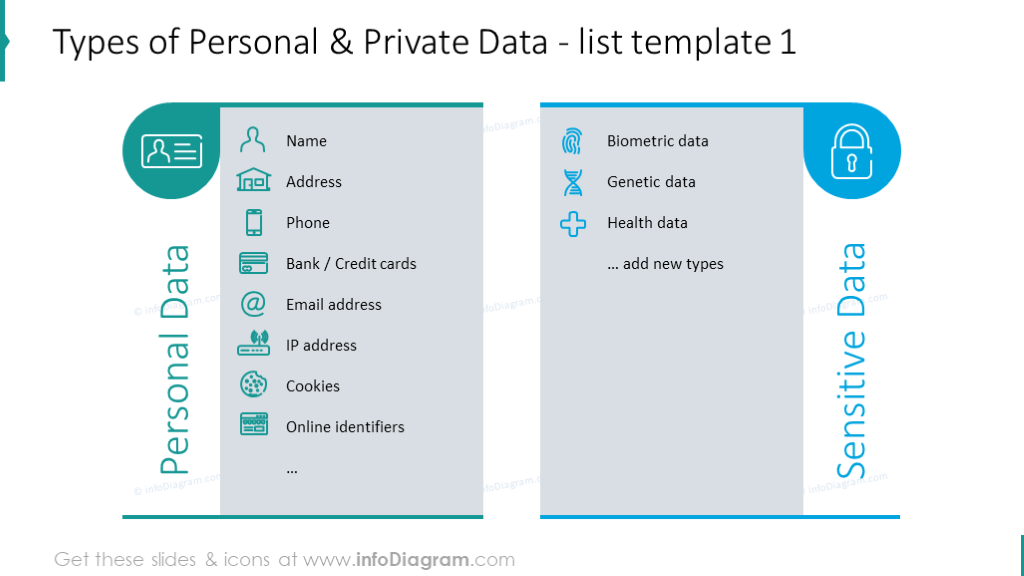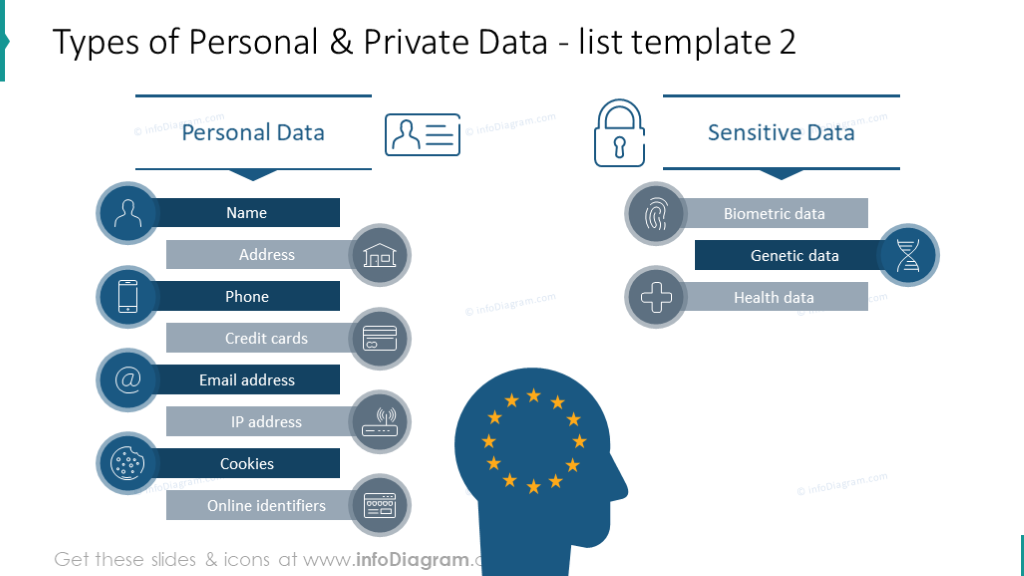 Illustrate GDPR Penalties & Fines
Many GDPR marketing materials warn us that the stakes are high following this policy. For example, you have to report within 72 hours if your data is breached unless you are ready to face a fine of up to 20M euros.
If you want to make an impact with this GDPR penalty point, create simple slide infographics – to create a strong message that you definitely have to protect the data in order to avoid fines 🙂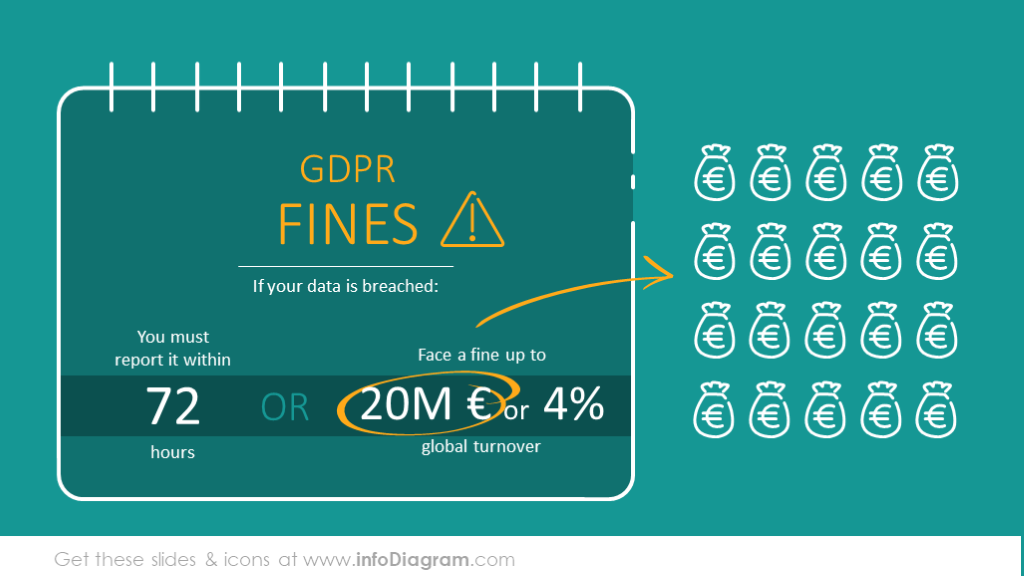 Present Individual User's Rights
This GDPR regulation defines a set of specific rights that individuals should be ensured, concerning their personal data.
Below you can see examples of two slides: the first, it is explained what points must be ensured for an individual, and the second shows individual rights in strong visual form.
An example list of things that an individual should have the right to:
Getting consent to process personal data
Right to be forgotten
Right to modify personal data
Transparency – right to get information
Can request data in a portable format
This list is not complete, just an illustration of how you can create your own list that fits your business.
The six areas of user's rights defined in GDPR documents are:
Right to Access
Right to Rectification
Right to Erasure
Right to Restriction of Processing
Right to Data Portability
Right to Object
When explaining them, we suggest adding specific symbols to each for better readability of the topic.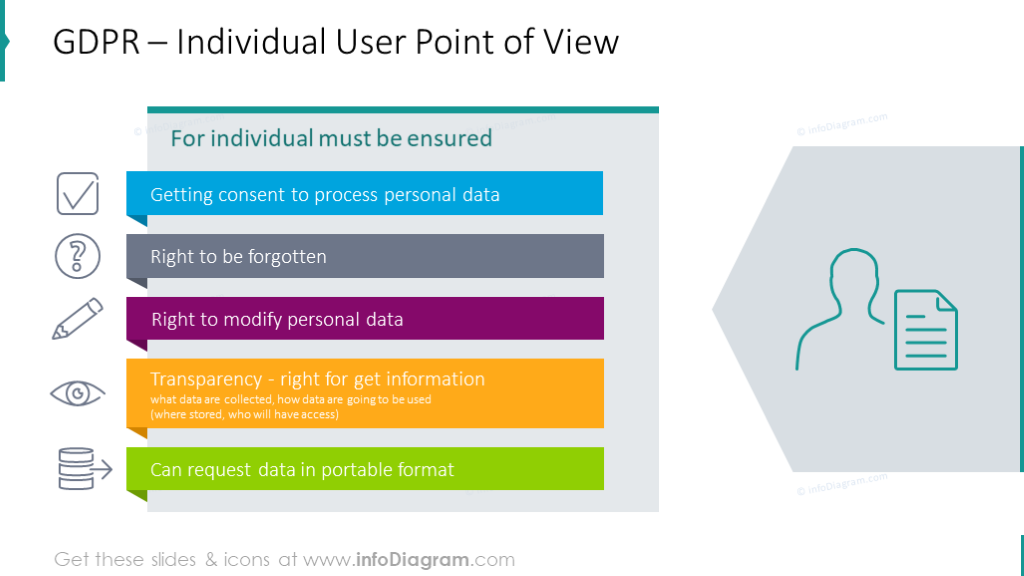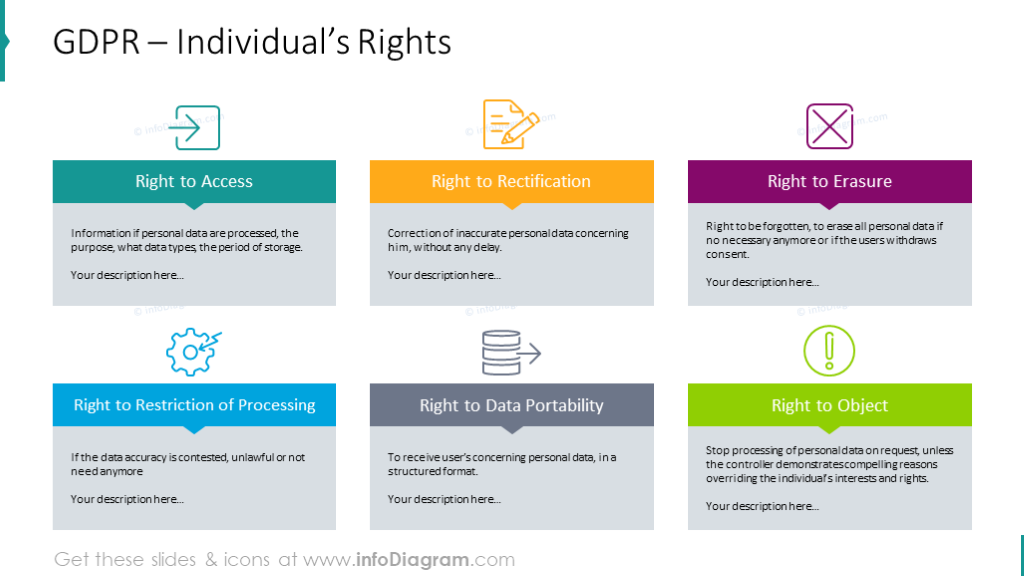 Talk about Data Controller View Point
The next slide explains what a company should do and remember in the context of the new regulations. Those are the responsibilities of the data controller – institution using the personal data of individuals from the EU:
Audit data usage (what is collected, where stored)
Appointing DPO = Data Protection Officer
Check Data Processors
Monitoring data breach
… add your own points here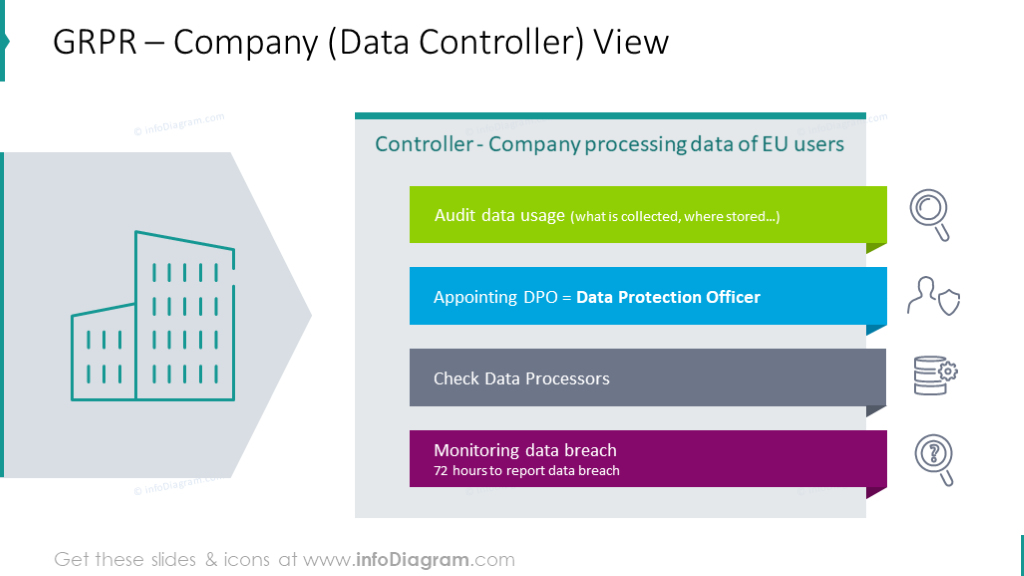 Present Steps for an Online Business for GDPR Compliance
If you need to present procedures a company should do, Steps diagrams are a good tool to consider.
Here we listed an illustration example of four stages to follow towards the new policy, but you can add or remove steps to fit your case:
analyze what information you collect,
check storage time,
inform your client,
monitor the access to personal clients' data.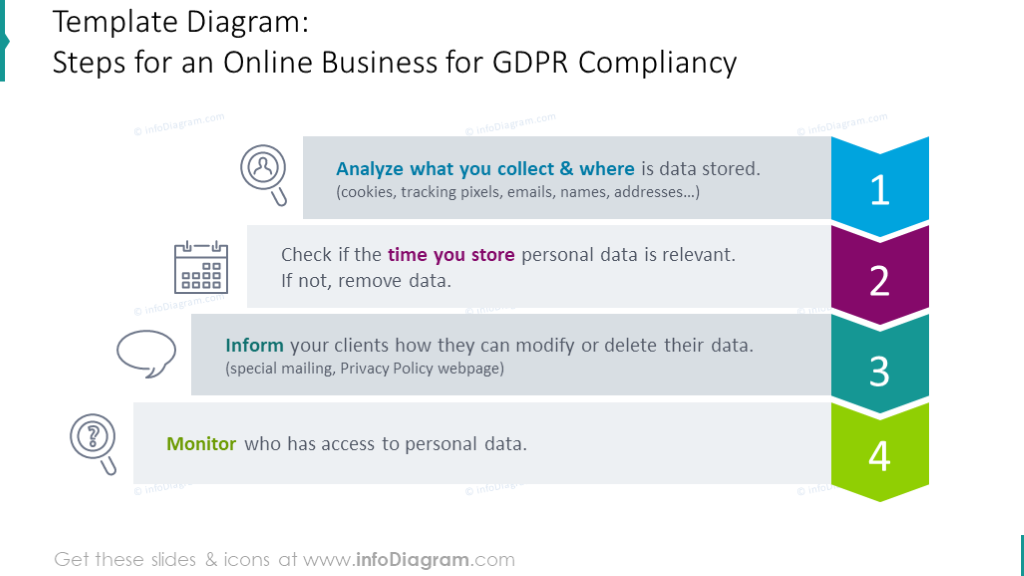 Show Data Protection Stakeholders and Their Relations
Stakeholders are in fact any entities involved in this data protection policy, starting from private persons whose personal data we talk about, institutions collecting and processing this personal data as well as data processors (companies storing the data, think Google, Amazon here). And data authorities – public institutions defined by EU member countries.
The first slide shows the GDPR stakeholders and the second presents the relations between them: with diagrams, it's much easier to explain such entangled topics.
The typical stakeholders of data protection regulation are:
Data Subject – an individual, a resident of the European Union, whose personal data are to be protected
Data Controller – an institution, business, or a person processing the personal data e.g. e-commerce website.
Data Protection Officer – a person appointed by the Data Controller responsible for overseeing data protection practices.
Data Processor – a subject (company, institution) processing data on behalf of the controller. It can be an online CRM app or a company storing data in the cloud.
Data Authority – a public institution monitoring the implementation of the regulations in the specific EU member country.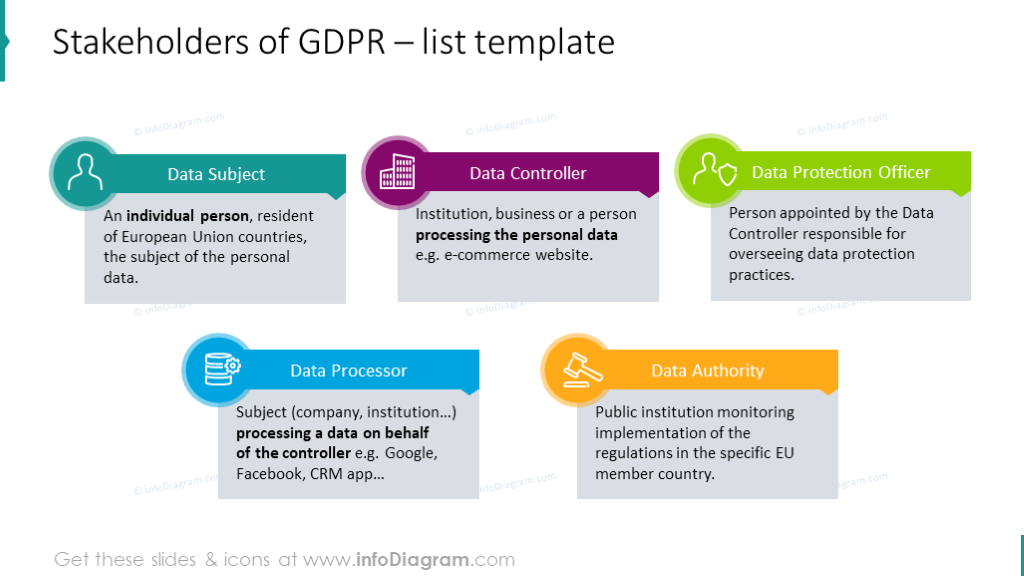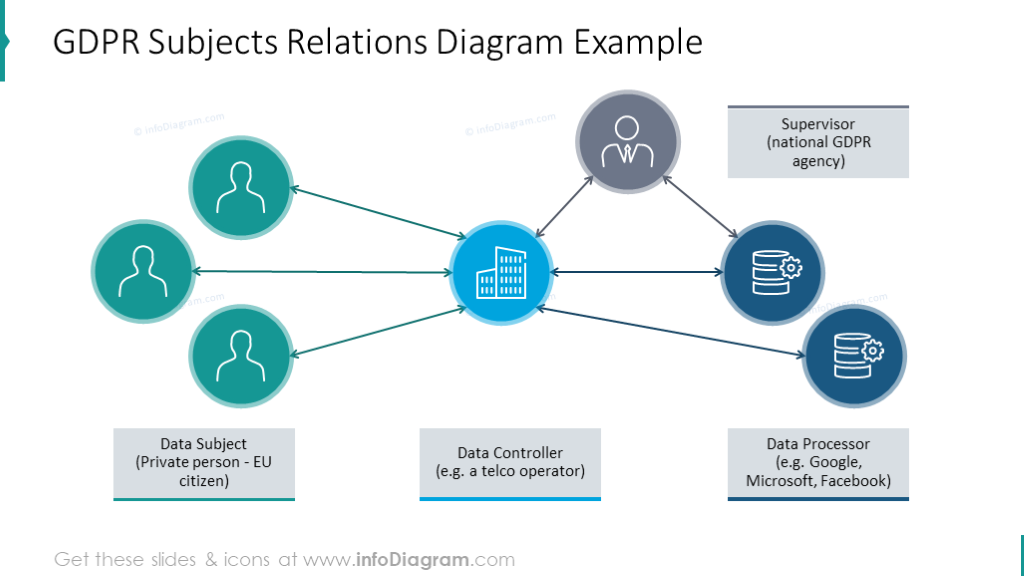 Having a set of symbols assigned to each subject, you can quickly create a simple diagram, showing relationships and connections among those GDRP subjects.
Such a drawing can serve as a great explanation basis for data privacy-related training.
Presenting Online Tools related to GDPR
With new rules, it is important to understand which tools and applications to use to follow the policy correctly and avoid penalties that were discussed before.
Some typical tools and applications related to data protection :
mail collection and mailing apps – they usually provide tools such as Double opt-ins, Agreement boxes (should not be pre-checked), forms for collecting clear data consent & presenting data usage statements, unsubscribe options for newsletters
data processors – each processor should have defined GDPR statements and features allowing e.g. data retention, data portability, and data access control.
privacy policies – there is a bunch of GDPR policies templates on the web, mostly provided by law companies offering also consultancy, you can use. Seek also for guidelines given by European Union or local EU member states' regulator institutions.
cookie control banners – seek WordPress plugins or other tools allowing you to implement cookie pop-up banners and consent to collect in case of visitors from the European Union.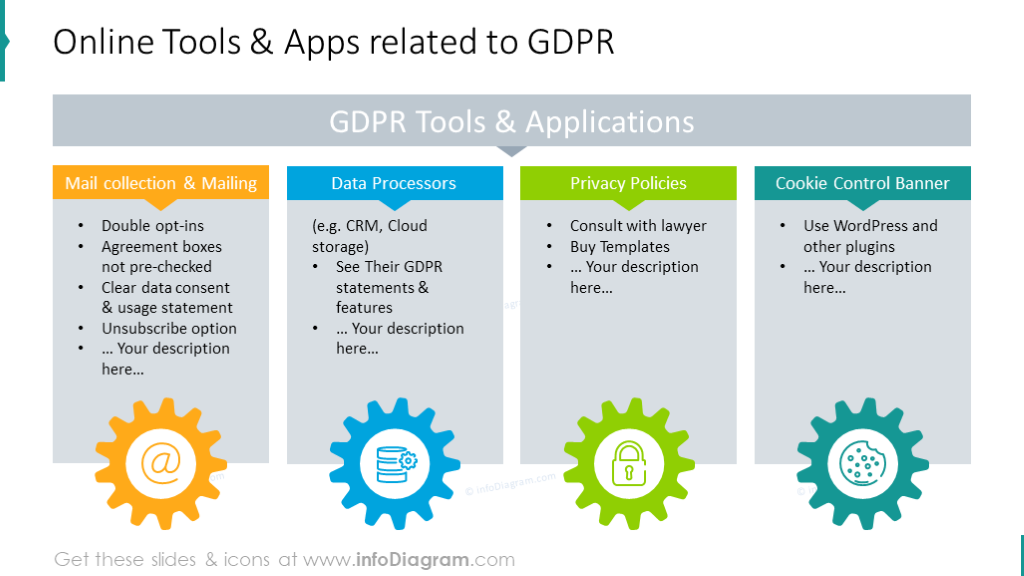 Illustrate GDPR Terms & Requirements
The last recommended slide shows the example of terms and documents required for GDPR: terms, privacy policy, cookie files policy, and consent. Here is the place to clearly define what data are collected, and what is the purpose for collecting those data, e.g. for providing the product and services, for billing, for dispute solving, or for marketing purposes. According to GDPR requirements, you should state in clear English what rights a user has, too.
Illustrative icons will help the audience catch the points faster. The specific content of policy should be defined by a company legal person.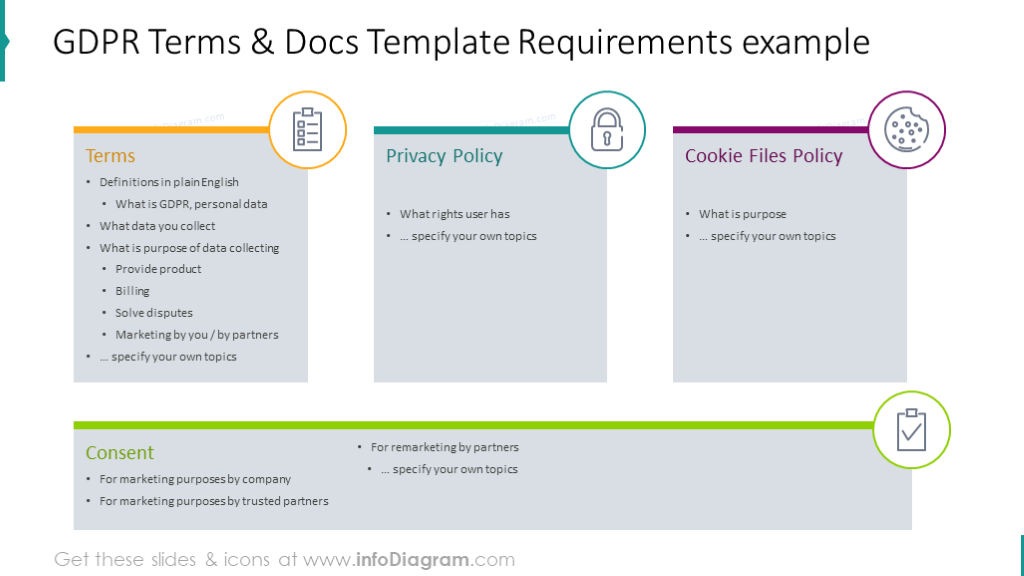 Those pictures are example graphics we prepared. You can create your own using only part of existing graphics – icons or diagrams, modifying their colors and content. e.g. add your own set of personal data examples.
Resources: Presentation Template for Data Protection Regulation
To help you illustrate and explain all the details of the new policy, we designed a PowerPoint template you can reuse.
The infoDiagram Data Privacy GDPR Training Template will help you prepare visual presentations or training materials about What is GDPR, Who is affected, Who is involved, and what actions should be done. You can easily prepare professional-looking slides by copying some of the predesigned diagrams and timelines into your company deck.
What's inside Data Privacy GDPR Training PPT Template?
The GDPR and Data Privacy PowerPoint Graphics include:
15 editable diagram charts of GDPR definition, stakeholders, affected countries map, Stakeholders, Personal data and Sensitive data list, list of rights for access, rectification, erasure, portability.
Template diagrams you can use to present processes and steps data controller companies should take, types of collected data. There is a GDPR subjects relations chart you can modify to fit your case. We added also template of privacy policies documents requirements – Terms, Privacy and Cookie using policy.
50 outline icons representing various data protection items such as consent, rights, data transparency, monitoring and roles of a data controller, data processor, supervising authority.
You can see the full template here:
See Data Privacy GDPR Template
If you want more to get more infographics slides, check this PPT diagrams graphics Bundle with over 200 slides.
And if you like the elegant icons we used here, see extended 340+ set of Outline PowerPoint editable Icons to illustrate various business topics from management, planning to IT and data-specific symbols.
To find out about ale the pros and cons connected with GDPR and how to present it in a modern, effective way – make sure to check out our video:

PS. if you / your colleague want to use GDPR graphics on the privacy policy webpage, you can get it. Reply in the comments or contact us for details.