Are you preparing slides for an upcoming webinar? After preparing the content and script, it's time to work with PowerPoint. See how you can create a killer webinar presentation to engage your audience.
Whether it's your first or 107th webinar, the goal is the same: engage people and provoke action. A usual webinar presentation utilizes PowerPoint 99.9% of the time unless you are hosting a webinar demo of a software platform. So it's useful to learn some new tricks if you hold webinars quite often 🙂
In this post, I'll guide you through 4 steps toward engaging webinar presentations.
Note: all presented slides can be found in Webinar Presentation of Problem-Solution template. 
Step 1: Choose Appropriate Slides Structure
Start with getting attention: present the question you're going to discuss today to set the mood and check if everyone's on the same page. Consider big-picture slides for titles and quotes.
Step 2: Change the Slide Content
I advise expressing facts with simple infographics instead of plain numbers. There are plenty of diagram shapes you can choose from. Then you can change colors and add icons (see next step) to highlight particular numbers or facts:
Step 3: Illustrate your Webinar Items with Icons
Represent topics you talk about with pictures and symbols. Express status and categories by visual symbols for better understanding.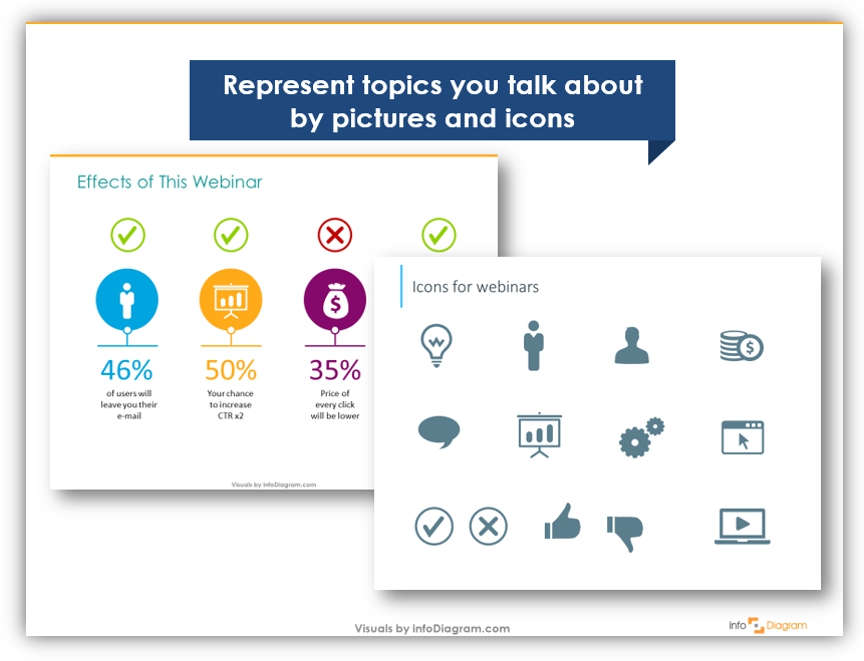 Step 4: Modify Colors if Needed
PowerPoint tools allow changing colors and sizes quickly. Simply click on the shape you want to change and fill it with the appropriate color.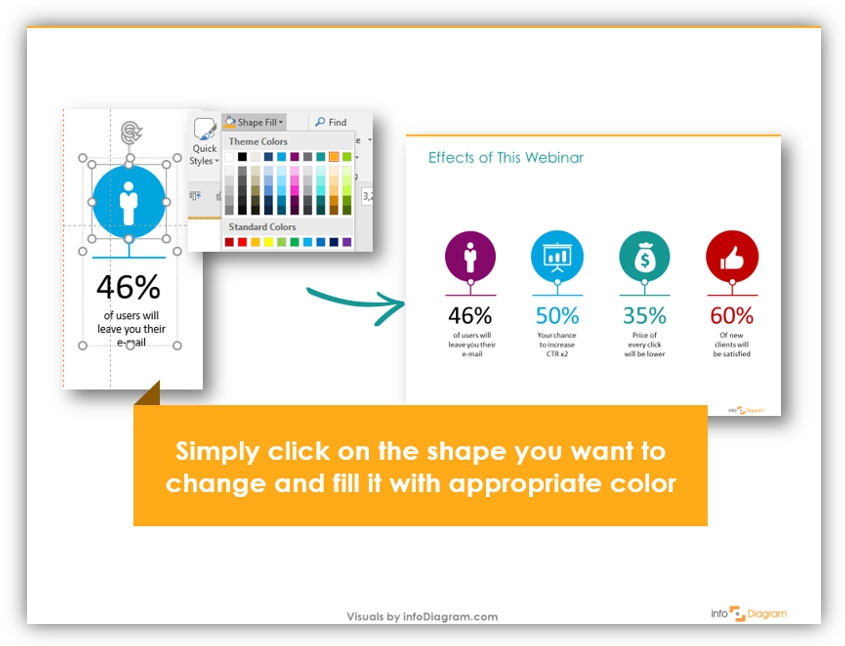 To wrap-up
Select a slide supporting your webinar structure
Edit slide content to explain your webinar topic visually
Illustrate items with icons
Adapt colors to your brand
A webinar presentation utilizes PowerPoint 99.9% of the time unless you are using a special platform. This PowerPoint presentation is the focus of the webinar and what your webinar attendees will be looking at throughout the length of the entire presentation. Read more about preparing webinar content here.
Make your Online Presentation Engaging with Webinar Presentation Visuals
To save you time, we designed this editable slide set for your presentation. If you want to avoid a boring default look and come up with something different, this slides set is for you 🙂
It's prepared as a PowerPoint file, however, you can use also other presentation software capable of importing PPTX files such as Google Slides or Keynote.
Get Webinar Presentation Template
If you want to get inspired by a few ideas on developing webinar slides and organizing web conference flow, see Facelifting Webinar Presentation blog.