Need to present your company pitch and your solution? Presenting What and Why you do what you do is a common part of business conferences or partner meetings. The trick is how to make it persuasive and attractive. See our tips on how to design a creative company presentation.
In this post, we'll show how you can facelift your slides and show the audience something they will not forget.
If you want to be different and personal within your speech, consider using a hand-drawn style instead of a classical formal presentation look.
Resources: All slides below are available as editable PPT from Creative Company Presentation Scribbled Deck for commercial use.
Scroll down for examples of slide images. However, if you prefer a decent formal style, then have a look at this blog.
8 Topics of a Company Presentation
To inspire you on how to present your business in an unusual hand-drawn way, we collected a few ideas from presentations we've seen and helped to design. This is a result of our experience put together with our handmade slide graphics.
Here are eight typical company presentation parts:
presentation title slide

agenda or some kind of table of content, an introduction quote
market facts and/or competitors analysis
your why: what are your solutions (can include website screenshots in case of online products), strategy, and benefits
timeline of company or product history and next steps
information about the key persons – owners, managing directors, key consultants team
company profile and philosophy – what and why it does. The vision and mission statements and key activities
walk-out closing slide with the final message, call to action, and contact information
Walk-in with Title Slide and Agenda
Your title slide should be catchy. They say the first 10 seconds make the main impression of a person. A unique title slide can help you with that.
We advise you to choose a simple picture for the background, that won't distract people from the important – your company presentation topic.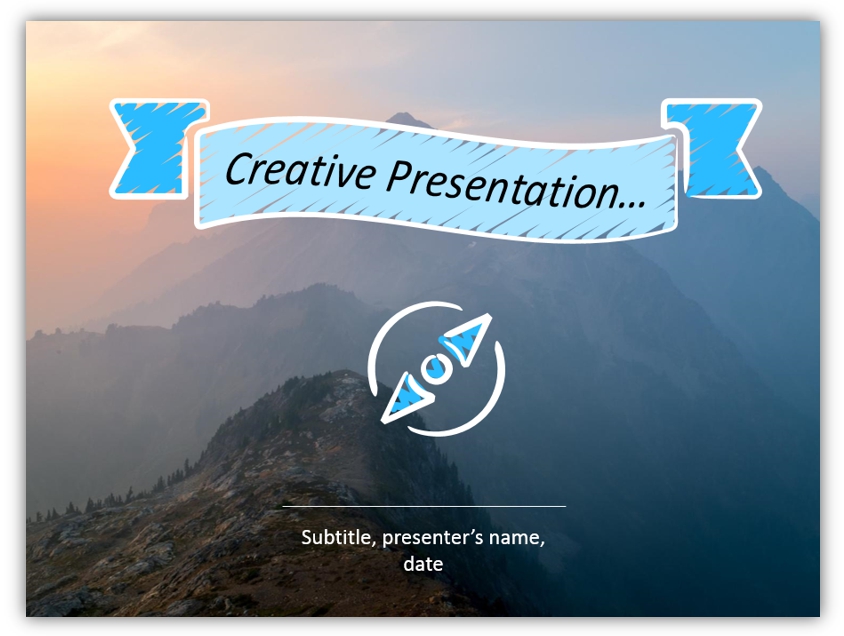 If you have a long talk with several sub-topics, then you can introduce its structure. Let people know what they can expect.
Quickly go over the agenda and list the main topics you'll cover. Using sketched lines and arrows can nicely facelift a classical bullet-point list.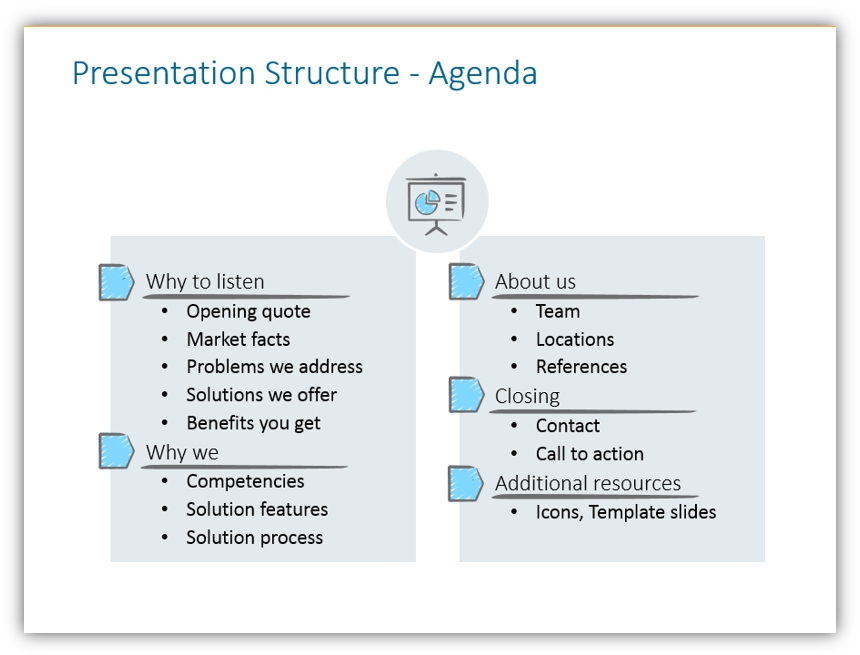 Start with the Intro Quote
When presenting what you do, avoid too general mission and vision statements. Such abstract content makes the audience yawn.
You can follow another way – open your talk with some catchy quote related to your business. It can be some famous person's citation or a client quote that will resonate with people in a room. Place the quotation in the watercolor speech bubble like the one below, to keep the personal touch.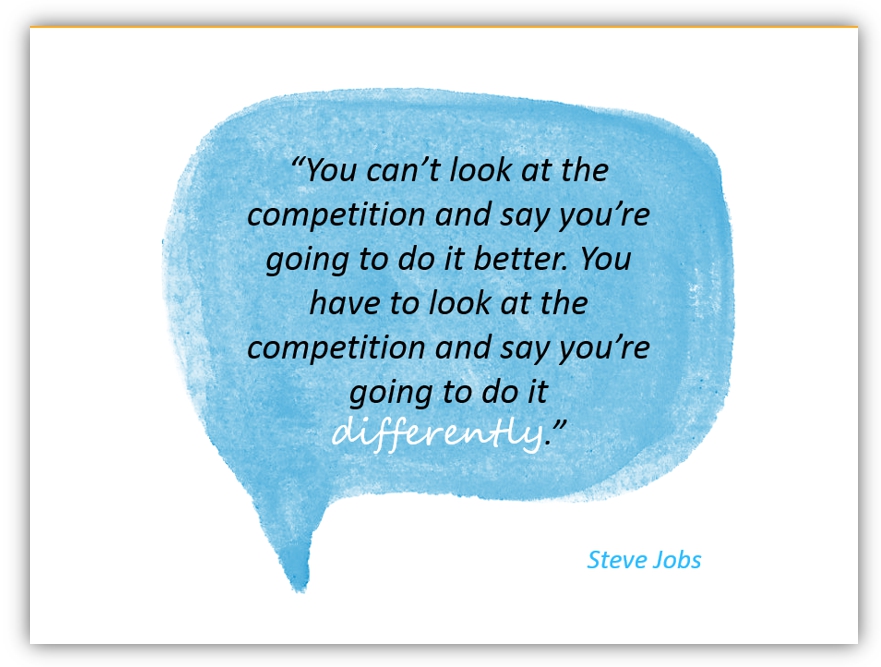 Here you can find more ideas on how to design a quote slide.
Talk Figures & Market Facts
Again, this is something people leave for the middle or even end of the presentation. However, talking figures will make an image for your company in the eyes of the audience as data speaks for itself. For your listeners, such information is a little more important, than your dream vision (we have no doubt it's awesome 🙂 ).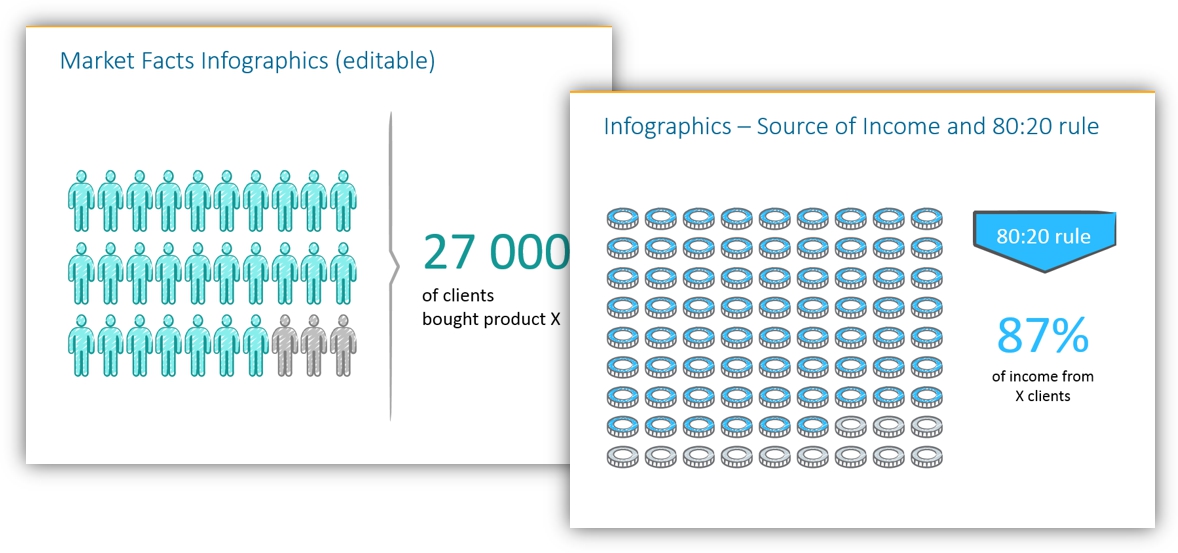 Present Your Why
After those openings, your audience is likely to be hooked on your topic.
It's time to present why you and your solution are beneficial for them. Summarize the products, competencies, and solutions you offer. We recommend putting only keywords on a slide and don't overload it with details. Three is a good number of items to present on a slide. People tend to remember 3-5 major points from a topic.
Design-wise, you can use such tree vertical columns, each associated with a scribble icon representing the feature. Here it can be a globe for global company presence, a hand with coins for monetization or savings, and a chess figure for a long-term focus or a strategy.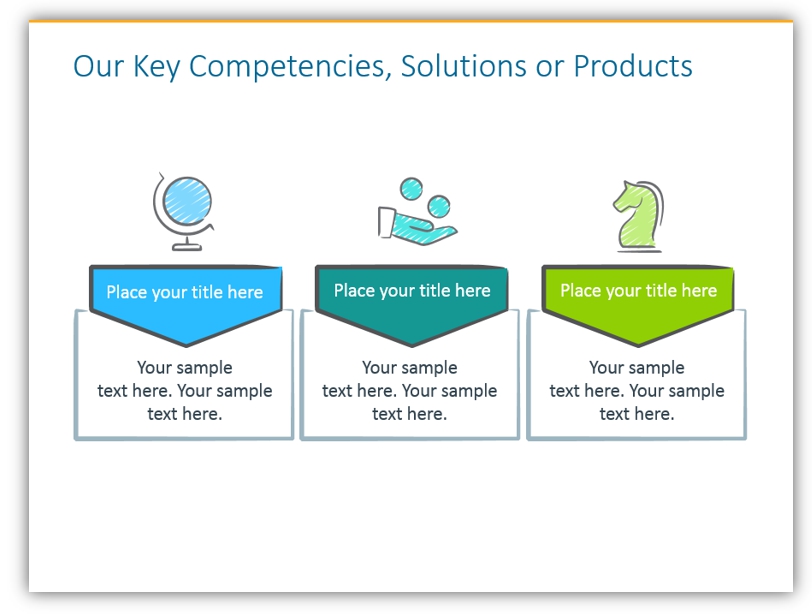 Check the Hand-Drawn PowerPoint Icons Collection for more scribble symbols and diagrams.
You can also focus on one point on a single slide, instead of three. This will ensure people will focus on one topic at a time. And from the design point of view, you will gain space to add some graphics catching the attention of that point. For example a swoosh circle with photograph filling: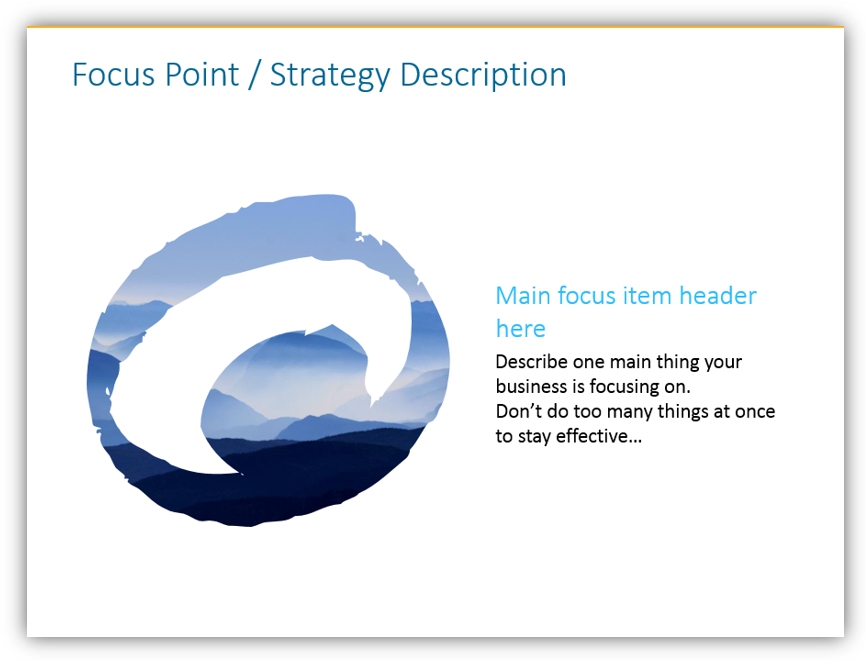 If you want to list the solution benefits, consider what is their relation and put it in some scribble diagram form:
if the order is important, use a numbered list (extend it if needed, by duplicating the rows), as below.
if the completeness of your list is more important, use a circular diagram, like the pentagon chart below.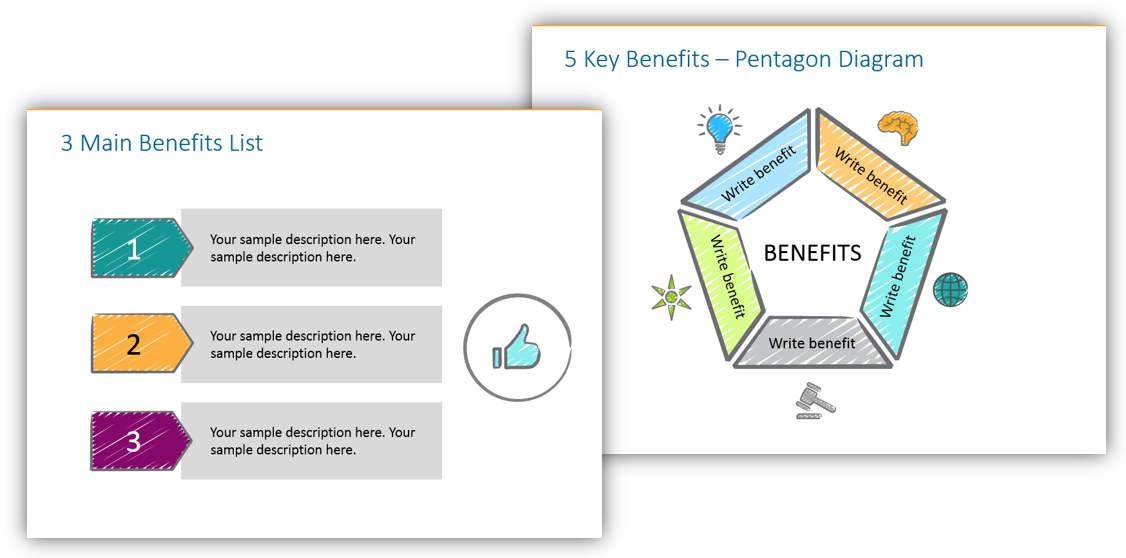 Another diagram structure you can use, to present business sectors overlap, complementary products and services, or markets list.  Having such visual support for your speech will benefit your listeners – it'll be easier for them to stay on track.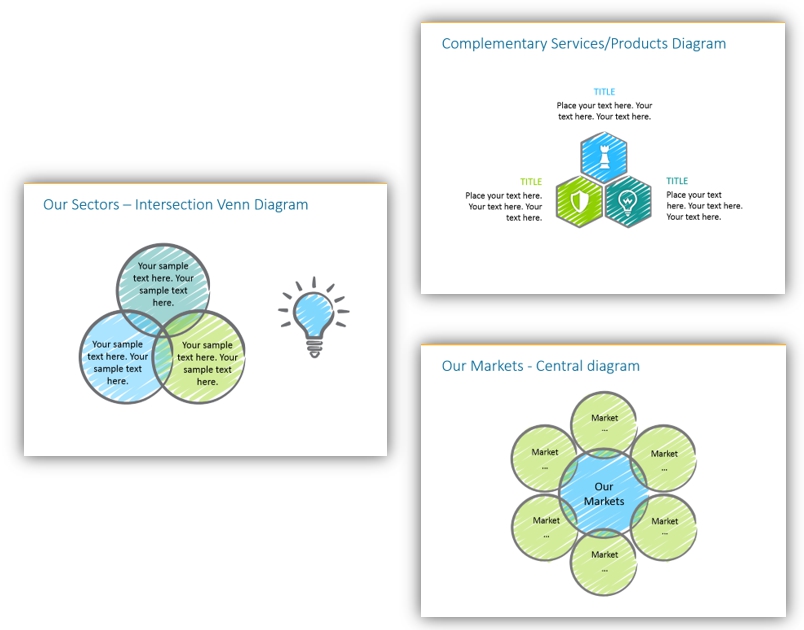 Product Development or Company History? Tell it as a Story
People love stories. Storytelling is a very powerful tool. The history of your company can be a nice introduction to the next steps you're planning to take.
See this article for more hints on how to use storytelling in a slide design. I also recommend a book by Nancy Duarte –  Resonate, where she analyses the power of stories in famous speeches.
Illustrating Your Geographical Presence
If you need to tell where your company's offices are, we propose a symbolic illustration of a globe. If you want to be more specific, see our maps collection.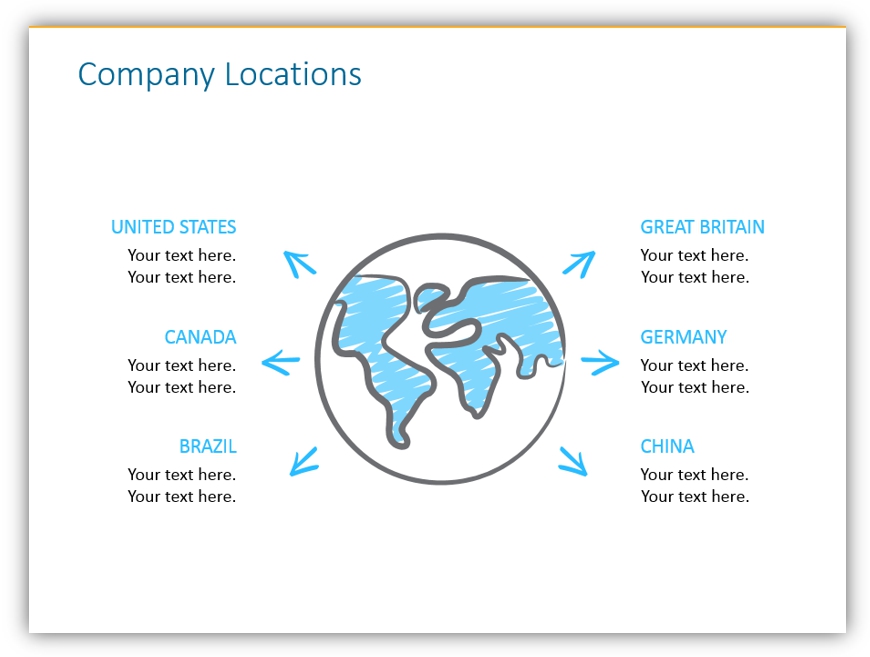 Show Who's Behind the Scenes
Companies and products are made by people (until it will be some AI 🙂 one day). Therefore introduce people who are behind your business. Show you are a bunch of real persons, with expertise in your field. If you are in consulting or service business, presenting a project team is even more essential. So the potential client will know who will serve them.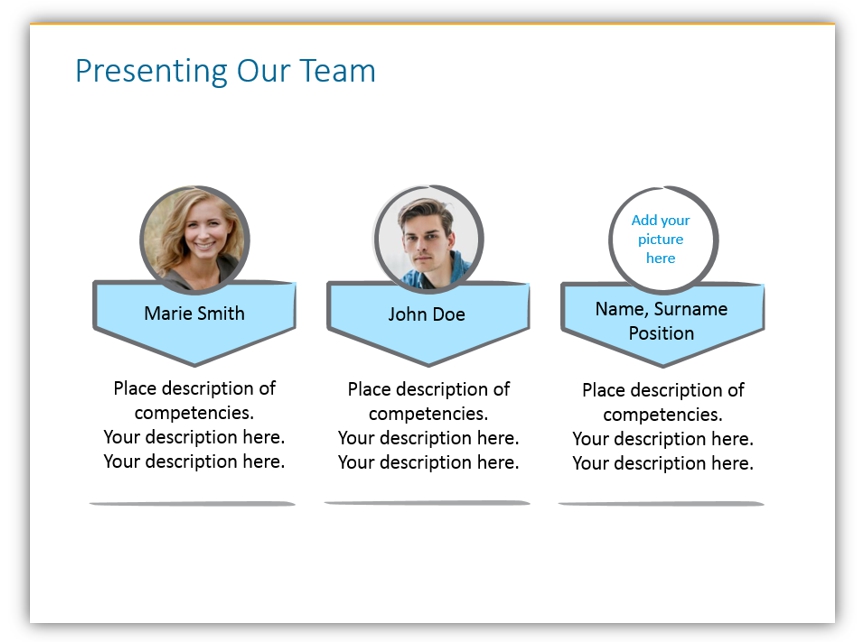 Drawing a long-term vision for Investors and Employees
This may not be needed for product presentations, but you may be pitching to an investor to fund-raise a new capital. Or you will want to present your company at a job fair to get fresh employees. In such cases you will likely want to draw your long-term mission and vision, to explain company values and culture.
As those can be abstract topics, make it concise on a slide. Use the slide template shown below to present your business mission, Vision, and values in one compact format.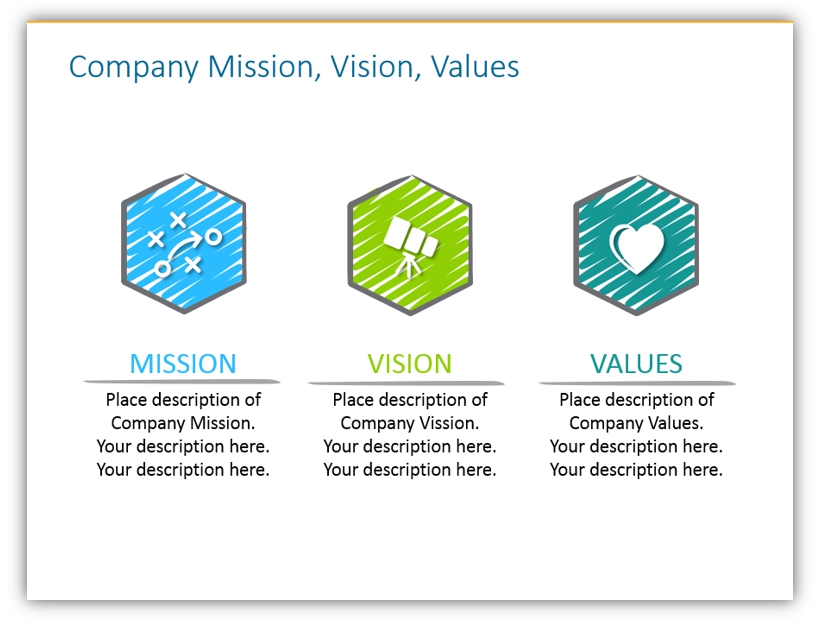 See other examples of how you can design mission and vision slide.
Closing Slide: Making Call-to-Action
At the end of your slideshow, it's time to close it. To empower all attention you got from your speech, make a strong ending.
Don't let people go away after your talk without a clear action to do as the next step. It'd be waste of your and their time.
Instead of boring 'contact us by…', use a creative and eye-catchy slide to pass your final message or action call.
You can put one more quote or even a joke. Here's what we have for your inspiration: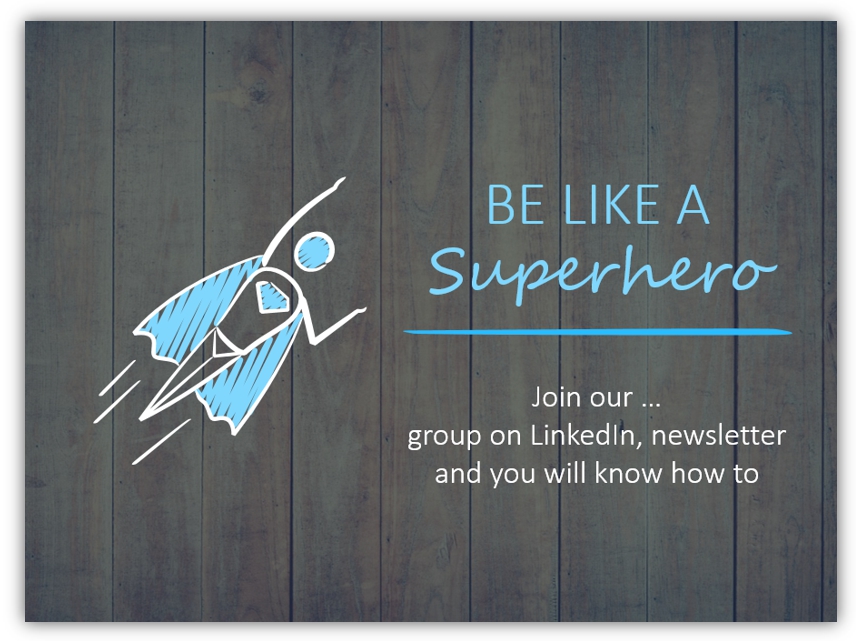 After giving your contact details, people will want to connect with you for sure, because they want to be superheroes 🙂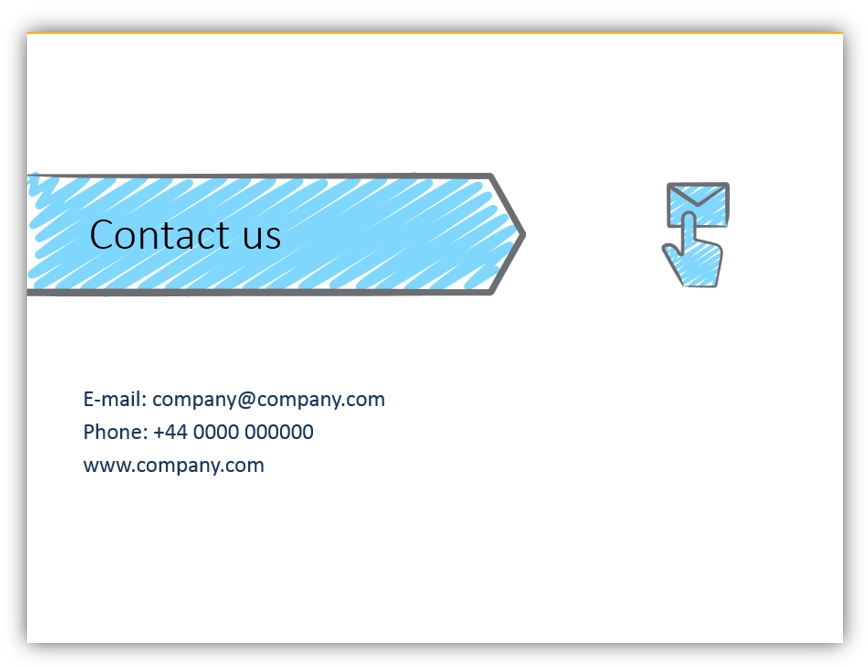 More Content Slide Examples – Comparisons, Processes, Transitions, Lists…
Above we listed the most important parts of company presentation. Here are slides, that you may as well need to talk about your business:
comparison tables: if you want to show the difference between your old and new products or your company product and competitors.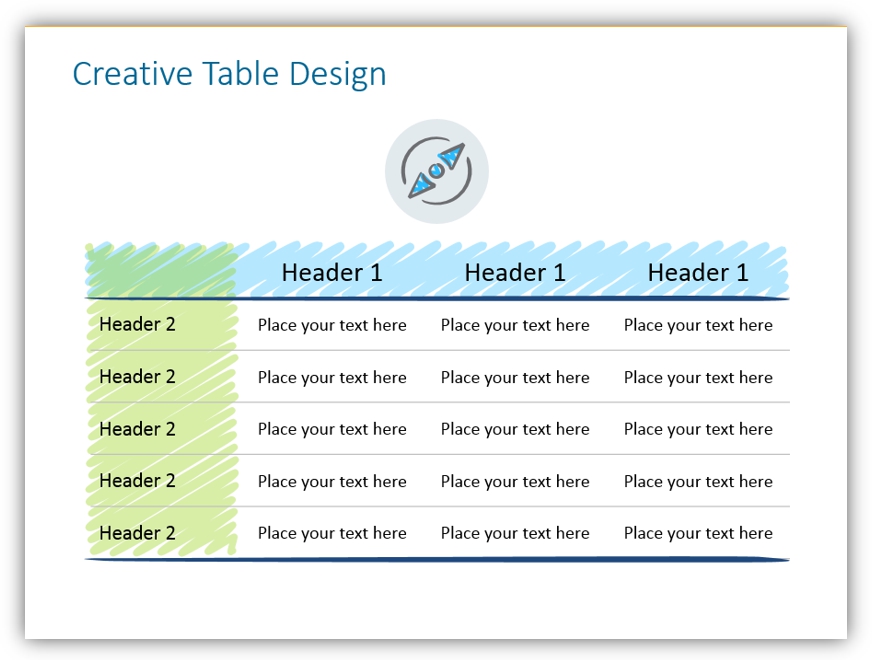 transition slides: you may need a pause between the parts of the presentation. Here are a few variants of such slides.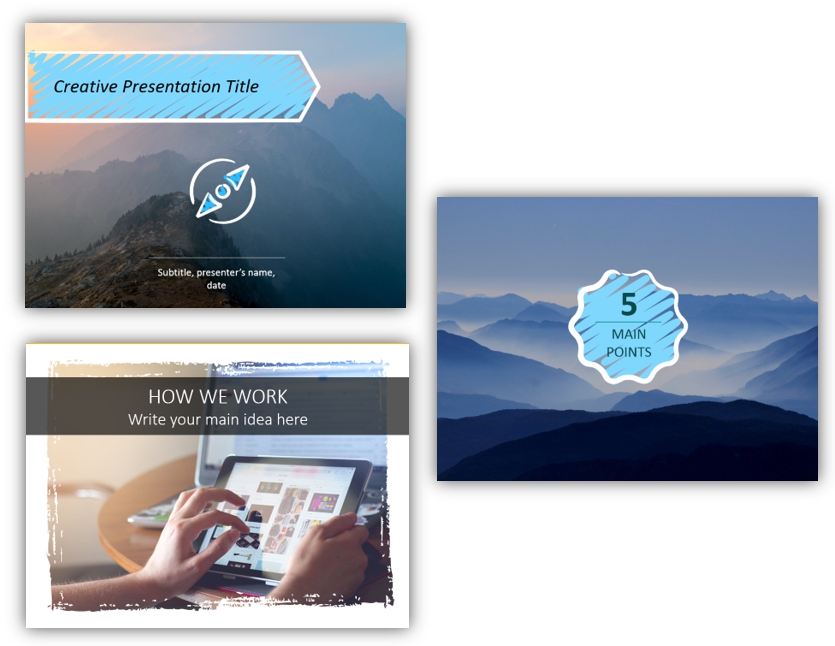 process steps illustration: use it if you want to describe the general/specific process or the project flow.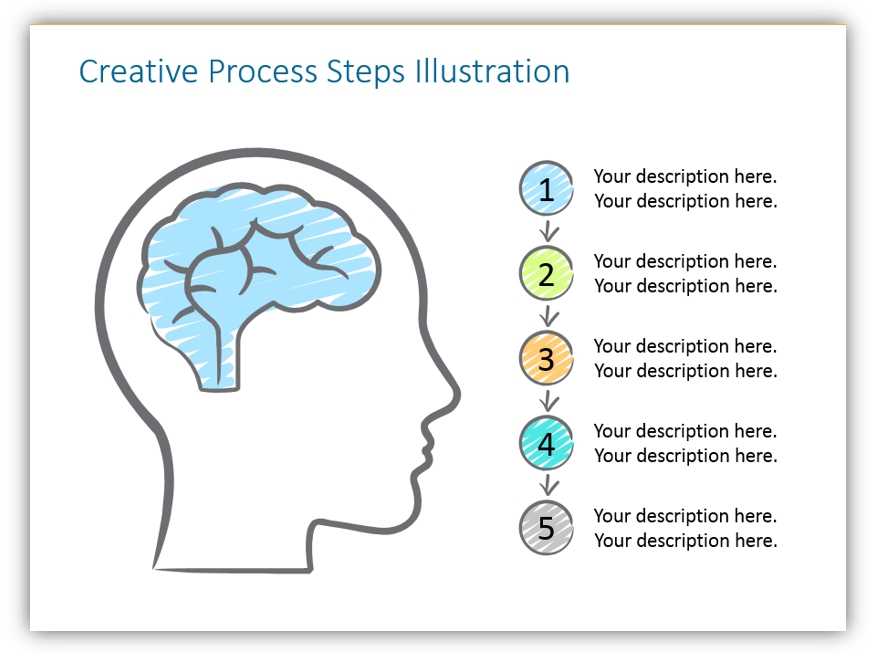 creative lists: a few ideas to replace boring bullet points. Look what we have proposed: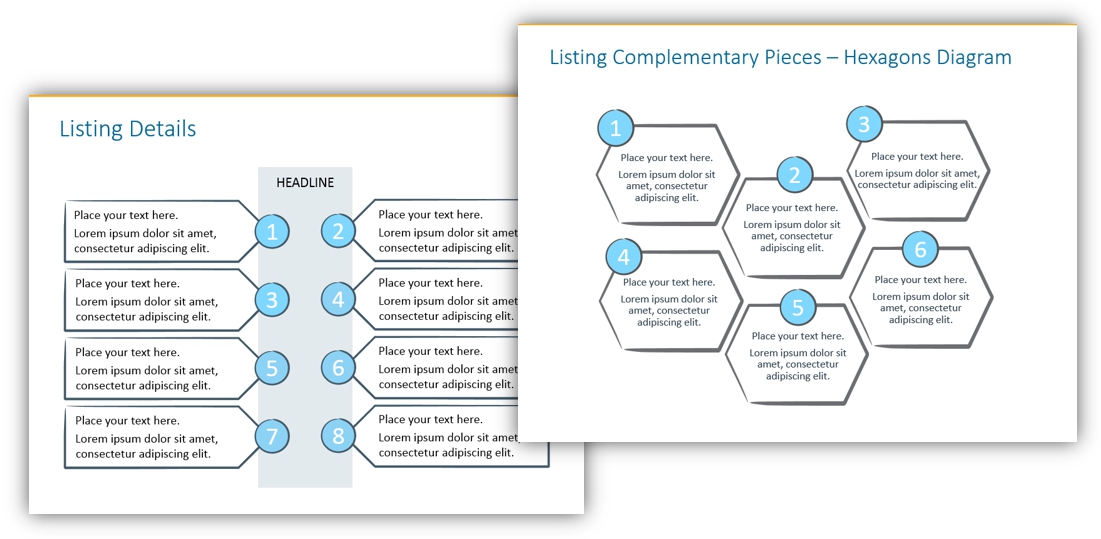 brainstorming infographics: in case you're mentioning new possible ways you want to go or new projects in the future. Such infographics look better than a numbered list, don't they? 🙂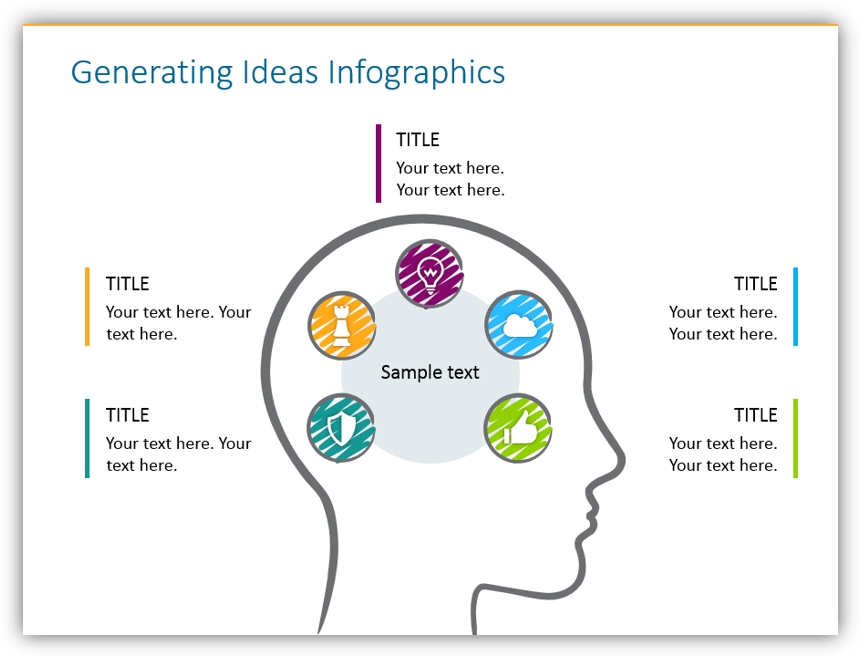 Which sections do you usually have when you talk about your company? Share in the comments 🙂
These were our ideas on how you can illustrate the main parts of a creative company presentation. If you like the slides, we have them already pre-designed and you can easily edit them or change colors if you need.
Resources: Company Presentation Deck in Creative Style
If you decide to use the PowerPoint template to create your slides, all these graphics are available in the editable form here. Our pre-designed PPTX template contains a slide for each presentation part mentioned above.
See Creative Company Presentation Scribbled Deck
If you need to present a more detailed business or market analysis, see our Business & Marketing section, where you'll find diagrams starting from the SWOT model to HR topics illustration.