In this article, we will give ideas for illustrating the business growth concept with images. You can literally show your clients, peers, (and any other audience) that you've made progress or that you aspire to a goal.
Presenting complex concepts
Complex concepts such as general business growth concept can be difficult to explain. Breaking big ideas into smaller, simple, digestible pieces can make your audience's understanding and retention easier. Nature-based imagery is compelling because it has such deeply ingrained meaning. This means the focus can be on what you actually intend to say rather than on getting hung up on the varying complexities of your intended message.
Source note: All examples below are from infoDiagram's Growth PPT Template (see details by clicking any picture).
Growth imagery: ways to share your ideas
How can you utilize natural growth imagery? There are many methods. Trees with stairs can be used to illustrate developing concepts.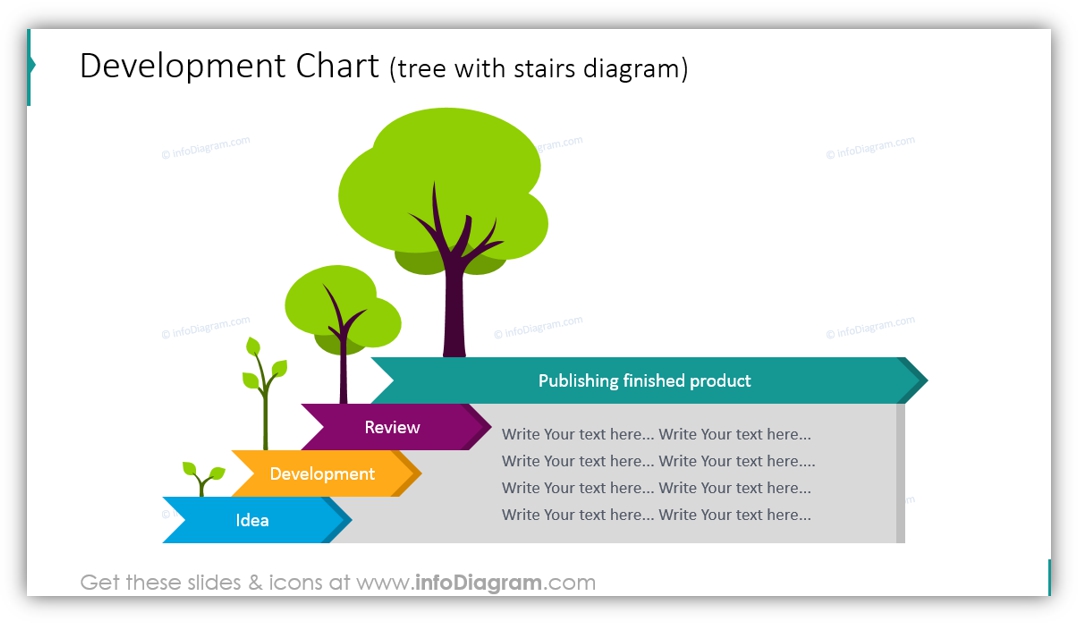 Plants that are growing are usually noted with leaves. By adding outlines to the images or additional ideas or details you can use to clarify your intentions and ideas.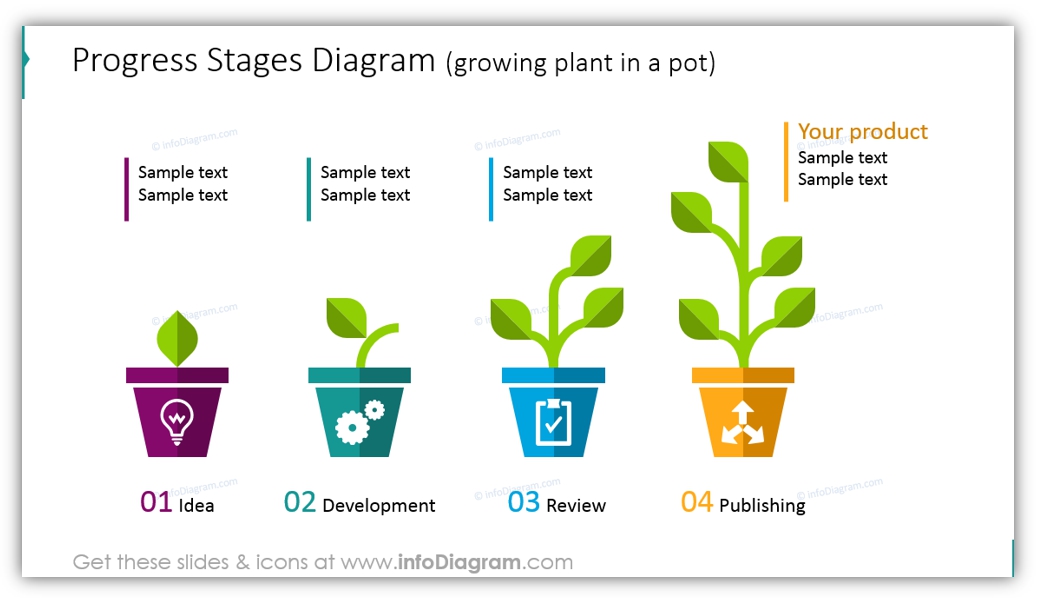 The same can be done with more decorative design elements like flowers.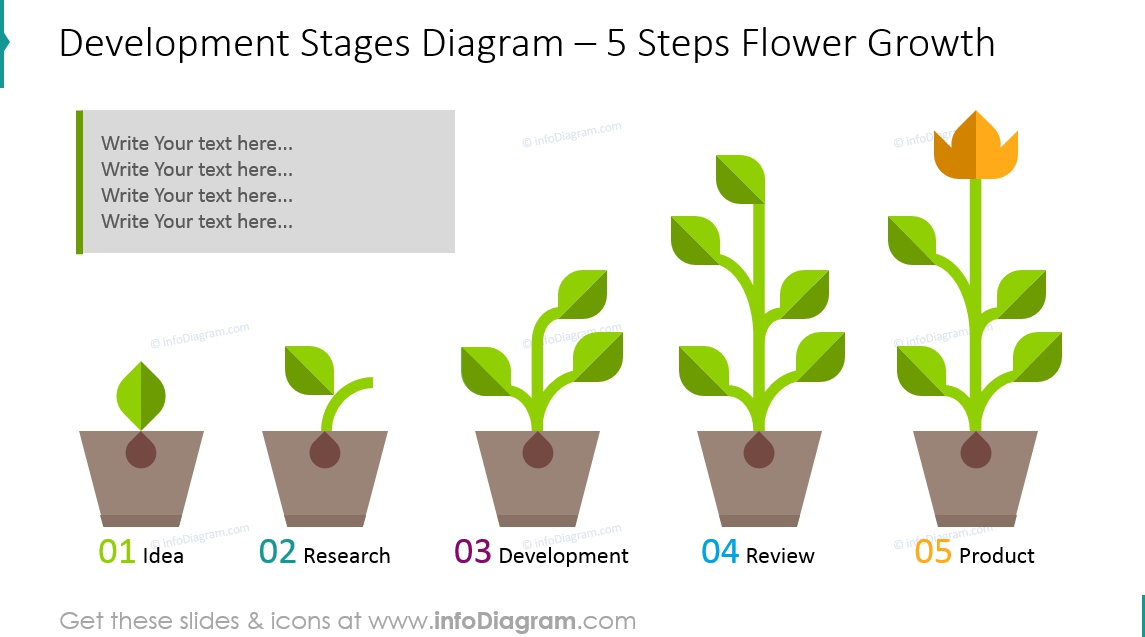 You could also put plants along a curvy path to stylize images.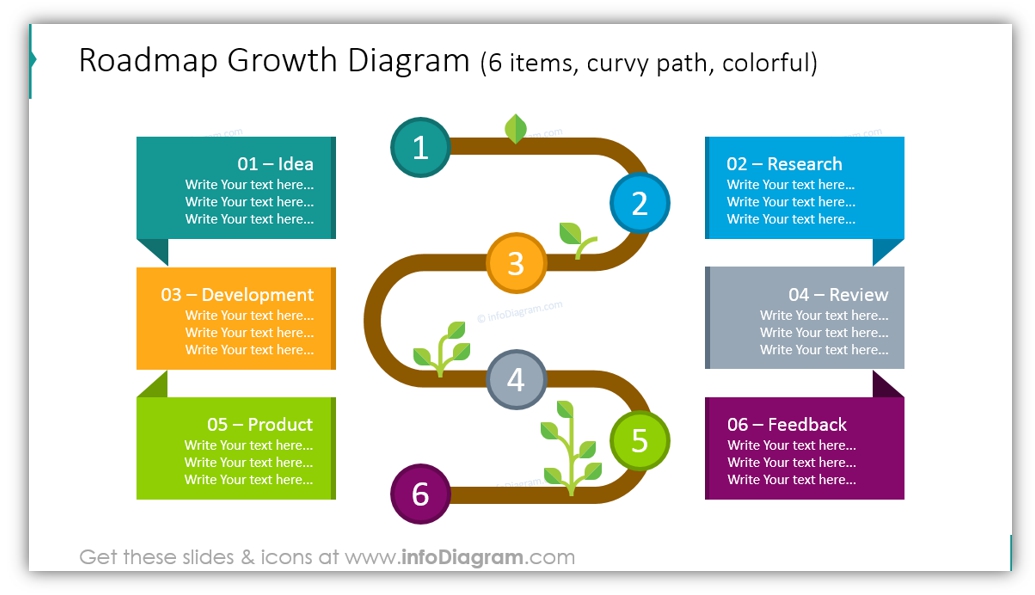 Whether you choose to have your plants on a curvy path or on stairs, they are all easy to customize with other outlines or flat icons.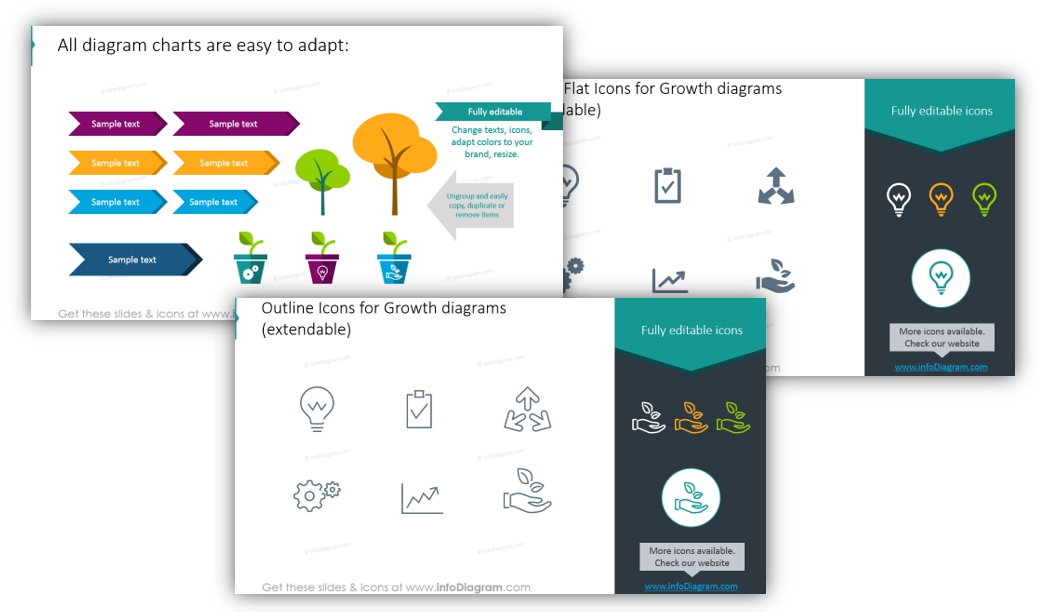 Making growth diagrams live & interactive
You may easily add interactive elements to your presentation
Once you have a growth diagram,  it's only one step to make it live. If you present one step at a time you can add a simple animation to each growth stage.
Here are a few effects I recommend from the PowerPoint animation menu. Generally, I suggest a subtle animation, for example:
PowerPoint's 'Fly-In' or 'Float In' effect. Choose a direction fitting the logic of the growth picture – from the left for the stairs diagram, or from the bottom for plants.
'Wipe' from the bottom looks good for plants and tree diagrams, as well as for parts of the roadmap slides if you make the wipe go in the direction of the roadmap.
A simple 'fade' effect on the growth stage
Growth images can be game-changing
You can relay complicated information visually. It doesn't matter if you choose stair diagrams, a metaphor for a growing plant, or an uphill road. You can create your own set of simple step graphics with a set of rectangles on a diagonal line. Using any kind of clear visual is better than text bullet points. This makes it easier for audiences to process complex details.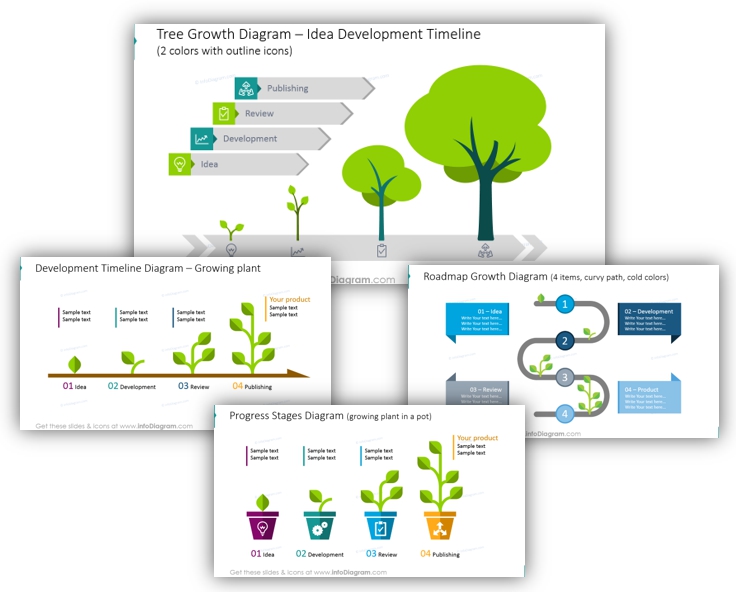 If you plan to use growth-related graphics, let us know! We'd like to see how others are using our images to share challenging information. If you aren't sure of how you can easily explain a topic with a professional graphics set, reach out. We'd love to hear from you.
Get your own growth diagrams
If one of our images doesn't exactly match your needs, you can create your own or recreate a modified one of ours. You can design simpler versions using basic PowerPoint arrows and symbols. If you would like to view our pre-made growth diagrams you can get them here:
Business Growth & Development Template
We also have general diagrams. You can check out our infographics bundles which include creative PowerPoint timelines, lists and comparisons.