A roadmap is a great tool for graphical representation of short- and long-term plans and strategies. You can show all the steps in details or create a general roadmap which will show the way from the present situation to your future goals.
In this blog, I'll walk you through a step-by-step guide on how to create a visual roadmap slide in PowerPoint quickly.
Here's  a quick glance into the result you can get using only PowerPoint and your creativity: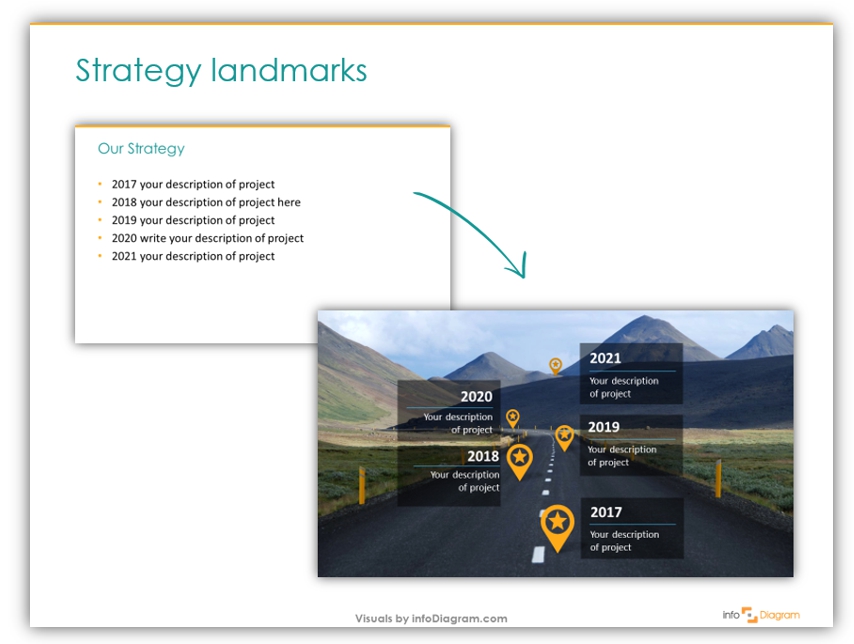 Cool, right? Let me show you how it can be done.
You can get all the icons and slides from Roadmap Diagram Templates (see details by clicking the pictures).
Step 1: Use a Picture with a Visible Road Path
For this roadmap, our designers used such a highway with the mountains on a background, where it is possible to put as many steps as needed and nothing is distracting attention: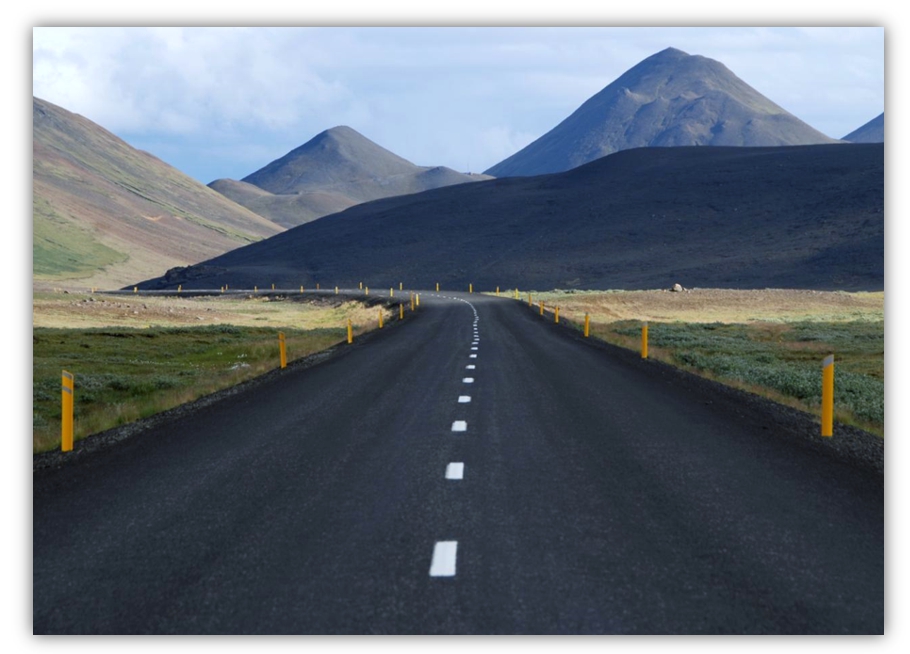 You can use any other picture of a road, just make sure there's enough place for the information you want to present and it will not be overloaded at the same time. Here are the examples you can use as well: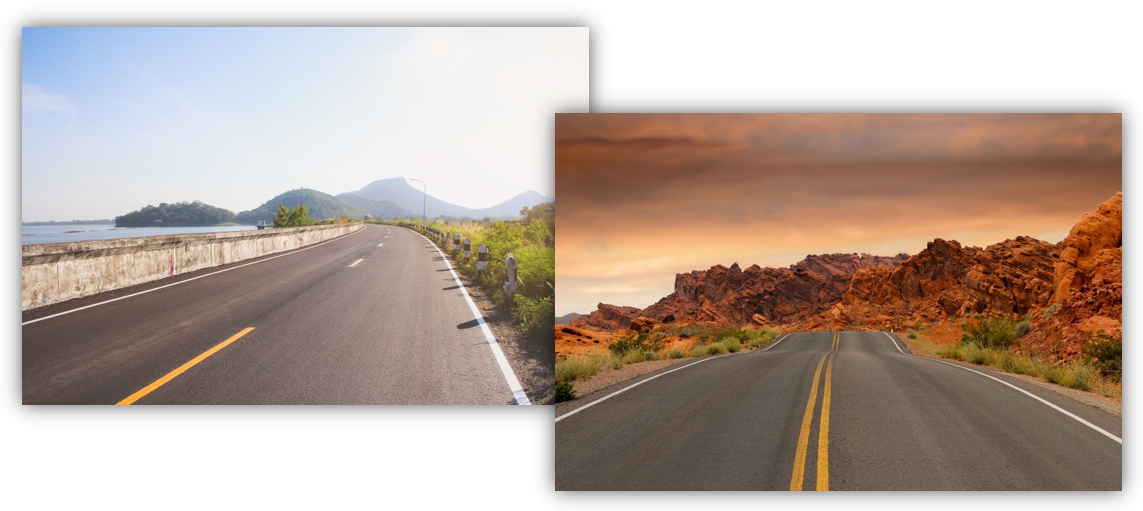 Step 2: Replace Roadmap Milestones Bullets with Text in Semitransparent Shapes
Semitransparent shapes will make the text visible and will not spoil the picture from the design point of view:

Step 3: Add Final Touch – Lines & Icons of Your Milestones
Don't leave your slide on the previous step, you can add some design elements and it will look more professional. Thin lines and flat icons were used while creating this roadmap slide: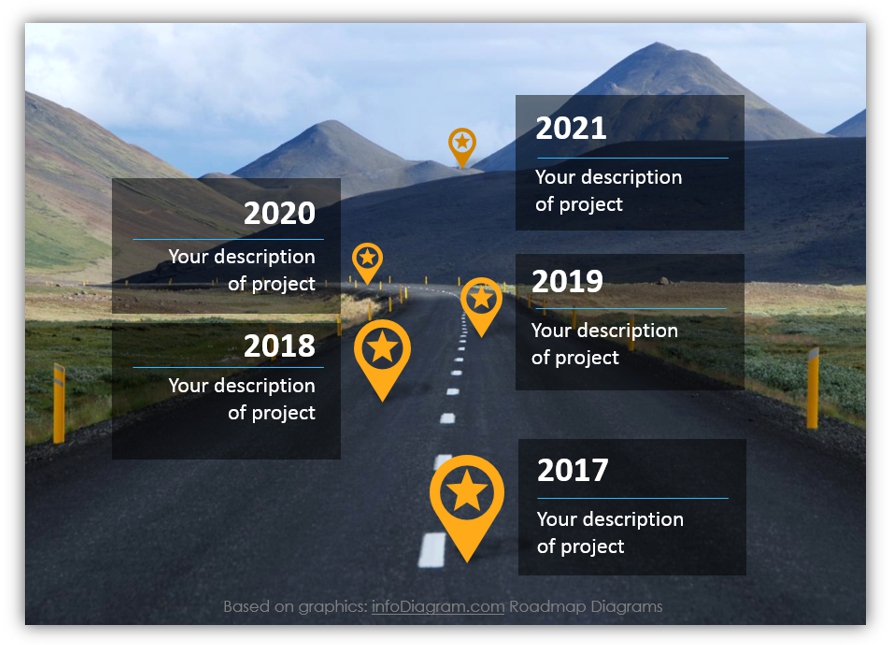 Quick summary
Those are three steps for making your own roadmap slide:
Use a real road picture as a background
Replace roadmap bullets by semitransparent shapes
Add a final touch, e.g. milestones icons
Do You Want Something that Looks Even Fancier?
See those roadmaps is you need something more than just an ordinary slide: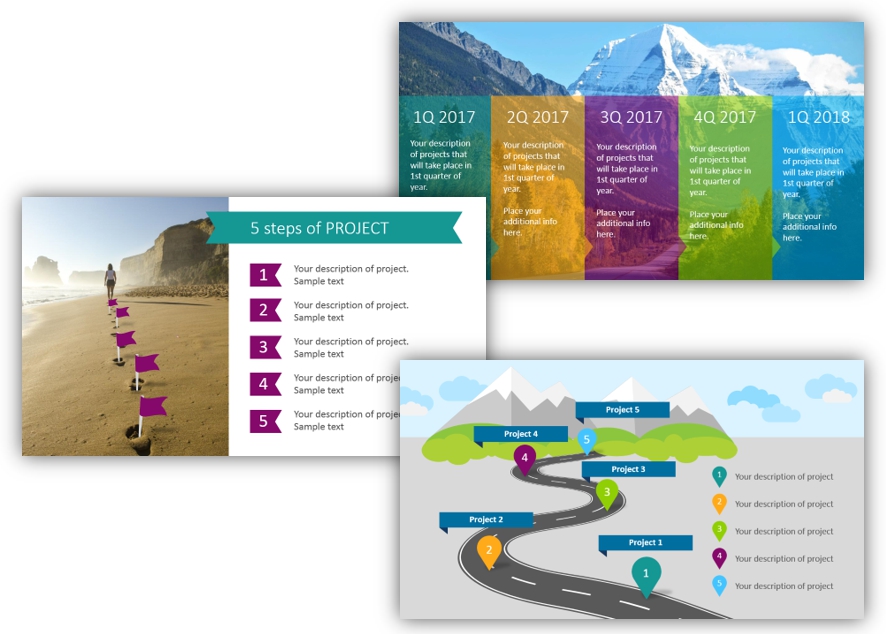 Or you might like such simple roadmaps illustrated with symbols: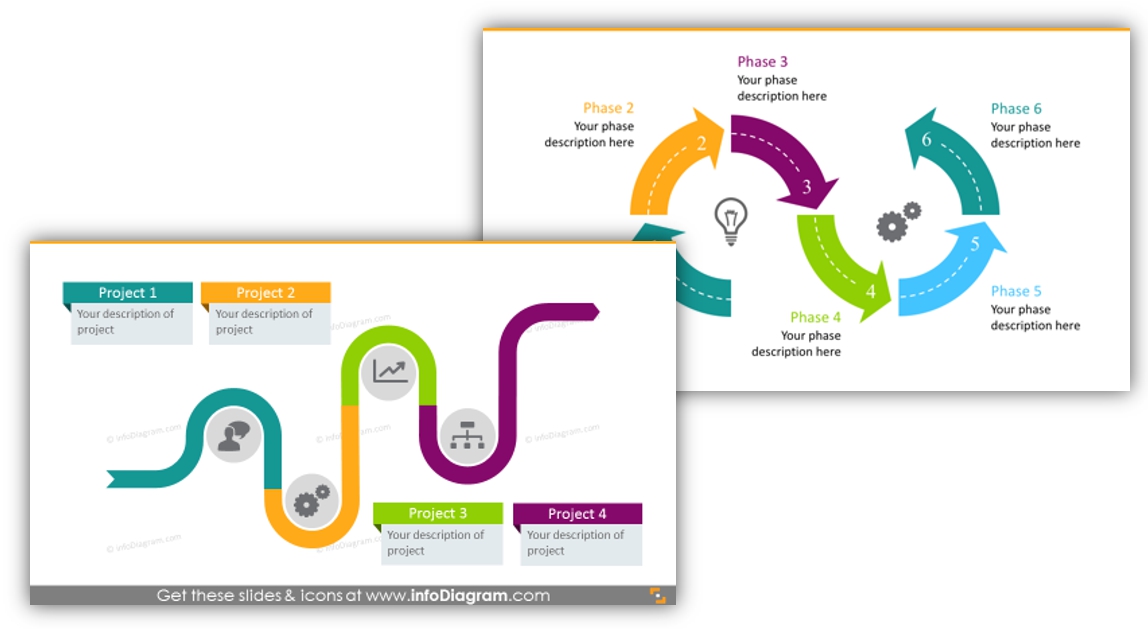 Roadmap Graphics Resources
A well-designed strategic roadmap is like a GPS for your business. It's one of the best tools to lift the fog and make your vision clear. Furthermore, the presentation of such a plan should help people imagine the future. The visual roadmap can be one of the best weapons in your communication arsenal.
If you are short on time but want to get your presentation to the next level, use our pre-designed roadmap templates:
Looking for more ways to create roadmaps? Here we share three ways to make your roadmap presentation attractive and well remembered.