SWOT analysis presentation is an effective instrument, which you can use to influence stakeholder's decisions. For this reason, it's important to learn not only how to identify strengths, weaknesses, opportunities, and threats, but also how to illustrate them effectively so audience will get your message.
SWOT puts company into the context of market conditions and may be used to display marketing situation and develop strategy. SWOT method might be used to tackle with corporate strategies, but also a department or even personal strategy for career planning.
The SWOT model graphics we present here come from the our collection of SWOT Analysis Outline PPT Diagrams that we've designed.
It's not half as tricky as you think, although not quite as easy as writing an ordinary report. Keep reading to find out how to save time and design an attractive SWOT analysis presentation to boost your efforts.
Try SWOT Analysis Diagrams instead of Ordinary Bullet Points and Matrices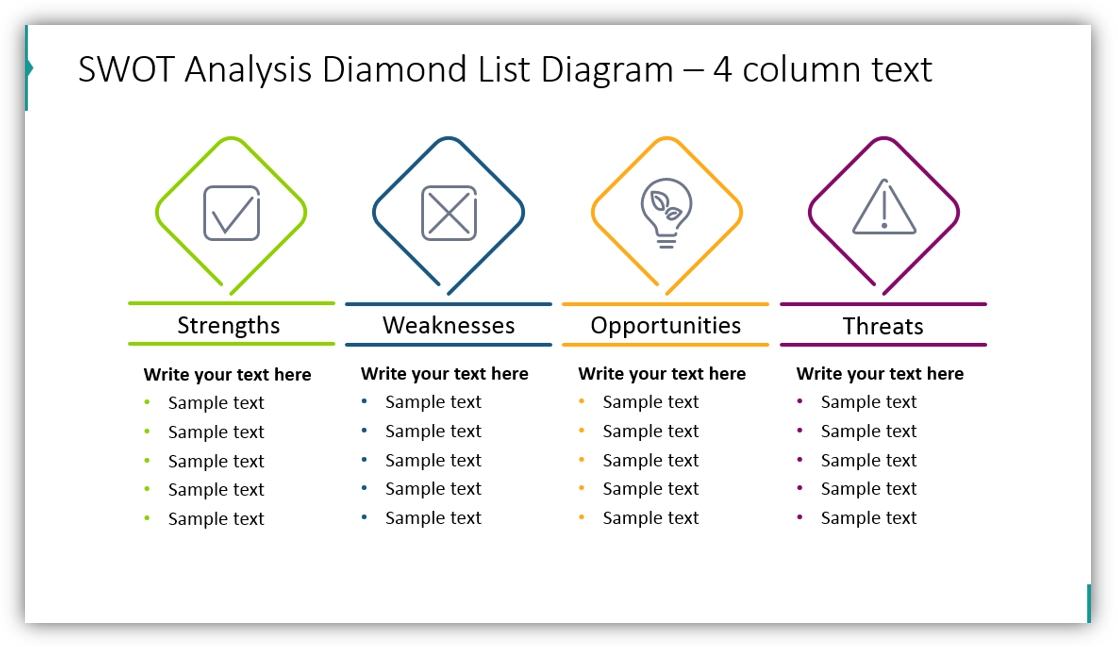 To craft a winning business presentation, you have to find a balance between text and graphics. One of the tricks you could try is to substitute the default bulleted lists with diagrams. Such a simple data visualization will help you to guide your audience through the logic of your presentation.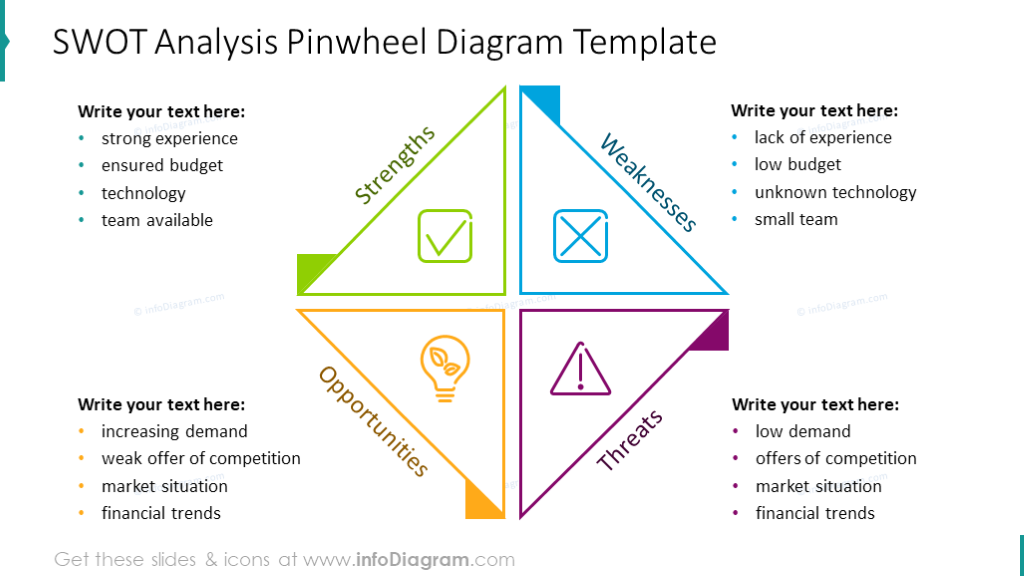 And don't worry if you think you don't have enough skills! You don't need to be an advanced graphical designer to design similar infographics.
You can choose one of the ready-to-use templates and customize it up to your requirements. Such diamond diagrams show an example of how you can make your SWOT analysis slide look more engaging.
Play with Colors in SWOT Analysis Presentation
You can use different shades to highlight the strengths, weaknesses, opportunities, and threats of your company. It will help you to point out every item, and make your presentation bright and catchy. Check the honeycomb diagram template, which demonstrates how you could improve the overall design of the presentation using four different colors.
Choose Background and Fonts Wisely
If you want to make your presentation look more stylish and unordinary, you can choose a background color other than white. Dark grey, ocean blue, or black shades work great for business presentations, and SWOT analysis in particular.
Whatever background you choose, make sure that the font is readable. Font size shouldn't be smaller than 18 points (also, remember not to stuff your slides with too much information). We recommend selecting font shades with enough contrast to the background.
Explain the Interconnection of Strengths, Weaknesses, Opportunities, and Threats
In fact, the strengths, weaknesses, opportunities, and threats are always interconnected.
Emphasize this interdependence in your presentation by using the flower diagram template. It will help you to explain how your company will utilize its internal sources to overcome external barriers and embrace the changes.
Present Each SWOT Concept on the Separate Slide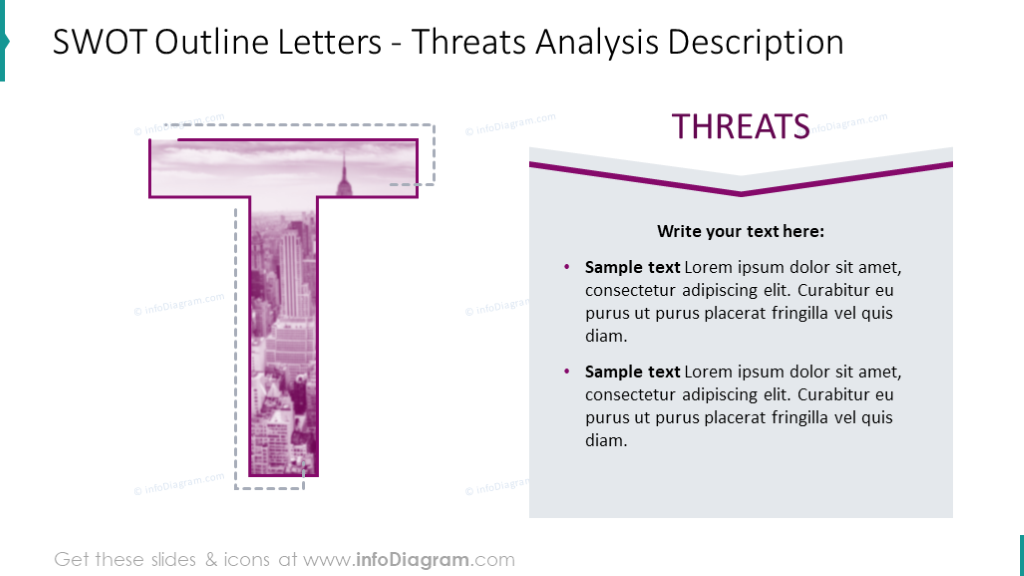 If a SWOT analysis is not just a part of your presentation, but its major subject, you can use separate slides to discuss strengths, weaknesses, opportunities, and threats. It will help you to highlight small, yet important details, and improve your presentation.
In conclusion
Whether you are crafting a SWOT analysis presentation for a small cafeteria or a big corporation, you should always pay attention to the design. Ready-to-use templates will help you to visualize different parts of your report and to make content more accessible and enjoyable. This is the easiest approach to creating a remarkable presentation, which will help you to achieve your ambitious business goals.
Check our YouTube movie about SWOT analysis slide design with a guide on creating a modern outline diagram:
Or you can also download this slide redesign guide here: How to Make Attractive SWOT Analysis diagrams in PowerPoint (a PDF document).
If your SWOT analysis is only a part of a bigger report, see our ideas on illustrating key business highlights and financial data.
Resources: SWOT Outline Graphics for PowerPoint
A simple version of such SWOT model diagrams can be designed on your own. If you want to save time and get one design-consistent collection of charts and icons, consider checking this template we designed:
SWOT Analysis Outline PPT Diagrams
Looking for more marketing or business templates, like roadmaps, customer journey diagrams, CSR, or design thinking models? See our Business & Marketing slide decks collection.