Do you need to explain your scrum methodology and process to new hires, new teammates, or to others outside software development? By using diagrams and common scrum artifact symbols, you can illustrate concepts for a training presentation or assemble a slide deck for an agile project management meeting.
Explain scrum methodology from the ground up in modern presentations using easy-to-follow graphics.
You can find the scrum graphics presented herein Scrum Outline Presentation PPT Template.
Explain the Full Scrum Process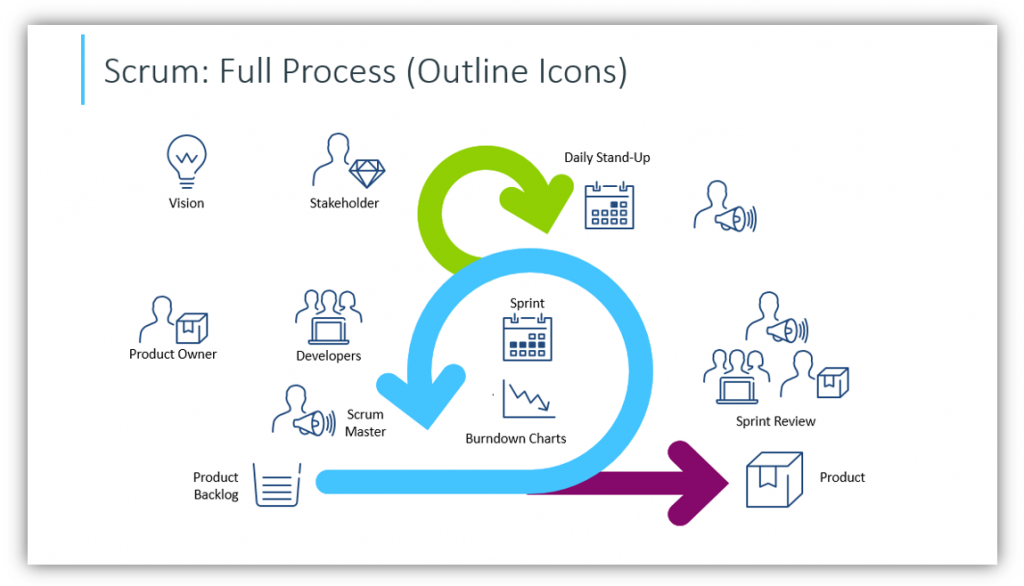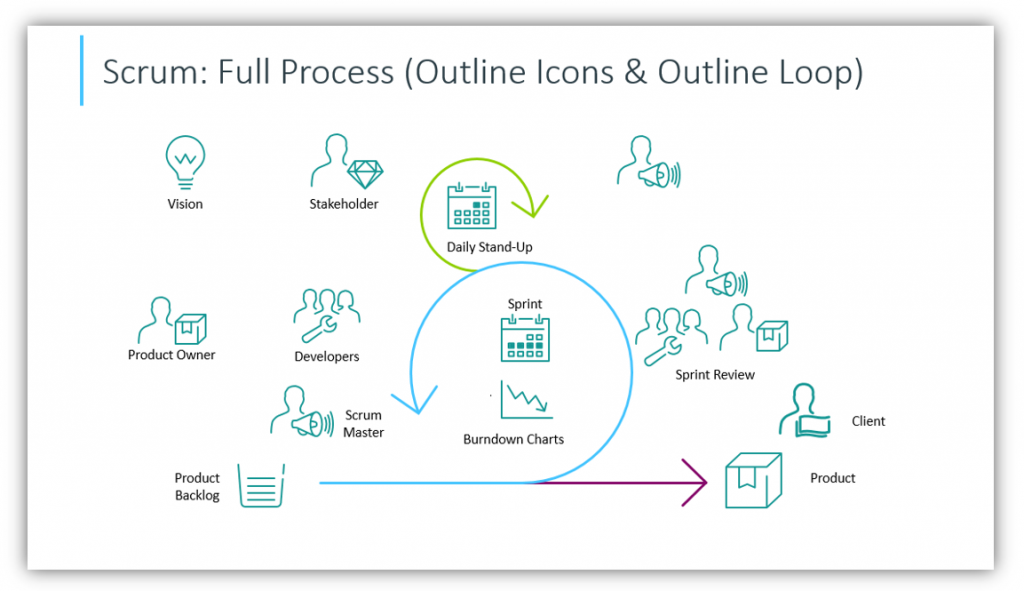 Explain the roles in scrum methodology and the different steps and phases of the process. Show the audience what role they play in the process by highlighting where they fall, and explaining how their part is essential. You can choose to use outline icons with thick or thin loops, as well as customize colors to better represent your audience, brand, or project.
Use a Matrix Diagram to Show Several Levels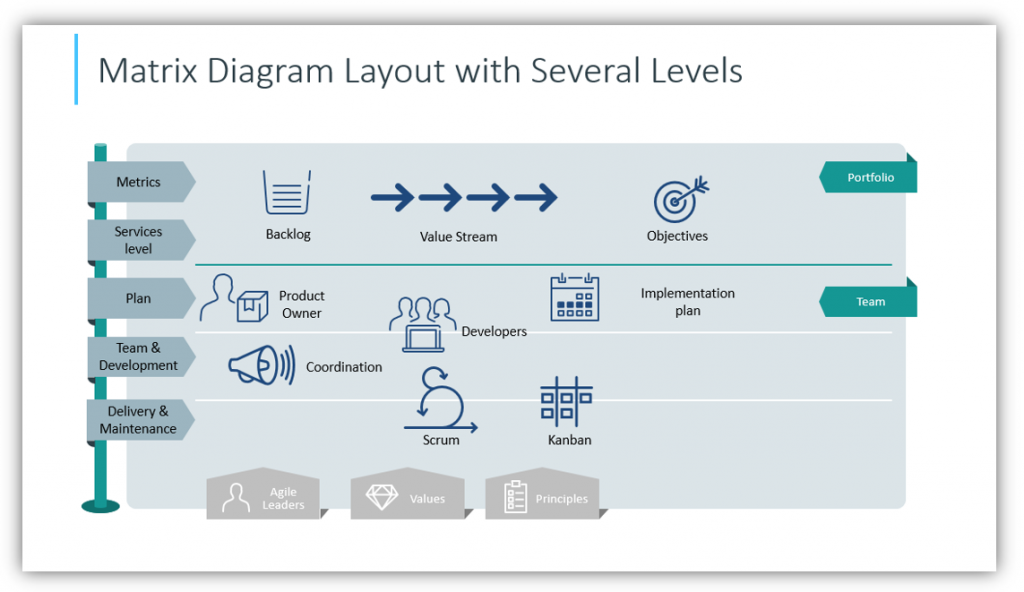 Software development is rarely a one-level process. Show your trainees or other audience members how Scrum fits into the process, and what other components are involved. You may modify the labels to match your organization and change the icons to be a better representative of your processes as a whole.
Use Flowchart Diagrams to Explain Stages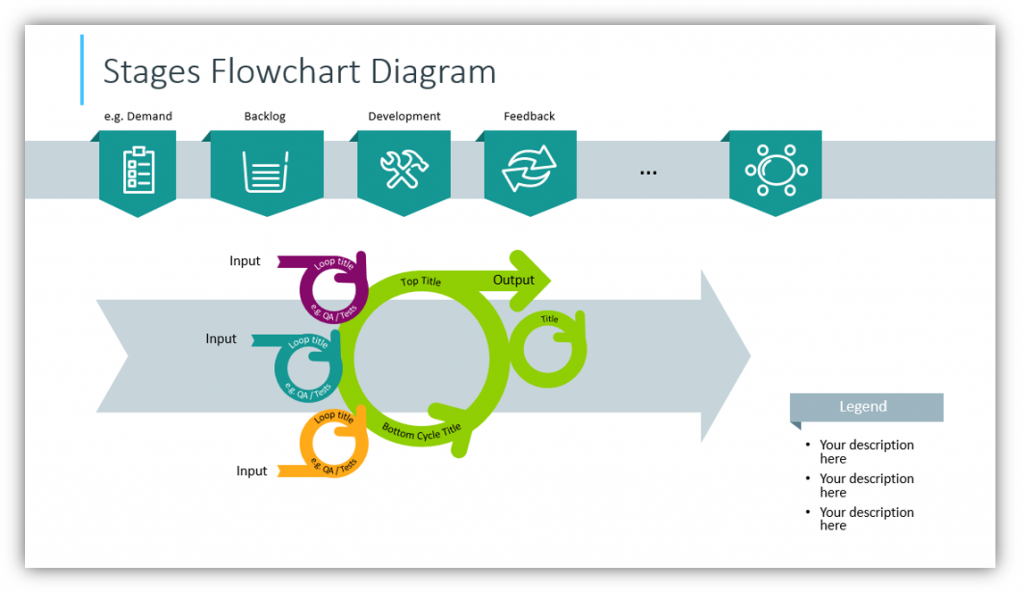 Modify line thickness, colors, and labels to suit your needs. Change the icons and customize the legend to ensure your meaning is clear to your audience. Add as much or little description as is necessary based on your audience's experience and familiarity with the material you're presenting.
Explain the Calendars and Boards Which Are Part of Your Process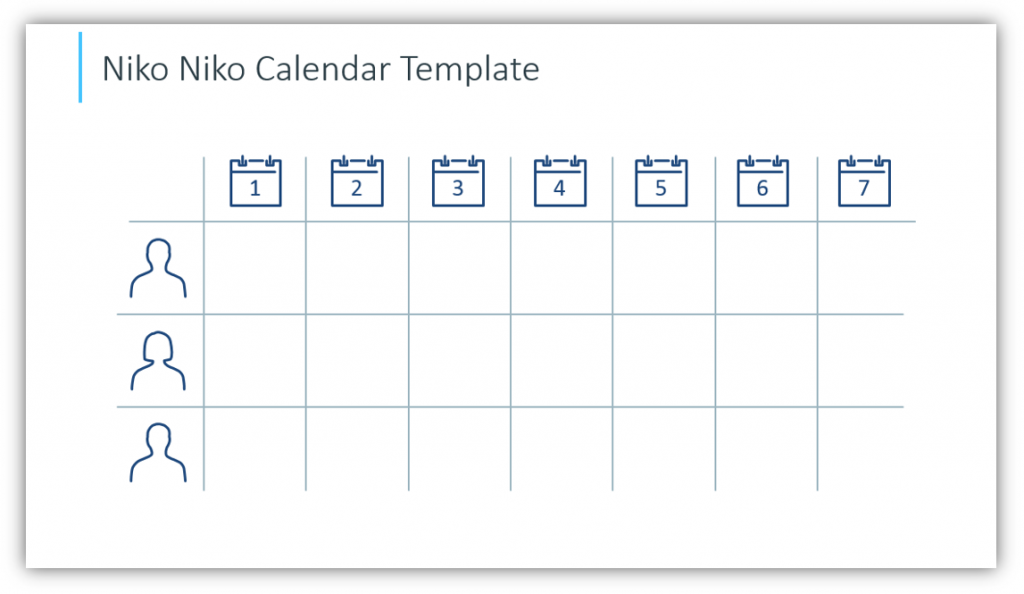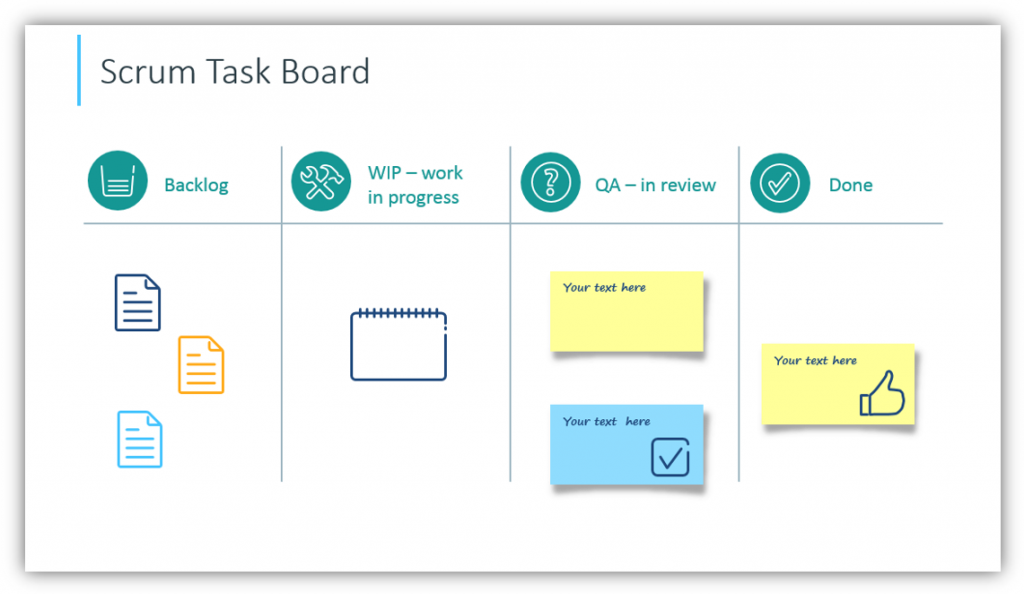 Does your team utilize a Niko Niko Calendar? Explain it in your presentation so your trainees will know what you expect of them. Detail your scrum task board and the different components so your trainees will understand your requirements. Be sure to explain anything about these processes which is unique to your organization or which is done differently between teams, so that everyone is on the same page.
Use Symbols to Represent Parts of the Process You've Explained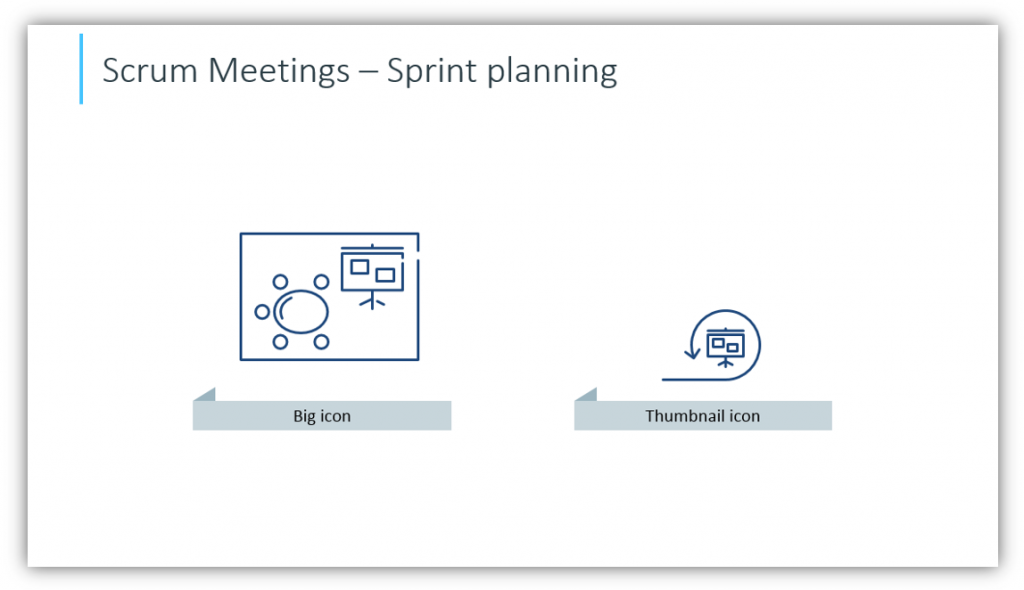 Once you've explained what spring planning looks like or what Scrum meetings entail, you can utilize icons like these to represent them in your timeline. Whichever style of design you choose, both can be incredibly effective at helping you minimize the amount of text on your slides. This will keep your presentations from being overwhelming but will allow you to provide a lot of information in a short span.
You can explain the full scrum methodology and process and show how it fits into your organization. In addition to using process loops, you can utilize flowchart diagrams to explain stages and tables to break down Niko Niko calendars and your scrum task board. When you use customized symbols and icons, you can provide your audience with a simple-to-follow, easy-to-retain explanation of scrum methodology.
For more inspiration on how to visualize project management and scrum-related topics, check our blog posts.
Resource: Scrum Methodology and Process PPT Template
Recoloring each loop and element in the scrum process will help you isolate and explain each part. You may add shadow, change line thickness, modify colors and further customize the icons to help you share your message. Match your brand, coordinate with a recent launch, or simply design something meant to resonate with your audience in particular.
If you find the above examples useful or helpful you can download the full scrum collection here:
Scrum Outline PowerPoint Template
If you are looking for more IT-related topics, take a look at the IT and scrum graphics category.