Ancient pillars are the perfect visual metaphor for the essential values of business strategy. The different pillars of business excellence represent the core values. They form the foundation and support the "roof" – the company vision. See illustration examples on how you can incorporate pillar graphics into your slides.
Do you already know how you can incorporate pillar graphics into your presentation? Click here to see the full Strategy Management Pillar Diagrams set and get started.
So how can you use strategy management pillar graphics?
Present Your Company Vision, Mission, and Values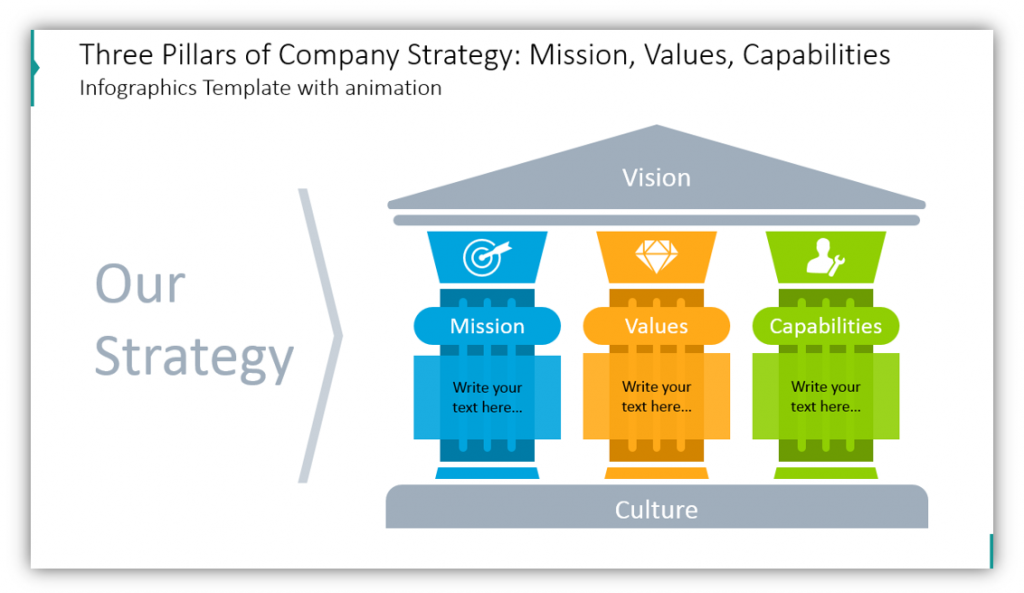 If you need to make any sort of presentation, you can use pillars to help explain your foundation. Share your company vision, mission, and values in a strategy definition meeting. Alternately, you can present those aspects of your company as a supplement to another presentation so as to establish context and your base.
Share Project Plan Essentials in Columns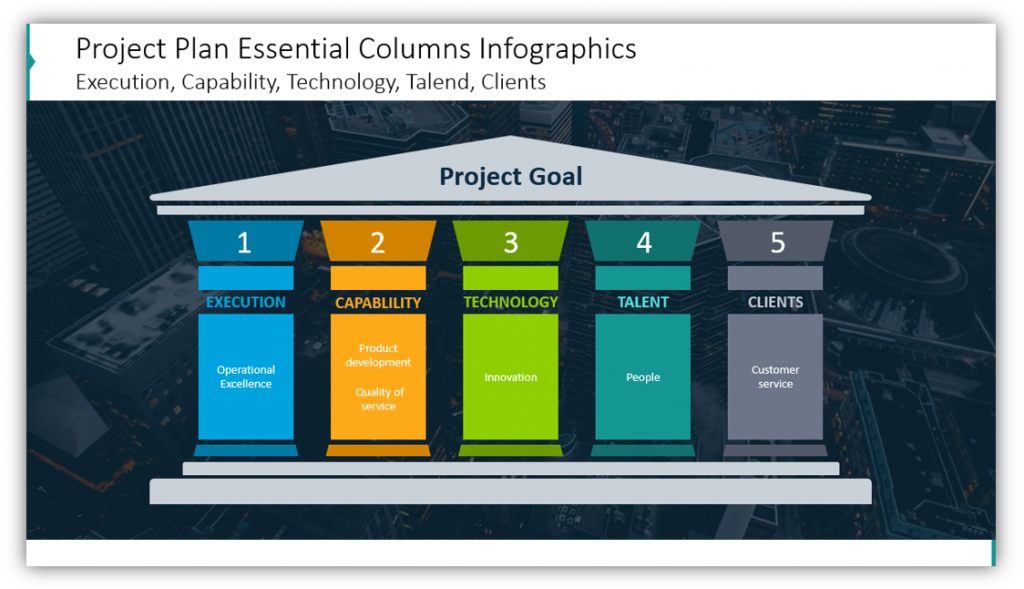 Share your Execution, Capability, Technology, and Clients. Explain how those things support the overall project goal.
Explain Strategic Management with Pillar Graphics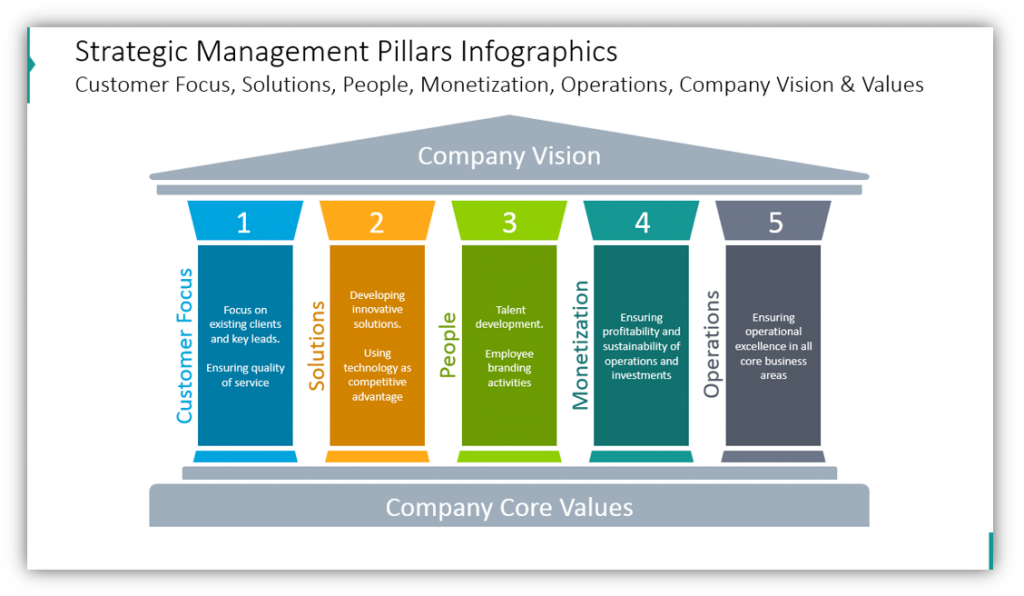 Your Company Vision is supported by your Core Values. In this example, we use Customer Focus, Solutions you implement, People you recruit and develop, how you Monetize, and your Operations. If there are different pillars for your organization, you can easily make substitutions or offer alternate business models.
Describe the Pillars in Detail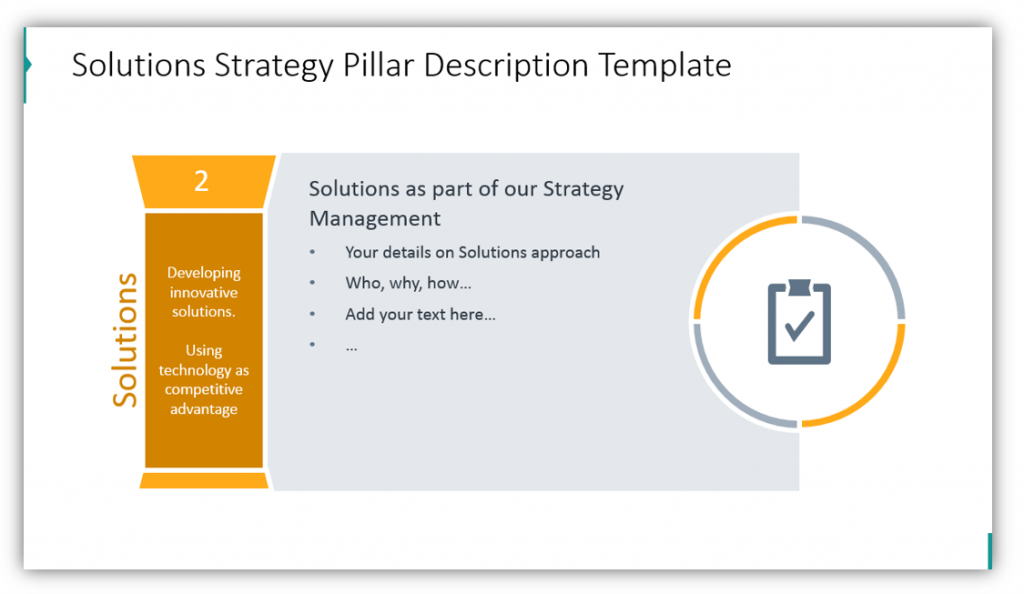 You aren't limited to using the pillars together. If you want to break down your pillars, you're welcome to do so. In this example, we break down the Customer Focus core value. We provide the definition and a brief explanation of the value within the pillar itself, and then explain how that particular value factors into our Strategy Management. The icon, colors, and text can be modified to suit any core value.
Highlight the Meaning of Your Company Core Values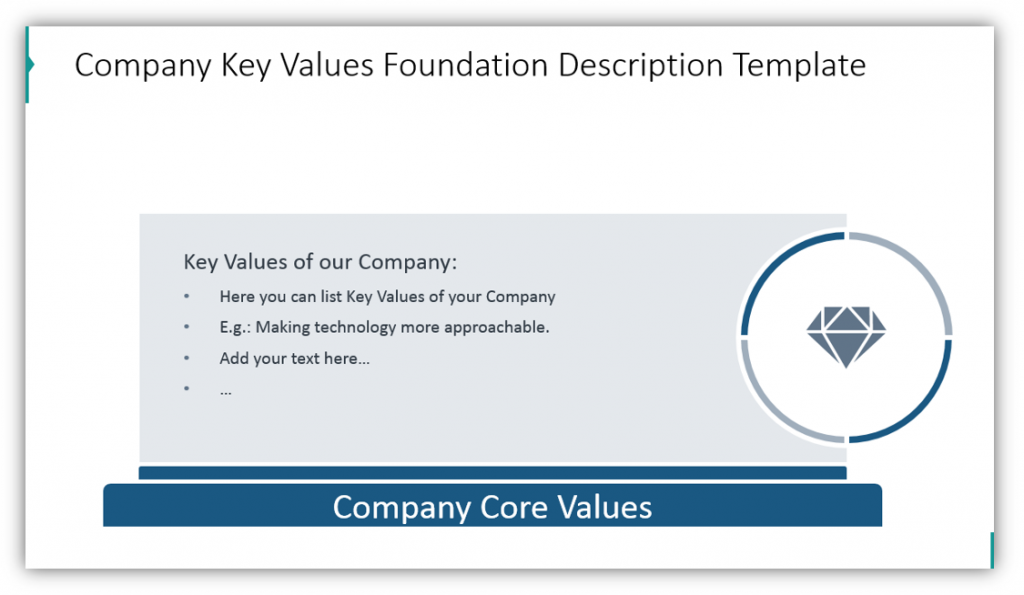 Don't feel restricted. You can also explain your Company Core Values in detail using description templates. The Pillar is removed and substituted for the Base which represents the Company's Core Values. Provide as many details as you can make room for in the description bar, and customize the slide with an icon of your choosing.
Present your values, mission, and vision. Offer your project plan essentials with a striking visual metaphor. Explain strategic management and offer detailed descriptions of all components.
Resource: Strategy Management Pillar Graphics
Need to give a presentation as part of a new employee onboarding or recruitment process? Explain what foundation your company was built on and why you do what you do. Want to explain the essentials of project planning to folks who are outside of your project management team? Pillar graphics make it that much easier.
If you'd like to see more of what's in this slide deck after hearing about how it can help you build modern, sleek presentations, please click here:
Strategy Management Pillars PPT Graphics
If you want more options for how you can customize your presentation, consider taking a look at this infographic templates set.