Mind Maps are visualization methods. Mind map diagrams are designed to help you develop creative ideas. By using a Mind Map instead of a list, table, or basic-looking SmartArt you can create a visually engaging, interesting slide.
This will help retain the interest of your audience and make them more likely to understand and learn the concepts you're presenting. Some concepts are easier to understand with non-linear presentation methods.
Don't have time to create your own Mind Maps or want more graphical variety? Check out our full set of pre-made Mind Map PPT graphics.
Their modern aesthetically pleasing look makes any presentation more professional and requires less creative work time from you.
Why it is important to utilize Mind Maps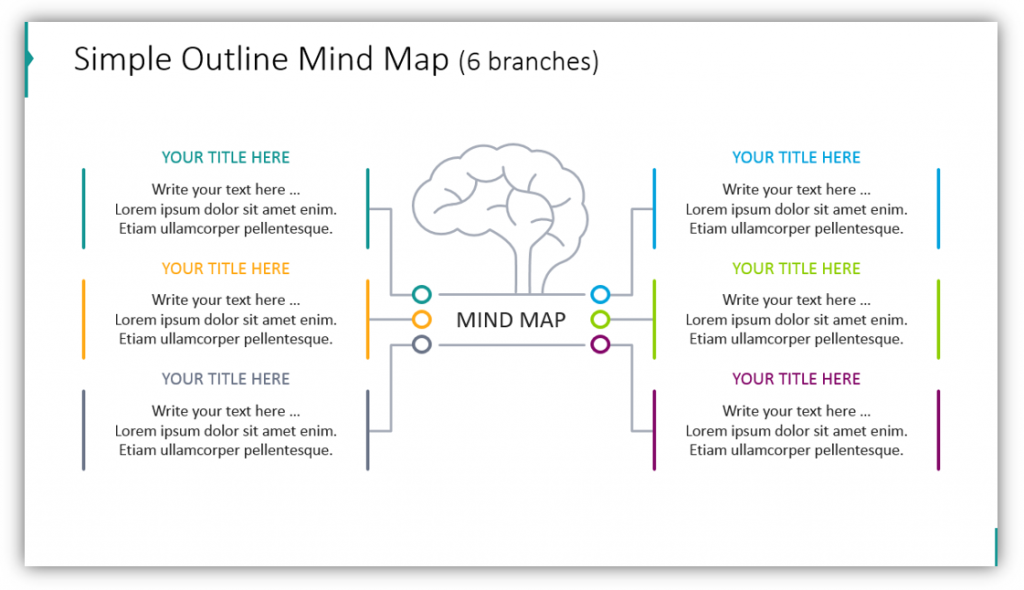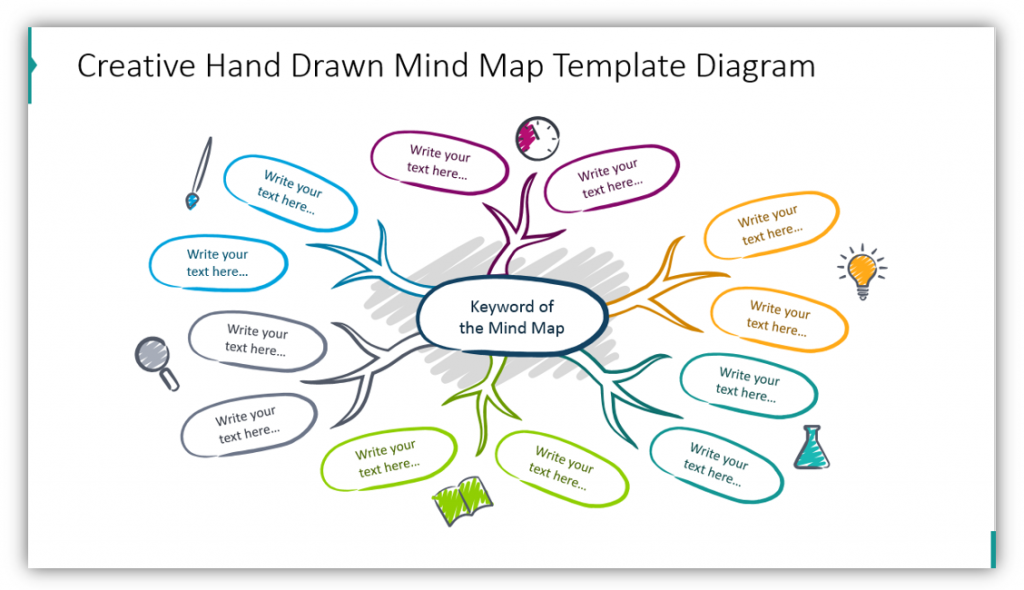 Visual thinking methods are great for exploring ideas from different angles. It's also great for helping flesh out concepts. Since Mind Maps aren't linear, there's more flexibility. You can customize the Mind Map around the central node you want to explain.
In this blog, we'll share step by step how to:
create mind map branches
build a central node
customize the color scheme of the mental map
Want to visually explain non-linear concepts? Let's get started.
Create Rectangles to Represent the Mind Map Branches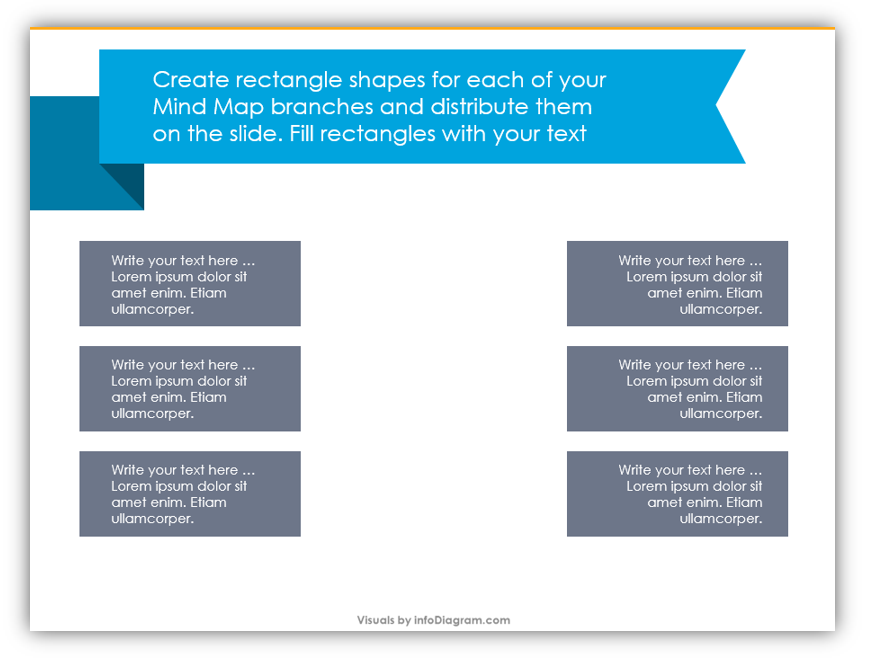 You can create as many rectangles as you want and place them wherever you'd like. The easiest location will be along the sides of your slide. The rectangles will be filled with text, so keep that in mind when deciding how large you'd like them to be.
Create a Circle in the Middle of the Mind Map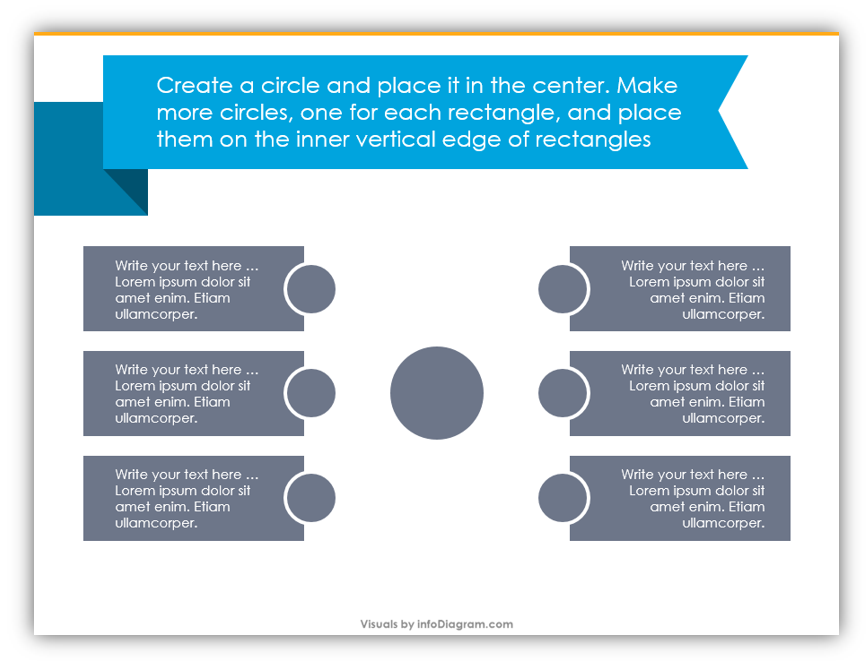 Add a circle to the middle of the Mind Map. Then add additional circles on each rectangle's inner vertical edge. At this point, you should be able to see the basic elements of your Mind Map coming together.
Begin Customizing Your Mind Map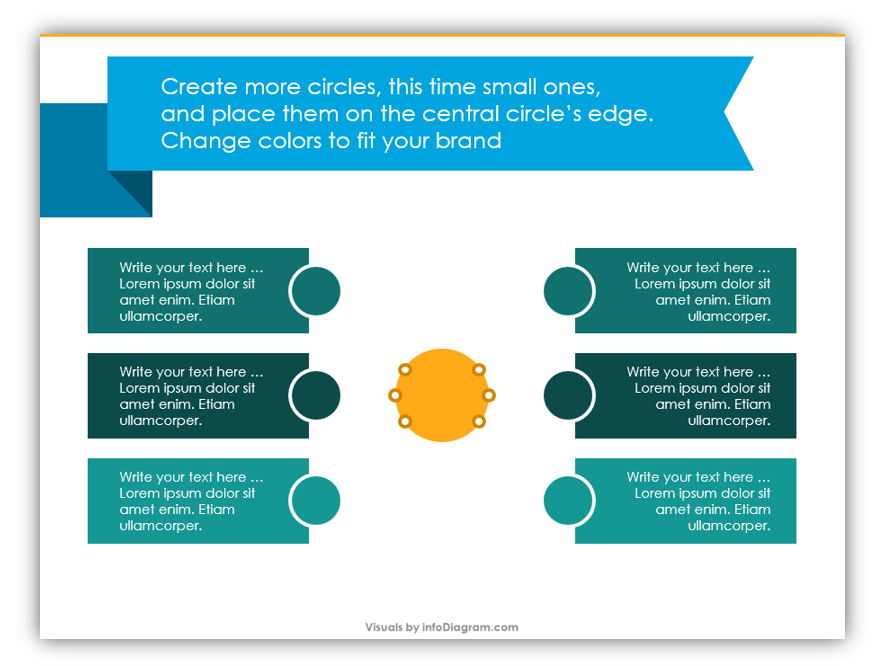 At this phase, you begin the process of customizing your Mind Map. Change the colors to suit your brand, your target audience, or the topic you're discussing. After you've made changes to the color scheme, add small circles to the center circle's inner edge.
Connect the Circles and Add a Title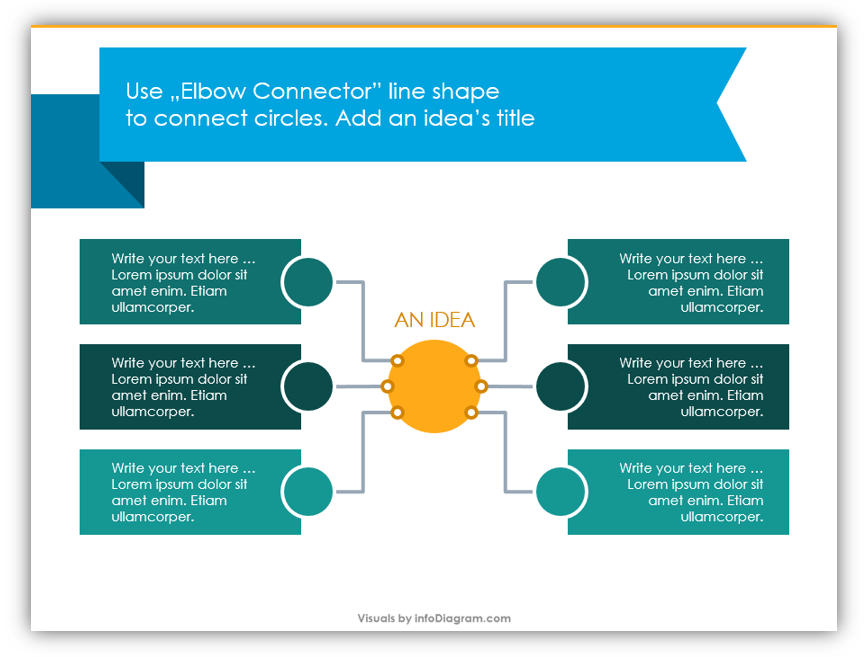 Use the Elbow Connector line shape to connect the circles on the center circle and the exterior rectangles. Then add the title of your idea to the center of the Mind Map diagram.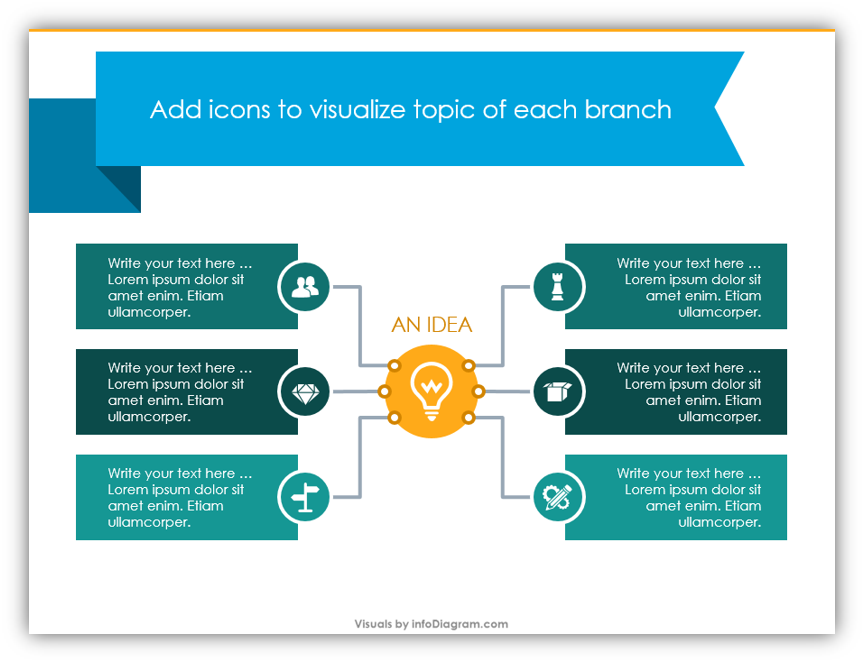 For more customization, add icons to help your audience visualize the topic of each branch.
Mindmap works well if you draw a symbol representing each branch. In the context of a slide, you can simply add icons to each item. Check five creative ways to embed icons in your slides.
Using a consistent style of graphics and making a centrally aligned layout results in a professional and eye-catching slide look.
Help your audience get inspired by creating a modern, creative Mind Map for your presentation. Rather than describing brainstorming or listing the different components of your brainstorming session, you can show your audience what you mean by creating these creative, sleek graphics.
If you don't have the time to make your own Mind Map graphics, feel free to use the pre-made ones we've included in the Creative & Simple Mind Map Diagrams set. If you'd rather build your own, you're welcome to make your own based on the tips provided here. The next time you need to build a compelling presentation, don't forget how to build clever, creative Mind Maps in PowerPoint.
Graphical Resources: Creative & Simple Mind Map Diagrams
To help you share brainstorming results, illustrate non-linear concepts, and build creative presentations we created Creative & Simple Mind Map Diagrams:
Creative & Simple Mind Map PPT Diagrams
Help your audience understand complicated, non-linear ideas with creative, visually appealing diagrams.