Want to present your top performers or share which products sold the best in the last quarter? Reward high achievers. Let your team know they are doing well with podium graphics – a powerful visual metaphor.
Show Your Success with Podium Graphics
Your success might be that of your team. Your success might be a ranking of your products or services in terms of sales dollars earned or volume.
Comparisons can be tricky. Whether you are comparing top-performing people or products, a winner podium graphic set will help your audience understand your message. View the full Winner Podium Steps PowerPoint set here and get inspired.
See how you can use podium graphics to illustrate your ideas in these examples.
Use Winners Podium graphics to reward your top three performers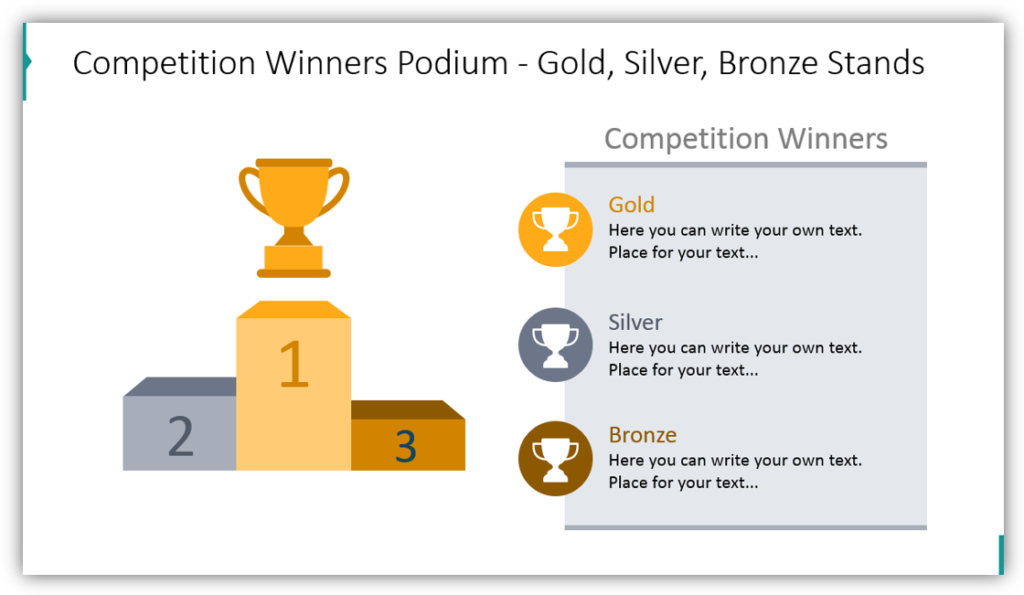 Your first place winner, the best performer or most valuable product, wins gold. With this slide, you can add details about who or what did the best during a given period. There is space for each winner in the description table for each award. If you need additional space to describe any one of the winners, use a more flexible template. When second and third prize, represented by turquoise and blue, requires more explanation than one large table permits, split the descriptions. You can modify the size of each box or customize the look of each award to suit your needs.
For colors, you can choose ones that closely resemble gold, silver and bronze metal colors, as on 1st example. You could also more loosely choose 3 colors that differ enough from each other, but also play together well, to create visual harmony in a slide. We achieved this with yellow, light blue and turquoise colors in the second example.
Describe the factors of your success with trophy cup graphics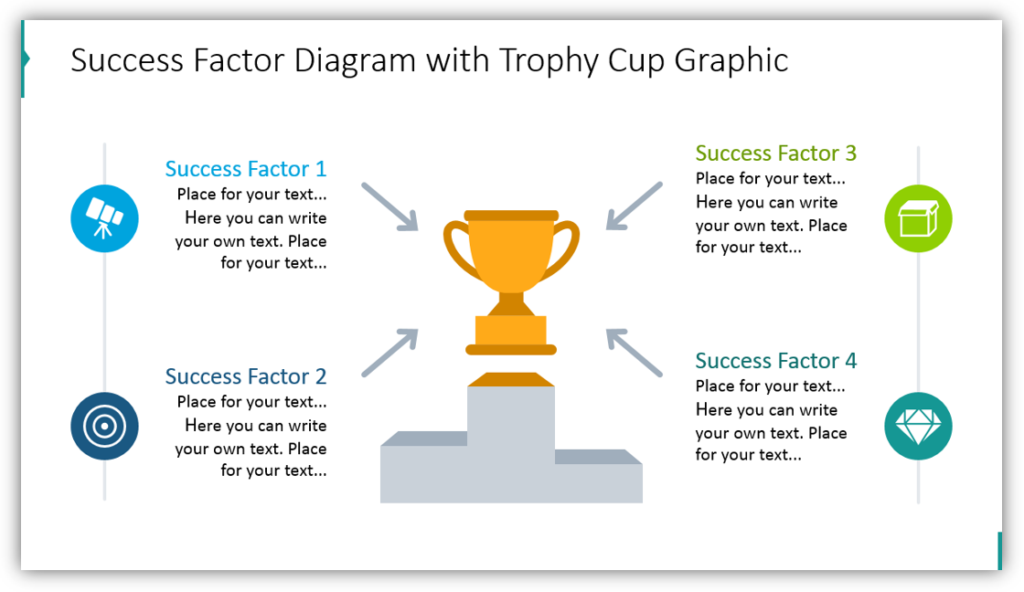 Success doesn't happen in a vacuum. There are usually numerous factors that contribute to a win. If you're spelling out what made a particular sales team member perform better than their peers, it is essential to break down the factors of their success. You have to understand what led to their success if others are to replicate it.
Get playful and creative by using a scribble style podium graphics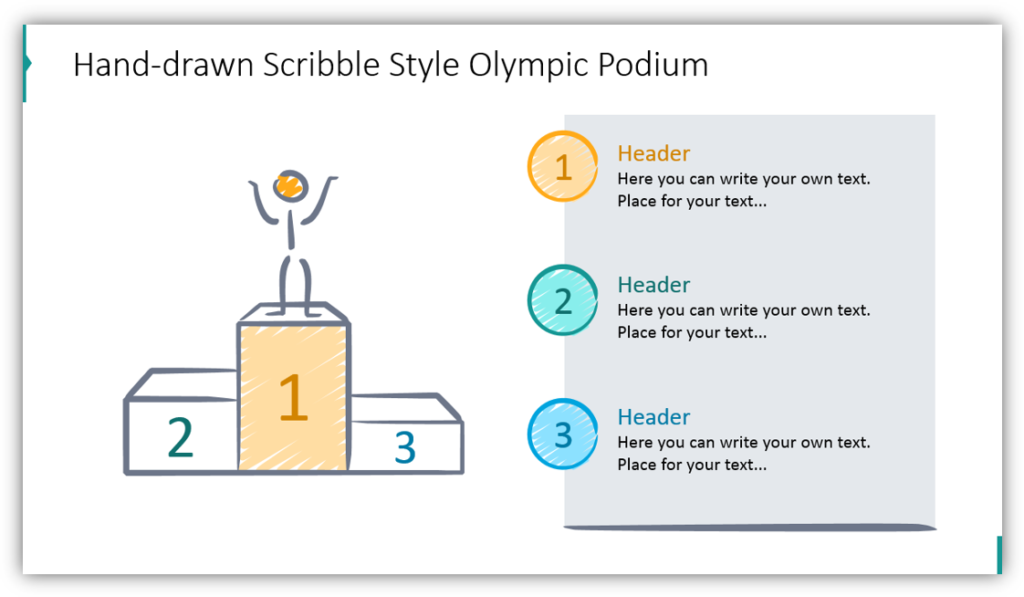 Hand-drawn, scribble style Olympic podium graphics are more playful and creative than the other icons in this set. The scribble style feels more personal. You also can customize the icons or color scheme. In our example, we used similar colors to further distinguish the top achiever. You may make your second and third place performers as different as you'd like.
Highlight 3 contest winners with scribble figures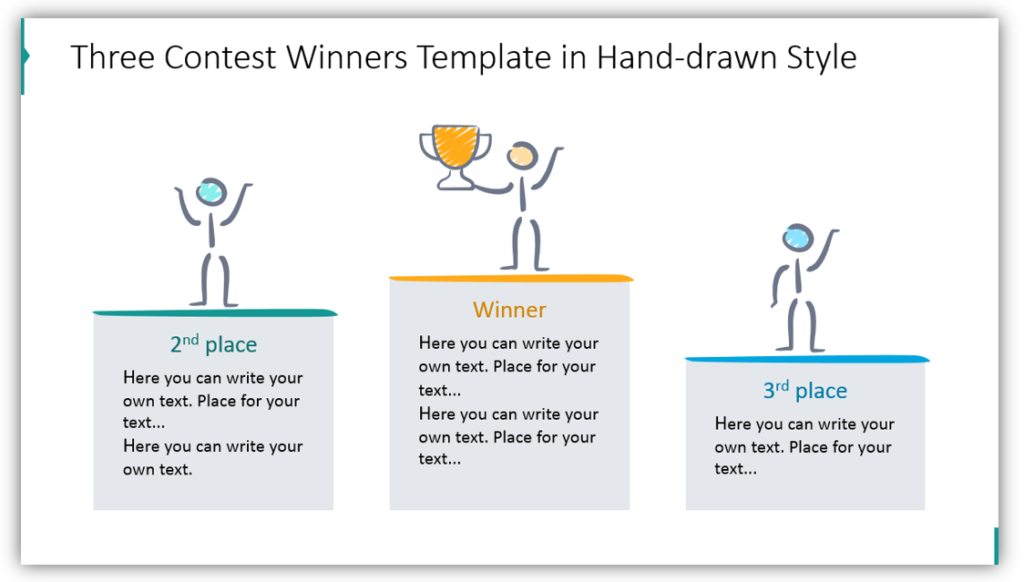 The scribble style is also helpful for showing 3 contest winners. This same set could be useful for comparing staff on an individual or team basis. Whether you use the template with the stick figures to represent people or the template which includes badges to represent the awards and a superhero to represent the winner.
Share the steps to victory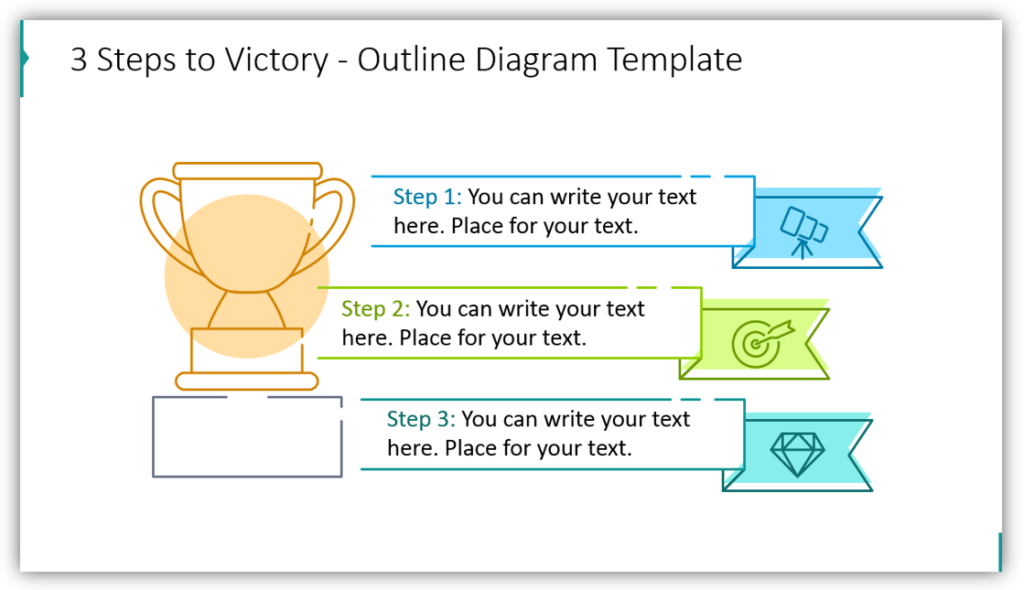 If you'd like to explain the steps you or your team took to achieve success, you may do so with this outline diagram template. Outline graphics are lighter but are still modern and elegant. They are good to use if you want to print the presentation, to save your printer colors. The number of steps can vary based on what you're trying to explain.
Whether you choose modern flat graphics, hand-drawn shapes, or elegant light line graphics you can present winners. Winning staff, winning products, winning strategies. Let your stockholders, sales teams, or anyone else you need to present to know what you're doing that is unique and why it makes a difference.
Resource: Winner Podium Steps Presentation Graphics
Get your message across easily with powerful visual metaphors for winning. You can articulate your message and share the story of your success with these easy to follow, eye-catching graphics:
Winner Podium Steps Presentation Graphic
Use this set to help you explain and appreciate your top-performers, as we intended. We want you to have simple, user-friendly and easy to explain graphics. Relying on visual metaphors will help your presentations.