Giving project management presentations is difficult. How can you keep your audience engaged with your message, and make that message easy to follow? Using a RACI matrix, which stands for Responsible, Accountable, Consulted, or Informed, you can make simple to understand slides.
Simplify project management presentations with RACI matrix graphics
Although you could build your own matrixes, the process is time-consuming. There is always a risk that the graphics will not be eye-catching or effective. Beyond that, what if your matrix tables aren't attractive?
Save time and ensure the tables you use are visually appealing. Pre-made RACI matrixes will ensure your presentations are visually consistent. Click here to see the full RACI Matrix PPT collection.
The RACI model allows you to define roles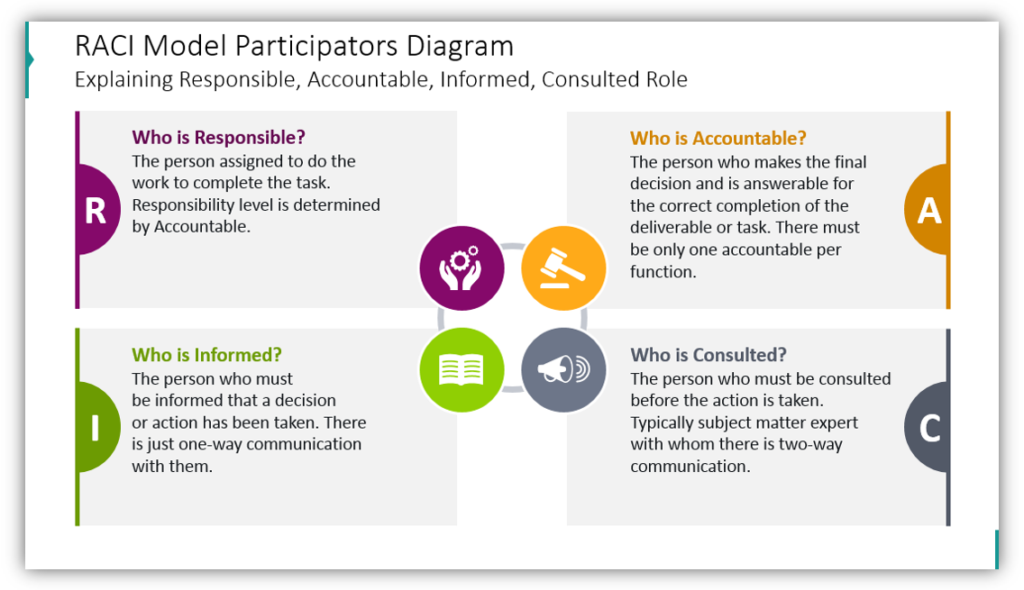 Explaining how someone fits into a role is important. It's also hard. A role within an organization or even a project can be abstract. Bringing abstract ideas to life can be done with compelling visuals.
Explain hierarchy with RACI matrix graphics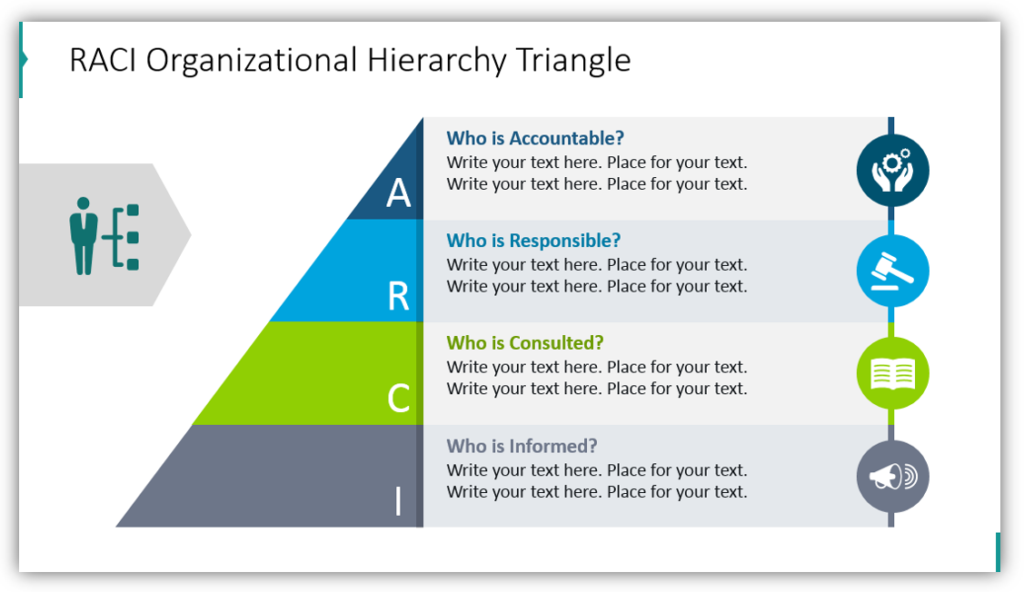 Your organization undoubtedly has a hierarchy. The roles you are explaining and delegating in your presentation might even have an additional hierarchy. With a RACI hierarchy triangle, you can break down where each position stands and create more coherent explanations.
Use RACI to break down task roles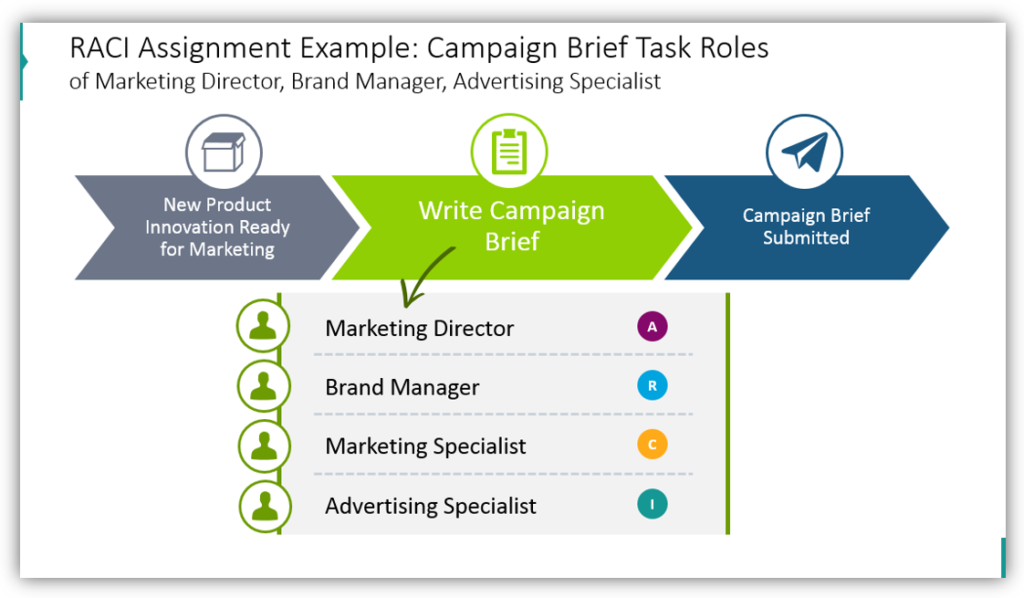 If you'll be briefing individuals about their roles during the presentation, you can use graphics to brief your audience. Give a campaign brief for each position. You can easily describe duties, functions, and use the graphics to indicate which position you're referring to.
Delegate tasks and responsibilities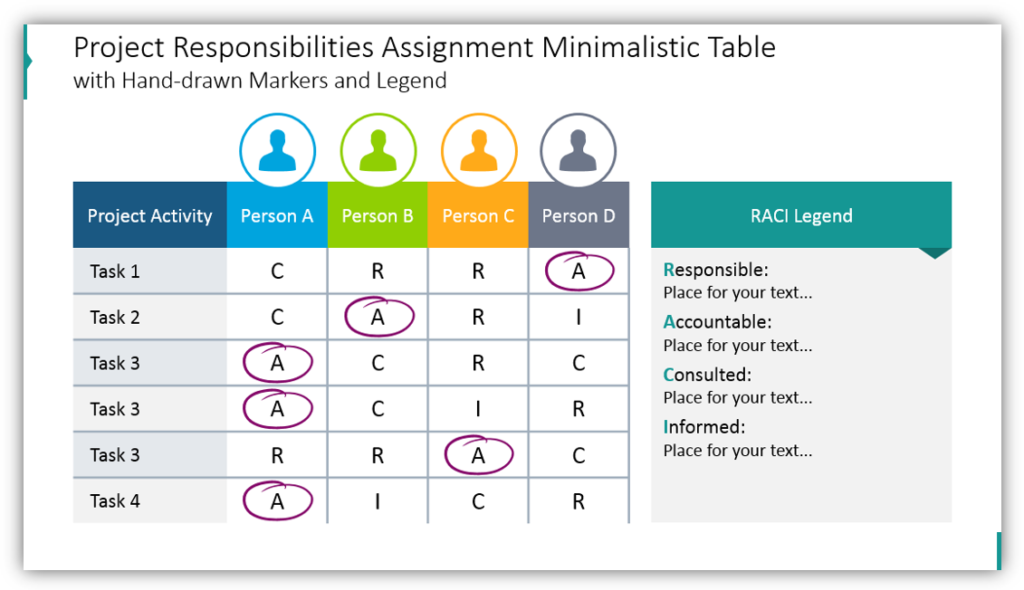 In this example, the table contains different tasks that are part of the given project. It also shows 4 different people who are part of the project. The matrix relays whether each person is responsible for, accountable for, consulted about or informed about each given project activity.
Construct a project road map for multiple teams with RACI signs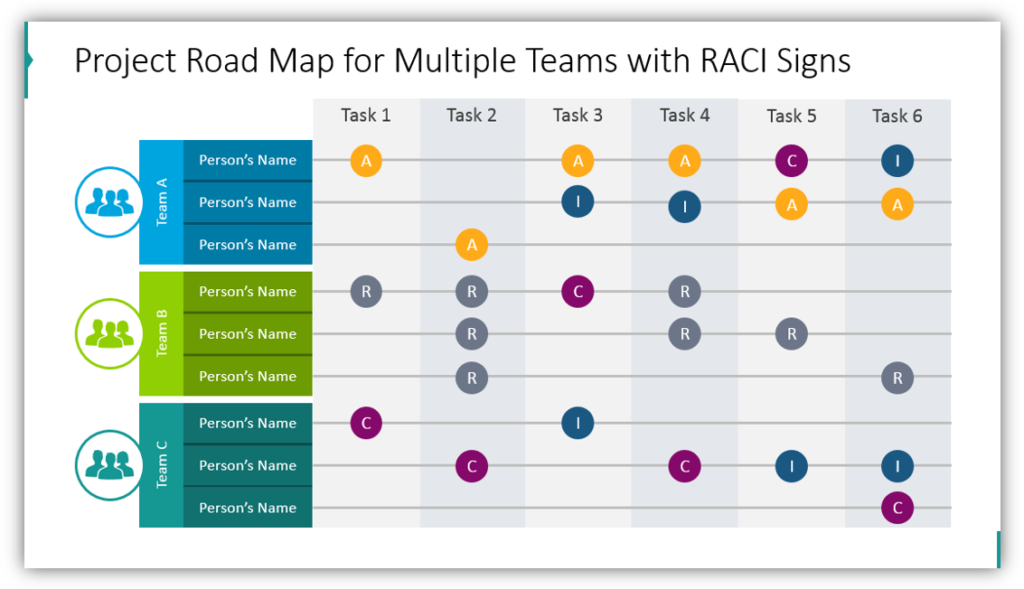 You don't need to limit yourself to presenting the task assignments for one team. If multiple teams are performing similar or comparable tasks or will need to interact with one another with regard to the same tasks, a detailed table like the example will help you communicate the complicated interactions. Your audience is more likely to understand when you utilize easy-to-interpret visuals.
Explain roles and responsibilities
Whether you're delegating tasks to a small team or to your entire organization, easy to understand visuals will help. You'll reach more goals when your audience is on the same page. You'll achieve better results when your staff understands your expectations.
Resource: Responsibility Assignment RACI Matrix
Create cohesive presentations with visually consistent, effective graphics. Articulate your plan and expectations to your subordinates and team members to ensure projects are completed:
Responsibility Assignment RACI PPT Matrix
You can make busy slides and complex information look more professional with modern graphics. If you'd like to customize the slides further, beyond the color coding, consider adding additional icons from the simple flat symbols collection.