Is your company or organization focusing on CSR? If so, you can present your existing corporate social responsibility strategy to outsiders or newcomers, or explain why you need to re-evaluate your current approach with innovative, modern graphics.
What corporate social responsibility topics will graphics help?
Whether you're a philanthropist, HR professional or consultant you can find a way to utilize corporate social responsibility graphics. We created these graphics set in the hopes it would help you recruit volunteers for future projects, explain your initiatives and strategies, and even more.
Explain CSR and how it factors into your organization with cohesive, modern graphics. Check out the full Corporate Social Responsibility PPT graphics set here before you give your next business ethics presentation.
Explain what CSR means to your organization and how your audience plays a role.
Share definitions for unfamiliar terms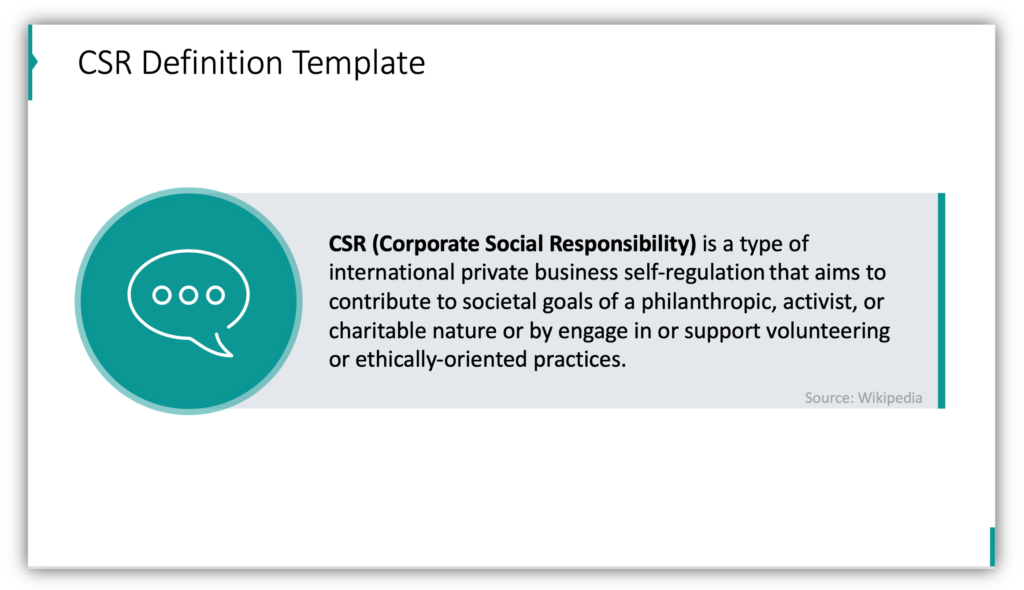 If you're giving an initial CSR presentation, your audience may benefit from committing slides to defining terms. This way you can provide visual explanations in addition to the verbal ones you'll undoubtedly provide as part of your presentation. Definition slides can easily be customized so they match what you're defining and help your audience retain the information.
Present quotes which explain your strategy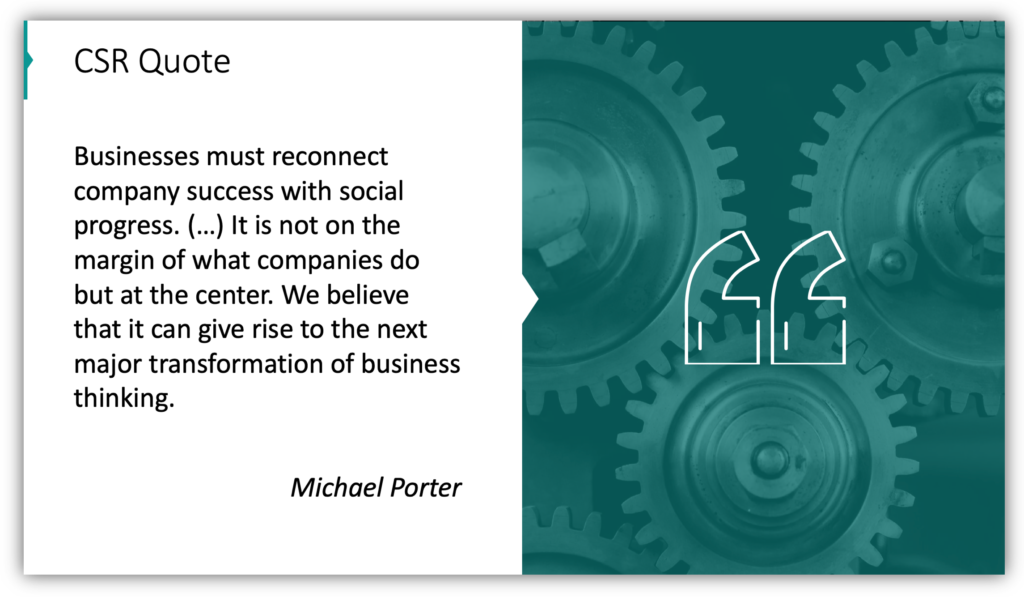 Did an important person within your organization provide a great reason for why you need to be socially responsible? Did a historical figure say something that helps summarize your approach to social responsibility? Is there a significant quote that your audience will recognize that will resonate and help them connect with your presentation? Share that with a quote slide. Your audience needs to understand why corporate social responsibility is important, so give them the tools to get there.
Share Carroll's Model of Corporate Responsibility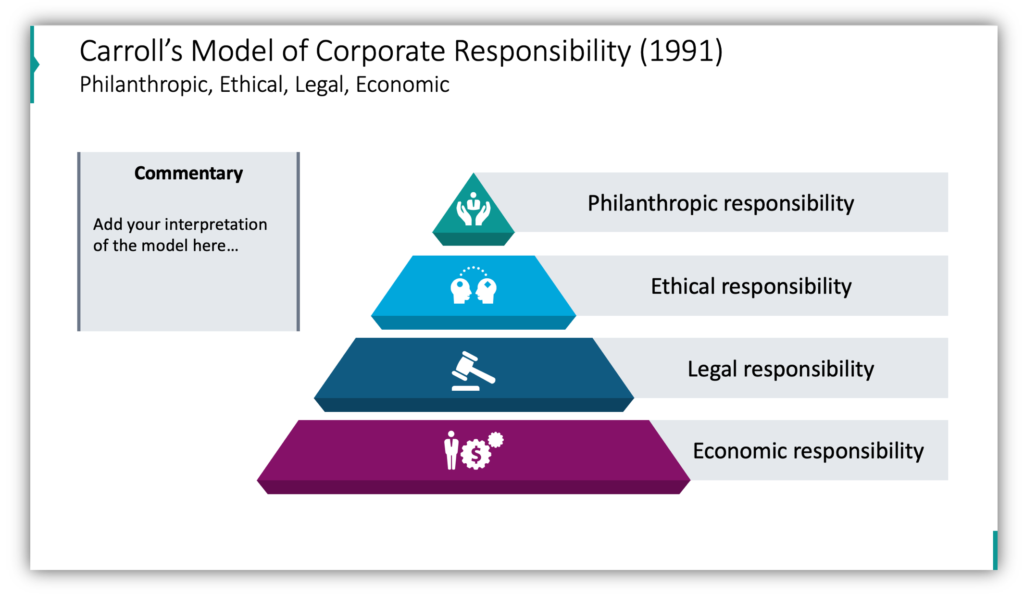 If corporate social responsibility is a foreign concept to your audience, it may be beneficial to start from the beginning. In addition to sharing definitions and quotes which justify your position, it's also a good idea to explain what components go into social responsibility. Carroll's model makes an effective visual aid because a pyramid is an easily recognized symbol. You can add your own commentary or description in text boxes in addition to the information you share in your presentation.
Explain the different areas or initiatives of Corporate Social Responsibility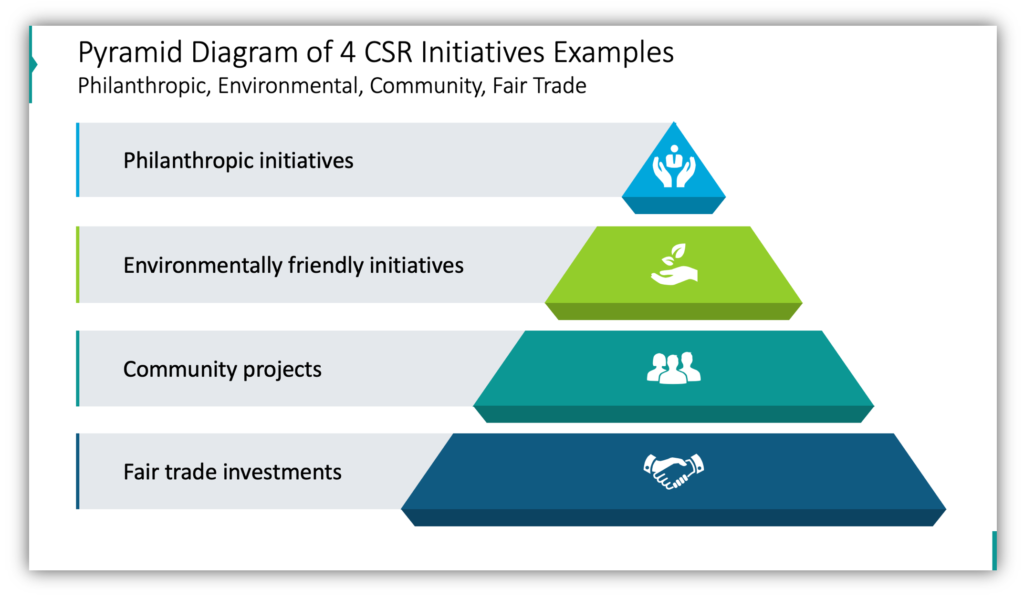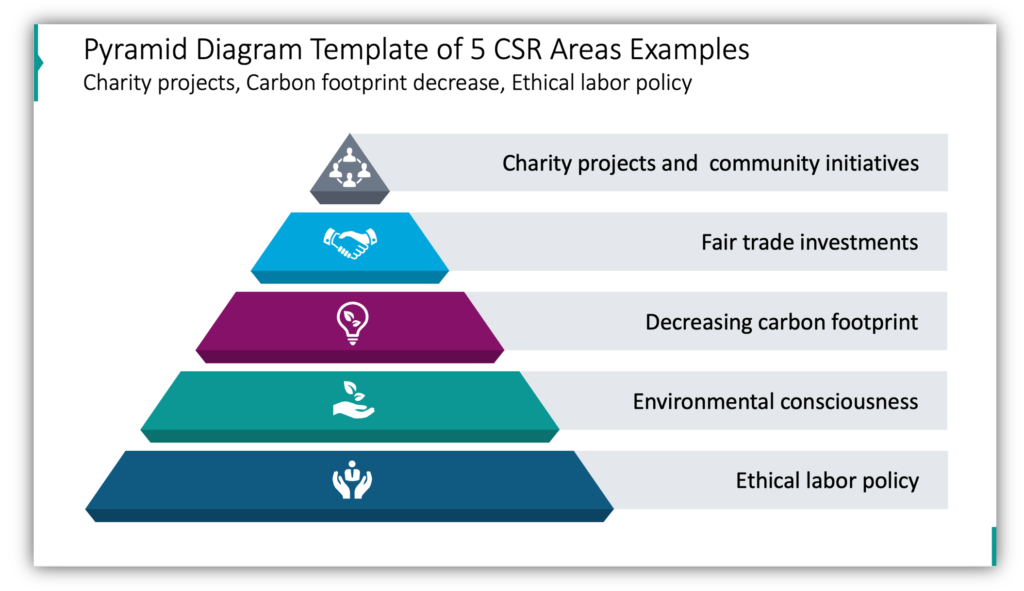 Pyramids are also incredibly useful for breaking down the different areas or initiatives of CSR. Describe the many different ways that you can incorporate social responsibility, and use the pyramid template to present your priorities. Although social responsibility might be a "high priority" within your organization, the different areas may have a hierarchy. Let your audience know how to prioritize different areas and initiatives.
Break down business ethics or another category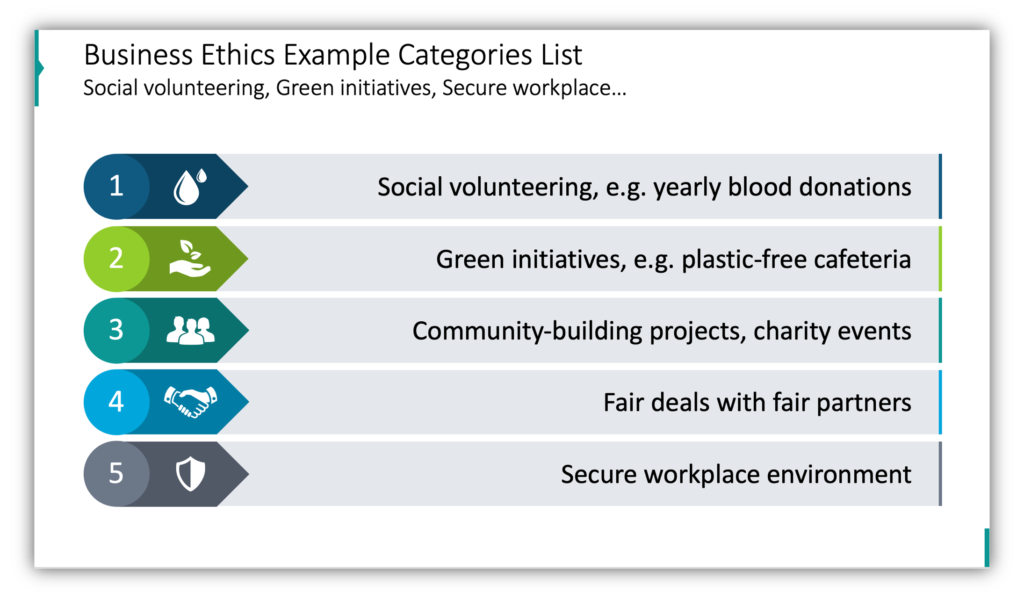 In the example, we chose to isolate business ethics and break down the various components. You can provide details on the slide in the row, choose an icon to represent each component, and rank them according to priority.
Give an impactful presentation on corporate social responsibility
Graphics offer a unique opportunity to make important information visually appealing. Eye-catching visuals can help your audience retain your message and understand the abstract concepts you'll be presenting.
Resource: Corporate Social Responsibility Diagrams
Make your charts, tables, and graphs visually cohesive by using graphics from the same set or which have been drawn in similar styles. This will help you keep your presentations professional. You can get the Corporate Social Responsibility slides from here:
Corporate Social Responsibility PPT Diagrams
Present various CSR models, values, elements, and initiatives in an easy-to-follow, interesting way. If you need further customization options, check out the ultimate infographics bundle to further personalize your slides.