Basic presentations on computer and telecom topics are always risky. If your audience needs help understanding fundamental topics like what different file types are and how to use them, then they aren't the most tech-savvy. Audiences who lack experience with technology or knowledge of how tech works can be easily overwhelmed. Dense slides filled with text and new vocabulary can flood these audiences. These individuals are also at risk of getting bored or distracted if they become lost or fail to understand new information.
Presenters need to toe the line between providing enough information for their audience to follow along, but without giving dense, keyword-heavy presentations. You don't want those you present to falling asleep from boredom, or because they've given up on understanding your message. These challenges face many who are presenting on Information and Communication Technology (ICT) topics.
Why use confusing default tables when you can use visually striking and visually consistent stencils? Using graphics can help your audience understand file types and other IT topics. Check out the full IT icons set and get inspired for your next presentation.
Fortunately, there are ways to keep your presentations interesting. You have to give careful consideration to the content of your presentation. Your spoken message must be appropriate for your audience and for their knowledge level. It is also necessary to plan how your presentation should look. If you are also a graphic designer, deciding on how your slides need to look may be an easy task. For others, using a pre-existing IT diagrams template for PowerPoint will remove a lot of the time-consuming guesswork. There are enough considerations that need to be made as part of the presentation process. By leaving graphic design work to professionals you get all the benefits of consistent, flat icons without the burden of building them all yourself.
Use Modern-Looking Information Technology Symbols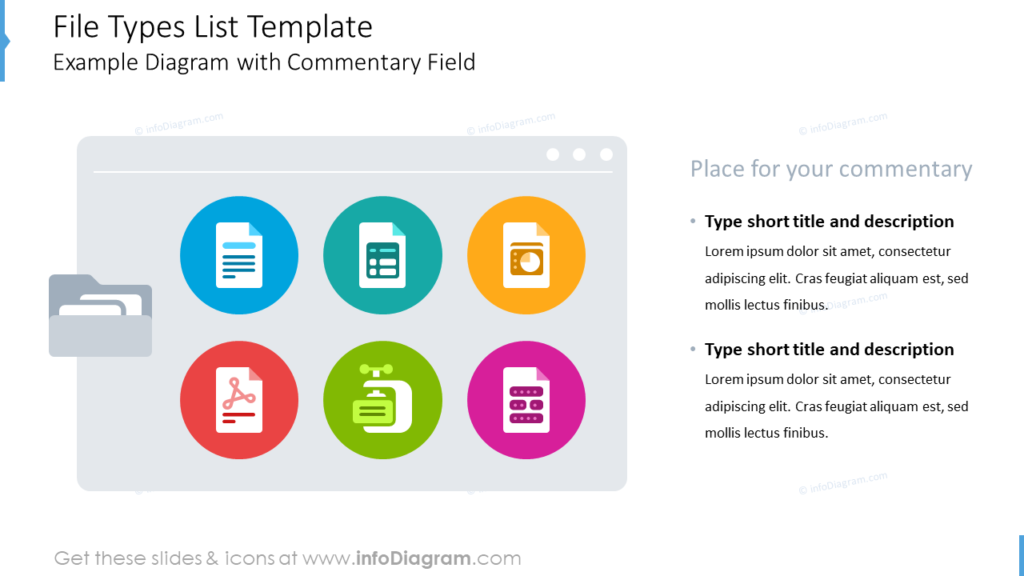 Using modern file type graphics will make your presentation look more professional immediately. This is good advice for presentations about a variety of mobile and smart devices, computer and telecom networks, and even network topology. In the example, the flat icon for each file type looks unique. They are different colors and have differing looks. The visual distinctions will help your audience see they are not the same, even before you explain how they vary. Getting your audience to recognize that files can be distinct is your first challenge. With sleek, visual cues like these, you can focus instead on the contrasts between them. Since the diagram in the example has abundant space for some light commentary, you can add a few notes which will be of service to your audience.
Explain Cloud File Sharing of File Types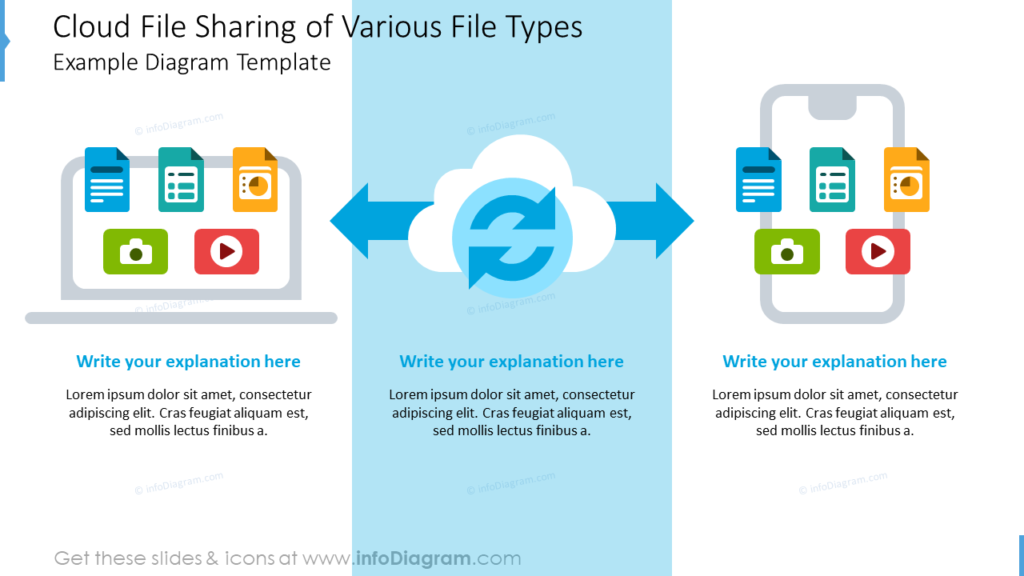 Typically when you give a presentation it's not on one, isolated detail. That is what makes it so difficult to stay in the middle ground between useful, informative presentations and dull or overwhelming ones. If your audience also needs to understand Cloud File sharing, there are file type icons for that, too. These specific variations on file type icons and computer network icons can be customized with short text and your own color scheme using PowerPoint's own editing features. There's no special software required!
Share the Differences Between File Attachment and Cloud File Sharing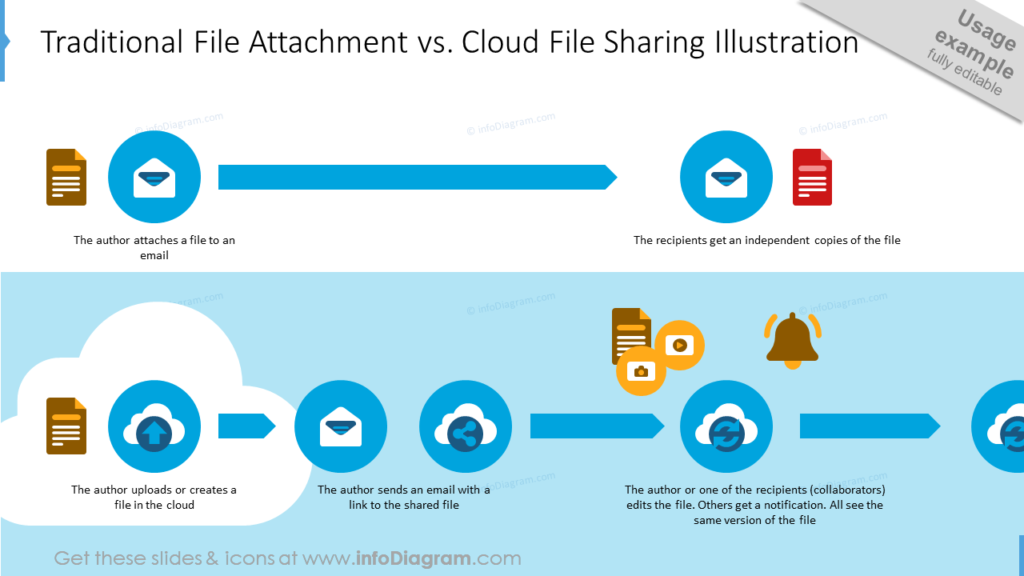 Once your audience understands how to distinguish between file types and knows what cloud storage is, a logical knowledge progression is to cloud file sharing. To accomplish this task the example slide explains both traditional file attachment and cloud file sharing. You'll notice the network diagram symbols and icons are intuitive even for audiences that don't have extensive technological backgrounds. A cloud weather symbol is a perfect stand-in for the virtual cloud. An upward-pointing arrow on top of the weather cloud is an obvious icon for cloud upload. These tricks for visual shorthand are useful for any presenter. They will keep you from having dense, wordy slides because the icons can represent processes and actions.
Using an IT diagrams template for PowerPoint solves several problems. Using a visuals library helps any presentations you may give stay consistent. Not only will each slide within a presentation be uniform with one another, but each presentation you give will have dependable style and professionalism. These tools are great for ensuring all of your ICT presentations have interesting visual elements. No one likes dull, default graphics or text-based lists.
If you need to give any Information Technology presentation, not only on file types, there are many information technology symbols in the IT Icons: Mobile & Smart Devices, Computer & Telecom Networks PowerPoint graphics set. See the full collection by clicking here:
Network topology icons, Cisco icons and other flat icons are ready and waiting for your customizations. Happy diagramming!