Mobile device and computer usage presentations don't have to be boring. Whether you're presenting dense statistics about mobile and smart device usage or sharing tips on how to better utilize technology resources, it can be difficult to keep presentations engaging. If your presentation contains many facts and figures it can be easy to want to build presentations with tables and text-heavy slides. It is less time-consuming to build slides with default, standard clip art than to make your own. It's also less time-consuming to use tables filled with text or use bulleted lists than design compelling graphics.
In fact, not having the software, skills, or time to create graphics that will help audiences understand presentations are common reasons we hear for why people don't give better presentations. If you aren't a graphic designer, it will take you longer to make visual aids. Once they are made, you might find they are inconsistent or not very eye-catching. Non-designers might know something is wrong with their visuals but won't have the understanding or skills to fix them. Those who don't try to build their own graphics. Those who don't try to utilize graphics often rely on text, instead. This is a common occurrence, but it is a mistake! If your slides feature bullet point after bullet point your audience will become overwhelmed or bored, but the end result is the same. They will tune you out. Even worse? Whether you create your own graphics and they are inconsistent or you use only text – your presentation won't look professional. If your audience isn't paying attention, or can't follow your presentation, they won't learn.
Keep reading and get inspired for your next Information and Communication Technology (ICT) presentation! We created a library of IT diagram templates for PowerPoint. These icons will help with your next mobile device and computer usage presentation. It will also help with future presentations that require Cisco icons, computer network symbols, network diagram icons, and even more! You'll be able to make elements of your IT presentations visual and keep them consistent and professional.
Modern mobile device and computer network symbols were designed specifically to make Information Technology presentations better. Check out the full IT Icons: Mobile & Smart Devices, Computer & Telecom Networks set.
Explain the Devices You'll Discuss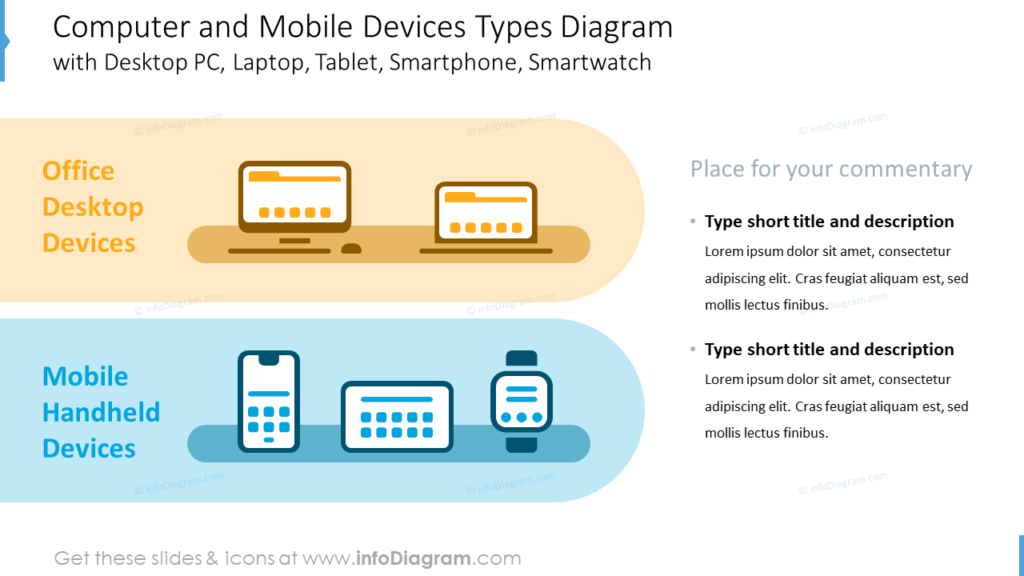 Regardless of how tech-savvy your audience is, you'll want to provide them with context about the types of devices you'll be discussing. If your audience isn't familiar with the differences between the devices or the reasons why you chose these particular devices for your presentations, the example slide deck presented here is perfect for making those distinctions and providing explanations. Notice how the slide isn't incredibly text-heavy. Also see how there is room for short descriptions, but there is a healthy amount of white space? These are significant design elements which will help your own presentations be more visually impressive and professional.
Present Usage Statistics without Tables Using Computer and Mobile Device Icons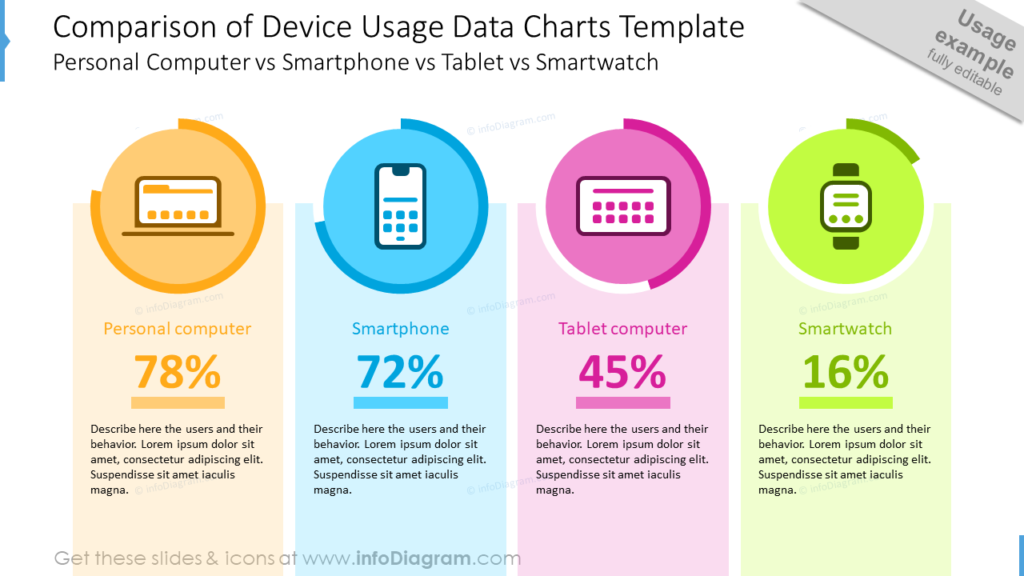 Mobile device and computer usage statistics can be presented visually. Doesn't this example slide look sleek and modern? It looks better with flat icons than it would with a table. By using Information Technology symbols to represent mobile & smart devices and computers you can incorporate colors and other visual elements. In the example, the percentage of users who use each device is a large focal point. You could use different figures to represent each type of device to suit your presentation and purpose. The colors used in the example are soft, pastel colors which complement one another, but you can modify those to suit your audience, brand, or findings using PowerPoint's own editing tools.
Show Which Devices Website Visitors Use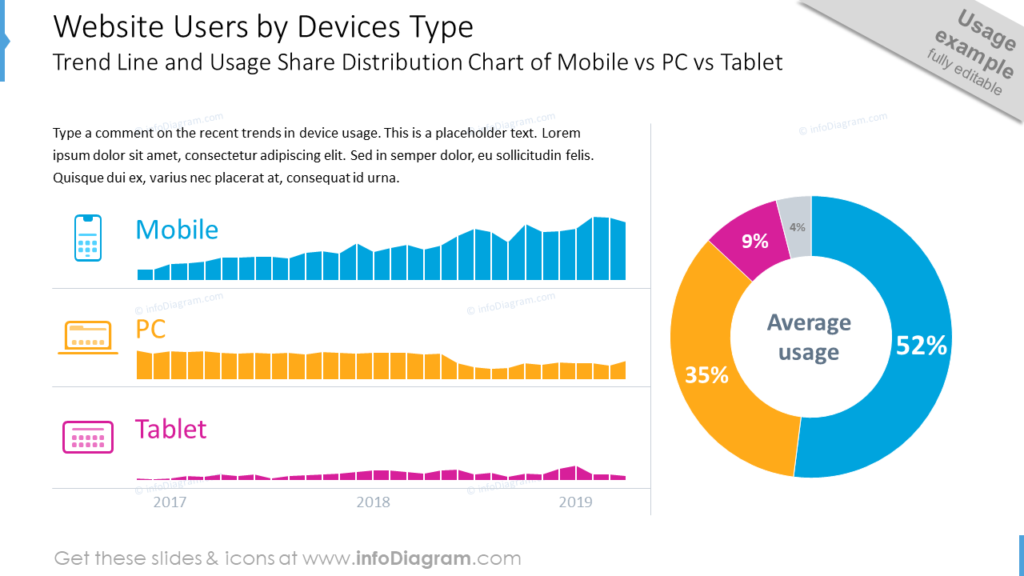 Do you need to explain whether your website visitors use cell phones, computers, tablets, or other smart devices to access your content? Make a case for accessibility and mobile website or app functionality. You can share how many users visit your website and break down exactly what devices they use. You can use graphs to represent your website visitors with percentages or real values. The colors in these diagrams can be modified, as can the text. You can also select which devices you'd like to include based on what you need to present.
There are many situations and ICT presentations which benefit from information technology symbols. Modern mobile and smart device icons, computer and telecom graphics, networking and other IT diagrams and symbols for PowerPoint will help you with your next presentation and many to come. Having consistent, professional visuals and using modern templates that are designed to help you utilize white space and be creative without sacrificing your technical knowledge can be a huge help.
To learn more about the resources included as part of the IT Icons set:
The set may encourage you to create your own striking visuals. If you choose to save time and use our ready-made PowerPoint graphics, you'll have full use of a consistent visuals collection.