Are you a healthcare provider or medical researcher? If you'll be presenting on a medical teaching or research topic, you'll need to be ready! Medical and healthcare presentations are all challenging. The nature of the healthcare industry is that you need to explain highly technical, highly confusing topics.
You need to give thorough explanations, but can't do so in a way that is confusing or overwhelming. You need to give consideration to who your audience is and what their background knowledge is. With that said, even if you're presenting to a group of other medical professionals you want to steer away from slides which are dense and wordy. Slides which feature text heavily are often described as boring and confusing by those who attend them. Your audience isn't likely to remember much of your presentation if they're bored or overwhelmed, so do what you can to help them.
Need elegant imagery for your next healthcare presentation to help get your message across and help your audience understand? Check out the full Health Care, Medical Biology & Pharma Research Outline Icons set by clicking here.
Get inspired for your next presentation or project by a few examples of the healthcare diagrams we designed for making medical teaching and research presentations. The consistent, modern style of icons from our health care diagrams collection is full of vector symbols that look razor-sharp. What's even better is that you can fully-customize the icons to suit your personal presentation needs.
How can you make sure your presentation is a good one? Don't overuse text. Visual metaphors and compelling visuals can be a huge help. Using consistent graphics will make your presentation look more professional, which will aide your credibility regardless of who your audience is. Depending on the lesson you need to teach or the type of research you do, you might wonder if there really are icons which would be appropriate for your presentation. We were compelled to create our medical symbols and health care diagrams icon set after numerous health care professionals requested professional graphics comparable with those we've created for other industries.
Explain Your Laboratory Procedure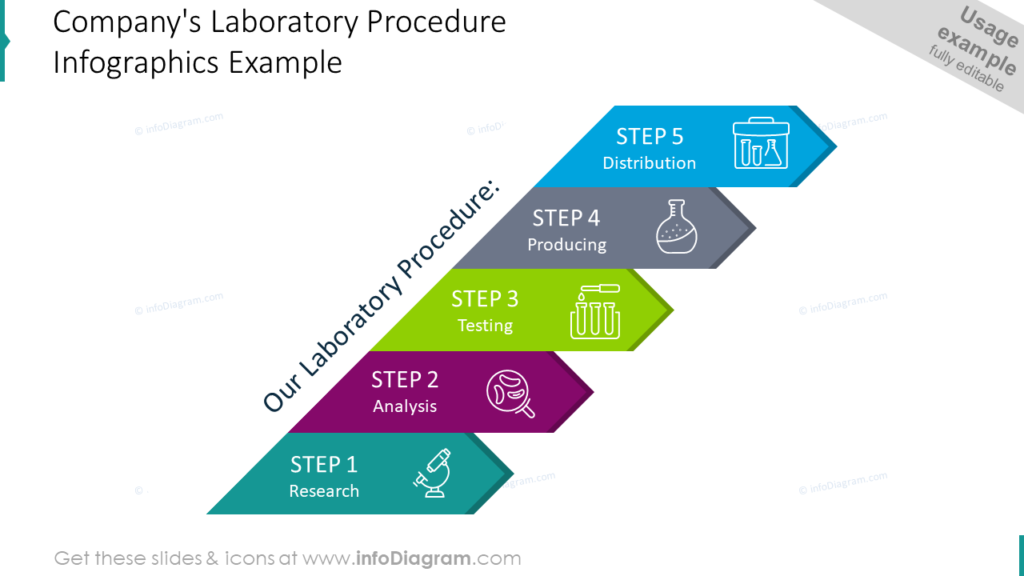 If your lab does something that is novel you may wish to share with other healthcare professionals at a conference. You may need to teach new hires or medical students how a laboratory procedure should be structured. In either case, this simple graphic breaks down the different steps of the procedure in a way that is easy to read and easy to understand. The colors and text can be modified to suit the needs and purpose of your presentation. The icons and steps can be customized easily using the tools already available in PowerPoint.
Explain the Classification of Anatomy or Health Care Topics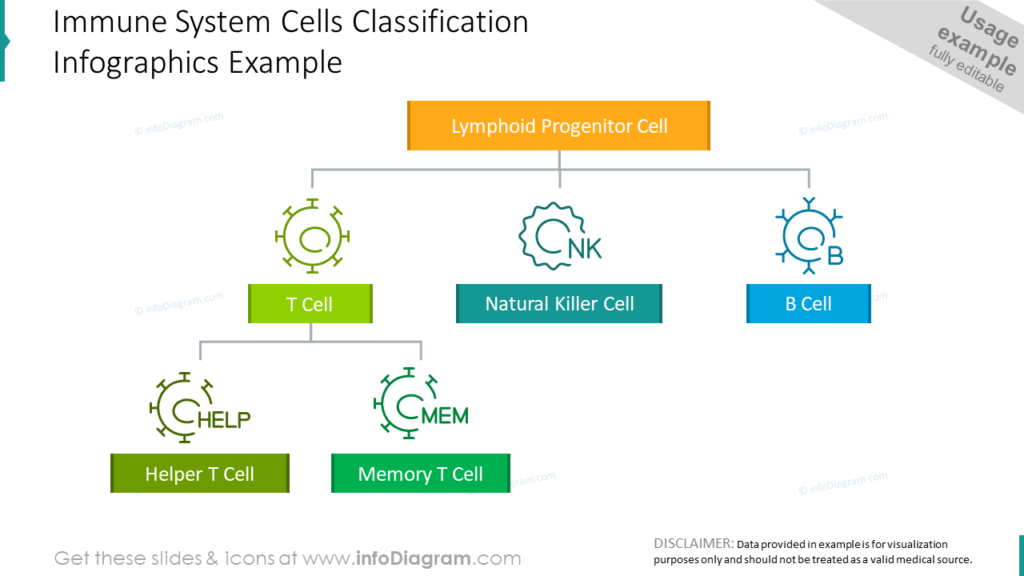 If you're giving an educational or informative presentation, odds are you'll need to explain terms or topics. This is an essential component of presenting, because it ensures that your audience will understand the terms and details you'll be discussing later in the presentation. You may not need to give a thorough explanation of basic terms or classifications such as this, depending on who your audience is. However, whatever it is that you need to explain will reach your audience better than a boring table or default bulleted list.
Describe Processes Using Sharp Visuals while Medical Teaching Training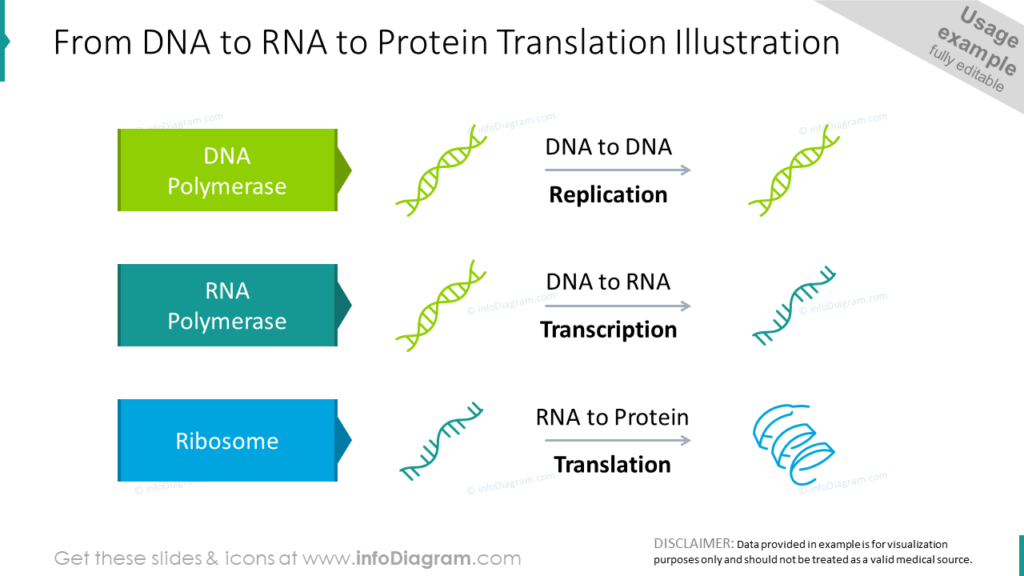 In the example the presenter uses sharp vector graphics to present DNA and RNA protein translation. The colors and icons have been customized to help the audience understand what is taking place. Since the set contains numerous microbiology icons and anatomy icons, many procedures and processes like this can be explained in a way that is easy for audiences to understand and conceptualize. Taking the difficulty out of the basic visuals will allow your audience to focus their higher focus and processing for the more complex takeaways later in your presentation.
No matter what medical teaching or research presentation topic you have, smart medical symbols are sure to help you. Benefit from the years of experience of professional graphic designers rather than trying to build your own graphics and infographics for your next presentation. Vector graphics can be resized easily without sacrificing quality, and since you can modify the colors and icons utilized in each slide deck to suit your purposes you'll achieve an original, visually-engaging presentation.
Illustrating your ideas with attractive, elegant visuals will make any presentation or educational resource you need to build more effective. If you're not sure that the Health Care, Medical Biology & Pharma Research Outline Icons set is right for you after reading this article, view the full icon set by clicking here:
Health Care, Medical Biology & Pharma Research Outline Icons
If there's something you don't see that you think we could improve, please let us know! We may have what you're looking for in another icon set, or may be able to create it for a later resource.