Do you want to stand out when job hunting? Then you need to ask yourself, "Do I have a boring, or ugly resume?" – be honest! In addition to having resumes and CVs which are out of date, many modern job seekers rely on dull, cookie-cutter templates. It's important to remember that when you're job hunting your resume and cover letter are your very first impression to the recruiter or hiring manager. Do you want to seem professional, creative, and unique? Consider changing your resume or CV and your cover letter to an easy to personalize, customizable graphic set.
Recruiters see hundreds of resumes and CVs. If you want to stand out and seem exceptional before you meet the person who's hiring, check out One-Slide Resume and Skills Icons.
Professional Visual Resumes are Powerful and Effective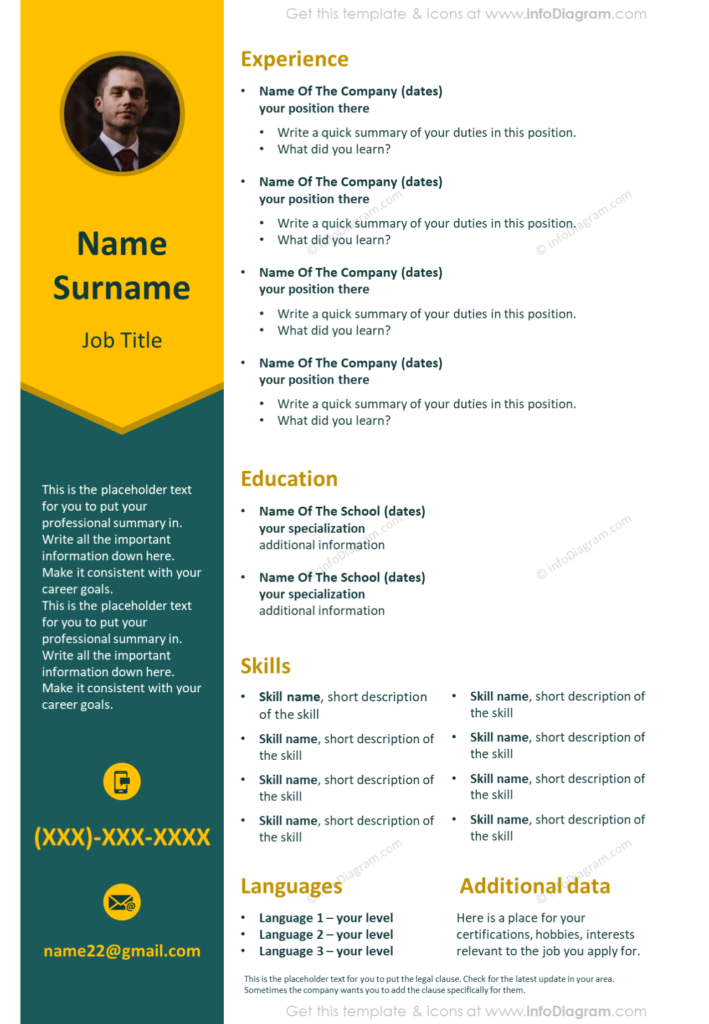 This Vivid Stripe visual resume template is professional, unique and easy to customize. With simple PowerPoint tools, you can adjust the color palette and icons used for contact information, your headshot and more. Share your wealth of experience and education with just one slide. Make sure you utilize the included cover letter template to look even more professional and put together.
Choose Icons to Represent Your Skills, Experience and Education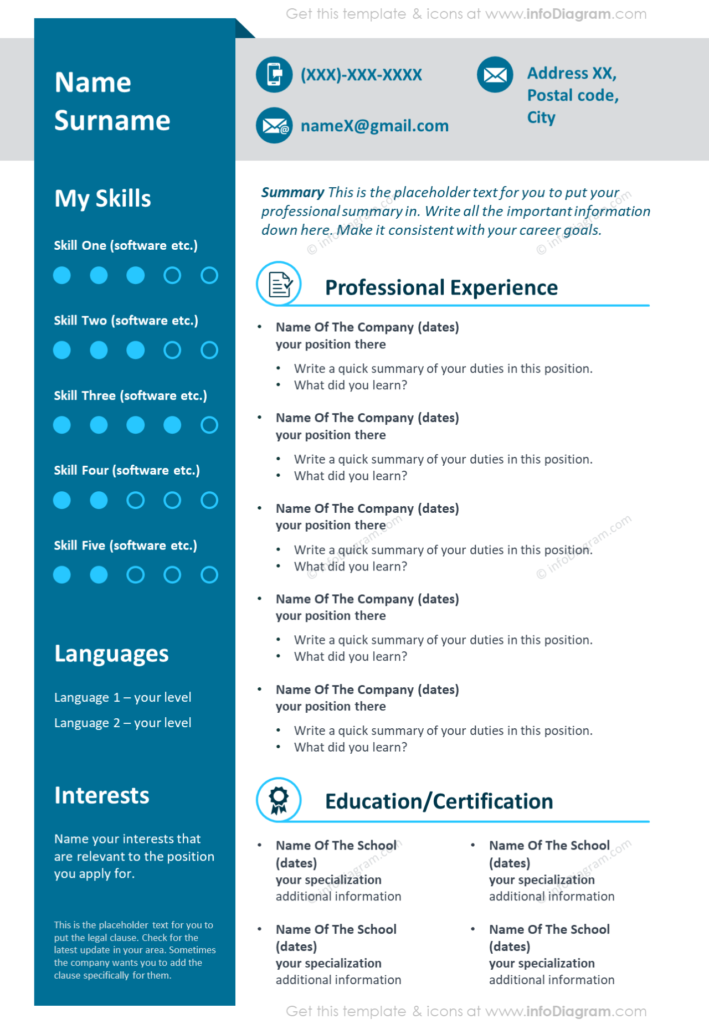 The Blue Ribbon visual CV template is perfect for sharing your skills and talents with potential employers. You can easily adjust the color of different graphics to better represent you, your desired industry, or even the particular organization you're applying to work for. You can modify the icons used to represent professional experience, education, as well as your contact information. The accompanying cover letter will let the recruiter and hiring manager know you're a serious professional. Note how easy it is to add references to the bottom of your cover letter!
Use White Space Effectively in Your Resume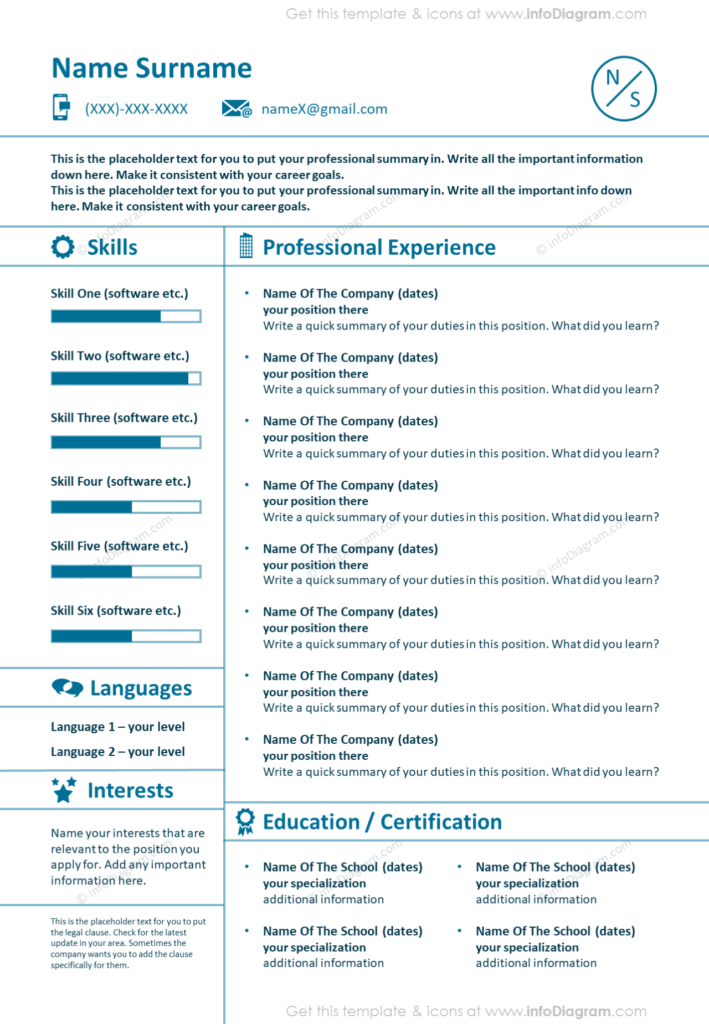 Do you want a more minimalist resume or cover letter design? If you prefer a more clean, modern look you might like the Light Lines Professional Experience CV layout. There are practical benefits to this style as well. If you will be printing your CV to take with you to interviews or will be submitting your resume in person, you might with to use less color on your resume. With this simple, yet robust slide layout you can still customize your resume, CV and cover letter. Choose a color scheme which suits your needs, and modify the icons used on the slide which best represent your experience, skills, interests, and education. The matching companion cover letter template can also be tailored to your needs.
Create a Unique Resume with Visuals
Use a strong visual element to draw attention to important information. Although many templates for Microsoft Word and other popular word processors are well-structured they are often visually similar. They could benefit from emphasizing important elements with strong flat shapes. Instead of saying you are "proficient" with a given software or skill you can visually show various skill levels. You can also make the categories of your resume more impactful by adding symbols to represent each one and help draw eyes to significant parts of your resume.
Resource: 4 One-Slide Resume & Skills Icons
We created this PowerPoint template filled with icons and slides to help you build an eye-catching resume. The job market is tough! Our designers hope that by providing you with unique, interesting visuals that you can make your experience stand out in your resume, CV, and cover letter. Employers like knowing staff can be creative and think outside the box. With modern, unique graphics you can let potential employers know you're creative in addition to the education and experience you bring to the table. Check the full resume and cover letters collection here:
Health Care, Medical Biology & Pharma Research Outline Icons
Improving your CV and resume is as easy as choosing a design style and customizing a slide. You can create a cohesive resume and cover letter combination that is sure to wow recruiters and HR departments. Put your ideas and experience together in a way that will stand out from the crowd.