Do you struggle to keep your digital transformation presentations interactive and engaging for your audience? You are not alone! Many struggle to keep strategically important and complex topics interesting while sharing all the relevant, necessary information. We have found that visually striking slides are one way to help retain audience interest and enthusiasm. In this article, we'll offer suggestions for how you might explain complex digital transformation topics in a creative, elegant way.
Communication of thoughts and ideas is the core purpose of any presentation and you need graphics to help present in an impactful way.
The Digital Transformation Strategy Roadmaps PPT graphic set was designed to help you share digital transformation strategy, timelines and more in an easy to understand, eye-catching way.
Explain any Unfamiliar Terms or Share Relevant Quotes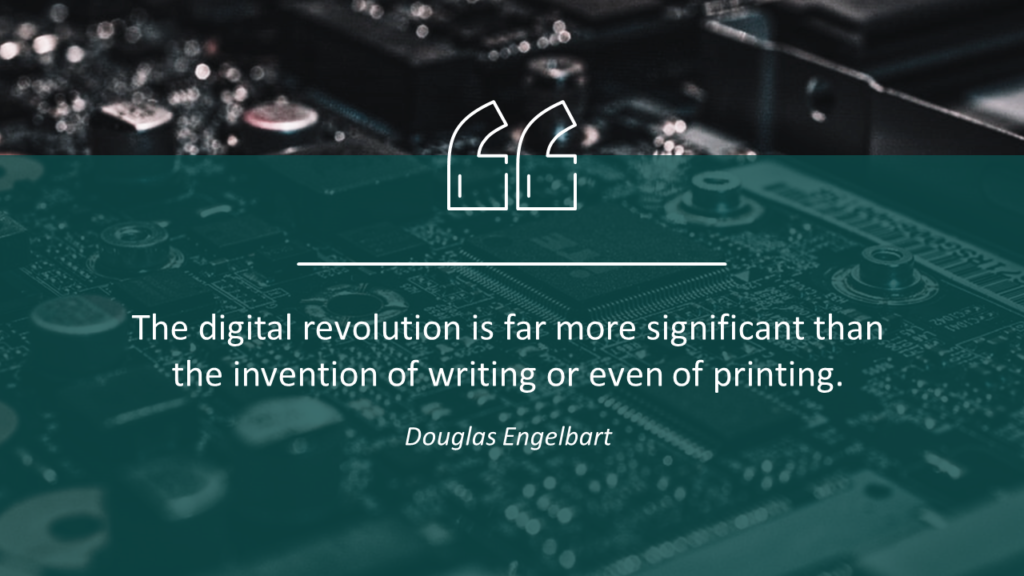 As with any presentation, considering who your audience is and how much they might already know about the topic you will be discussing is essential. Part of the reason businesses and organizations utilize ready-made, easy to customize PowerPoint graphics and slide graphics is to make their presentations more interesting and engaging. To avoid confusing your audience you'll want to define unfamiliar or specialized terms. If you don't keep your audience in mind, you might decide to define terms unnecessarily and bore them. You might also share relevant quotes to help set the stage for your presentation. The choice is yours, and with such simple to change graphics you can be sure any graphics you use are perfect for your needs.
Use a Timeline to Explain Digital Transformation Development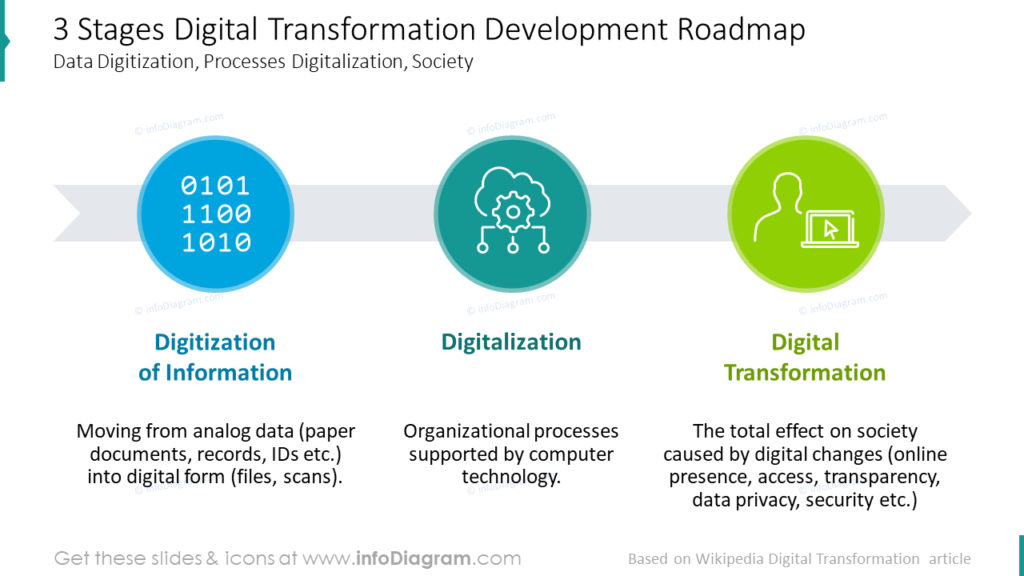 When you need to explain a complex process or sequence of events, it's best to keep things as simple as you can. In this example the digital transformation development is explained in a three step timeline. Since the slide decks are customizable you could add additional stages if necessary to fully describe your digital transformation process. The icons in each stage can also be adjusted or changed to suit your particular needs and message.
Explain Your DT Strategy with an Areas Diagram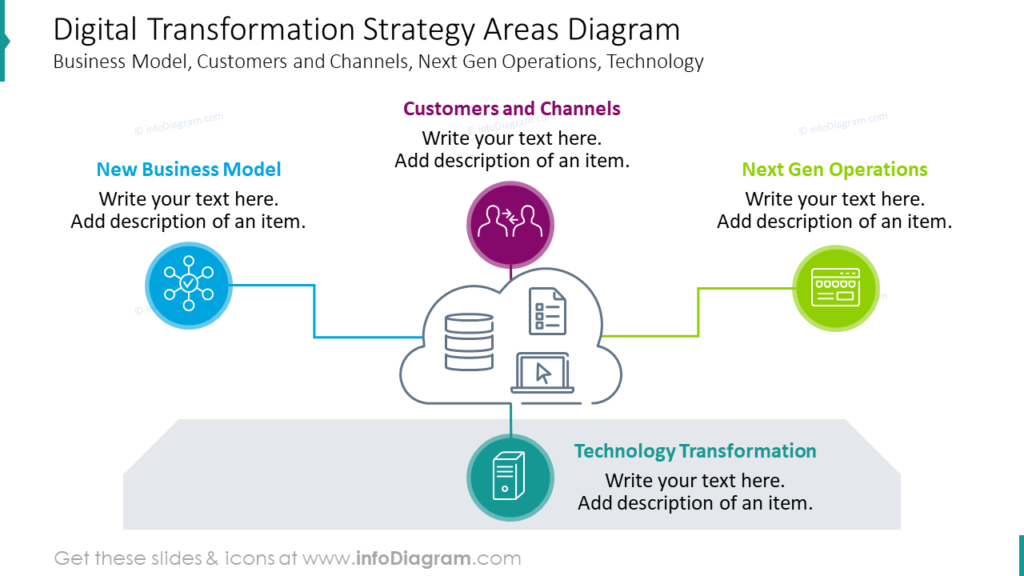 If you have a multi-faceted strategy, it may be beneficial for your audience to explain what the different areas look like and how they relate to and work with one another. With an areas diagram you can explain as many different areas of your digital transformation strategy as you need to. As with each of the previous example slides, this slide can be customized to reduce the number of areas involved in your strategy or modified to contain more relevant icons. PowerPoint has all the editing tools you need, no special software or graphic design experience is necessary to fully customize and modify any of the graphics contained in this set.
How to Present Digital Transformation & its Marketing Channels Comparison in PowerPoint
Presenting Digital Transformation & its Marketing Channels Comparison in PowerPoint
Did you know you can use the basic shapes in PowerPoint to create your own graphics? You don't need Photoshop, Illustrator or other specialty design software if you have the right steps.
Instead of using a standard table, place the content in the rectangle shapes and distribute it evenly.
Add headers to your category boxes. Use arrow-like shapes instead of regular rectangles.
Add some color accents and symbolic icons to spice the design up.
Don't have time to do this for every slide? Consider using pre-made graphics and icons. This will help take some of the guesswork out of the process and leave you with professional, eye-catching slides every time.
Resource: Digital Transformation Strategy Roadmaps
We created the Digital Transformation Strategy Roadmaps graphic set to help people like you create more professional, cohesive presentations. Our designers focus on creating creative, modern graphics that will help even the most technical slides "pop" in a way that is user-friendly and easy to understand. See the full graphics collection here:
Digital Transformation Strategy PPT Roadmaps
We never want anyone to have to give a presentation with wordy boring slides. If you'd like to further customize your presentation, be sure to check out our collection of professionally-designed outline infographics.