If you're in business, you're likely familiar with due diligence as a general concept. This is especially true if your work is centered around mergers and acquisitions. Do you need to present these ideas, either to explain them or how they function within your organization? If you're unsure how you might leverage creative graphics to make a compelling presentation, keep reading!
If you need to present your mergers and acquisitions process or action plan and have ideas for your slides already, you can click here to see the full Due Diligence Process, Types, Checklists Diagrams graphics set.
Explain the Mergers and Acquisitions Process in a Timeline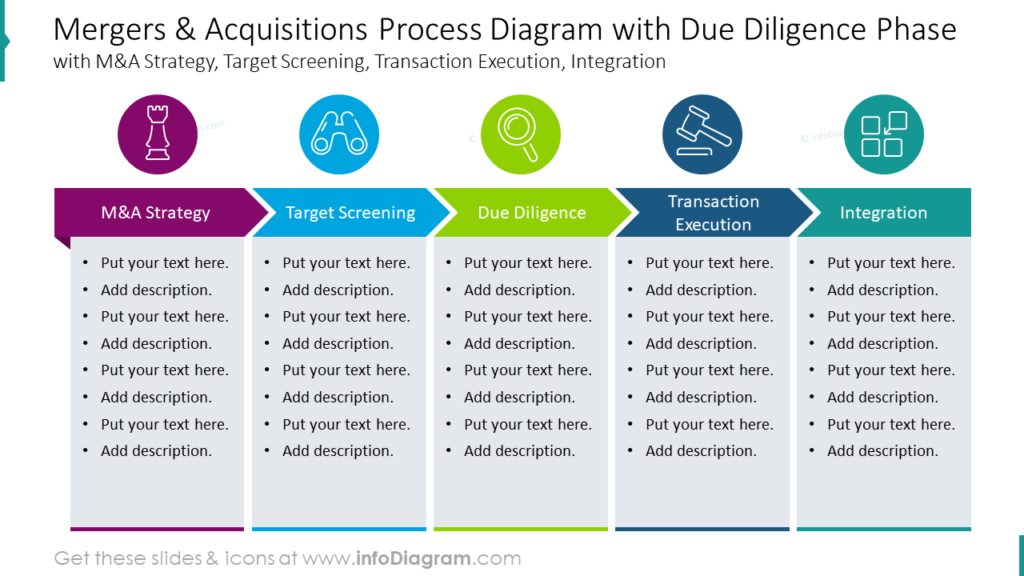 One way to help complex topics make sense to your audience is to break the process down into steps and present them as a timeline. Understanding individual stages out of context can be confusing or overwhelming. By putting the process in a timeline format you can explain not only the details of each component but how they flow and fit together.
Share types of Due Diligence With a Magnifying Glass Diagram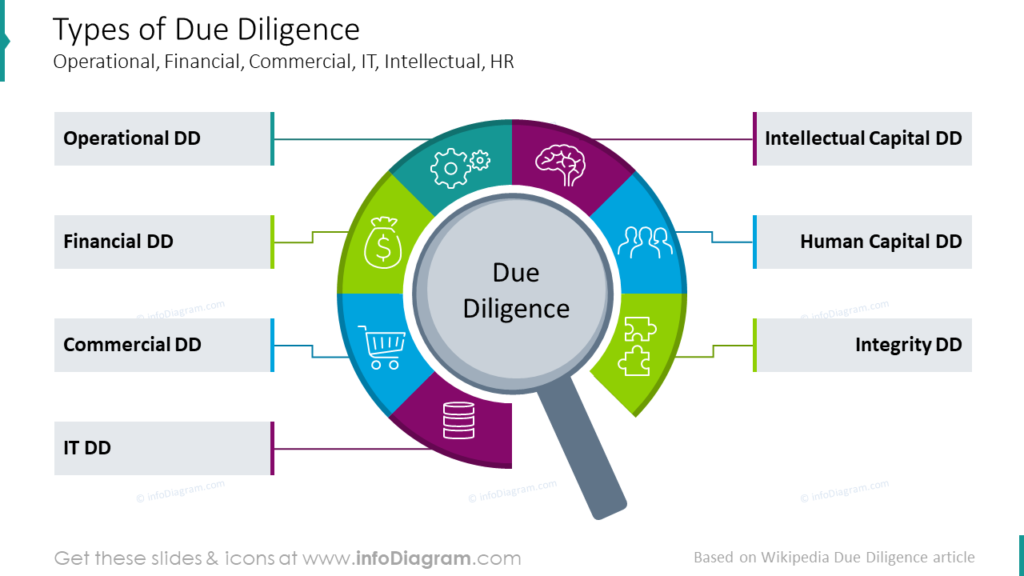 Does your audience understand due diligence? It may be beneficial to provide context for where your presentation falls in on a greater scale. This might also help your audience determine if there are parallels between their own due diligence processes and the ones you'll be explaining. If you don't wish to present the types of due diligence but have other categories which could benefit from a clever visualization, this slide can easily be customized to suit your purpose. Adjust the text, icons, colors and more with the native tools in PowerPoint.
Use Gear Infographics to Illustrate Audit Framework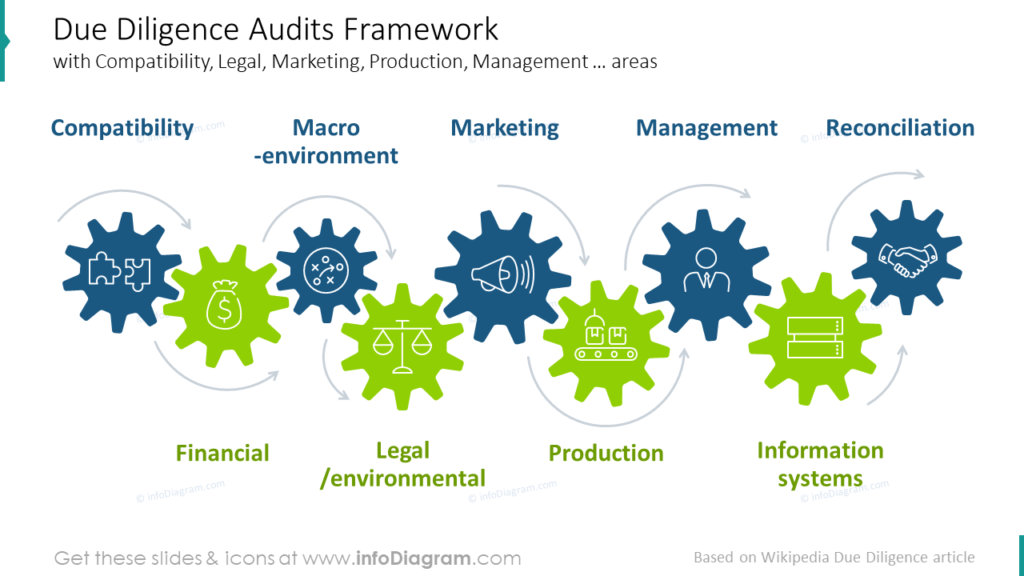 Due diligence can be confusing, and so can the audit process. In the example slide the audit process is presented as a gear infographic. In the infographic you can see how the different elements of the audit process fit together and work collaboratively to make an audit happen. If there's another process or function you'd like to share, you can easily customize the text and icons associated with each gear in order to explain a process of your choice.
Create an Eye-Catching Legal Due Diligence Checklist
SlideShare guide on Creating Due Diligence Checklist in PowerPoint
You don't want to have a presentation filled with boring slides. Your audience will not remember the message of your presentation. You can easily make engaging slides with PowerPoint tools and here's how:
Firstly, create a ribbon shape by combining three pasic ppt shapes.
Arrange the shapes and fill them with content.
Add color accents and icons illustrating each category along with their operation status.
Then you're all done! In just 3 steps you can transform your unremarkable block of text into an eye-catching slide your audience is sure to remember.
Resource: Due Diligence Process, Types, Checklists Diagrams
We know presenting complex information in a visually appealing way is challenging. You want to build an eye-catching PowerPoint presentation that will hold your audience's attention. If you can capture their attention, they will be more likely to retain the information you have shared with them even after the presentation is over. Our designers have worked hard to create new visuals and visual metaphor ideas to help you make your busy content look professional and consistent. They know it's challenging to create your own eye-catching graphics and come up with visuals that help you explain abstract ideas.
If you're sick of using the same, repetitive visuals for your presentations and want to try something different that will help your audience retain your message, check out the full Due Diligence Process, Types, Checklists Diagrams diagrams set. You will be able to articulate your points clearly and explain multi-step processes concisely:
Due Diligence Process & Checklists PPT Diagrams
If you want to use this set to explain other processes or procedures and need different graphics to utilize, check out our professionally-designed outline infographics deck. This set will help you add some visual variety to your slides and keep your audience engaged.