When you are presenting a hierarchy or structure, how do you organize information? Tables, lists, and default PowerPoint slides are all popular methods, but are they the best? Hierarchies can be confusing to your audience. Stacked pyramid diagrams, whether they are flat or 3D graphics, are simple visual metaphors. Audiences are familiar with and understand pyramids. Get inspired by our examples and learn to create your own pyramid hierarchy diagrams.
Elegant pyramid diagrams can help you make easy to understand slides. Share levels of communications and the roles each play in your organization. Click here to see the full 3D Stacked Pyramid Hierarchy Diagrams set.
Use Animated Slides With 3D Pyramids to Present Structures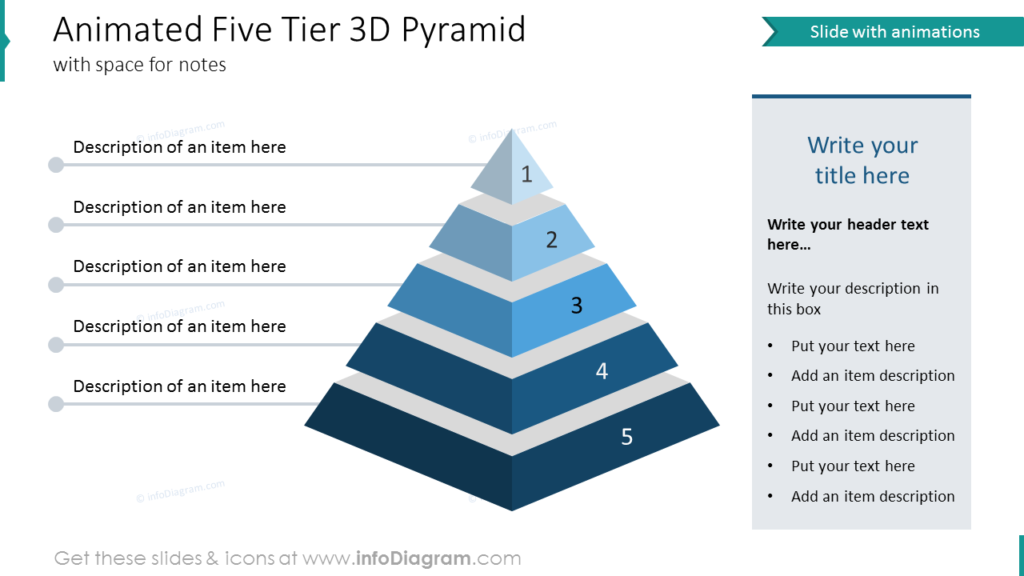 The example has the stacked pyramid and boxes in shades of blue, but our designers have built them so they can be easily changed to whatever color would best suit your audience and purpose. Note the numerous spaces to add descriptions of each level. The slide also contains additional shapes you can use to share the titles, descriptions, and lists along with your stacked pyramids.
Present Communication Methods With Stacked Pyramid Graphics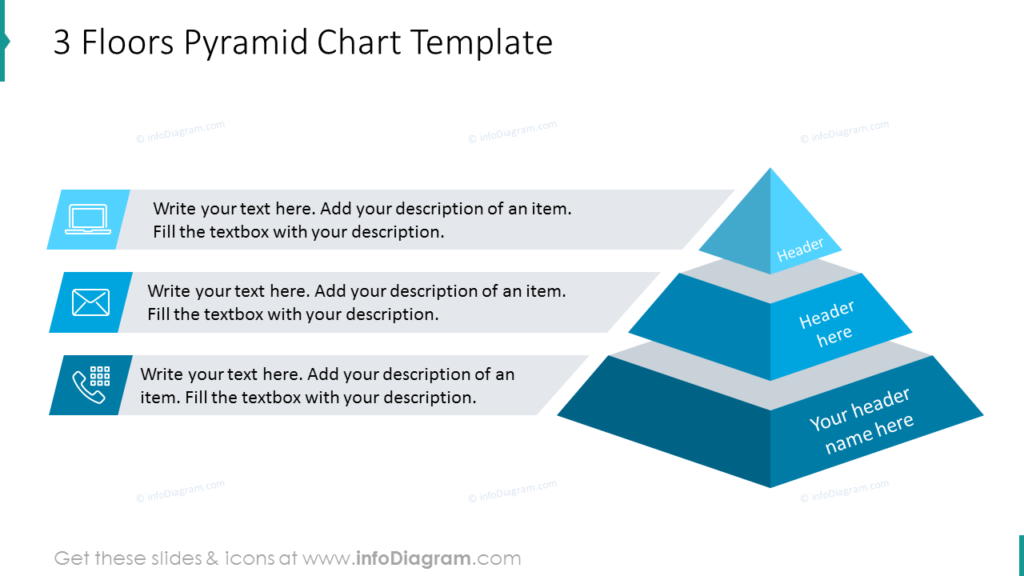 Change the labels in the pyramid and customize the descriptive text for each level. Icons can be added to these slides. If you present a different hierarchy with this slide template, you can easily customize the icons, along with the text and labels.
Use an Inverted 3D Stacked Pyramid for Another Perspective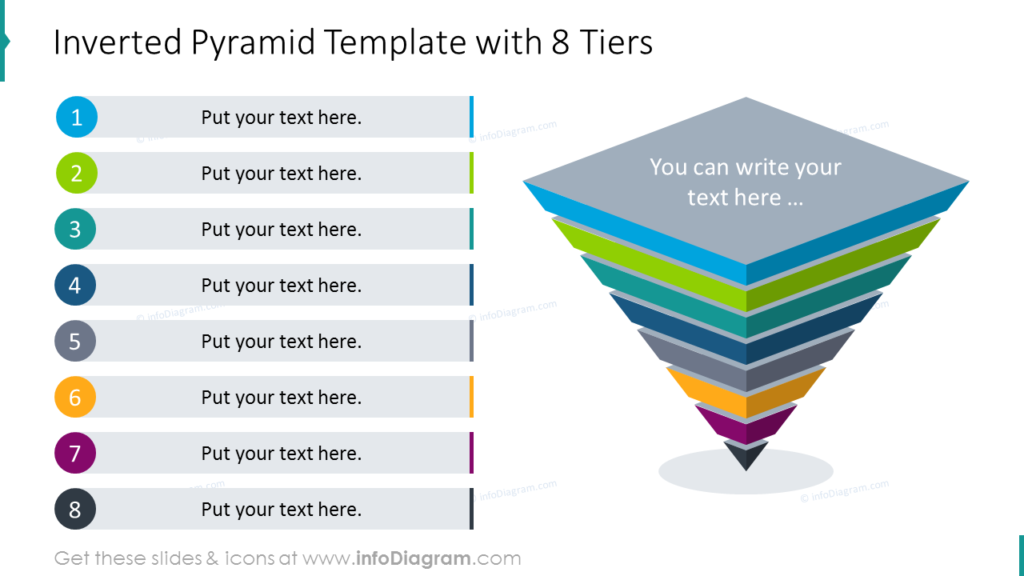 You don't need to limit your presentations to upright pyramids. Although you can use pyramid graphics and icons to present things like the Maslow Hierarchy of needs or your company vision, you can also use inverted pyramids if they suit your purpose, better. Structures can all vary based on the number of tiers you would like to include and other variables. Inverted pyramid graphics with varying layers can help you explain many things.
How to Illustrate Hierarchy Levels with a 3D Pyramid in PowerPoint
Step-by-step guide on Illustrating Hierarchy Levels with a 3D Pyramid in PowerPoint
Though 3d pyramids look complex, they are built of simple elements. To make it easier, you can use the predesigned vector shapes from our library.
Build a pyramid of as many layers as you need. Prepare a color-coded place for the content.
Fill the rectangles with the proper names of the layers and add numbers to show reading order.
Add icons next to the pyramid's layers to illustrate each point visually. That's it – the 3D pyramid diagram slide is ready!
That's it – the 3D pyramid diagram slide is ready!
Resource: 3D Stacked Pyramid Hierarchy Diagrams
We know building beautiful charts and impactful diagrams is difficult. Our designers are artistically inclined and understand how to build professional, creative graphics. We want to create concise, eye-catching graphics that are easy to customize and edit without special design software or design experience. If you'd like your next presentation to benefit from creative illustrations that aren't confusing or "busy" check out the full 3D Stacked Pyramid Hierarchy Diagrams set: