Are you about to discuss the energy concept? Whether you are presenting energy sources, talking about physical energy, or chemical processes, we suggest these visual metaphor icons to help you make your points effectively.
Perhaps your sales team needs to amp up their pitch delivery, or put more energy into chasing down leads. Maybe your manufacturing plants have been investing time and energy into increased production and you'd like to highlight a job well done. No matter the context, we hope you can find inspiration for energy visual metaphors.
Make your next presentation more engaging and easy to follow with sleek, modern graphics to represent energy. Here we recommend a few of our favorites.
Use outline or modern graphics for elegant energy concept metaphors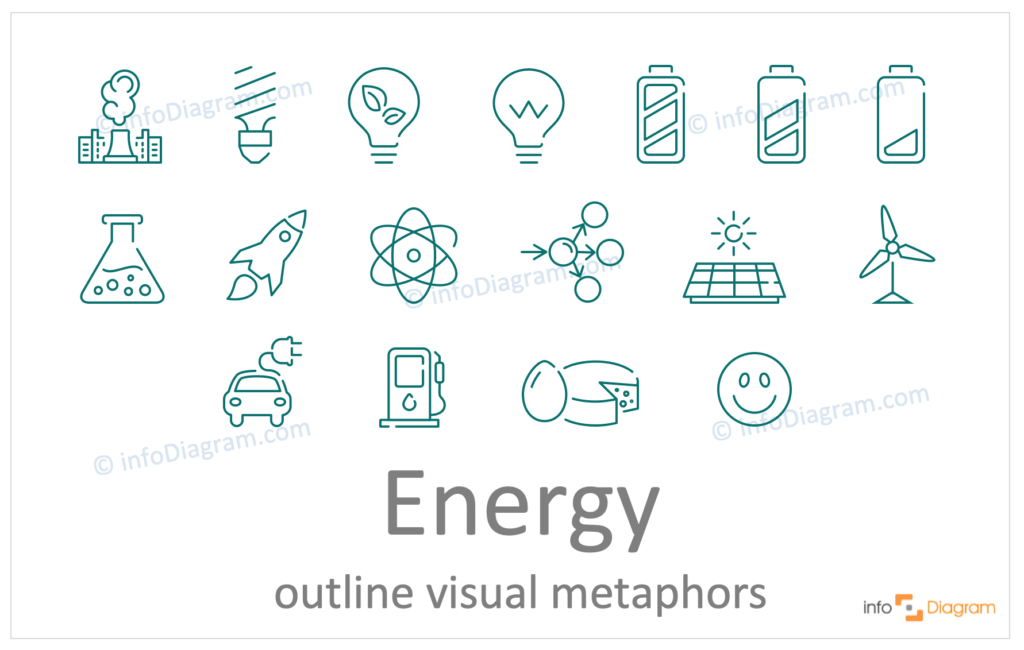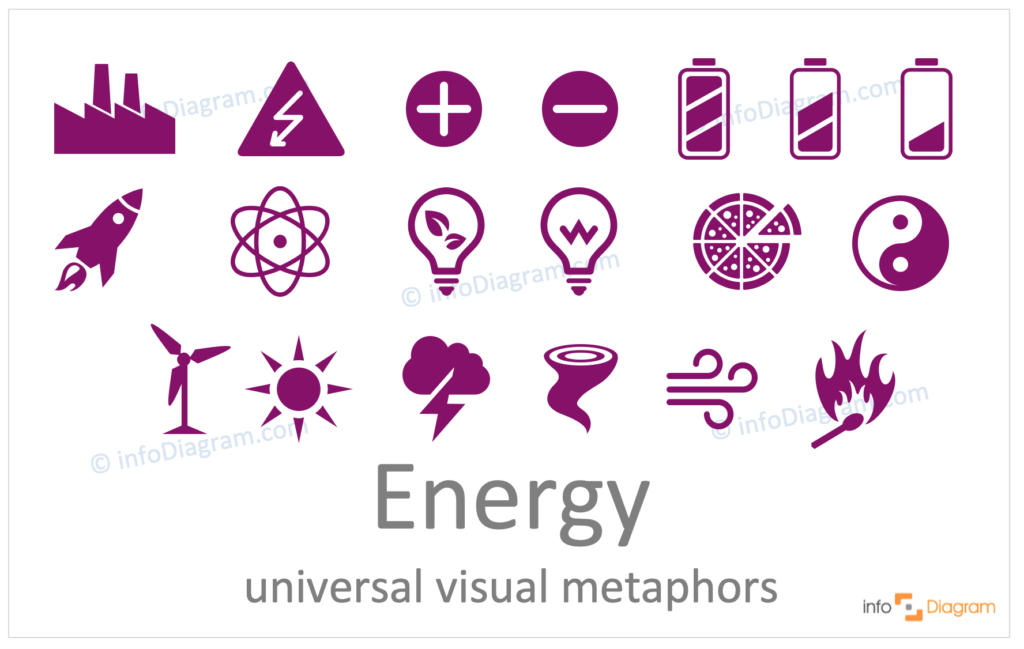 Outline graphics and modern style-neutral graphics are both perfect for professional audiences. Outline icons are light and clean, whereas modern, flat symbols have a more striking aesthetic. They are heavier than outline icons, but are not heavy-handed. Check out these icon ideas. They represent different ideas of energy we collected. See if any will fit your needs:
Renewable energy icons are great for representing energy creation.
Rocket launches perfectly represent energy for new ideas, projects, or a new product launch.
Positive and negative symbols can represent the positive and negative energy employees bring to the table, including pessimism and optimism.
Batteries can easily represent energy expenditure, reserves, and the importance of taking time to recover, or power level.
Food icons are a great symbol for presenting self-care and the importance of human energy sources
The energy in physics – Newton laws of moving objects, or chain reaction
Windmill, sun, ecological light bulb – representing modern, eco-friendly energy
A chemical process
Traditional sources of energy like electricity, carbon-fueled powerhouse, fuel (gas), but also nuclear (atom) energy and power plants
The energy of a person: charisma, optimism, pessimism represented by faces, positive and negative gestures
The energy of relations between people: communication, thoughts, emotions
Battery levels – representation of energy reserves
Muscle power – weight lifting, triceps
Positive and negative energy/charges
Energy of nature – unexpected and powerful weather events and energy of the elements – lightning, fire, wind, etc.
Energy balance showed by a yin-yang symbol
Express energy concept with creative, hand-drawn icons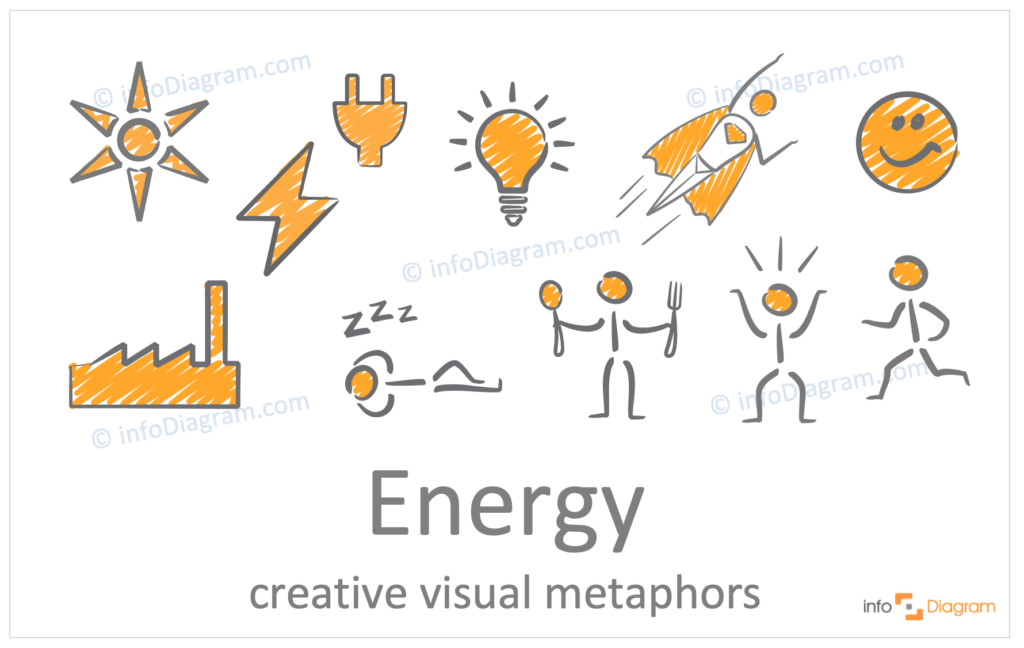 If creativity is important to your audience, industry, or brand then hand-drawn icons are a delightful option. Icons designed in a more personal style will catch your audience's eye and help them appreciate your energy visual metaphors. Check out these examples!
Hand-drawn suns can represent solar power, an energy source, or positivity.
Lightning bolt creative icons can represent electric energy, bright ideas, or sustained effort.
Electric plugs and light bulbs are great visual metaphors for electric energy or new ideas!
People eating, flying, or sleeping are all great energy visual metaphors for humans recovering or expending energy.
Happy face creative icons can represent human energy, positive emotions, and positivity.
A power plant – as a producer of energy.
We hope these energy visual metaphor icons inspire you to create a more impactful presentation.
Wish you could easily access the icons contained in this post? With a subscription to infoDiagram, you can download slides from any graphic collection on our website, including the ones shared here.
Check out more concept blogs
Did our Energy Visual Metaphors blog help you? Learn other ways to visualize everything from Ethics to Urgency by visiting our Concept Visualization master list blog post.