Are you working remotely? Many of us are now. If you or your team are conducting business virtually you may need to add graphics and infographics to your presentations. Adding sleek, modern visuals to your repertoire is easier than you might think. Whether you need to present about remote work itself or about the work you're doing and how virtual work has modified your processes, you can benefit from specialized visuals.
We know virtually boring presentations which rely on plain text slides, dull bulleted lists, simple tables, or walls of text are less effective than their visually compelling counterparts. Keep reading to see how you might be able to take your next virtual work presentation to the next level of audience engagement.
If you and your team have been working remotely for a long time you might already have some ideas for how you could incorporate home office graphics. If that's the case, click here to check out the full Remote Work Know-how Infographics set.
Make Your List Slides Attractive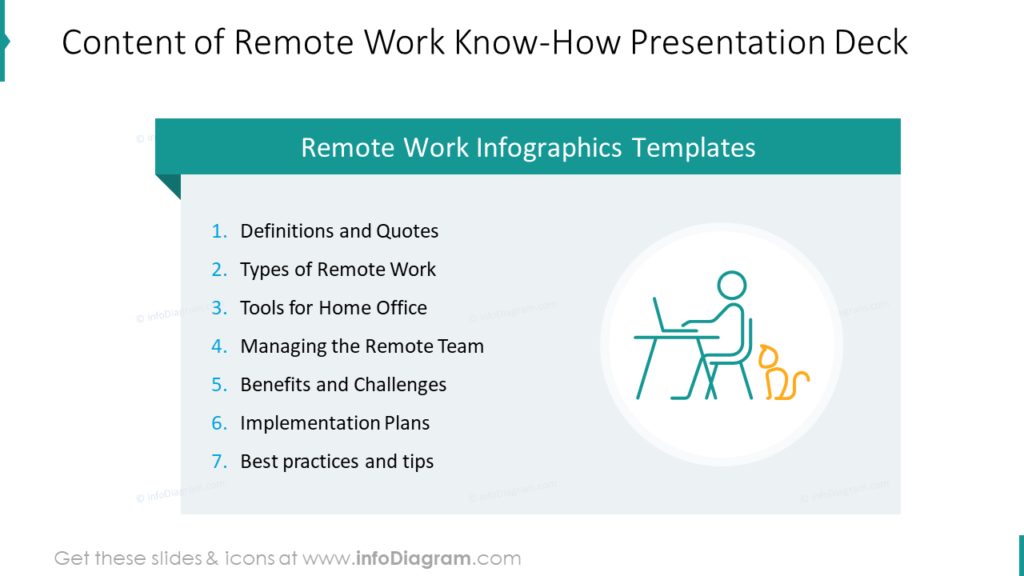 Although we caution against using either wall of text or long lists because they tend to be boring and turn the audience's attention off, there are some times when lists can be helpful. The important thing to do is not to use only lists or only text on your slides. In the example, we add visual interest by making the slide header text appear in a colorful shape. Adding a background, changing the colors of the numbers, and adding a small icon to represent someone working remotely (complete with a pet!) is a great strategy. By making these slides visually dynamic you stand a better chance of keeping your audience alert and improving their recall of your message, later.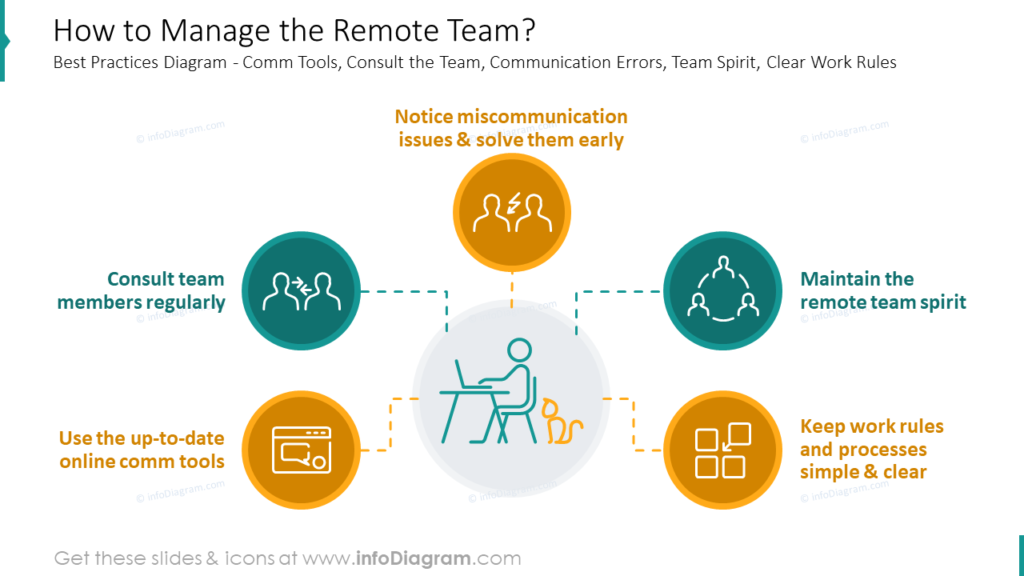 In this example, we created a diagram that illustrates tips for managing remote teams. Icons create visual associations with text near them, and despite the use of only two colors, the slide looks grabbing and professionally designed. You can easily customize texts and symbols to your needs.
Define Any Unfamiliar Terms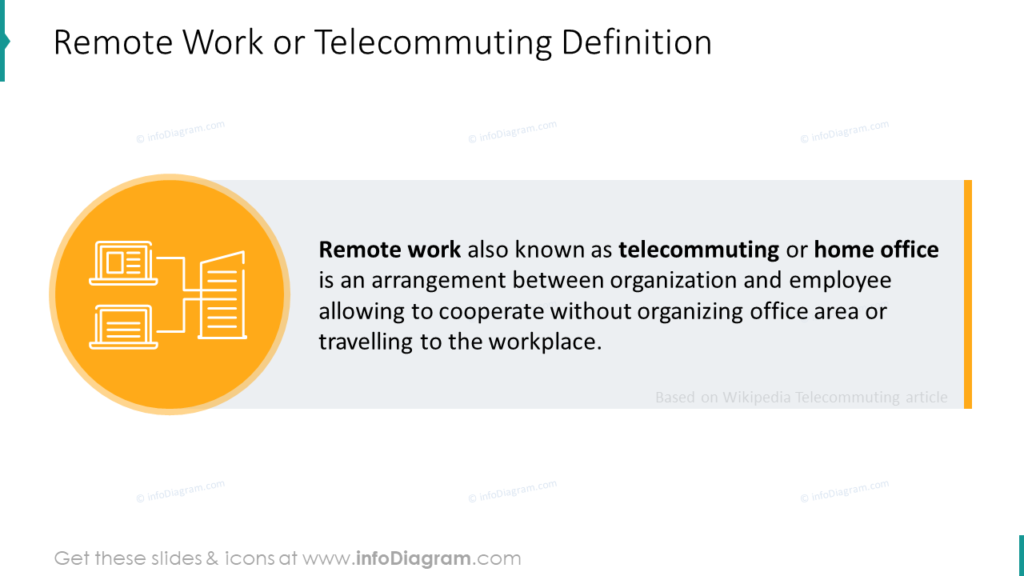 Your audience may be familiar with the concept of remote work, the term we utilize in the example. However, if your audience might not know any of the terms, phrases, or processes you'll be discussing it's important you provide them with details. Rather than providing the definition using black text on a white background, our designers have made shapes that add some visual interest. By adding a rectangle in a different color, you draw the eye immediately to the description. By adding the icon and colorful background, you help the viewer understand what the term represents. This strategy will work for any presentation but may be especially helpful for any technical definitions or explanations which might be necessary as part of a remote work presentation.
Explain What Tools are Necessary for Home Remote Work and Team Management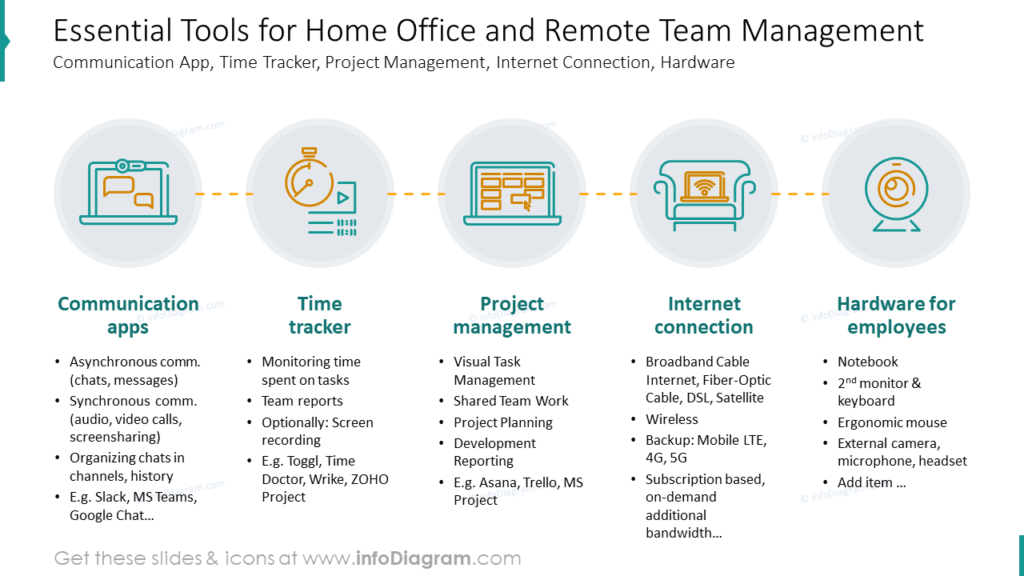 Perhaps you need to present the benefits of remote work. If you need to convince management, staff, investors, or others that working from home is preferable you might also find you need to share what tools are needed to make remote work a reality. In the example, the slide briefly describes the different tools required to work remotely. This slide template could easily be updated to explain what tools individual remote workers need to be successful, tips for setting up an ergonomic and productive home office space, or any number of topics related to remote work. The only limit is what you can imagine since you have the freedom to customize everything from the colors utilized in each graphic to the text and icons used in each step.
Turn a Discouraging Table Into an Eye-Catching Infographic while Talking about Remote Work Do's and Don'ts
Step-by-step guide on Illustraing Remote Work Do's and Don'ts Originally in PPT
Learn how you can easily turn your discouraging table visuals into eye-catching infographics with basic tools in PowerPoint.
Replace the table with free text boxes. Instead of the header row, use rounded rectangles.
Play a bit with the typography to highlight key messages and create visible headers.
Add icons – visualize text with an image.
Add a color code – yellow-ish for negative and green-ish for positive behaviors.
Building visually appealing slides is easy, it just takes some practice! If you're not ready to make your own slides, yet consider using ready-made graphics like ours which have been built by professional designers.
Resource: Remote Work Know-how Infographics
We designed the Remote Work Know-how Infographics set for those who need to give professional, cohesive presentations. Our designers know not everyone has design experience, software, or the know-how to create fresh ideas for their presentations. Check out the full collection here:
Remote Work Know-how PPT Infographics
Building beautiful slides and charts doesn't have to be difficult. You can easily articulate your plan or message without investing significant time into building your own visuals. Check out the full infographics template set and see how you might improve your future presentations.