Are you interviewing for a management position or do you need to present how you plan to accomplish a big goal? We designed the 30-60-90 day action plan PowerPoint graphics set to help you present your goals and so much more. See how eye-catching visuals can help your audience understand your plans and goals on simple slides.
How can you make your 30-60-90 day action plan memorable? Eye-catching graphics will help you illustrate points and explain your plans. Check out the complete 30-60-90 Days Action Plan PowerPoint graphics set by clicking here!
Use Vertical Columns for Your 30-60-90 Day Action Plan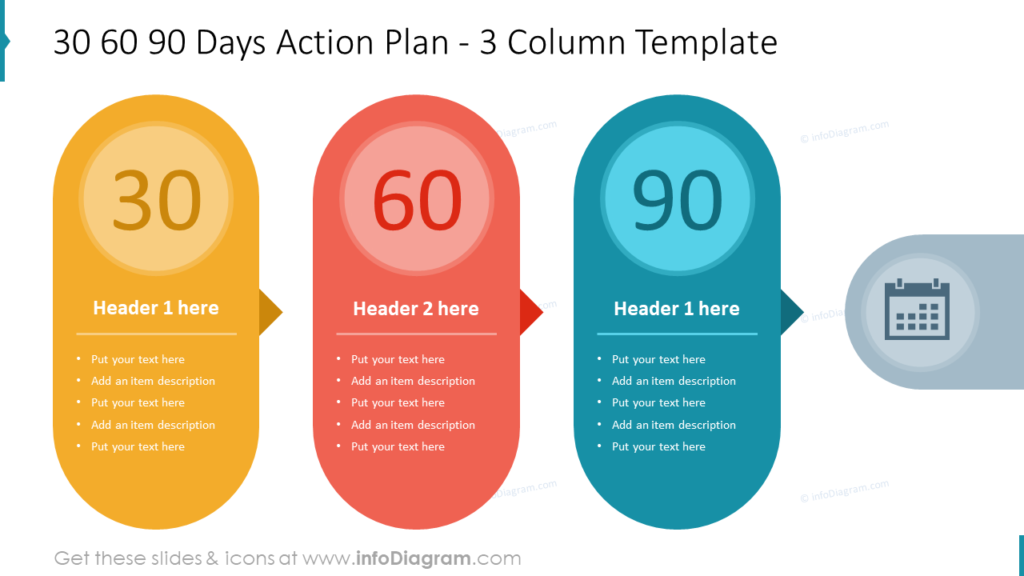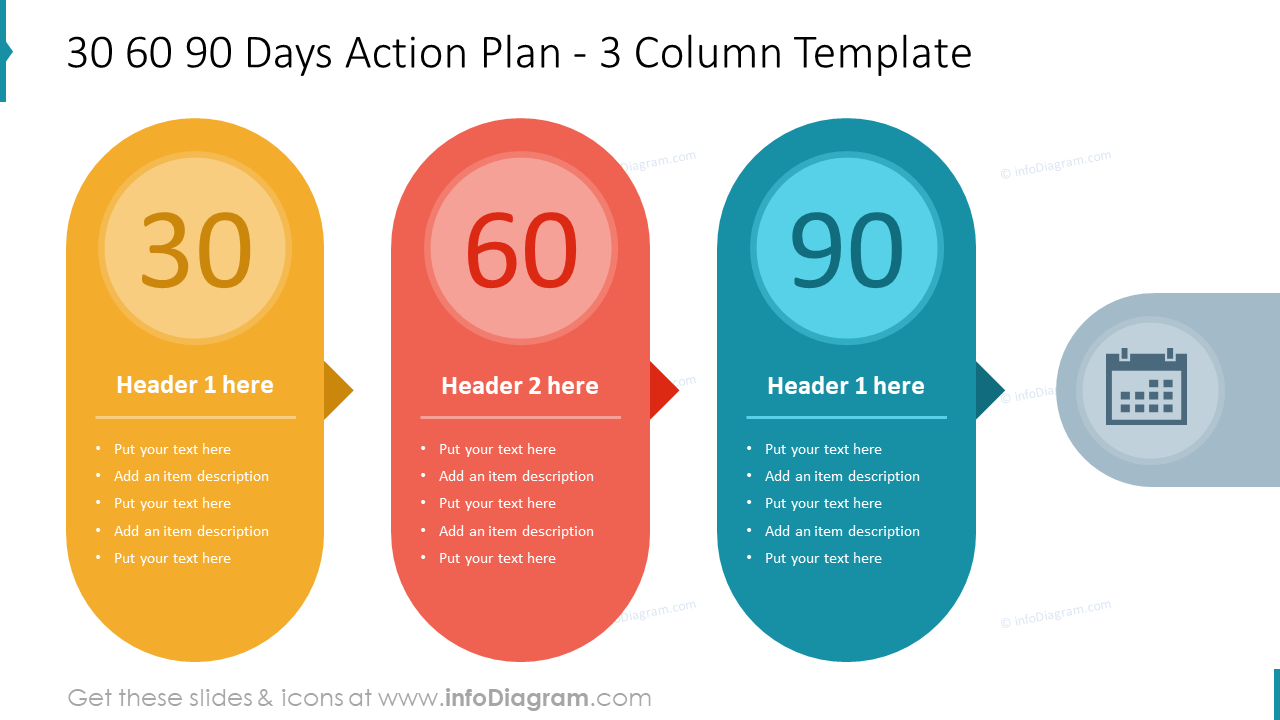 The 30-60-90 day action plan graphics on the example slide already look more engaging than a boring table or bulleted list slide. The color gradients in each shape make each one attention-grabbing. The colors as well as the headers and text can be customized so they speak directly to your audience about your plans. The bullets on your PowerPoint slides can serve as reminders for you of your talking points and reference points for your audience, but they are not meant to be overly wordy.
Present Your 30-60-90 Day Development Time Plan Creatively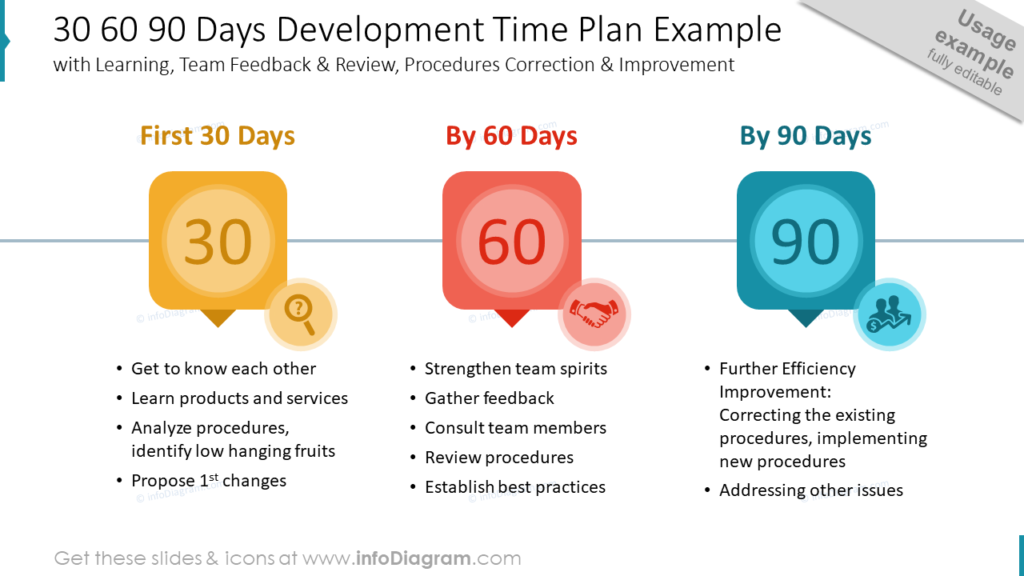 The example slide shows an example of ready 30-60-90 day action plan. The shapes are easy to customize with symbol icons in PPT. The easy MS Office tools allow you to modify the shapes and icons which represent the different phases of the plan. The text and colors used are simple to customize and can be adjusted to suit your audience, organization, or plans. The background line helps establish the timeline as a unified process rather than 3 separate items for better flow and ease of understanding.
Give Your 30-60-90 Day Action Plan Space With Multiple Slides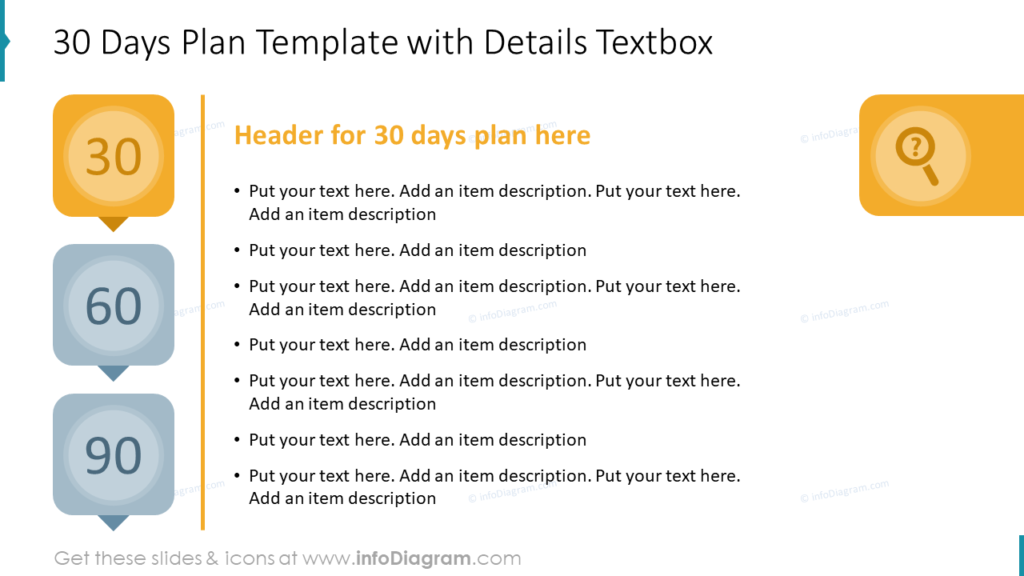 If you are concerned about not having sufficient space on one PowerPoint slide for your entire plan or you would like to utilize more white space in your presentation, consider splitting your plan into multiple slides. In the example the 30, 60, and 90 day stages are each given their own slide. This keeps each one from being too wordy or cluttered. In the example slide, the entire focus is the 30 day plan. The visual consistency across all 3 plan slides as well as each individual PPT slide's color scheme will help your presentation look more professional.
Guide on Designing a Creative 30-60-90 Day Plan PowerPoint Presentation
1. Prepare the tag shape diagram by combining 3 basic PowerPoint shapes.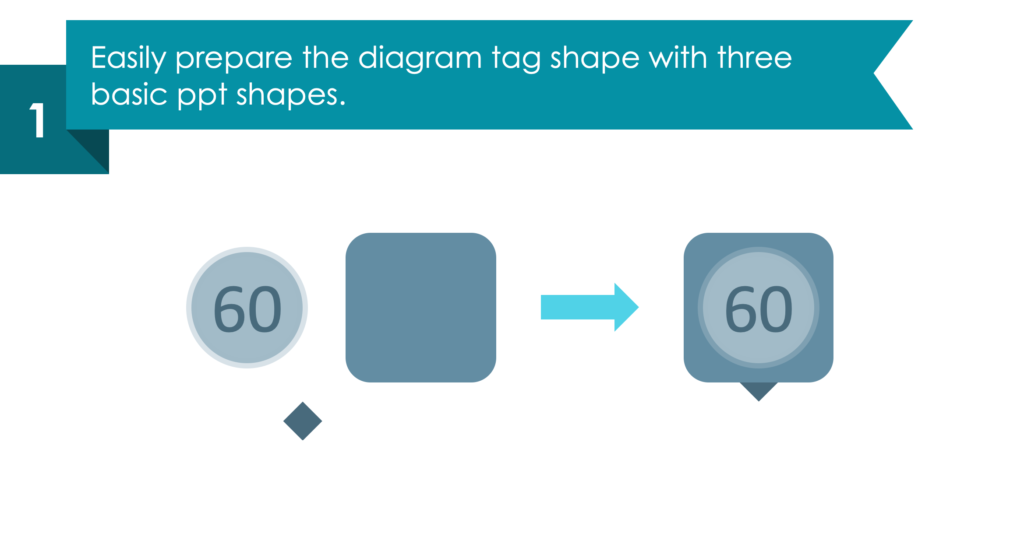 2. Distribute the content under the correct tags. Remember to always align bullet points to the left.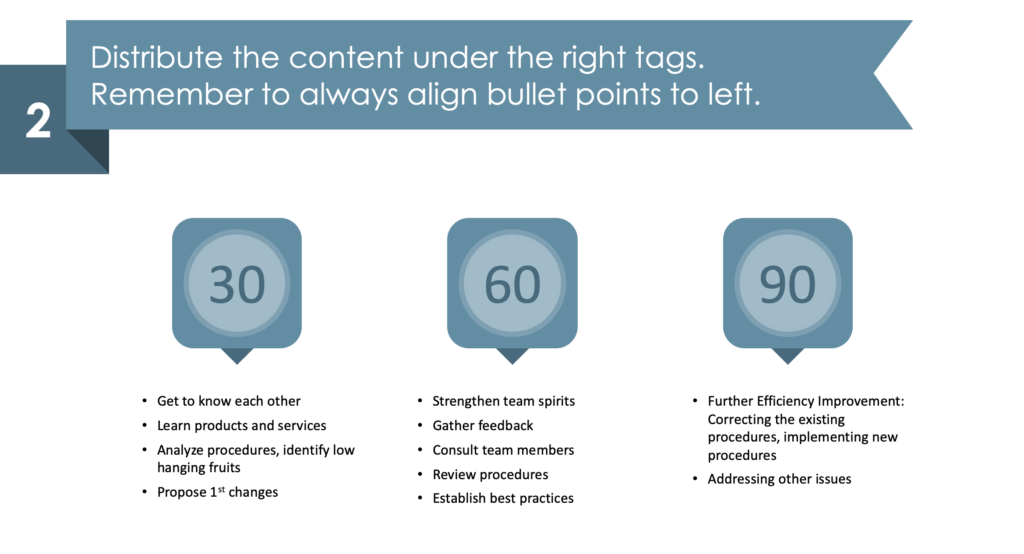 3. Add the headers and some joining elements, e.g. a background line.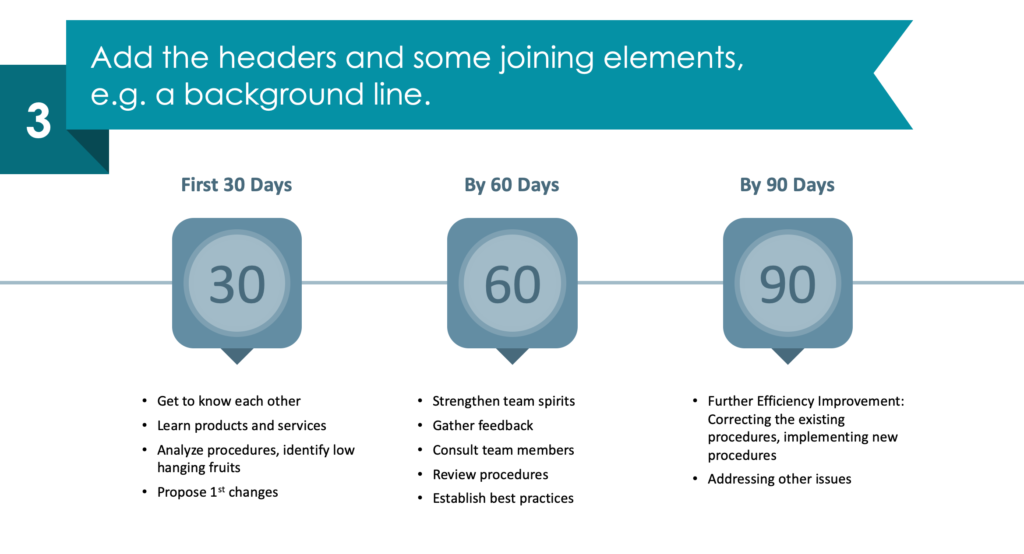 4. Add symbolic icons and a color code.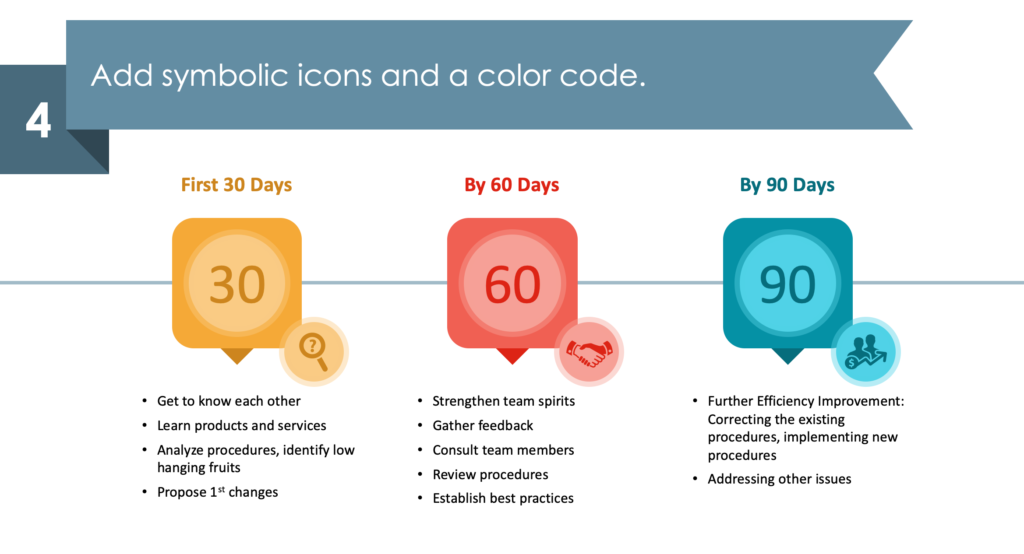 Resource: Visual 30-60-90 Day Action Plan PowerPoint Template
Using creative visuals will help you get through to your audience. Explain your plans and goals with attractive icons so you and your message stand out from the competition.
The minimalist 30-60-90 Day Action Plan graphics set will allow you to visualize improvements, growth, and more. Check out the full set to inspire your next presentation:
Visual 30-60-90 Days Action Plan PowerPoint Diagrams
For even more elegant visuals to customize your next presentation, consider the ultimate collection of infographic templates.