Are you or want to be an employer of choice? The key part of the HR strategy nowadays is employer branding that fits perfectly to the whole employee life-cycle. If you are looking for creative ideas on how to show employer branding processes and frameworks in a visually attractive format, check this blog for inspiration.
Specifically, you will find ideas on how to present:
Definition of Employer Branding
Process of Employee Life-Cycle
Employer Branding Framework
Roadmap of Employer Branding
Employee Value Proposition
All presented slide examples are available for download as editable PowerPoint template with Employer Branding HR Process diagrams. See details by clicking slide pictures.
Presenting Definition of Employer Branding
Employer branding can be defined as the process of promoting an organization, as the employer of choice to the desired target group. It plays a significant contribution in increasing the number of quality applicants, reducing the costs per recruitment, and differentiating from competitors.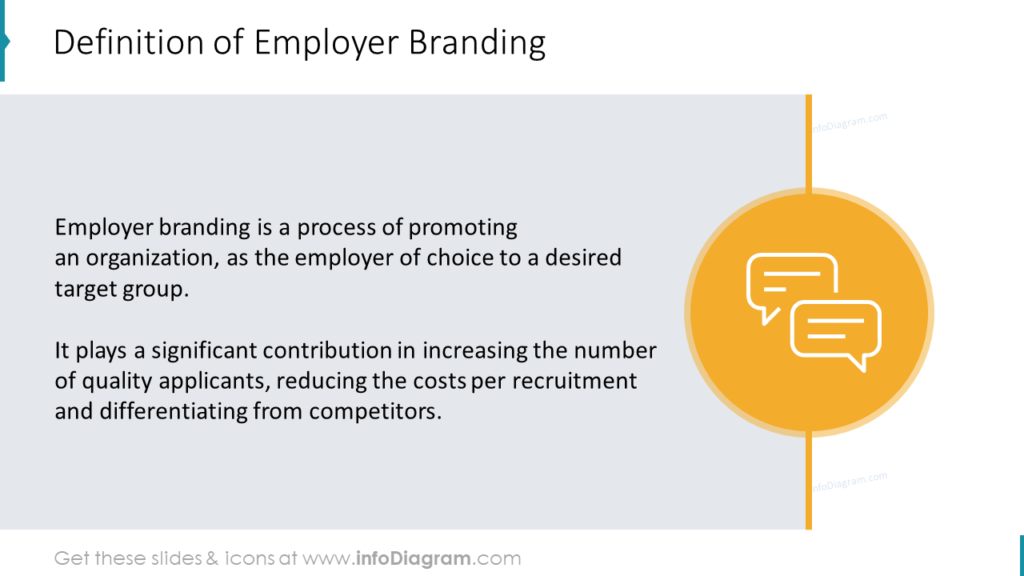 You can show that definition in a visual way on a slide like this one above. Adding there design elements such as an icon of citation and a grey text background will make the slide more attractive to look at.
Showing Overall Process of Employee Life-Cycle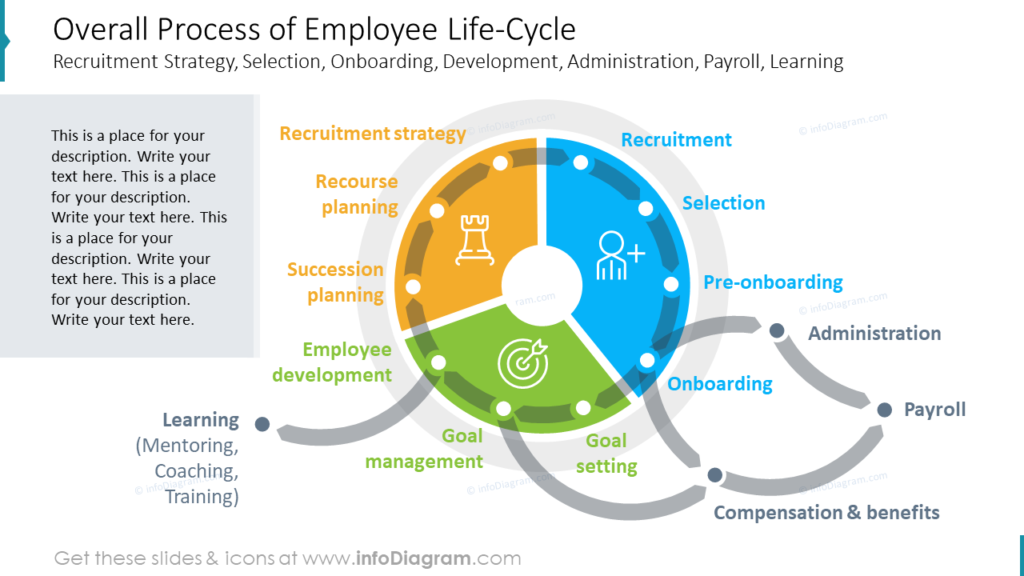 The process is usually composed of those stages
Recruitment and Selection
Onboarding
Goal setting and goal management
Employee development
Succession and recourse planning
Recruitment Strategy
In addition, you have some side stages such as administration, payroll, compensation, and benefits. You can show them all together by a cycle diagram on one slide like in the example.
Icons and color coding for each section are also helpful ways to create a visual association for a better understanding of your presentation.
You can also divide into more slides, each focusing on one segment: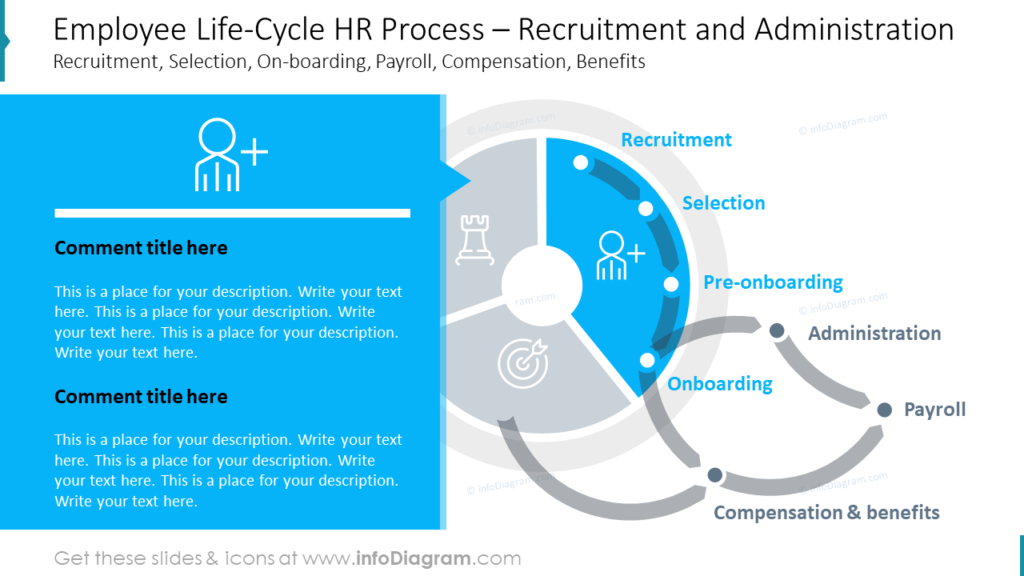 Notice how you can use color to highlight the part you talk about.
Showing Areas of Employer Branding Framework by Diagram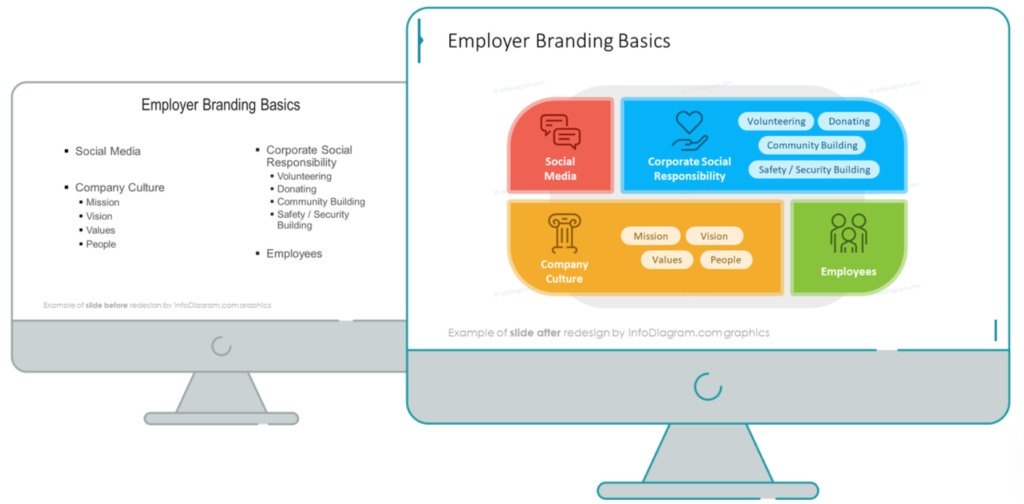 If you want to present that a framework consists of several areas, you can do it by visual diagram instead of a plain bullet point list.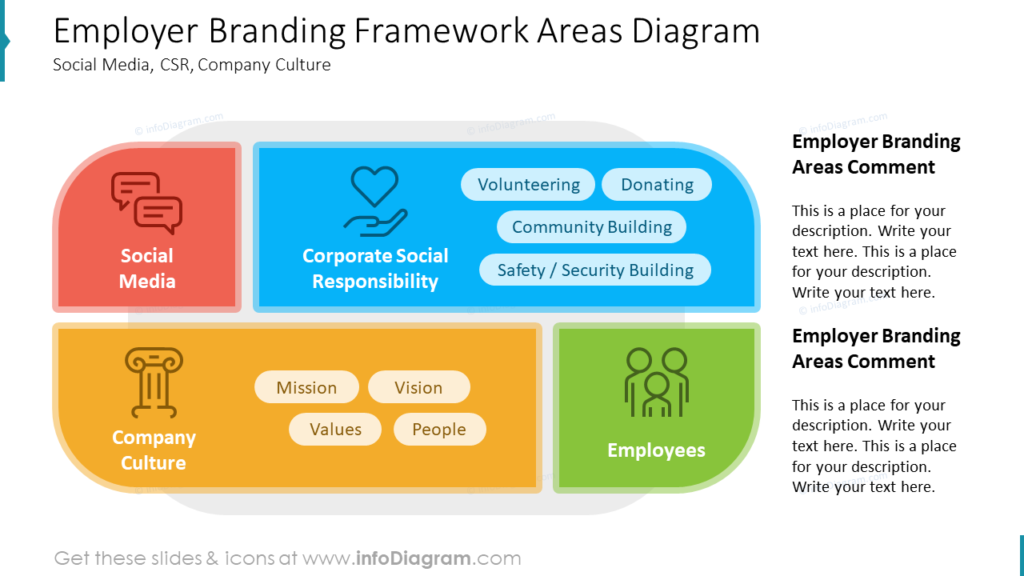 A good idea is to mark each area with a distinct color and theme-related icon, for example, a hand with hearth for CSR, people symbol for employees, and antic column for company culture.
Presenting Employer Branding Roadmap Process
The process of employer branding usually contains some form of those steps:
HR Audit
Developing an Employee Value Proposition
Testing and Approval
Alignment and Communication
Employer Brand Management and KPI Reporting
To illustrate this process you can use a simple flowchart diagram. It can have a linear form of horizontal steps like on slide example
Eventually, if you want to include detailed information about each main step, you can create more shapes inside those 5 areas. Here you will need more space, therefore you can use such a curved roadmap diagram:
Notice that using a dark background on the slides will make this part of a presentation stand out.
Illustration of Employee Value Proposition List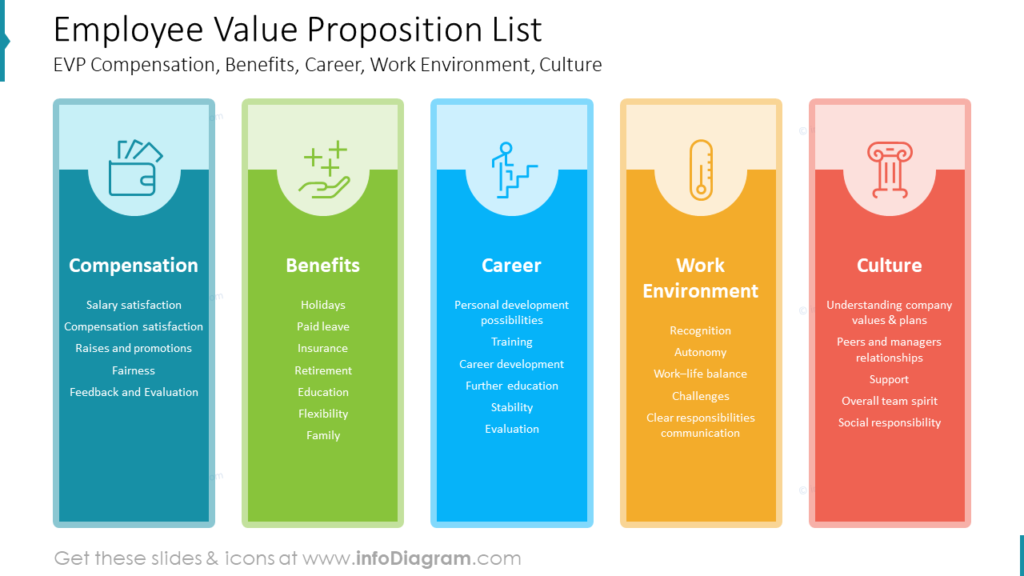 The values you can propose to an employee can contain several sections:
Compensation – salary satisfaction, raises and promotions
Benefits – paid leave, insurance, flexibility, retirement
Career related issues – personal development possibilities, education or stability
Work environment – recognition and autonomy, work-life balance
Culture – understanding company values and plans, peers and managers relationships, team spirit and social responsibility
It's better to present such a list not as a set of bullets, but by a more graphical layout. For example, we created 5 columns for each section.
You can add an associated symbol to every topic column e.g. purse for compensation and stairs for a career. If you present live, such columns can be nicely animated to appear one by one.
Those were 5 ideas on how to present employer branding structures using diagrams rather than blocks of text.
I hope you found visual inspiration in those slide examples.
Guide on how to visualize employer branding process
1. Divide your content into sections. Replace bullet points with simple shapes.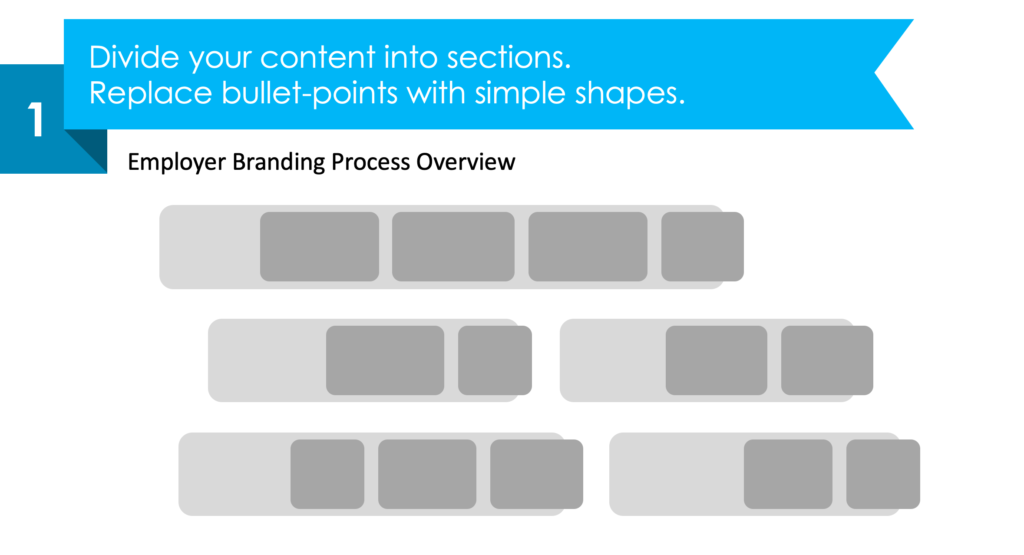 2. Use colors to make a diagram visually attractive.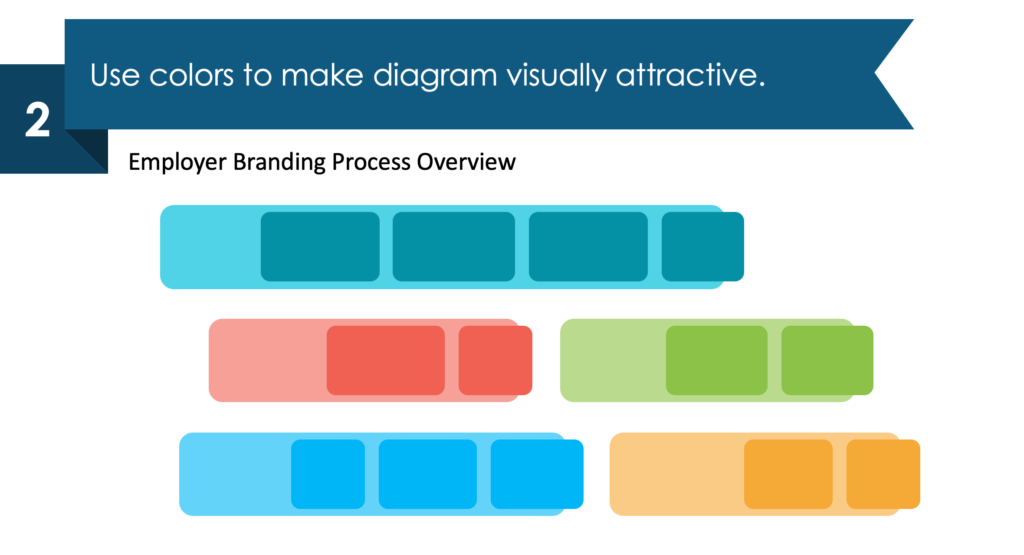 3. Fill shapes with content.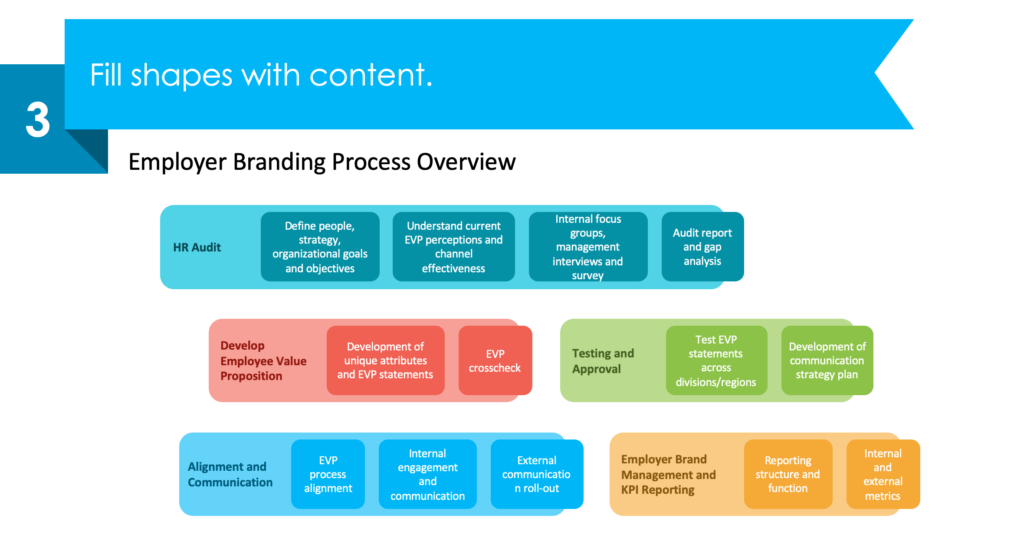 4. Enrich your diagram with light design elements such as stroke, icons, arrows.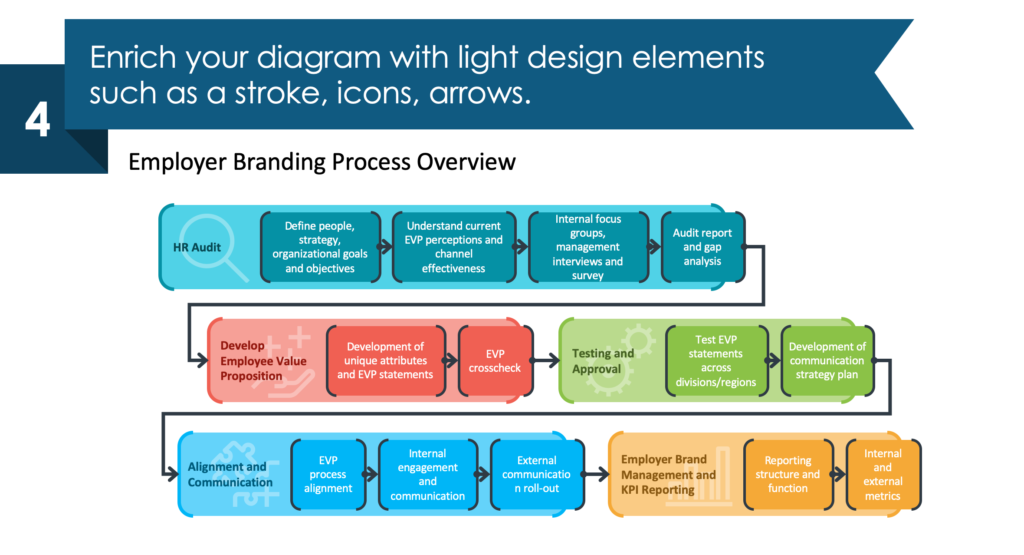 See the guide and other examples on our YouTube channel: How to Illustrate Employer Branding Concepts Effectively in PowerPoint.
Resource: HR Template on Employer Branding essentials
To help you out with presenting HR topics we have designed a PowerPoint template with diagrams and icons for presenting Employer branding structures and processes.
You can get a PowerPoint source with editable graphics and commercial use license from infoDiagram library:
Employer Branding HR Process PPT Diagrams
Should you need to extend a set of diagrams or icons, check also this universal set of modern outline style diagrams.