Need to present your e-commerce market characteristics and your online store performance? With e-retail sales growing at a speedy rate you might need to present your e-commerce analysis, challenges, performance, or metrics. Using appealing visuals for describing topics connected with online business makes the information clear in the mind of the audience.
Below we present several ideas for visual slides covering e-commerce models, analysis methods, and concepts, including:
e-commerce types by business model
market characteristics dashboard
reasons for shopping online
customer journey process map
purchase funnel
payment and delivery methods
monthly sales analysis
We hope our examples will help you save time on finding the most suitable icon or diagram and create attractive readable slides.
All slide examples below can be downloaded as an editable source. See the E-commerce Analysis & Management graphics collection for PowerPoint.
What is an E-commerce data-driven strategy?
E-commerce is a business model that lets firms and individuals buy and sell products or services over the internet. Data powers most business operations and serves as a source of valuable insights into shoppers' behavior.
By collecting, processing, and analyzing data generated by e-com businesses, it's possible to predict future trends, adapt to customer expectations, boost online shopping experience, raise conversion, improve sales and marketing performance.
It is a good idea to start a presentation by clarifying the e-commerce definition and types. Below you can see an example of an e-commerce types diagram, including B2B, B2C, C2B, C2C online shopping categories with a focus on the B2C type.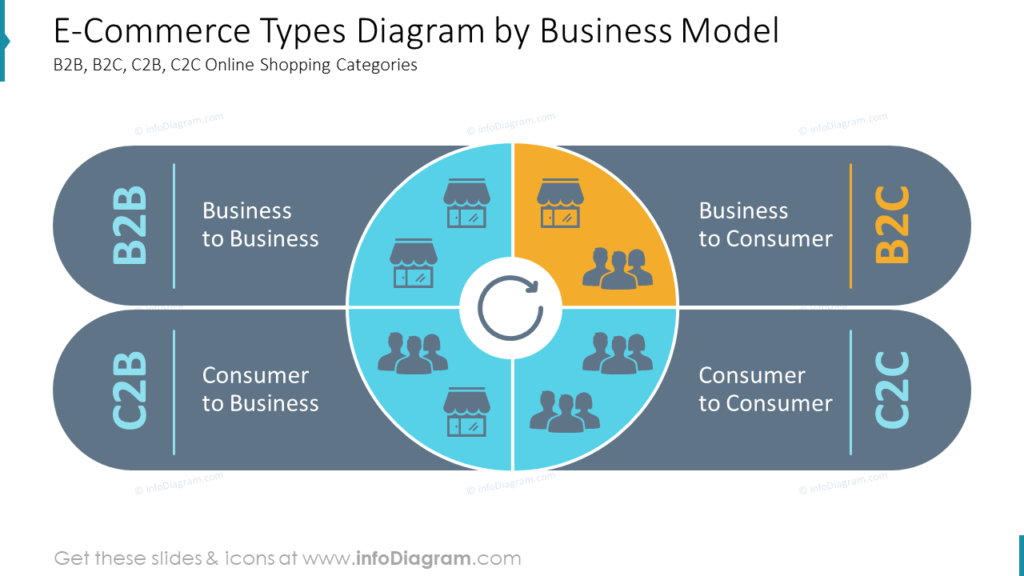 Illustrate market characteristics, demographics and competitors
Such a dashboard illustrating all essential demographic parameters of your e-commerce strategy on one slide will help to see the big picture and analyze the situation better. You can list the common indicators such as users split by:
Sex
Age
Education
Place of Living
Income per Household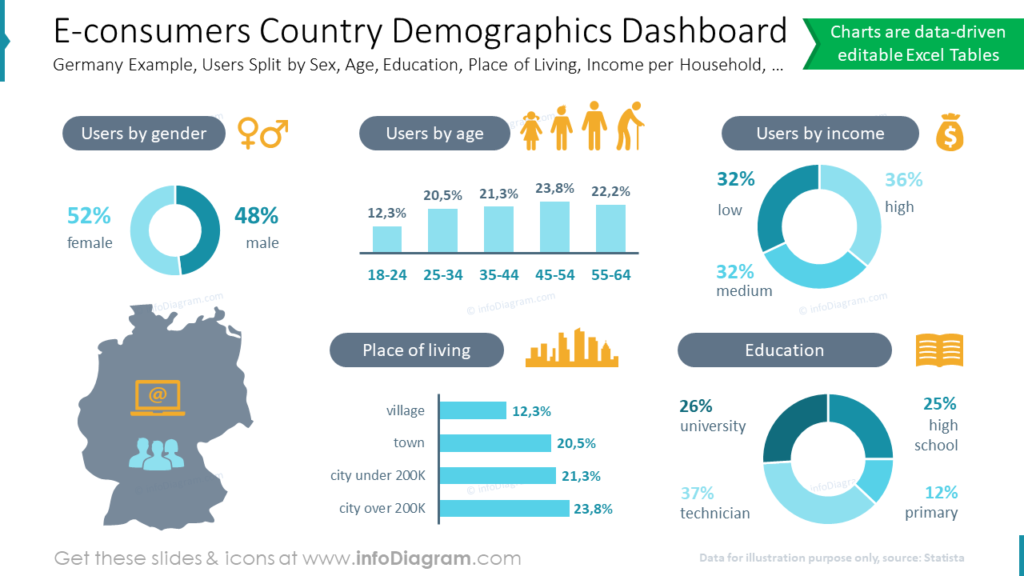 To make the data easy to read, we used various charts to represent each parameter: vertical and horizontal bar graphs for age and place of living, and donut charts for gender income and education.
Describe main reasons for e-shopping in your e-commerce analysis presentation
We advise going beyond bullet-point lists and trying out creative ways of structuring the data. On the example slide, you can see the list which sums up reasons for shopping online: Convenience, Price, Convenience, Products Range, Customers' Reviews, Shipping, Time Saving.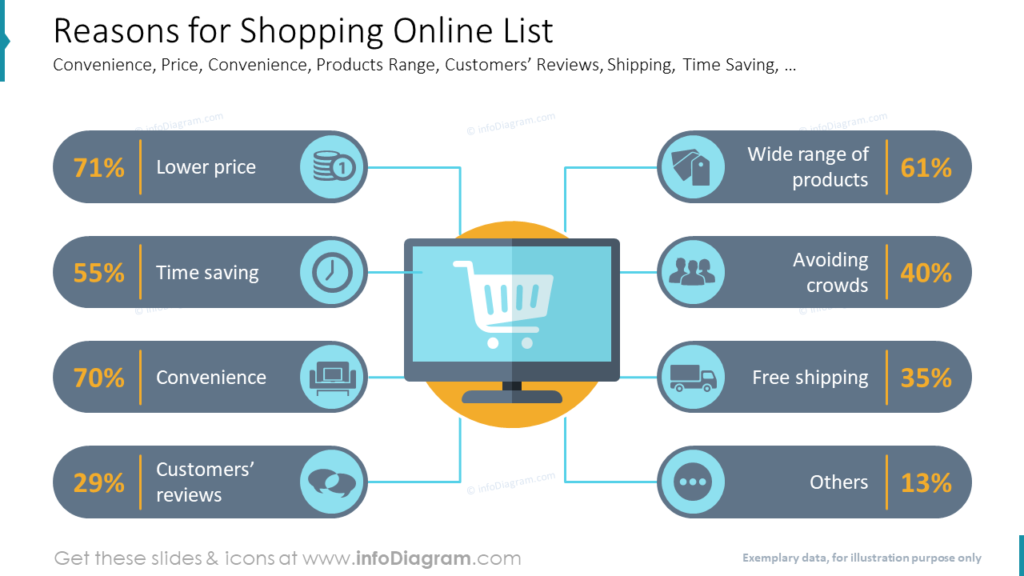 Each point is shown with an illustrative icon and percentage.
Outline customer journey process map
Present the customer journey using such roadmap graphics, divided into two main parts: purchase and post-purchase. You can include common steps such as:
Site Visit
Product View
Add to Cart
Checkout
Purchase
Order Tracking
Delivery
Return (optional)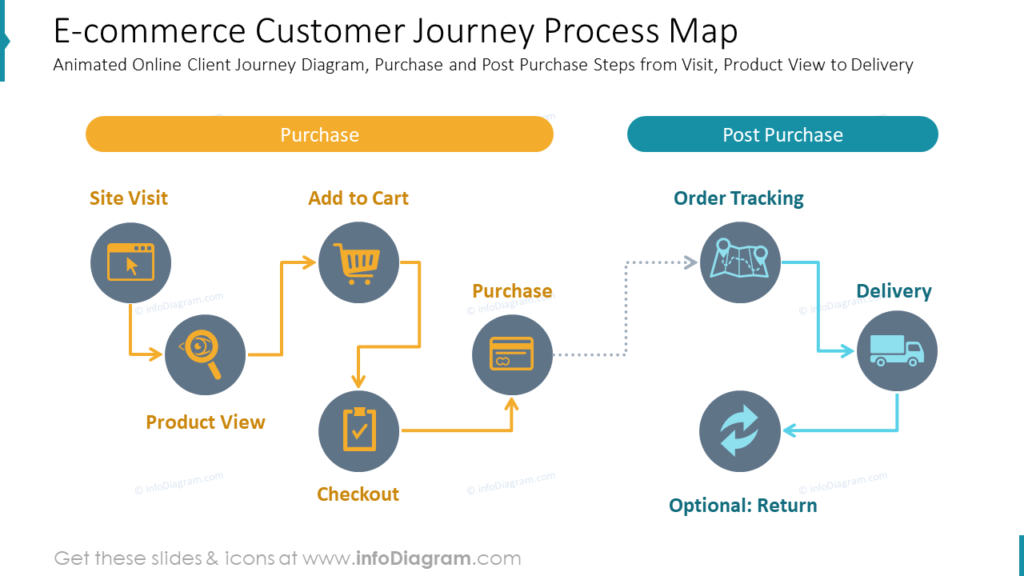 We used color-coding to make the stages more distinguishable and symbols to make the slide more attractive visually.
If you want to analyze the process deeper and to find solutions with your sales team on how to improve it, you can use such a funnel graphic demonstrating the percentage of users coming through each stage: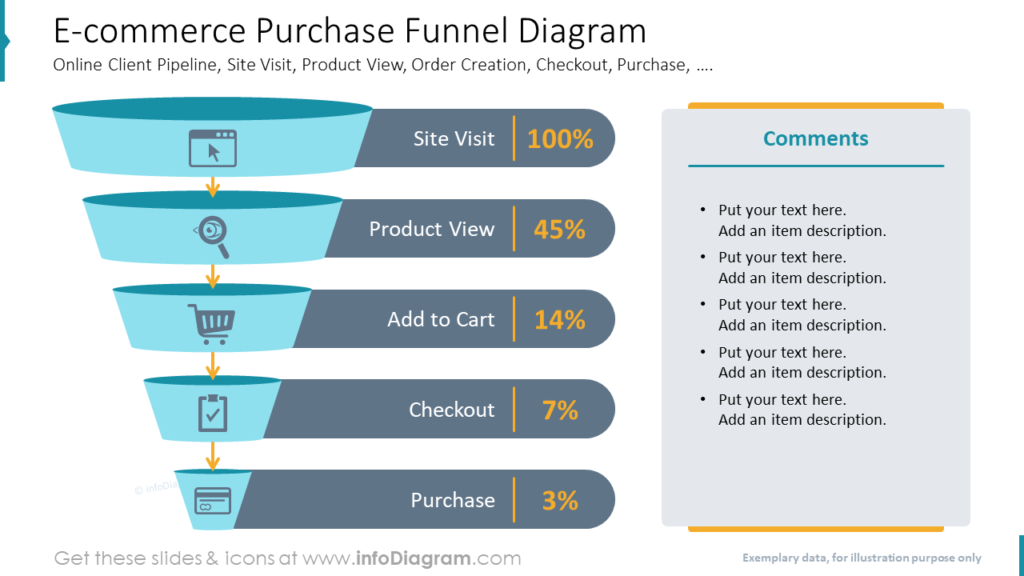 Visualize preferred payment and delivery methods
Illustrate the payment methods customers prefer most by using a donut chart with a description beside it.
On the example slide, you can see the summary of the following online transactions types: PayPal, Credit Card, Bank Transfer, Cash on Delivery, and Others.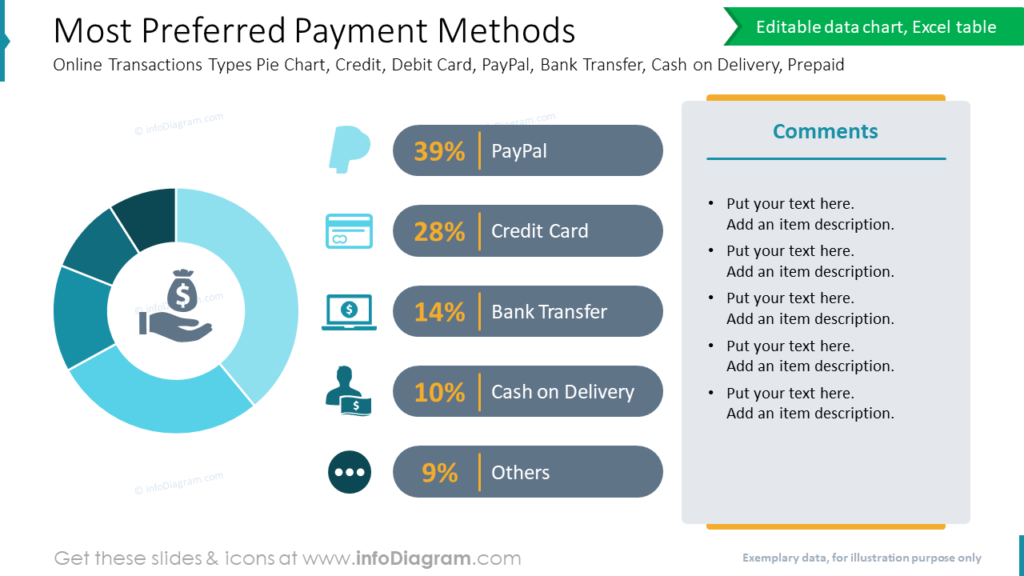 To present preferred delivery methods, you can use the structure data chart and KPI values dashboard to make the numbers more visible. The common options include Home Delivery by post or courier, Click & Collect, Shop Pick-up Point.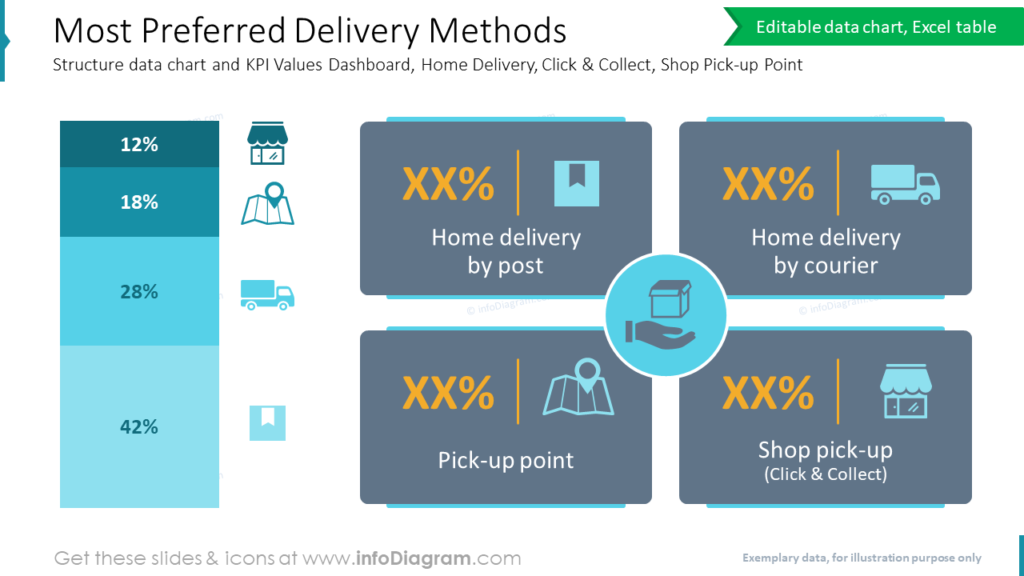 Show the monthly sales e-commerce analysis
The trend line chart is one of the best visual methods for presenting and comparing tendencies. On the slide below you can see the comparison of Net Revenue Value vs. Orders Entry Value over time.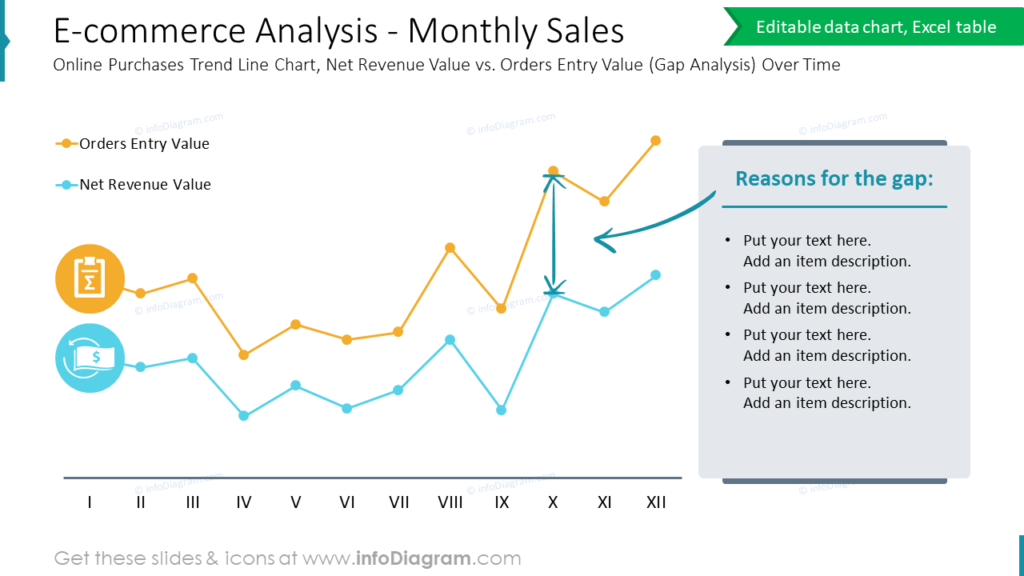 If you want to focus more on evaluating the current results and the necessary improvement efforts to close the gap and reach the desired performance, check this blog for inspiration and gap analysis illustration examples.
Step-by-step instruction on how to redesign product return methods list
Here's an example of a raw bullet-point slide that lists online purchase product return options and the final diagram version: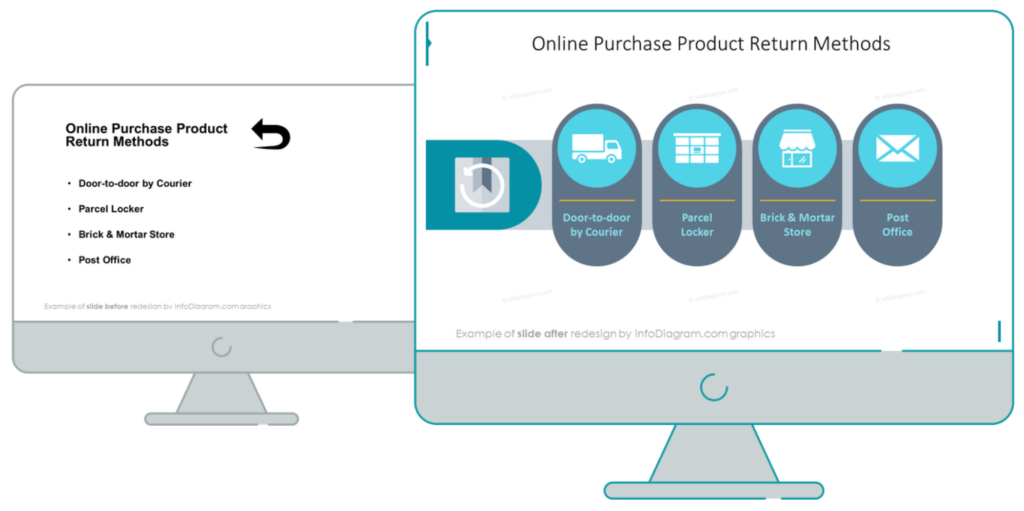 See how you can turn such a default list into an attractive diagram in a few steps.
Check the guide and other examples on our YouTube channel: How to Present E-commerce Categories Professionally in PowerPoint:
If you prefer slowlier pace, here are the steps described one by one.
1. Change text bullet points to neat diagram
Replace text block with a more interesting visual form. Simple PowerPoint shapes will do, e.g. use the rounded rectangles. Add the same amount of those shapes as there are points on your bullet list, try column layout.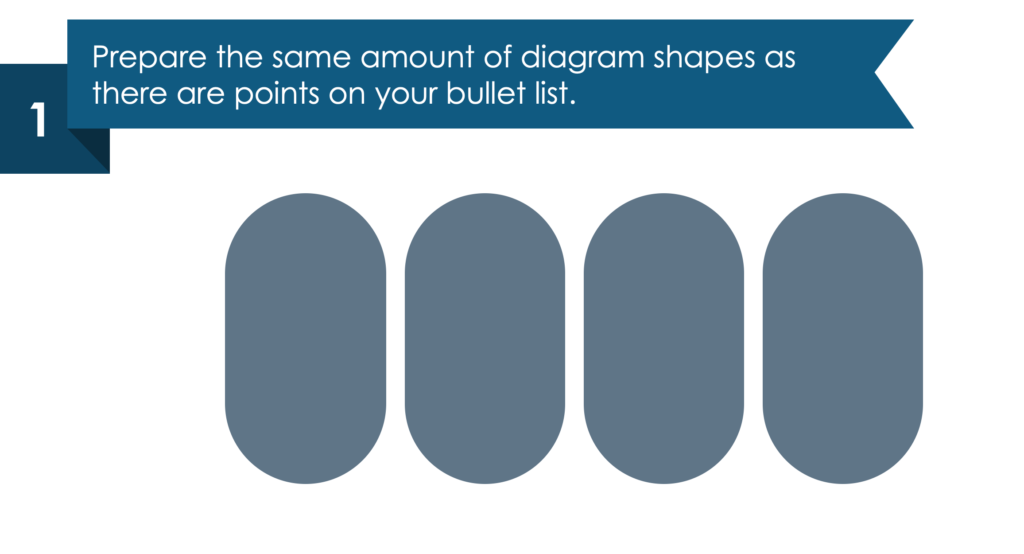 2. Paste your copy to the diagram shapes.
Remember to keep the color contrast between texts and shapes.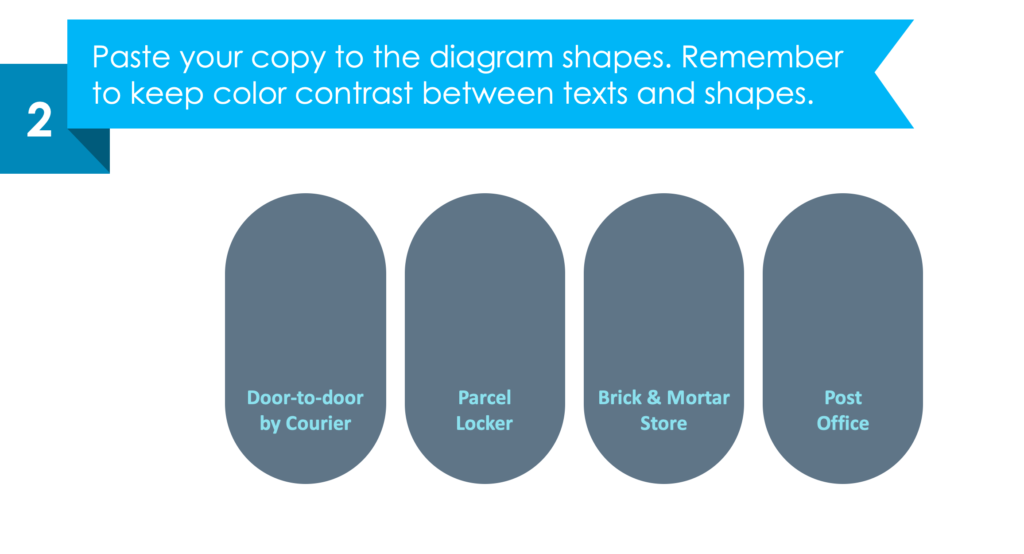 3. Connect the diagram elements with a background shape and add design elements.
We added yellow line shapes to separate the copy from icons.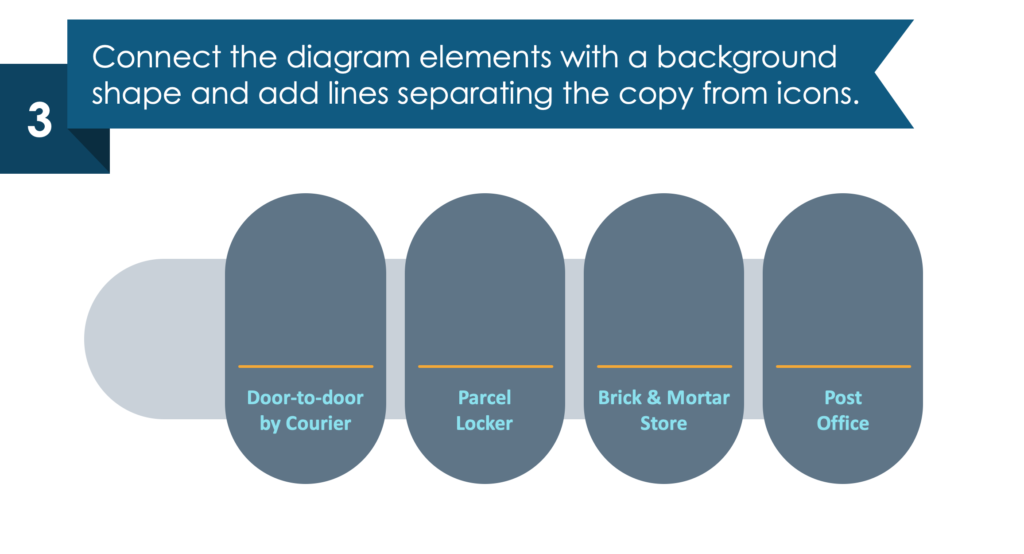 4. Add icons to symbolize each point and the process.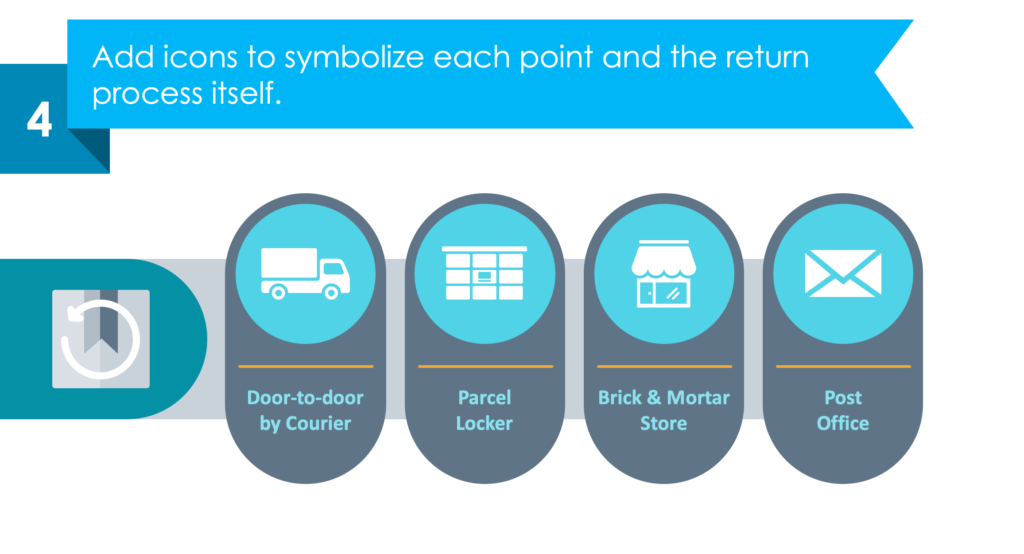 Download our slide redesign guide here: How to Creatively Present E-Commerce Categories (a PDF document).
Resource: E-commerce Analysis & Management Presentation
The diagrams and graphics above are a part of our e-commerce slides collection. It contains templates to illustrate e-commerce concepts and models, including e-com market characteristics dashboard, competitors comparison template, customer journey process map, KPI analysis template, online store traffic's sources data-driven chart, sales comparison slide templates, and more. Check the full deck here:
E-commerce Analysis & Strategy PPT Presentation
If you are looking for more general diagrams and charts, consider the ultimate collection of infographic templates.