Do you need to present your business key information in a short overview? A concise way to do that is by using the company snapshot one-pager leaflet.
You can use the aesthetic and eye-catching PowerPoint templates to present your company's key facts in front of your client in a better way. We will discuss points regarding how creating a company snapshot one-pager leaflet can benefit you, but before, let's understand what it is.
What is a Company Snapshot One Pager Presentation?
---
The snapshot presents one topic, like key information about the company, products, projects, or ideas, in a one-page format. Such material can be created in various applications, including PowerPoint.
One sheet format is popular because it offers a quick glance at what the company is doing, its mission, what are the key facts, financial profile, and contact information.
Want to download an editable Company Snapshot One Pager Leaflet for PowerPoint? Find out more about it by clicking slide pictures.
It is more feasible to send your prospects and other clients a short snapshot rather than giving an hour-long presentation. It is concise and much more engaging than a long series of slides.
Elements to Include in your One-pager
Although the one-pager has limited space, there are a few things you can include to give your potential clients complete insight into your company.
Brand Name and Logo
Including your company name and logo when creating a company snapshot one-pager leaflet is a no-brainer.
Company's Vision
Another usual component of your leaflet can be the company's vision and mission statement. It will give your customers a better idea about what your company is and how you can help them.
Call-to-Action
Do you want clients to utilize your services or buy your products? If yes, then address their pain points in your leaflet and how your product or service can solve this problem. Leave a CTA line so your readers call you when they see the solution to their problems in your leaflet.
See several examples of how a one-pager template can help you organize information and present your ideas in a good-looking professional way.
Use a structured layout to show the big picture
To distinguish each section on the company snapshot, a good practice is to use headers and illustrate each one with icons. Remember that consistency is the key, so try choosing symbols in the same style and color.
For easy reading, the sections should be organized in a certain grid system and there should be visible space between them.
In the picture below you can see how we used a two-column layout and headers associated with outline icons. icons are light and elegant and give an aesthetic look to the slide.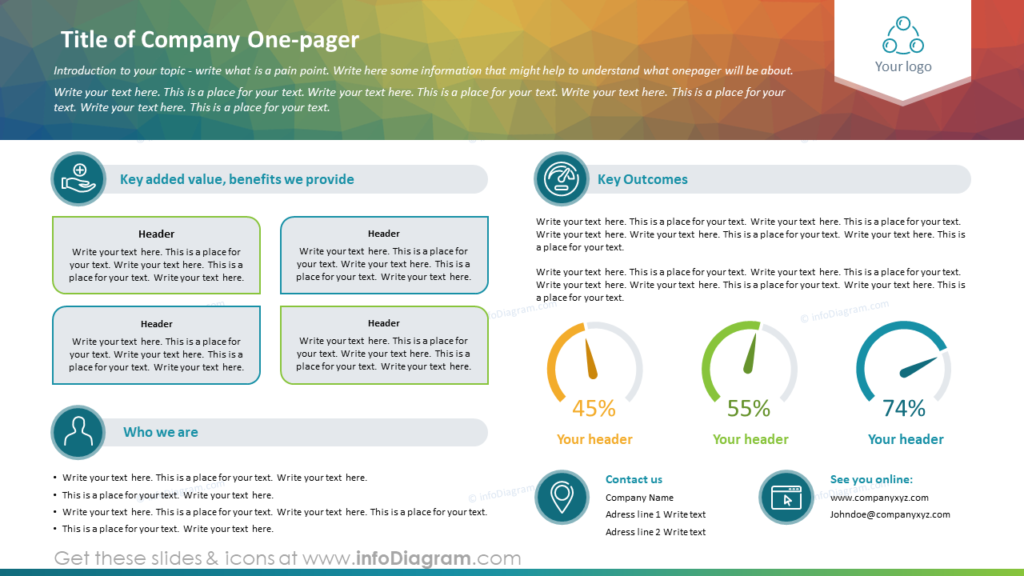 Focus attention on key products and financial KPIs
Want to highlight numbers and key products? This company snapshot includes all main financial indexes: revenue, employees, and patents. Including a map on your slide is useful when you want to talk more about the distribution of your product or conquering new markets for example.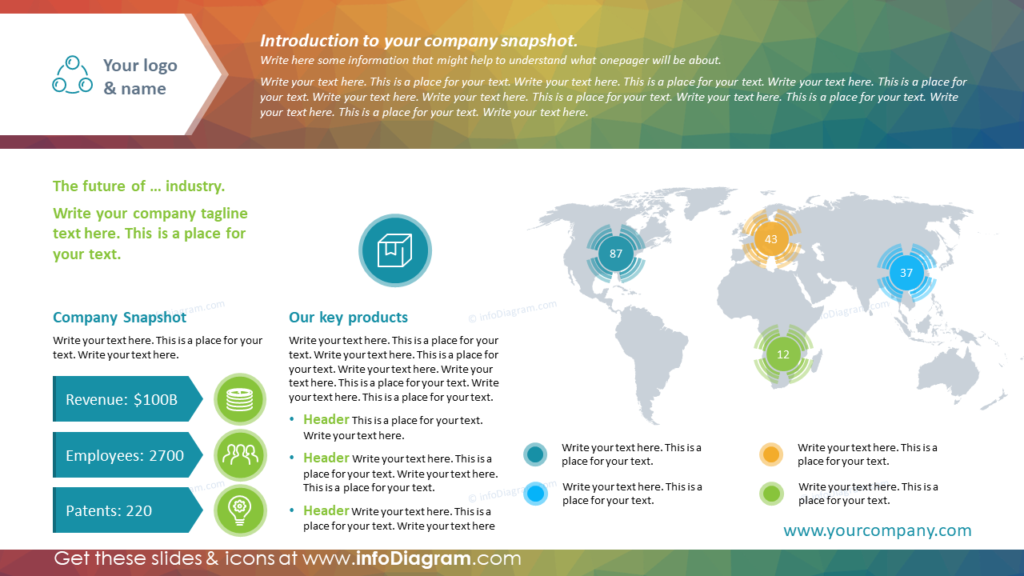 Highlight results and benefits by design elements
Here's an example of how you can make your slide readable even when you need to include a large amount of text on it. By using simple design elements, like darker background, headers, icons, and pictures, you can prepare an easy-to-read slide that will help you make an impression on your audience.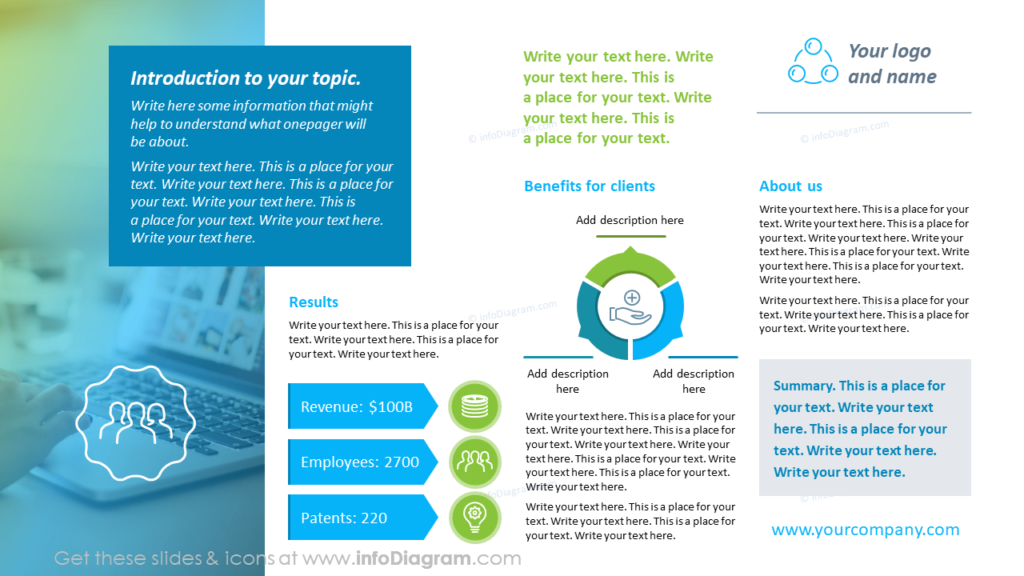 Tips to enhance your Company Snapshot One-pager using Infographics
Human nature will pay more attention to things that are visually enticing and engaging. The same is the case with your one-pager, which you can enhance using infographics. If it is dull, your reader will not pay attention to the leaflet. Here are a few tips that you can use:
Try to avoid large text blocks, and if you need to include much text, use headers, and illustrative icons
Use icons to emphasize important points, such as company values and benefits
Give information regarding your performance by presenting the KPIs in a much more effective manner using graphs and charts
Correctly align your entire structure and have a clear margin so your readers can easily follow the information on the company snapshot or leaflet
Use graphic concepts to present numbers engagingly.
Wondering how you can turn a simple company one-pager into an appealing one? Check our instructions below.
Guide on how to enrich company snapshot one-pager with an appealing infographic
Here's an example of redesigning a regular snapshot of a company, which includes a lot of text and is hard to read: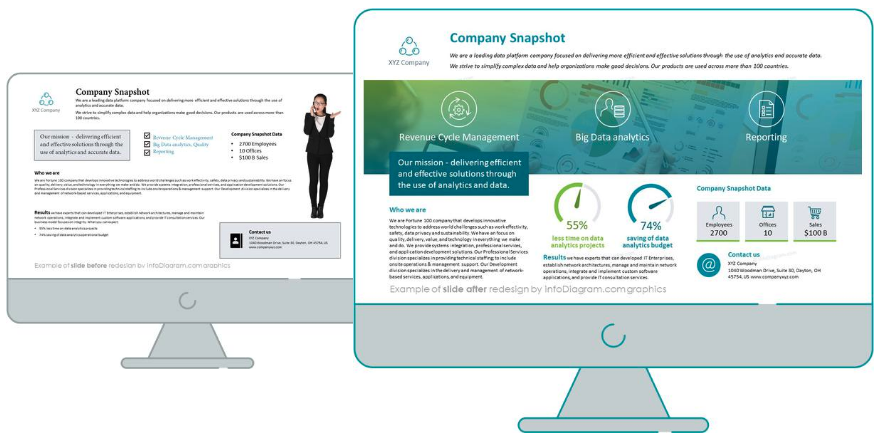 See how simple design shapes, symbols, and a few tricks can help you redesign the default layout into infographics and save you time.
1. Use icons to emphasize company values
Symbols can help you highlight the key aspects of your business's vision, such as revenue cycle management, big data analytics, and reporting.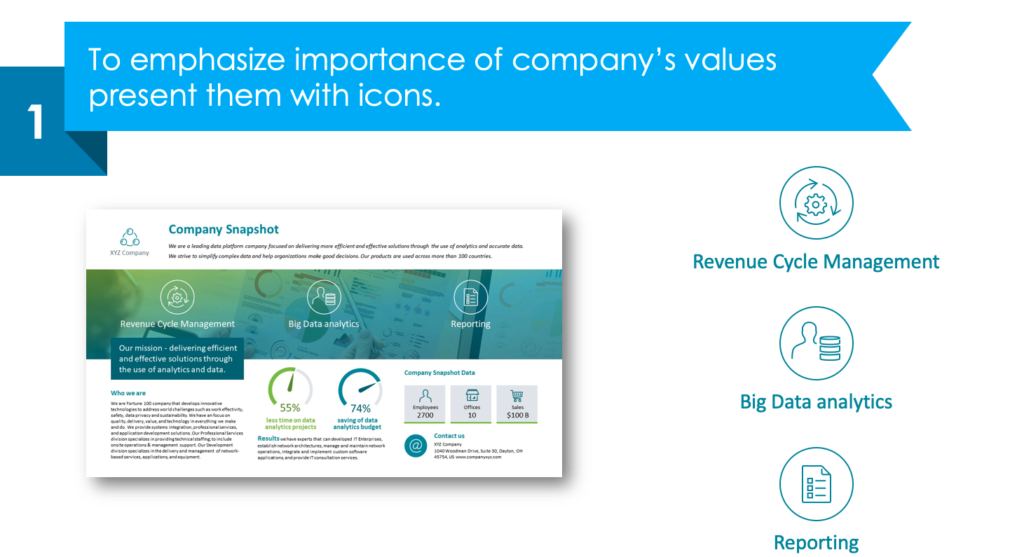 2. Use gauges to show key indicators
Gauge graphics can help illustrate the key indicators and it will be easier for your audience to have a better insight into them.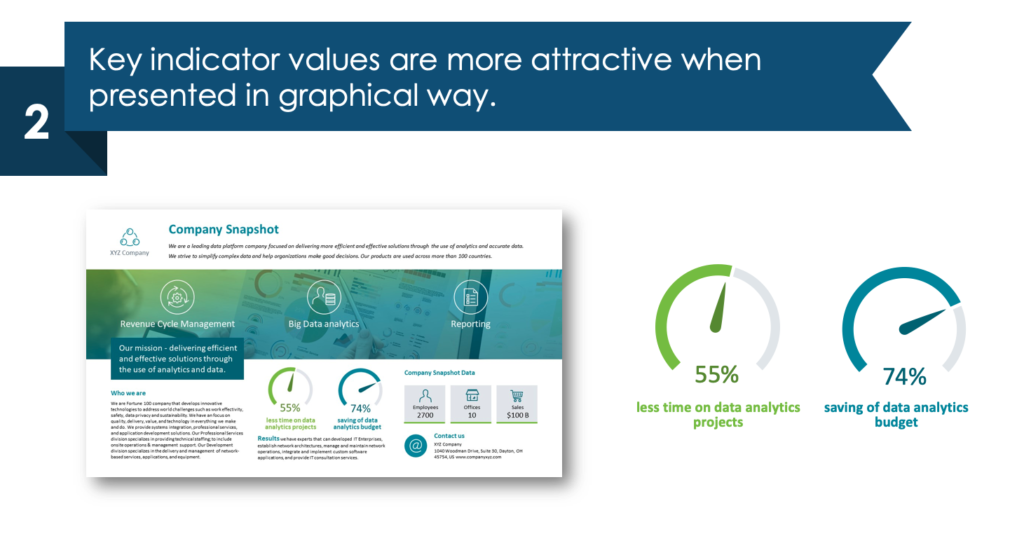 3. Visualize numbers with a simple graphic concept
This way people will definitely pay more attention to the data you are presenting.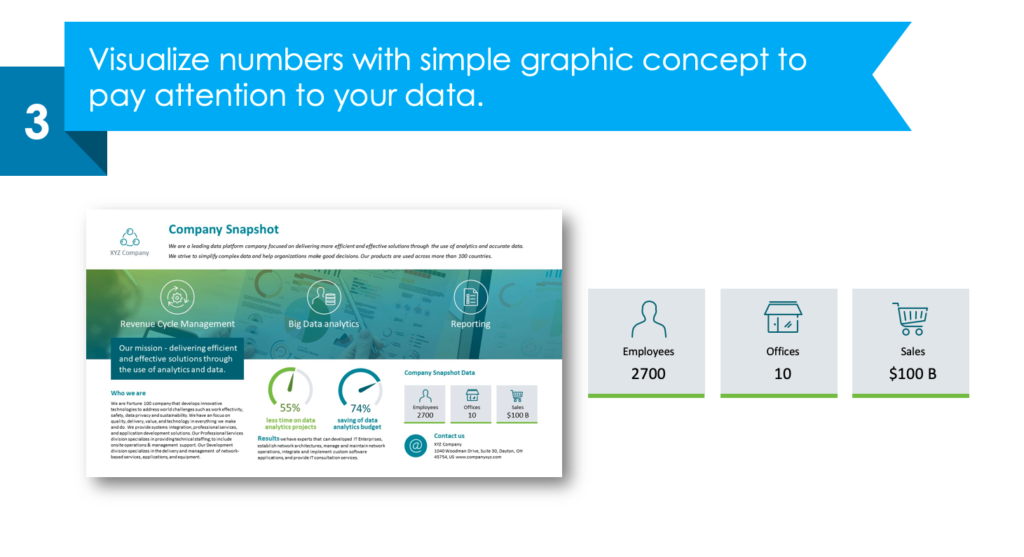 4. Ensure alignment and margins
Don't be afraid to go edge to edge, use all the available space.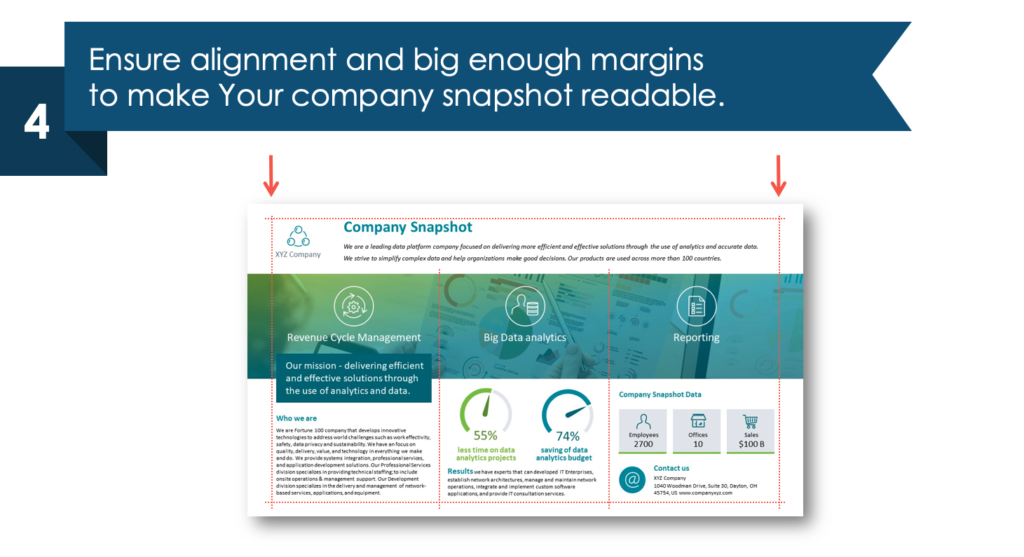 Check the guide and other examples on our YouTube channel:
These are some ways to make your company's one-pager leaflets more engaging through PowerPoint. You can leverage it in multiple ways to explain your business in a better and more appealing manner.
Wrapping Up
Using new techniques to engage your clients can be beneficial for you. So, if you still are not leveraging the company snapshot one-pager leaflet, now is the time to take advantage of it and get a competitive edge over others.
By following the tips mentioned in this article, you can easily present your data in a one-pager, while ensuring it looks appealing. It will give your prospects an engaging and informative piece.
Resource: Company Snapshot One Pager Template for PowerPoint
The one-pager Leaflet in this blog is a part of our one-pager leaflet collection. It contains slide templates to present your business as a one-page overview, including editable items such as text, shapes, data values of data-driven Excel charts, colors of the palette, and template background. Check the full deck here:
Company Snapshot One Pager PPT Leaflet
If you need to extend a set of diagrams or icons, check also this universal set of elegant outline style diagrams.