Do you have learning and education presentations coming soon? Presenting new information to people unfamiliar with that area can be quite challenging. Apart from the soft skills required, it's important how you will send the desired message while keeping your audience curious. A good way is to use various visual forms to support your message.
We have put together several PowerPoint templates, for learning and education purposes with a clean-looking design for better engagement. If you are working as a teacher, public speaker, HR, or skills trainer, you may find the decks mentioned in this blog useful.
You can get all the graphics presented here. Check out our Learning & Education PPT collection.
In this blog, you will find our recommended PowerPoint templates for learning and education presentations such as:
Emotions and feelings icons
Instructional Design Models (ADDIE, SAM Diagrams)
Presentation skills training toolbox
Feedback training visuals toolbox
Motivation training toolbox, incl. Maslow hierarchy
Training services offer
The templates contain diagrams and representative icons to save time and help your audience grasp the presented information easier. All of the elements are editable, so you can adjust them to your current needs.
Emotions and Feelings Icons
Different types of situations can evoke different emotions in humans. Whether this is in personal life, everyday situations, or the workplace, emotions are part of us, and therefore, we must aim to understand them better.
Our presentation graphic set of emotions and feelings symbols can come in handy for HR officers, psychologists, or anyone who needs to explain human behavior generally. You can find a whole deck expressing different types of emotions such as fear, shame, joy, embarrassment, ecstasy, stress, serenity, optimism, and sudden rage.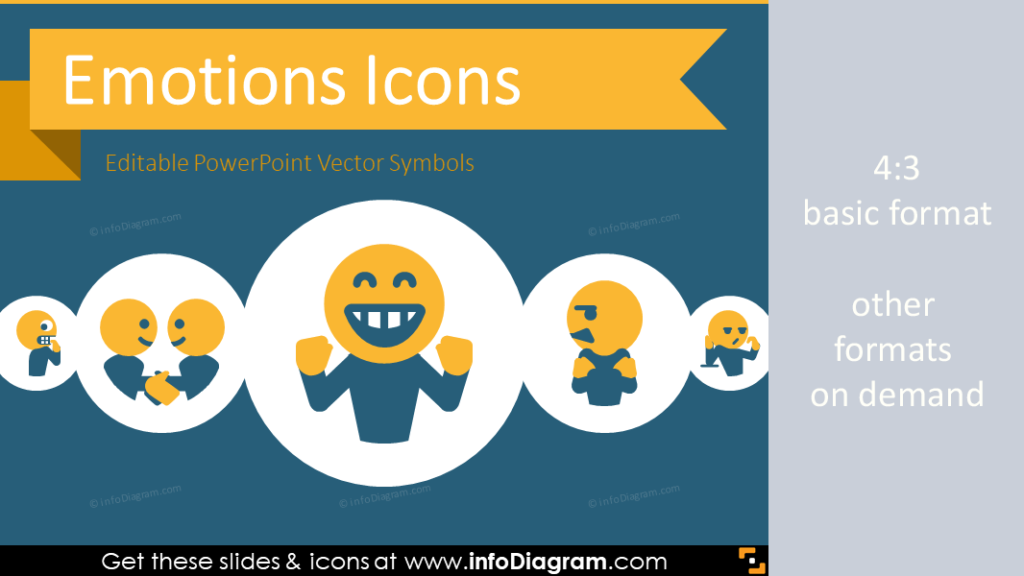 Where can you use these icons?
HR management presentations
Coaching sessions
Psychology slides
Soft-skills training applications
Instructional Design Models Diagrams
If you are teaching your employees about instruction writing, or you want to organize a training course, consider using ADDIE, SAM, or Kirkpatrick models. Instructional design models help to organize a training course to ensure an adequate education process. Such an approach can be applied to various forms of teaching – eLearning, soft-skills or hard-skills training, or school education, as well.
The instructional design deck contains slides with charts and icons for making your presentation impactful. You can find different flowcharts and graphs with development steps, design stages, a modern design chain diagram, and illustrative 4 levels pyramids.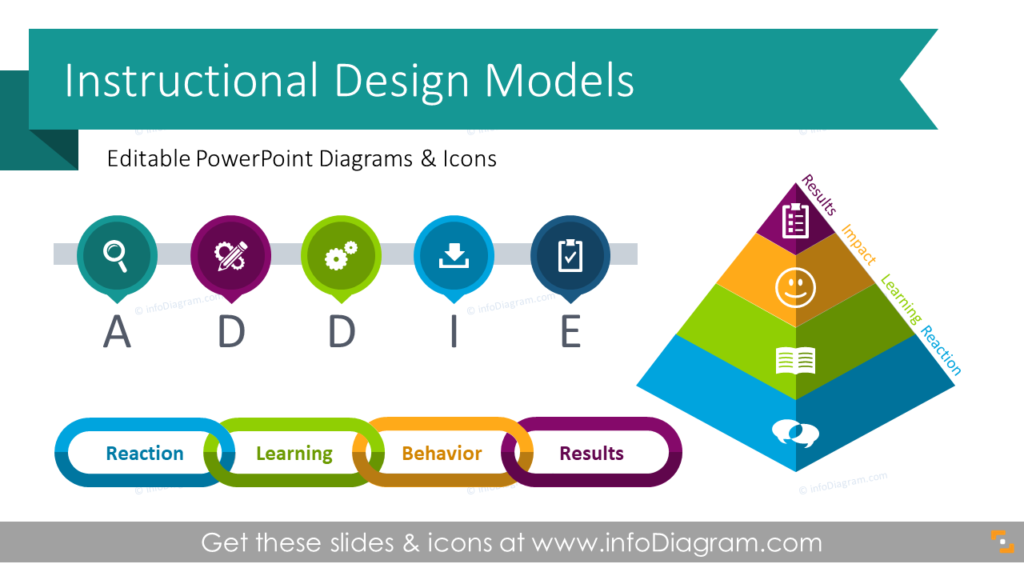 If you wish to find out how to implement these models for presenting learning frameworks, make sure you check this blog out.
Presentation Skills Training Toolbox
Need to explain the secrets of creating a speech and delivering a presentation? Explain visually the content, and listener types, analyze the room setup, and adapt your talk and its structure. You can find hand-drawn visuals for illustrating these topics in a strategic training presentation.
It contains advice on preparing a speech, presentation structures, content types, quotes on training, brief explanations through icons and diagrams for training experienced or laics people for a given topic, and different types of training agendas for your inspiration.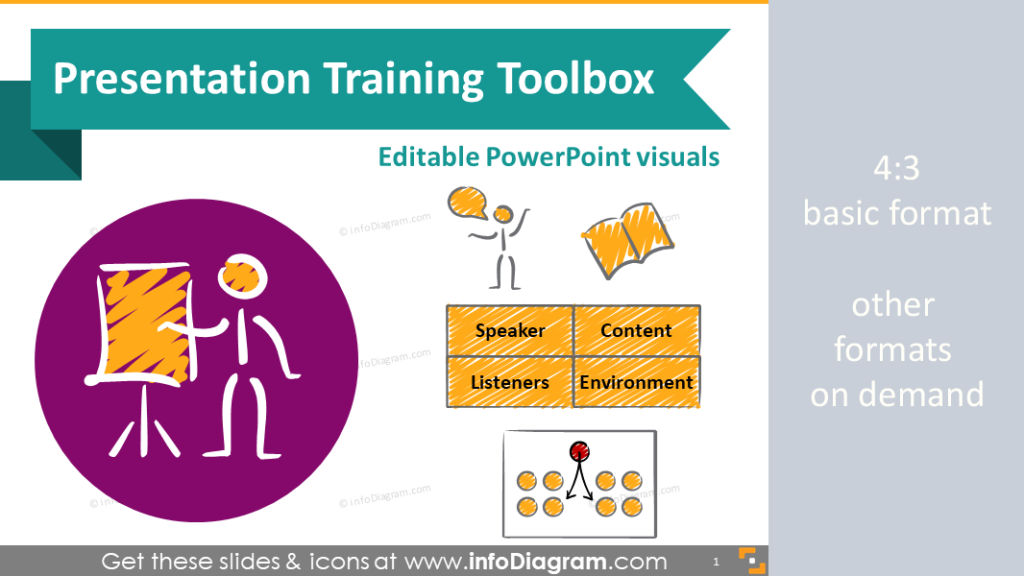 Where can you use the presentation skills training toolbox?
If you are a presentation trainer who teaches people how to make informational, persuasive, entertaining, or inspirational presentations.
As a teacher to introduce the essence of presentation skills to your students
if you are presenting yourself, use these slides to remind yourself of the theory of proper public speaking and its context. If you need more tips on how to improve your public speaking skills, check out our series of posts covering this topic.
Feedback Training Visuals Toolbox
Giving feedback to something or someone is very important, but also, the way it's been given makes a difference. This feedback training visuals toolbox can help you educate your employees on why is it important, how to give and receive feedback and understand it as constructive criticism to find a solution. All the slides contain representative hand-drawn icons, emojis for facial expressions, sticky notes, and do's and don'ts to help your audience understand the purpose of the presentation.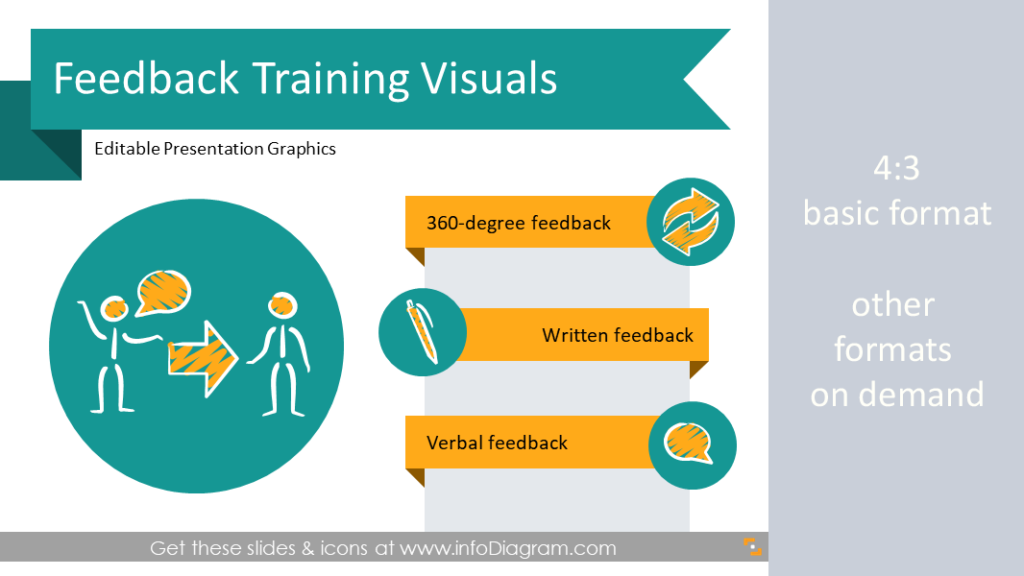 Where can you use the feedback training visuals?
For educating your employees about the importance of giving and receiving feedback
If you are an educational mentor, explain these basics of interpersonal communication
As a reminder of what creates effective communication in general, not only in presentation form but for everyday life discussions.
Motivation Training Toolbox Set
It's no secret that having motivation in the workplace brings the best results. But also, it can be very hard to remain consistent. Consider using visuals while explaining this topic. It's beneficial to teach your peers or students the basics of motivation theory – the famous Maslow's hierarchy of human needs, for example. Once they will understand their psychological background, it can encourage them to speak more openly about the challenges they encounter.
The Motivation Training Toolbox Set contains hand-drawn pyramids to illustrate Maslow's hierarchy of needs, and help you address the problems, people, may have and communicate them effectively.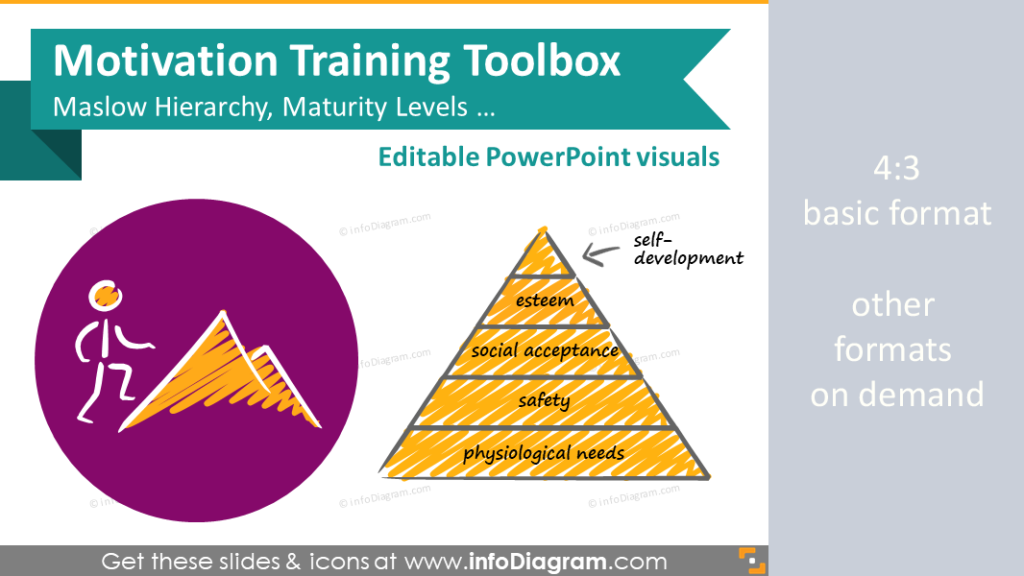 In this deck, you'll find slides with every level of the pyramid where you can add comments and thoughts, a board split into positive and negative feelings due to work rules, 4 maturity levels explanation, and motivation quotes, all complimented with hand-drawn human stick figures for uniqueness.
Training Services Offer Template
Are you working as a coach, in a training company, or need to prepare a pitch for your educational or consulting services? Having a well-prepared presentation will help you explain your offer to your clients in an easy-to-follow matter.
This Training Services Offer PowerPoint template contains slides with a stairs diagram for an implementation plan that requires several steps, an executive summary, training goals with several focus areas, clients' needs whiteboard, timeline diagrams, annual calendars for implementation strategy plans, cover letter designs, and project pricing. We added short descriptions to give you some directions, however, all of the graphics are editable so you can adjust them as you find suitable.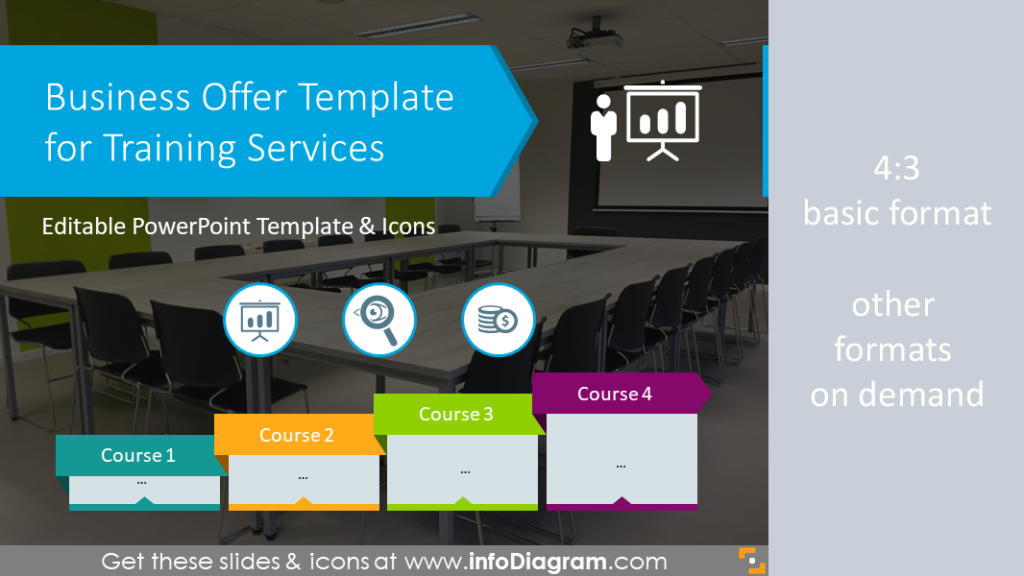 Summary of Preparing Learning and Education Presentations
Keeping the audience engaged during information-sharing presentations, especially while explaining unfamiliar topics can be challenging. Learning new skills can be quite tricky too, as not everyone catches up at the same pace. Therefore, the way how you will present it and explain it plays a huge role.
It's safe to say that we left the boring standard tables and stuffed bullet points behind us, and replaced them with interesting colorful illustrations and icons, resulting in a well-organized slide. Think of your presentation as storytelling, where everyone is keen to know more and understand it in a short time. Using strong visuals can help you keep the audience focused on your story much better than with text-heavy slides.
Resources: PowerPoint Templates & Graphics for Learning and Education Presentations
All slides we used above, and many more, are available on our page. Explore the set of graphics for making appealing learning and education presentations. You can find the slides we used in this blog here:
Learning & Education Presentation PPT Templates
Interested in creating presentations by yourself? Download this free sample today, and you will master your skills in no time.