If you aim to influence your audience with the business growth strategy, imagine how they may perceive your presentation. Often showing a large amount of data leads to confusion and blurs the main message. Highlighting visually the key elements supports spotting and memorizing them. Not only does your audience profit more from that, but it's easier for them to spread obtained knowledge further.
We've selected sample slides covering strategy planning topics to inspire you and encourage you to level up your next PowerPoint presentation. You may check how it works in the few examples below:
Presenting the company's stage of development concerning revenue
Illustrating steps in a growth process
Comparing market segments: total available, serviceable available & obtainable market volume
Proposing business growth diversification
Evaluating growth sources using a matrix for comparison
Get all the graphics presented here – click on the slide pictures to see and download the source illustration. Check the complete Business Growth Strategy Plan PPT Presentation here.
Why Present a Growth Plan Using PowerPoint Visuals?
When you are about to introduce a growth strategy to your audience, it's worth investing time to create solid visual slides. Such a presentation conveys information in a much more effective way than text alone by adding a hierarchy to it. Listing data elements or placing them in tables or columns allows fast scanning. Adding colors, shapes, and symbols introduces another layer of visual organization to your presentation. It helps navigate among data sections significantly, thus creating a better understanding of the overall picture.
If you plan to deliver complex information like processes, analyses, or comparisons, interlacing numbers and text with graphics will improve their readability.
Present the Current Stage of the Company's Development With a Flowchart
One of the aspects of a company's growth is determining the current stage of development. The two-dimensional flowchart below is an excellent example of avoiding plain linear representation on the axis. We can quickly see two groups of information. Stages of company growth: Seed, Startup, Scaleup, Expansion, Maturity, and Decline; and sources of company growth: Creativity, Direction, Delegation, Coordination, and Collaboration. Moving across the steps of one group is connected with the actions of the other, which represents the bond. Elegant icons were added to give the viewer a better understanding of growth sources.
Arrow-shaped containers were used to emphasize the process dependence of the elements. They lead an eye in the desired direction and give a sense of movement. Also, the number marks confirm that the vertical sections of this infographic represent consecutive stages of the strategic growth framework. With such a setup, it's easy to mark a company's position with a chosen color.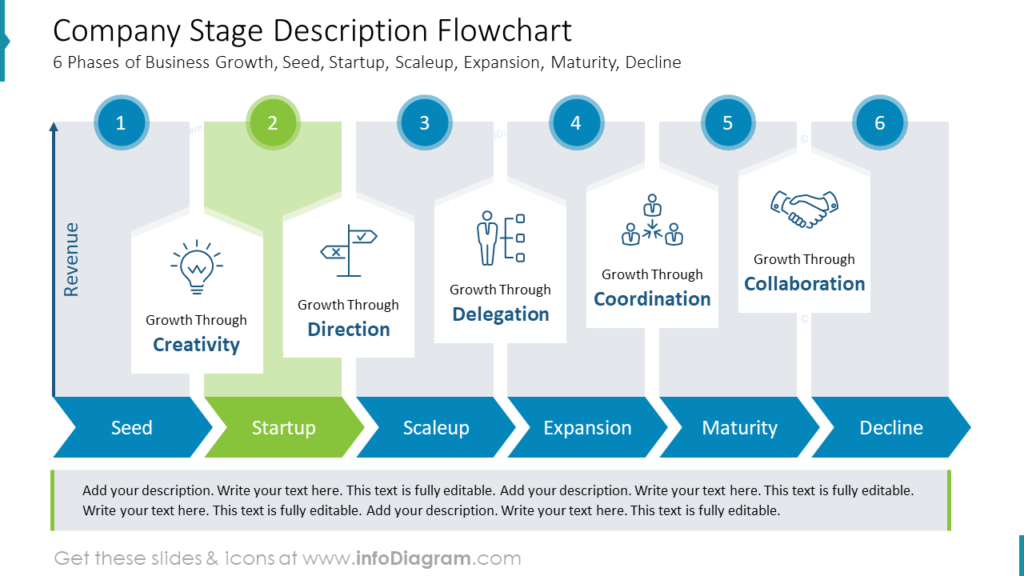 Emphasize Stages of Growth Strategy Development Roadmap
You may want to sketch a strategy plan in the form of successive stages while illustrating a growth strategy. If you decide to shape them into a roadmap, remember that the key to creating an impactful slide is to be bold and differentiate steps from one another well. Notice how it was done in the illustration below with the following steps:
Set Objective
Analyze Initial Situation
Analyze Market and Industry Developments
Determine Strategy
Implement
The number of steps is easy to tell, and matching icons, which act as illustrations in this example, set a positive tone to each section empowering the message.
The most important thing to remember when creating such a roadmap is the conscious use of colors. An eye tends to move towards warm and bright tones therefore, you may pick it for the endpoint of your process, starting with a dark, cool one. This way, you will not only strengthen the flow but also emphasize its result.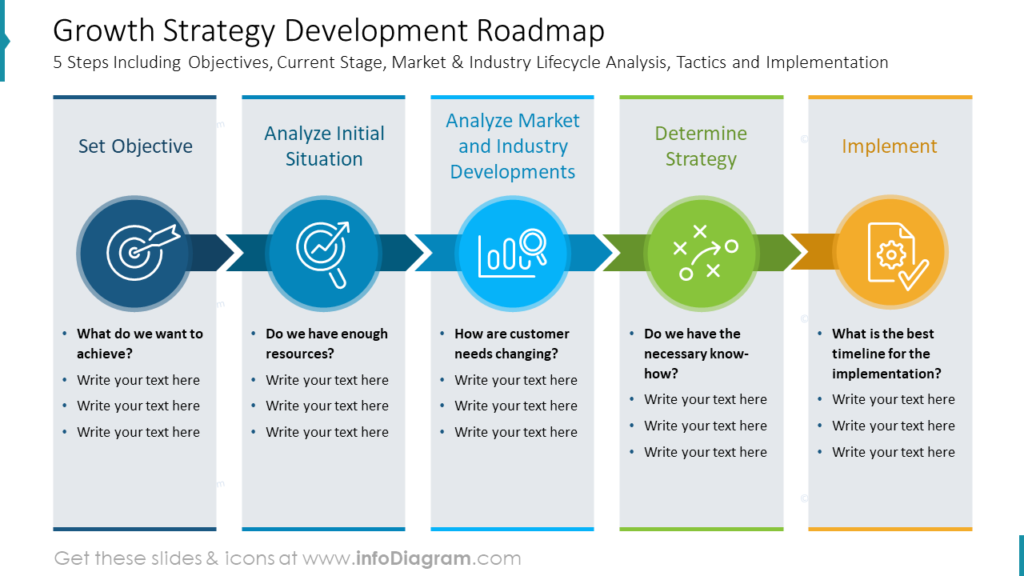 Illustrate Components of Market Size Comparison
To estimate growth possibilities, you may need to evaluate a potential market size. Plain numbers may be hard to compare for the viewer. You can notice on the diagram below how representing them with shapes allows comparing them in a glance of an eye. The illustration doesn't have to reflect the numbers literally, as a chart would. The aim is to show elements from the smallest to the biggest to express their relation:
Serviceable Obtainable Market
Serviceable Available Market
Total Available Market
When creating comparisons, it is recommended to use contrasting colors to stress differences. Matching shades of description labels with the diagram parts helps to pair them, as they are freely arranged in this case. This particular example uses specialized icons to illustrate market growth topics.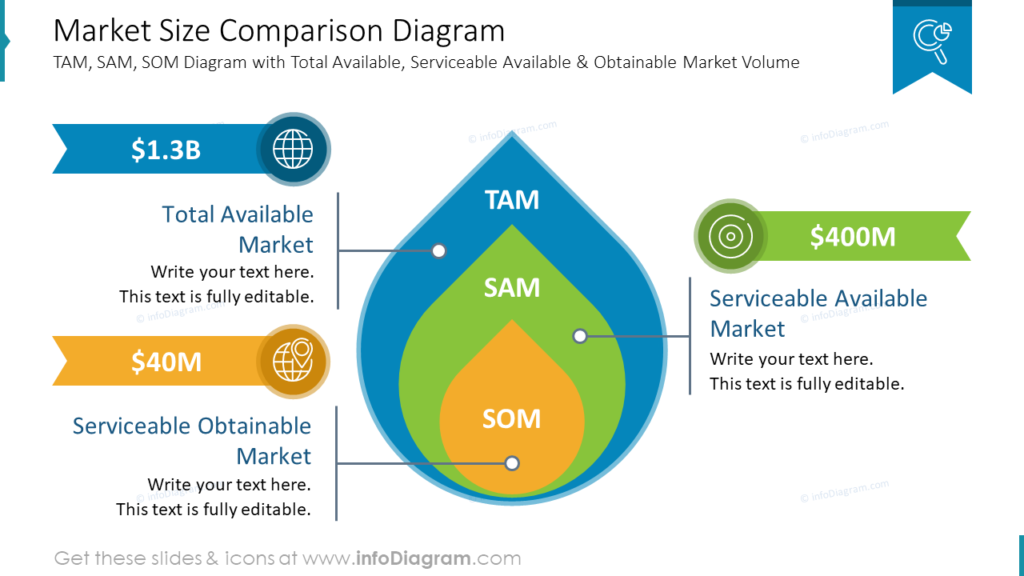 Compare Product or Service Business Growth Plans
You may have various business strategies to compare at some point. Using the power of graphics is also beneficial in such a case. PowerPoint horizontal format is very suitable for visual comparisons, e.g. Diversification and Alternative Channels for Business Growth. Check the picture below of how dividing the slide in two creates a space for two descriptions that are easy to contrast in this layout. Try to emphasize the relation between sections using shapes and colors, as in the following example.
Placing the text in arrow shapes pointing at each other gives a sense of confrontation. Applying different colors for each block of text states their difference clearly. Using an icon of a scale completes the image of a comparison. Remember to choose large titles and icons to describe them, and you will achieve an impressive visual to convey your message.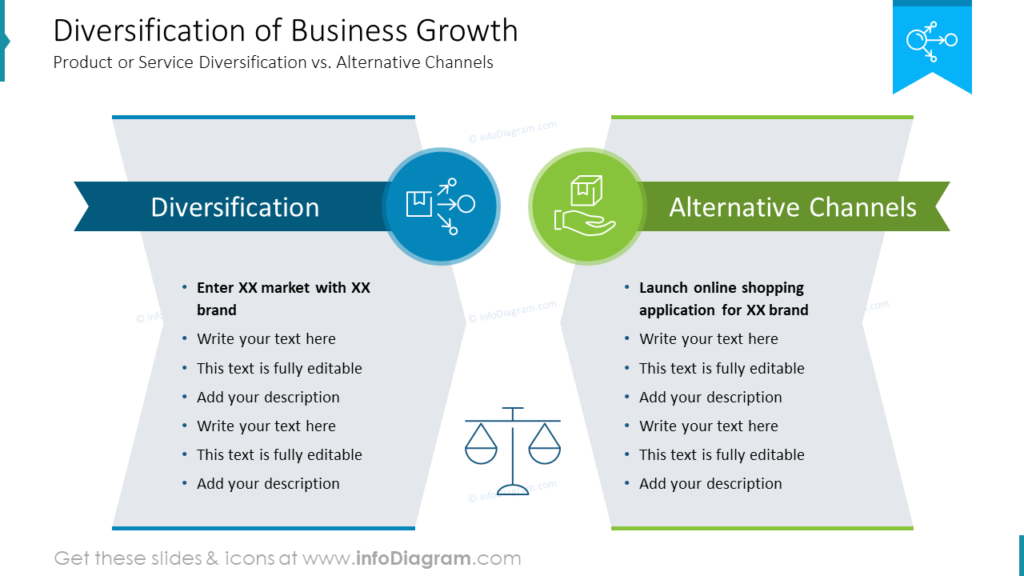 Evaluate Growth Sources With Custom Icon Enhanced Table
You may want to include an evaluation of various growth sources regarding their costs. To express information about specific criteria values, replace text information with graphical status symbols to compare them fast. You can replace even numbers or percent values, as you can notice in the table below.
The matrix contains an axis of growth sources: Market Penetration, Market Development, Product Development, and Diversification; and variables: Cost, Risk, Effort, Time, and Control. Relation between them is expressed with simple chart graphics representing 5 stages from "Low" to "High". Thanks to the visual weight of those signs, the table's best and worst results are easy to track. And that's what the goal is for any presenter.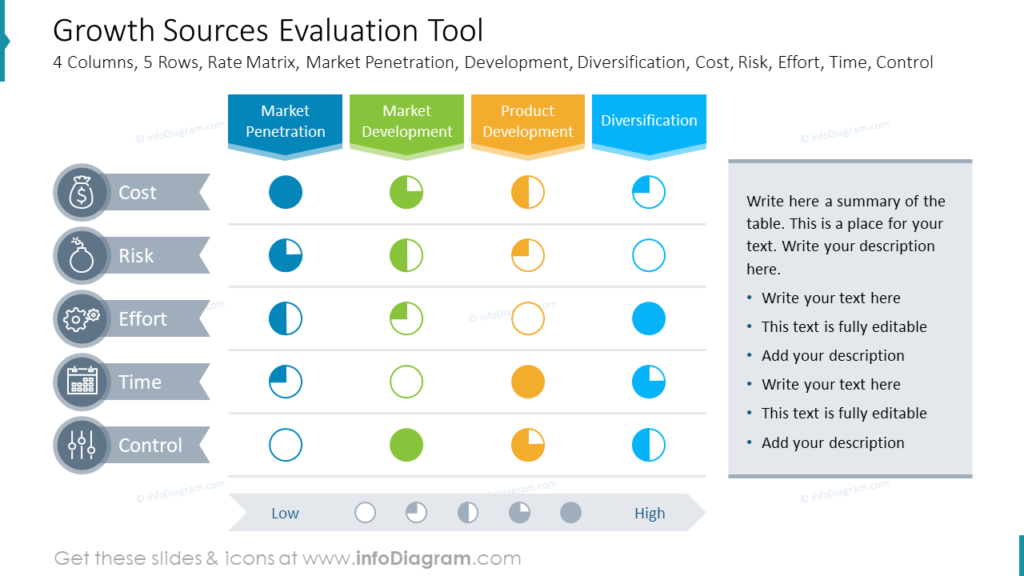 Summary of Design Tips for Strategic Growth PPT Template
Creating a presentation for the business development plan can be a challenge since it often contains lots of information and numbers and aims to send a strong positive message that will influence the audience. Hopefully, our examples convinced you it can be achieved with some creative approach and the right visuals. You don't have to get rid of your lists, tables, and paragraphs. They just need some proper clothing to amaze everyone. Next time try to:
use a bold color to highlight the most important element of the slide
emphasize flow relation of elements using arrow-shaped text containers
represent numbers with shapes to showcase their hierarchy
use enlarged icons as additional illustrations for your slides
color-code flow relations starting with cold and ending with warm shades
use the whole space of the slide when creating a comparison
replace words with icons in complex table comparisons
Resource: Business Growth Strategy Plan Presentation (PPT Template)
The business growth strategy diagrams presented on this blog are available for download in our infoDiagram collection of ready-to-use templates. You will find many slides that are appropriate for institutional, business, and civil audiences in this presentation, including Ansoff's matrix toolbox, market penetration strategies, new market analysis quadrant matrix, PESTLE analysis, key growth drivers comparison, and more.
Don't hesitate to check the details and click the link to the Business Growth Strategy Plan PPT Presentation below:
Business Growth Strategy Plan PowerPoint Presentation
If you look for more visuals to illustrate business planning topics try our template of a go-to-market strategy plan.