Do you have a nice quotation in your presentation, but don't know how to show it nicely? Check some design ideas that Izabela, our graphic designer, prepared for you 🙂

Quotes are a great way to add an inspiration element to your presentation. Appropriate quotation adds a credibility to your topic. I recently included a few citations in my last training slides of Nancy Duarte and Einstein about simplicity in design.
Note: All example images below can be found in Quotes toolchain (see details by clicking the pictures).
Quotations are included in almost every business presentation: they can be motivational, provoking and inspirational. Thanks to this tool the audience can view a subject in a fresh light. These PowerPoint shapes suits any webinar, college lecture, speech or business meeting. Quotes are a second voice in your presentation that can strengthen your arguments, claims and ideas.
To illustrate a quotation, try one of these ideas:
1. Use a Big Picture on a Slide with Transparent Text Field
Below we present a slide with a quotation on a rectangle with semi-transparent filling. Thank's to this tool the text will be visible and eye-catchy to your audience. You can also use it on pictures with lower contrast.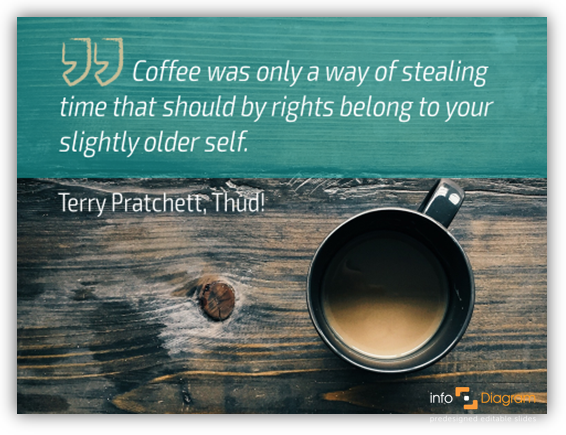 2. Illustrate Hand Drawn Box with Creative Background
We prepared an example of the quotation with nice texture pattern and a hand drawn text box on the top of it. This kind of graphics will help you to show citation on a slide with nontrivial manner.
3. Present Simple Slide with Watercolor Quote
If you don't have pictures, using a plain white background is a safe bet. It looks always elegant and is neutral. Then you can add some little creative elements on the slide – a watercolor shapes for example.
4. Use Dark Picture Background with Contrast Frame
Another simple design idea, if you have a dark picture – put a framed rectangle with transparent filling. You add a line as a divider of quote author.
5. Illustrate Quote with a Speech Bubble
We also propose to use a speech bubble on your slide. There is one such shape among standard PowerPoint shapes, but you can go for a more unique sketched bubble.


6. Use Flat Style Banner
You can also add flat ribbon labels over a picture or plain slide background. This kind of graphic will suit more official presentations.


7. Add Photo of the Quote Author
If you can get a picture of the quote author in good quality and with proper copyrights, use it. Pictures of famous people from less recent times can be found in wikiquote.org. This is also a good place to find a citation in general.


Above we proposed a few ideas how you can illustrate quotation on your slide. All presented examples will keep team motivated and focused on your topic.
Resources: Quote Slides Collection
To help you illustrate citation we designed PowerPoint template you can reuse. The infoDiagram Quote Slide Collection can be adapted to your personal needs with a few clicks. Fully editable shapes will suit official or casual meetings, webinars and lectures.
What's Inside Quotation Collection?
Quote slides collection is a set of famous citation on motivation, future, time planning etc. by Sun Tzu, Richard Branson, Michal Kundera or Terry Pratchett. The bundle includes:
30 quote designs in modern flat style or create hand drawn – scribble, watercolor, pencil style
17 icon symbols of quotation marks, speech bubbles and text boxes
pictures of the modern city skyline, bridge, nature, clouds, retro look wall, coffee table
All examples above you can download them directly here:
If you want to get more creative infographics slides, check this Hand Drawn Icons and Diagrams Mega-bundle with over 760 unique editable pictograms.
Check the wrap up of those 7 ways to illustrate the quote on Slideshare:
So which one of those seven ways is your favorite?
Let me know in comments.
Graphics sources used in this blog: