Information Technology is one of the areas full of complex processes and devices.
Good old visualization comes for help also here :). Having a step-by-step presentation can make wonders in explaining IT quote fun.
See an example of illustrating IT network security and how the firewall works.
Explaining IT can be quite a challenge. Despite I have a background in computer science I am often lost myself when facing all those new technologies and architectures.
When I discuss various IT concepts, I usually do a drawing of a simple diagram sketches in my notebook. It really helps.
Moving it into PowerPoint form is also easy. And to make it look good, you can add various icons of IT devices to the illustrations, to create better mental associations and make it look professionally.
Example slide of presenting a network architecture of an office network and interaction with outside computers and applications: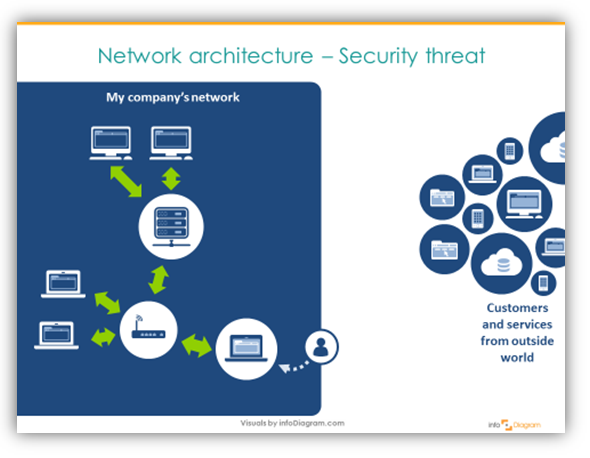 Having such slide, you can add gradually new elements, recolor them to explain changes and importance of elements. Here's an example of emerging network security threat such as direct attack or hidden malware from the Internet. Those are handled by the firewall system.
Network security illustration includes one more threat – the case of bringing unprotected computer inside the office network. This is not handled by a firewall and can cause a security issue.
Check the simple step-by-step slide animation on my Slideshare deck with these slides:
Having such illustration in PowerPoint or other your presentation software, you can easily show changes of links, add or remove computers, highlight elements (dangerous – as red or orange, secure – as green …).
What do you think? Would it help you? Share your comments below.
Graphics sources used in this presentation:
Further Reading about IT related topics
See all articles and explore more topics connected with IT: