Do you want to make goals and reach better engagement by your audience? In this blog, we prepared a few ideas on how you can achieve these intentions using SMART goals and objectives in your presentation.
Making your plans look great is not only more pleasant for the eye, but it also influences how people approach their goals. If you write them in text only, people will not be eager to read and remind them often. On the other side, if you present them as in a clear aesthetic way, people will remember them longer.
Remark: all presented slides can be found in SMART Goals Template.
What SMART Goals Stand for?
This is an acronym for S.M.A.R.T. – a mnemonic help to define goals as:
Specific – Write down specifically what you intend to achieve. Good example: "Be Number 1 on the national market of training providers". Don't use too general aims such as "Get better" or "Make the world a better place"
Measurable – Define how you can measure Your goal. Use numbers and facts you can verify, e.g. "Have 3 clients from Fortune 200 companies"
Achievable – Choose goals that are realistic to achieve. Missing too many goals means there's something wrong with your planning.
Related – is your goal really related to you and your business? Is it the thing you can influence and something you should focus on? Some examples to consider:

Turnover or Profit
Size or Effectiveness
Quantity or Quality
Rich or Happy

Timely – the goal should have a time limit. Should it be reached by end of year or quarter?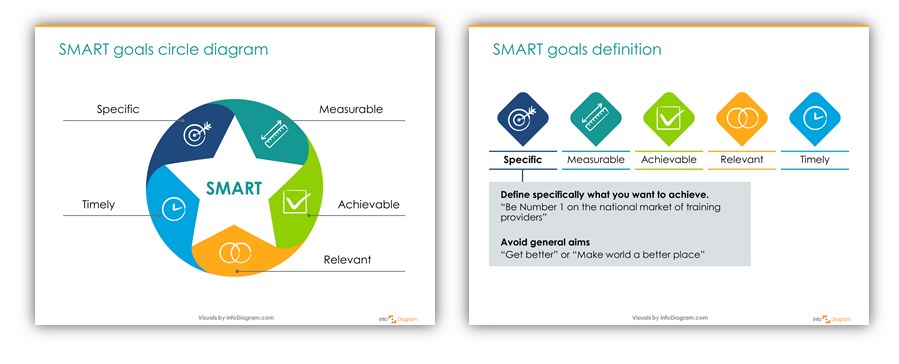 A SMART concept can be useful for all types of businesses. This model helps you focus on the main and avoid actions that won't bring results.
Below you will find tips that can help you visualize SMART goals in a creative way.
Make a Visual Checklist of Every Objective
First, we propose to express your goal at all 5 levels. Check whether it fulfills all SMART criteria? Adding vivid colors and icons will help you create an eye-catchy slide and attract attention.

Assign SMART Criteria to Your Mission Statement
To make your goals presentation really outstanding, use atypical style. A black background instead of classic white. Replace formal-looking shapes with more personal handwriting ones.
Above we show examples that's not hard to prepare. Just use strong colorful diagrams and icon symbols that create a visual association with defined goals. You can recreate them on your own, or check our SMART Goals Graphics Template.
Why Use SMART Goals and Objectives Graphics
SMART goals are used in project management, HR and personal development. Adding this kind of graphic to your presentation will help you to plan goals and milestones in project management, write a business plan, define ideas and do a company's strategic planning. You can also use SMART as a powerful motivation tool increasing employee performance.
What's Inside SMART Goals and Objectives Template
Presentation graphics for presenting the concept of defining SMART goals contains:
Explanation of S.M.A.R.T. acronym. Defining goals a Specific, Measurable, Achievable, Related and Timely
flat design diagrams with simple icons
unique hand drawn icons of five SMART features, blackboard design
example checklist of goals statement
All presented layouts are fully editable in PowerPoint. That's why you can easily copy the particular shape and use it straight away in your presentation considering your brand's style.
You can download full template directly here:
If you want more to get more extensive set of visual slides with more charts and diagrams, check this infographic PPT graphics bundle.
Check full presentation on our Slideshare account:
I hope this inspires you how to present your plans in an attractive creative way. And this will help you to stay focused and reach your goals, whatever they are.