For marketers, Spring means the start of a new season. For us all, it's an opportunity to make some seasonal decorations and thematic materials :). Hence we designed a hand-drawn seasonal icons set to help you create personal Easter card graphics.
Remark: You can get all presented diagrams and icons from Handwritten Spring and Easter PPT Icons.
Spring is behind the door, at least here in Europe. To help you get inspiration for creating unique cards we prepare SlideShare tutorial ;). All presented tricks can be useful for private or business needs. Below we prepare a few tips that help you to make creative Spring or Easter cards using PowerPoint.
Three Steps to Follow for Creating Unique Easter Cards with PowerPoint:
Choose some unique looking background
Apply nice font, play with typography to get creative writing. You can get new fonts for example from FontSquirrel.com website for free fonts.
Export the picture – save your Spring slide graphics as a PNG picture. Then you can easily send it as an email attachment or print it.
Here are a few examples of resulting Spring graphics:
Happy Spring Time E-card
Happy Easter Card Example
Watercolor Easter Egg Card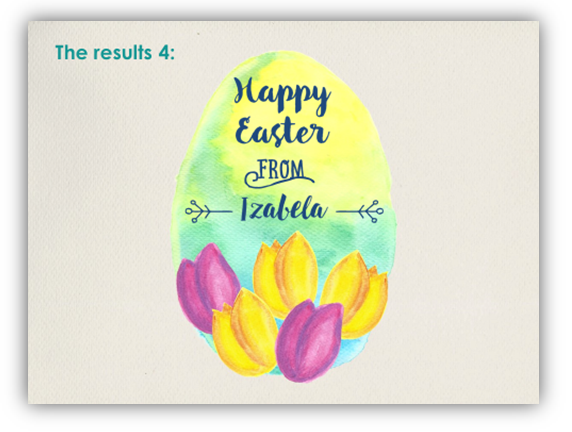 Graphical Resources: Editable Handwritten Spring and Easter icons
The diagram contains 13 vector shapes: easter eggs, rabbit, flower, butterfly. To feel free creating unique cards we add 9 handmade watercolor sketches. All shapes are fully editable in style, size and color in PowerPoint. You can also add shadows or put templates behind the text.
You can see the full slide deck clicking the button:
To see Spring templates in action, check out these simple steps to design a unique card (follow our Slideshare channel to get more creative ideas 🙂 ):
If you want to get more infographics slides, check this Handdrawn Flowers Icons with templates for creating seasonal cards and nice slide decorations.
I'll be happy to hear back from you, how you managed. Let me know in comments.
Enjoy beautiful Spring season 🙂