Do you want to visualize your strategy's potential on the slide? In this blog, we presented creative graphics that can help you to illustrate a position of a business organization with PowerPoint.
Porter's Five Forces tool is a simple but powerful tool for understanding where power lies in a business situation. This model is useful because it helps you understand both the strength of your current competitive position and the strength of a position you're considering moving into. The model assumes there are five forces influencing any chosen industry.
Remark: You can get all the diagrams and icons from Porter Forces Marketing Model Diagram.
We designed a collection of Porter's Forces diagrams, representing Porter's five forces: buyers, suppliers, competition, new entrants, and product substitutes.
What are they good for? You can use these presentation templates that are suitable for marketing and business development presentations.

The Diagrams and Icons Collection Represents Porter's Five Forces:
Industry Rivalry
The threat of New Entrants
Bargaining Power of Buyers
Bargaining Power of Suppliers
Threat of Substitutes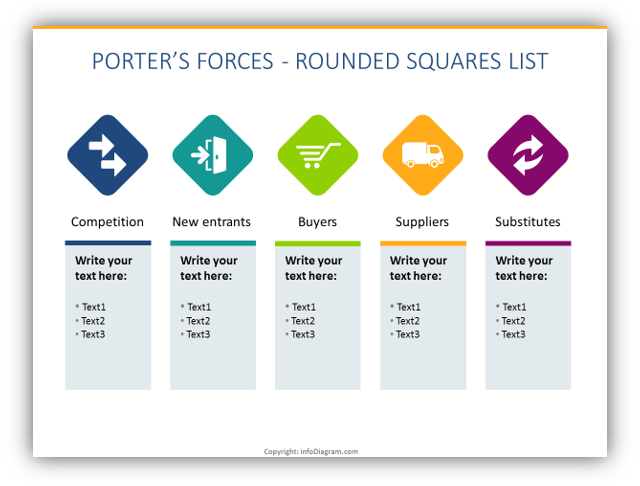 Porter's Five Forces collection consists of 22 diagrams and 15 icons, which  are fully editable as can be seen on the slide below: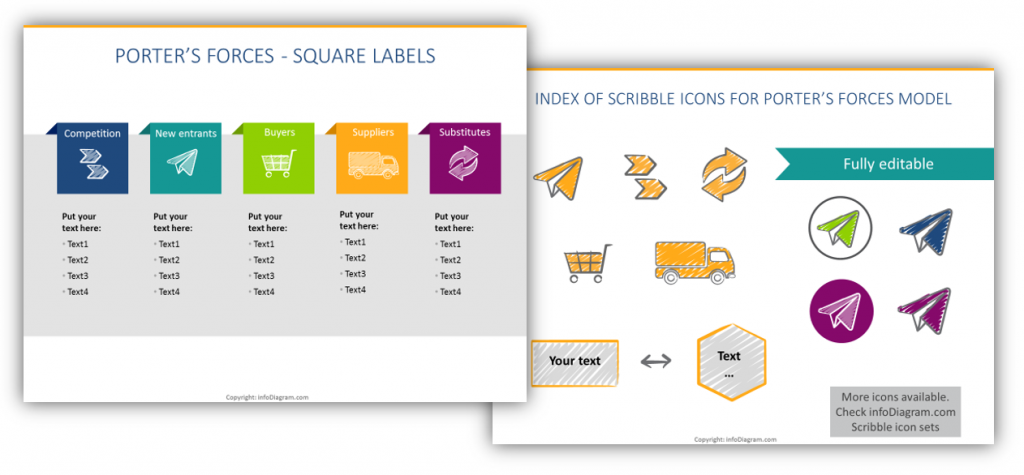 What is more, the set contains extendable pictogram symbols of 5 Porter forces in two graphical styles: modern flat icon symbols for infographics and personal hand-drawn scribble graphics and exemplary definition and forces examples, that can be used while presenting this business model. Explore our Porter's Five Forces collection yourself 🙂
To make your slides stand out we invite you to check our 'How It Works' page or demo presentation at Slideshare:
How to Best Get 1, 10, or All Flat Icons?
You can get those icons in several ways:
if you need a few of them, you can choose any single slide when joining our infoDiagram membership slide graphics subscription. This allows you to choose any slide from this Simple icon collection or any other presentation from infoDiagram website.
or get all 22 diagrams and 15 icons to make your outstanding business presentation with a single pay-as-you-go purchase.
Porter's Forces collection contains various diagrams representing Porter's five forces: buyers, suppliers, competition, new entrants, and product substitutes. Icons and charts are fully editable, size and colors easy to adjust using PowerPoint editor:
See Porter Forces Marketing Model
Stay Updated About New Presentation Ideas
Get on our newsletter and never miss an announcement. You'll stay informed about all of our new updates. Plus, if you sign in for our newsletter you'll get a Creative slide design guide with free hand-drawn shapes, absolutely FREE!