Having a presentation talking about informatics, websites, file types, and other IT concepts? Here are a few IT icons ideas to make it more visual and remembered by the audience.
Explaining computer science and IT topics can get quite complex. A good idea is to illustrate them with simple icons: whether you're talking about Internet communication, data, or various digital media types.
This article is an overview of using IT icons we designed to help people communicate visually.
>> download an editable set of these IT ppt icons here
However, the ideas here are general. Feel free to apply them as inspiration for any images you use.
Why use one consistent IT icon set?
Getting a specific IT symbol is not easy if you use several sources of icons, you can get an ugly inconsistent look for your documents. And is far from being professional. Some problems you can face are:
Hard to find a specific icon for your IT diagram
An inconsistent look of images if you use several resources  – one symbol is flat, another has gradients, and the next one has a shadow.
Unclear copyrights for using the icons from the Internet, e.g. author attribution is needed, or pictograms are only for non-commercial private use.
Symbols may not be editable in PowerPoint if they are in a bitmap format
Icons of lower visual quality (distorted edges effect when you make them bigger)
With our infoDiagram IT devices icons set we address all those issues. Check the example slides below.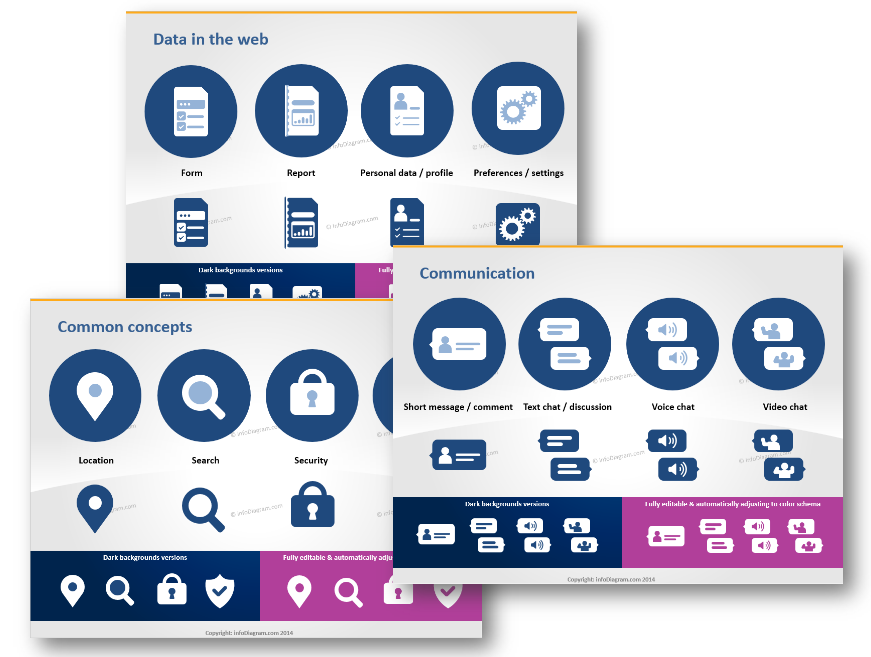 Use Icons to Enhance PowerPoint Charts
Adding a simple symbol over the data chart of the flowchart diagram will help you to catch and keep the attention of your audience on the points you want. Especially if you present a complex issue.
See those examples of pie charts and diagrams enriched by symbols for Internet search and website traffic: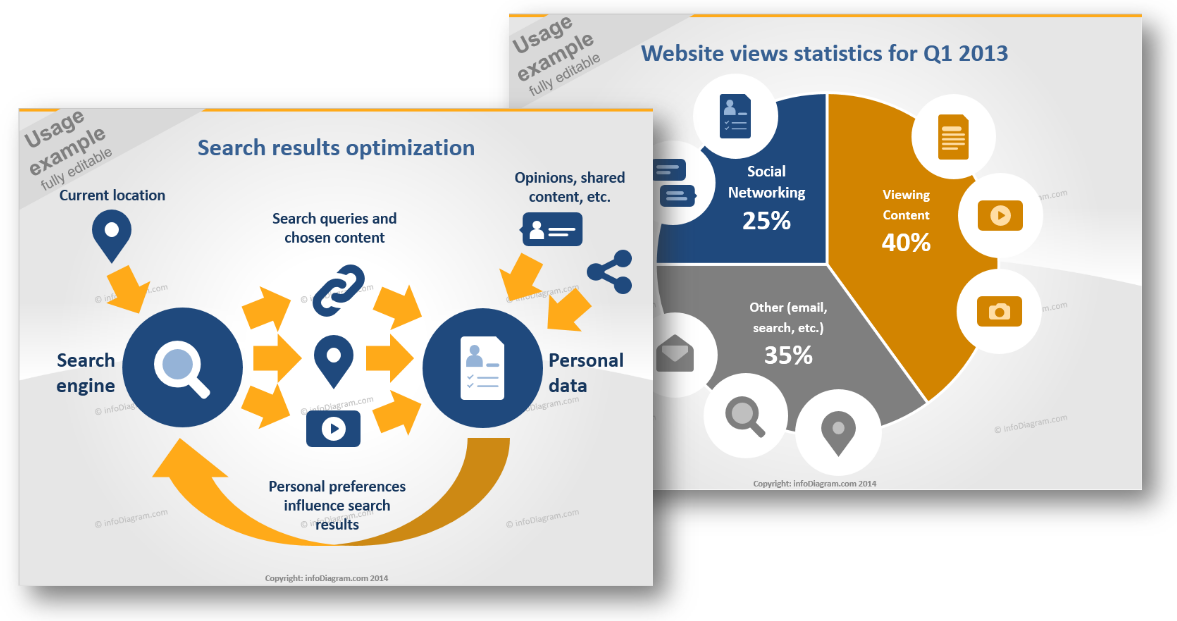 That way information gets visual and therefore easier to understand. E.g. on the slide below, we can see a comparison of traditional file attachment versus file sharing. If we used only text organized in bullet points, the concept would seem much more complicated. The slides in the set are already pre-designed, so you can use them as templates and just put in your information and numbers.


Besides adding the icons to the PowerPoint slide, you can use them also in other documents. It can be an e-book PDF file, Excel sheet, or Word document. The visuals can be used also out of Microsoft Office – in Keynote, Prezi, and other tools.
For MS Office apps a simple copy & paste of the data chart or symbols will work. For other tools (Canva, Prezi..) saving icons as an image (click to see Slideshare tutorial) and adding them as a picture will do the work, too.
What's inside the File Types, Media, and Web IT symbols set?
The collection contains over 20 modern, flat symbols and means for designing visual diagrams.
You can choose colors to correspond with your brand and the color scheme and layout of your presentation. All arrows and shapes are editable vector artwork so you can adjust them as needed, using standard PowerPoint tools. And they remain razor-sharp also if you resize them, unlike bitmap pictures.
The icon collection consists of:
Common office file types: Spreadsheet, Text document, Presentation, PDF file
Files' organization collections: Files folder, directory, Compressed file archive
Media types: Image / Photo, Video / Movie, Audio / Music
Data on the web: Form, Report, Personal data profile, Preferences / Settings
E-mail and connections: Email, Hyperlink, Sharing
Common concepts: Location, Search, Security, Protection
diagram schema examples:
All icons are in a simple flat style, suitable for Metro UI style graphics. Symbols are provided in 4 versions: for a light background, dark background, standalone, and in a circle.
The icons and chart examples above are from our infoDiagram PowerPoint Diagrams collection. It contains editable graphical elements for PowerPoint on IT-specific topics, which can be easily edited and added to other presentations.
This icon set is a part of the wider IT Icons Presentation Bundle, which contains pictograms and diagrams for various information technology concepts.